Flathead health officials confirm first flu case in over a year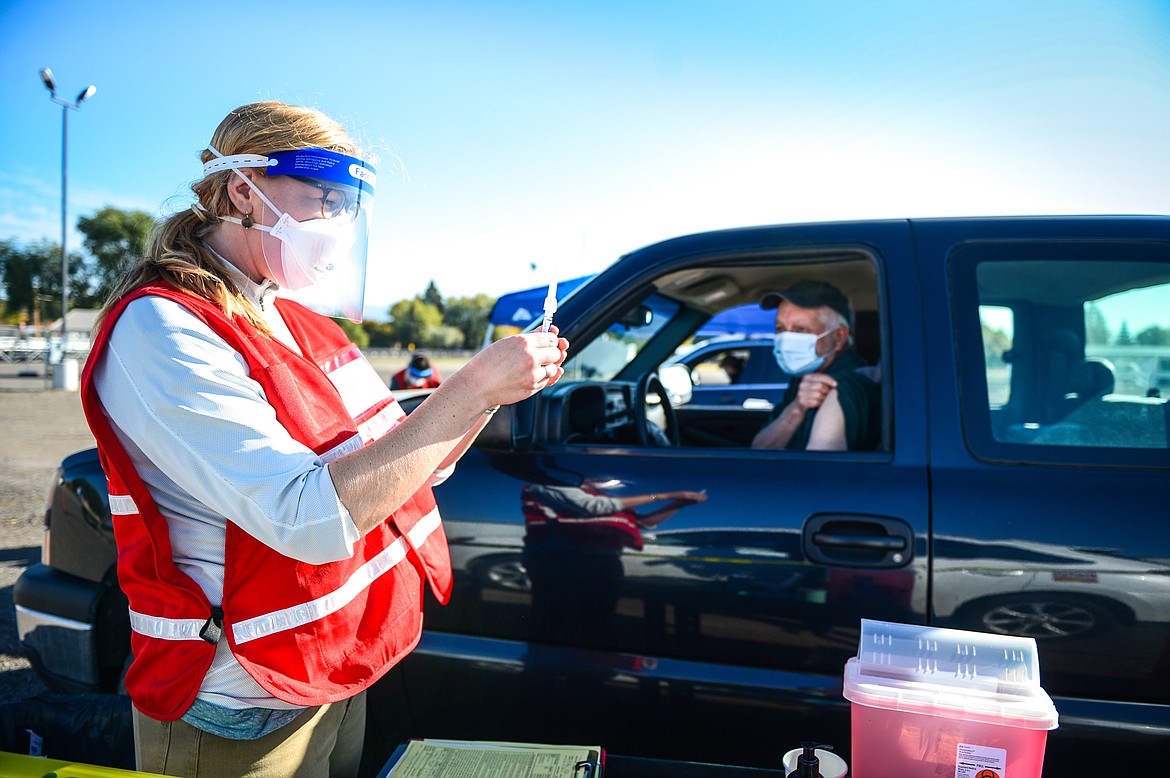 Volunteer Brynn Leftridge, left, prepares a flu vaccination for Lon Johnson, of Columbia Falls, outside the Flathead County Fairgrounds on Wednesday, Oct. 7. (Casey Kreider/Daily Inter Lake)
|
October 28, 2021 12:00 PM
Flathead County confirmed its first flu case of the season on Thursday.
According to the Flathead County Health Department, the one confirmed case is influenza A. This is the first confirmed flu case in Montana since April of 2020.
Nationwide, the Centers for Disease Control and Prevention (CDC) reports 121 confirmed flu cases as of Oct. 16. The CDC's flu activity tracker showed Montana with "minimal" cases. However, the flu was more prevalent in the surrounding states of Idaho, Wyoming and North Dakota.
Health officials note that flu activity tends to peak in December and January.
"We're just rolling into flu season right now," said Flathead County Health Officer Joe Russell.
While there were no confirmed flu cases in Montana during the 2020-21 season, the 2019-20 season saw over 11,000 cases, including 514 hospitalizations and 41 deaths. Flathead County reported 1,190 flu cases that season.
Russell clarified that 2020-21 had no "lab confirmed" cases of the flu, but that doesn't mean flu wasn't in the community.
"I do think we had flu last year, but I also think it wasn't detected. The prevalence was low," Russell said.
"There's all kinds of reason why we didn't pick up a lab case last year."
Russell notes that an influenza vaccination is widely regarded as the best way to prevent getting the flu.
About 1,300 people got their shot at the recent county flu clinic, one of its highest turnouts in Russell's career.
"That's way above average," he added.
Russell said the county isn't able to do a flu shot and Covid shot at the same time because of logistics, but he noted that other medical providers can administer both vaccines during the same visit.
Flu vaccinations are available by appointment at the Flathead City-County Health Department Immunizations Clinic. People can call 406-751-8110 to schedule an appointment. 
THE ARRIVAL of flu season comes as Covid-19 cases are climbing in the area. Flathead County reported 1,178 active Covid cases on Thursday, including 56 hospitalizations.
According to the CDC, the flu and Covid are both contagious respiratory illnesses, but Covid seems to spread more easily and cause more serious symptoms.
The CDC adds that because some of the symptoms of flu and Covid are similar, the difference between them cannot be made based on symptoms alone. Testing is needed to tell what the illness is and to confirm a diagnosis. People can be infected with both flu and the virus that causes Covid at the same time and have symptoms of both.
According to the CDC, common symptoms that Covid and flu share include: Fever or feeling feverish/having chills, cough, shortness of breath or difficulty breathing, fatigue (tiredness), sore throat, runny or stuffy nose, muscle pain or body aches, headache, vomiting and diarrhea, and change in or loss of taste or smell, although this is more frequent with COVID-19.
With the flu, people usually become ill one to four days after being infected. Most people with flu are contagious for about one day before they show symptoms.
With Covid, a person typically experiences symptoms about 5 days after being infected. How long someone can spread the virus that causes Covid is still under investigation, the CDC adds.
The health department notes that everyone 6 months of age and older can get a flu vaccine. It takes up to two weeks after vaccination for antibodies to develop in the body and provide protection against the flu. Vaccination to prevent influenza is particularly important for people who are at high risk of serious complications from influenza, including:
•People 65 years and older
•Children younger than 5, but especially younger than 2 years old
•People with certain chronic health conditions like asthma and COPD, diabetes (both type 1 and 2), heart disease, neurological conditions, and certain other health conditions
•Pregnant women
Other ways to prevent transmitting flu include: covering a cough, frequent handwashing, and staying home when you are ill. Influenza virus usually spreads person to person by coughing or sneezing. It is also possible to become infected by touching something with flu virus on it, and then touching your mouth, nose, or possibly your eyes. Most adults are infectious one day before they have symptoms and up to five to seven days after becoming sick.
Recent Headlines
---