Talk it out — speech and debate teams ready to roll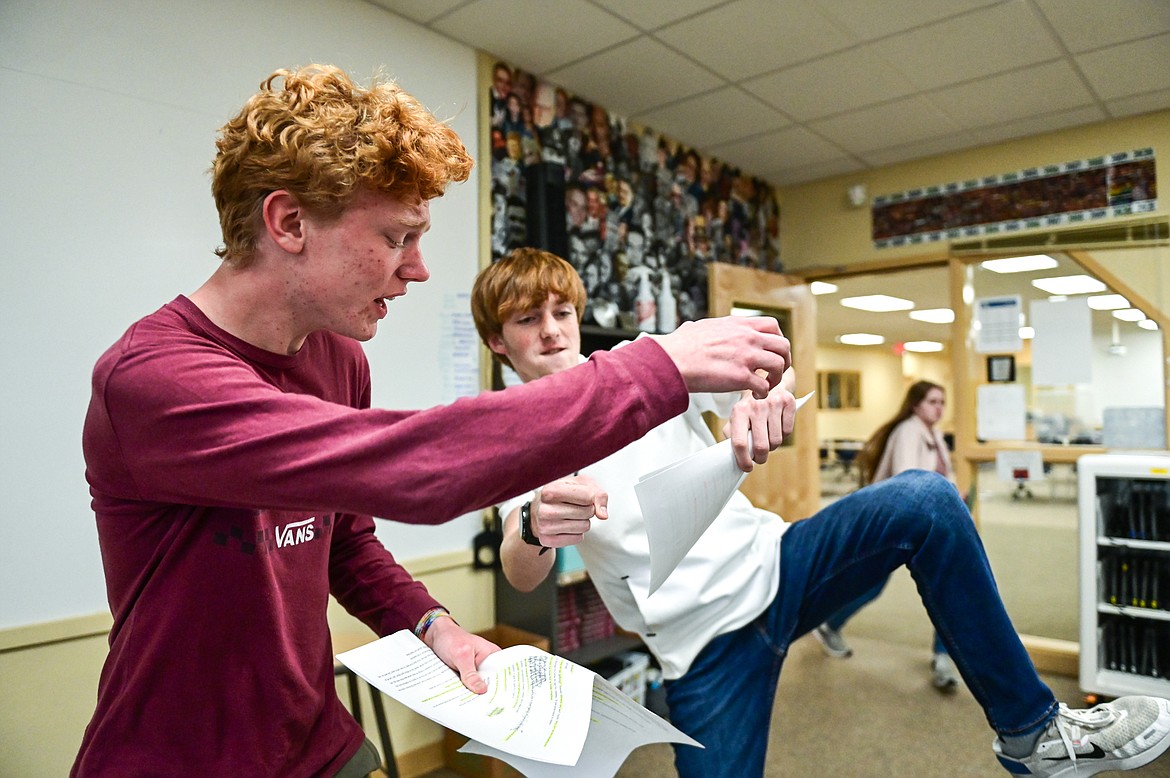 Alden Lamson, left and Mac Adkins practice their duo interpretation speech at Glacier High School on Tuesday, Oct. 26. (Casey Kreider/Daily Inter Lake)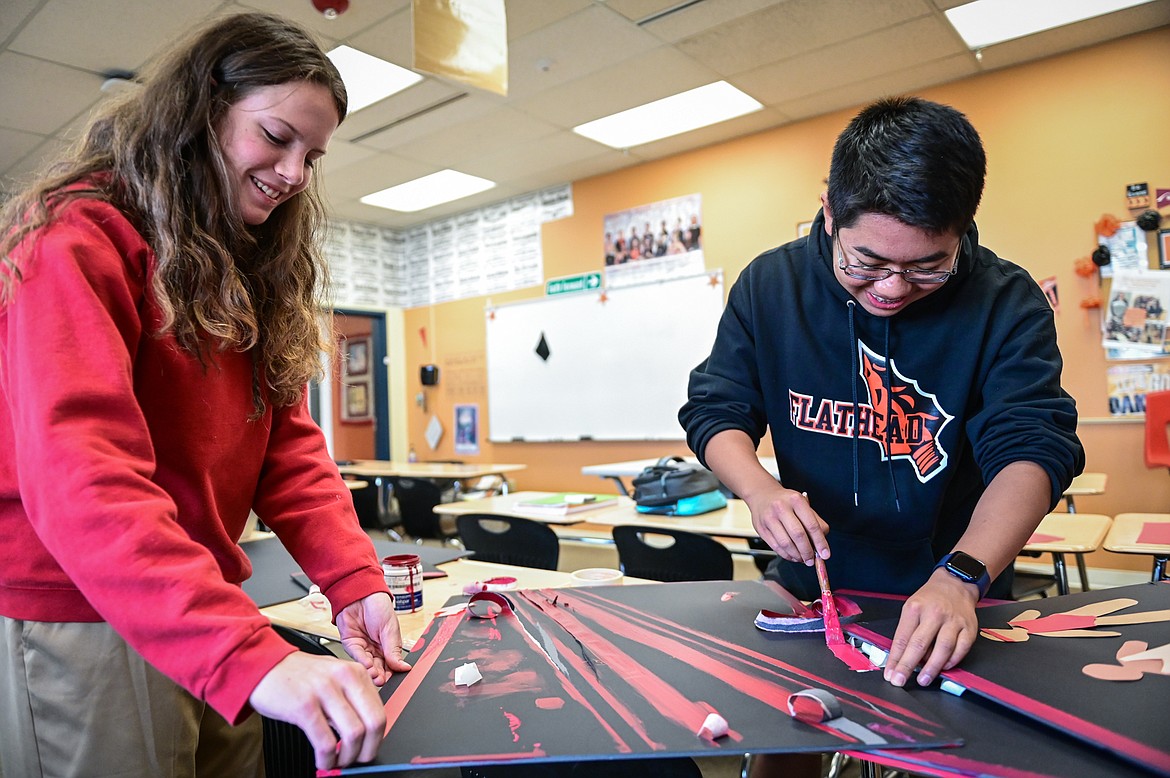 Neila Lyngholm and Vincent Lam work on posters for their informative speech at Flathead High School on Wednesday, Oct. 27. (Casey Kreider/Daily Inter Lake)
Previous
Next
by
HILARY MATHESON
Daily Inter Lake
|
October 29, 2021 12:00 AM
Speech and debate competitors are ready to talk the talk at the Kalispell Kickoff Saturday.
The tournament will be held at Glacier High School with the first round starting at 8 a.m. Final rounds begin at 4 p.m. with an awards ceremony scheduled for 6:30 p.m. in the performance hall.
The annual tournament is the first of the season for local teams including Bigfork, Columbia Falls, Flathead, Glacier, Libby and Whitefish. Other teams competing are Missoula Sentinel, Missoula Big Sky, Missoula Hellgate, Hamilton, Stevensville, Frenchtown and Corvallis.

People are encouraged but not required to wear masks indoors. Judges are encouraged to sit at least 6 feet from speakers. Teams are asked to select an area in the commons to stay with their own teams between rounds.
Tournaments, including the Kalispell Kickoff, will be held in person at the present time, which is a change from the previous season, which was held virtually due to Covid-19. Returning to in-person will be a learning curve for competitors who joined during the virtual season.
"Last season was so brutal for our team. Not only competing via an internet connection but also the rigor of a delayed season start, which ended up meaning the team competed nearly every weekend in December and January," Glacier Head Speech Coach Greg Adkins said. "We have a bunch of returning team members who will compete in this format for the first time ever — and I'm super excited about it."
Columbia Falls' new Head Coach Dawn Roe also expressed a similar sentiment. Much of speech and debate performances are steeped in eye contact, body language and audience reaction.
"Many of our students have never participated in an in-person tournament so they are looking forward to the excitement and energy experienced when competing in the same room instead of over a video screen," Roe said.
CLASS AA state champion Bozeman High School remains the team to beat for Flathead and Glacier, who finished second and third, respectively.
"I'd guess that the top team will be either us, Bozeman or Flathead," Adkins said, which has been the trend for more than a decade. "Bozeman and Flathead both have great programs and top returners. It should be another fun battle. I'd also keep an eye on Gallatin, Sentinel, and the three Billings schools. Helena Capital is also bringing in a great new head coach, so I think this year will be very competitive."
Flathead Head Coach Shannon O'Donnell's goal this season is to work on memorized and debate events — and take back the state title from Bozeman.
"This season we hope to build some depth in the memorized and debate events, which are younger squads. As always, it's a big goal to be in position at the end of the season to make a run for the championship," she said.
Both teams are not without the leadership of seasoned competitors.
Returning state champions for Flathead are seniors Annelise Mason in Legislative Debate, James Francis in Humorous Interpretation and junior Neila Lyngholm in Informative Speaking and Impromptu Speaking. The three competitors also are returning national qualifiers in Congress Senate, Duo Interpretation and Informative Speaking, respectively.
Other returning national qualifiers include seniors Aiden Christy, Duo Interpretation; Sophia Dykhuizen, Storytelling and Spoken Word Poetry; Kadence Johnson, Duo Interpretation; Maayana Sattler, World Schools Debate; juniors Jasmine Anderson, Humorous Interpretation; Sayla McCulley, Storytelling and Expository; Bethany Nairn, Program Oral Interpretation; Rylin Wilde, Domestic Extemporaneous Speaking; and sophomore Adina Lockwood, Duo Interpretation.
For Glacier, returning state champions include seniors Aryana Allred in Memorized Public Address and the Policy Debate team, Mason Fauth and Alexandra Houseworth.
Additionally, returning national qualifiers include Lane McKoy, Informative Speaking; Bella AuClaire, Original Oratory; Brenna Ernst, Dramatic Interpretation; Davis Rennie, Humorous Interpretation; Isaac Lorenc, Duo Interpretation; Bella Teggeman, Extemporaneous Speaking; Meyer Fauth, Humorous Interpretation; Kait Giffin, Lincoln-Douglas Debate; and Aidan Walker Lincoln-Doulgas Debate, along with Houseworth, Fauth, Adkins, and Wilton.
CLASS A team Whitefish High School is looking to defend its state championship title.
"We appear to be debate heavy, but we have great returners on the speech side," Whitefish Head Coach Sara Mueller said. "The strength of our team could be the depth we are able to produce."
Last season's state win bumped Columbia Falls into second place, ending a dynasty of consecutive titles. With years of experience as a local speech and debate tournament judge and as a parent of a speech competitor, Roe understands the pressure that comes with the expectation of continuing a legacy.
"Columbia Falls has a long tradition of excellence in speech and debate with 15 years as back-to-back state champions," Roe said. "We are a new, young team whose biggest competition is our own legacy. Our goal is to forge a new team, to extend elements of the previous teams that contributed to our excellence while forging a new unique path."
The teams likely will start on even ground as both have young teams, which Roe sees as a place of strength.
"The majority of the team is new this year. One of their strengths is their fearlessness," Roe said. "They are ready and willing to tackle anything. It's fun to watch. It gives us the freedom to recreate the program."
In addition to judging, Roe, a math teacher at Columbia Falls High School, has public speaking and leadership experience through Toastmasters International.
"My goal is to help them discover the best avenue for their creative abilities," she said.
Both teams will have a boost from returning state champions and national qualifiers.
Whitefish's Memorized Public Address state champion senior Paetra Cooke returns. Cooke also competed at nationals in Poetry. National qualifier senior Adrienne Healy, Informative Speaking, also returns.
For the Columbia Falls team, state champions and national qualifiers Griffin Conger, Dramatic Interpretation, and Emma Stephens, Policy Debate, are back, along with national qualifier Eddie Chisholm in Congress.
"We have so much respect for Columbia Falls," Mueller said. "They push us to be better each season. Frenchtown and Laurel are also teams to look out for. They were both very strong competition last year,"
Reporter Hilary Matheson may be reached at 406-758-4431 or by email at hmatheson@dailyinterlake.com.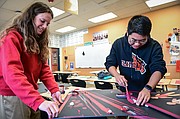 Recent Headlines
---