Pot rules, architecture divide Kalispell mayoral candidates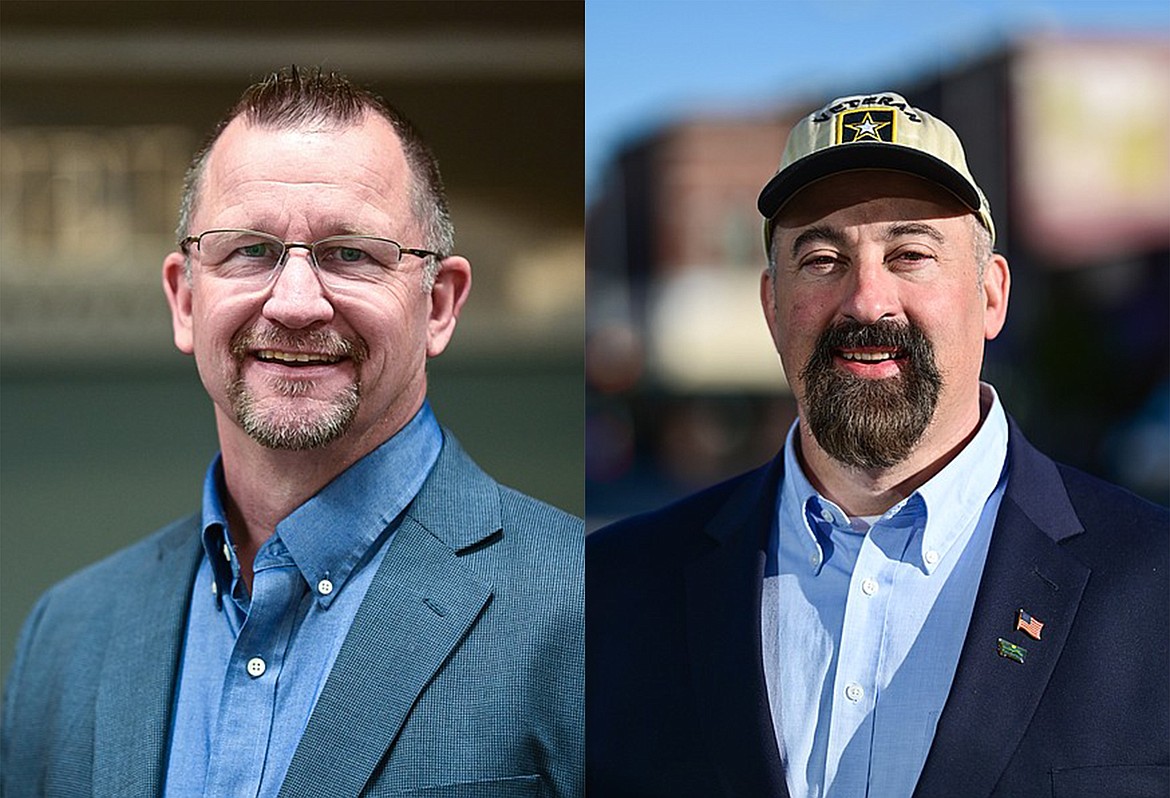 Mark Johnson and Sid Daoud.
by
BRET ANNE SERBIN
Daily Inter Lake
|
October 30, 2021 12:00 AM
The differences between Kalispell mayoral candidates Mark Johnson and Sid Daoud came down to questions of small and smaller government during a virtual question-and-answer session with the Daily Inter Lake on Thursday.
Johnson, the incumbent two-term mayor, and Daoud, the Ward 4 City Council representative, generally agreed in their desire to see reductions in development restrictions, costs to individuals and government involvement on different local issues.

Both supported the rights of private citizens and businesses to make their own decisions about wearing masks and getting the Covid-19 vaccine. Each wanted to see local elections remain nonpartisan. And the pair shared an interest in attracting development to the downtown area, especially along the Parkline Trail.
Where they differed mostly came down to questions of how limited they'd like to see the local government become.
The most divisive issue between the candidates was marijuana regulations.
Johnson took the more restrictive approach, backing his move on the council to limit marijuana dispensaries to the city's industrial zones.
"What I want to do is take a slow approach to this," he said.
Johnson was responsible for a proposal to strike business zones from the list of allowable areas in a new ordinance that was approved by the council earlier this month.
"I think it's due for more of a community conversation with more limitations versus just wide open," Johnson added during the virtual forum on Thursday.
Daoud, meanwhile, sided with the minority vote that supported the original motion that would have included business and industrial zones as allowable areas for marijuana businesses.
Daoud, who identifies as a Libertarian, pushed for a more flexible approach because he believes it would help diversify the city's economy.
"In effect, what we've done is we've banned this new cannabis industry from Kalispell," Daoud said.
Another distinction that emerged concerned architectural standards.
Daoud took the path of least regulations.
"I'm not a big fan of restrictive guidelines or processes that will add cost to the construction of buildings and houses," he said.
He expressed an interest in seeing fewer standards and zoning regulations around Kalispell buildings, including the downtown area, which received a new set of architectural guidelines from the council this year.
Johnson, on the other hand, is proud of the new Architectural Review Committee standards the council put in place recently. He called architectural standards a "double-edged sword."
"We like the appearance but we also have to understand the appearance comes at a cost," he pointed out. "It's one of those things we need to balance and I think we can do it."
Outside of those sticking points, the candidates both reiterated their belief that the government should move out of the way to best address housing issues, homelessness and development.
On questions regarding transportation and emergency services, Daoud and Johnson agreed on the mayor's need for cooperation.
Reporter Bret Anne Serbin may be reached at 406-758-4459 or bserbin@dailyinterlake.com.
Recent Headlines
---