Flower farms proliferate across Flathead Valley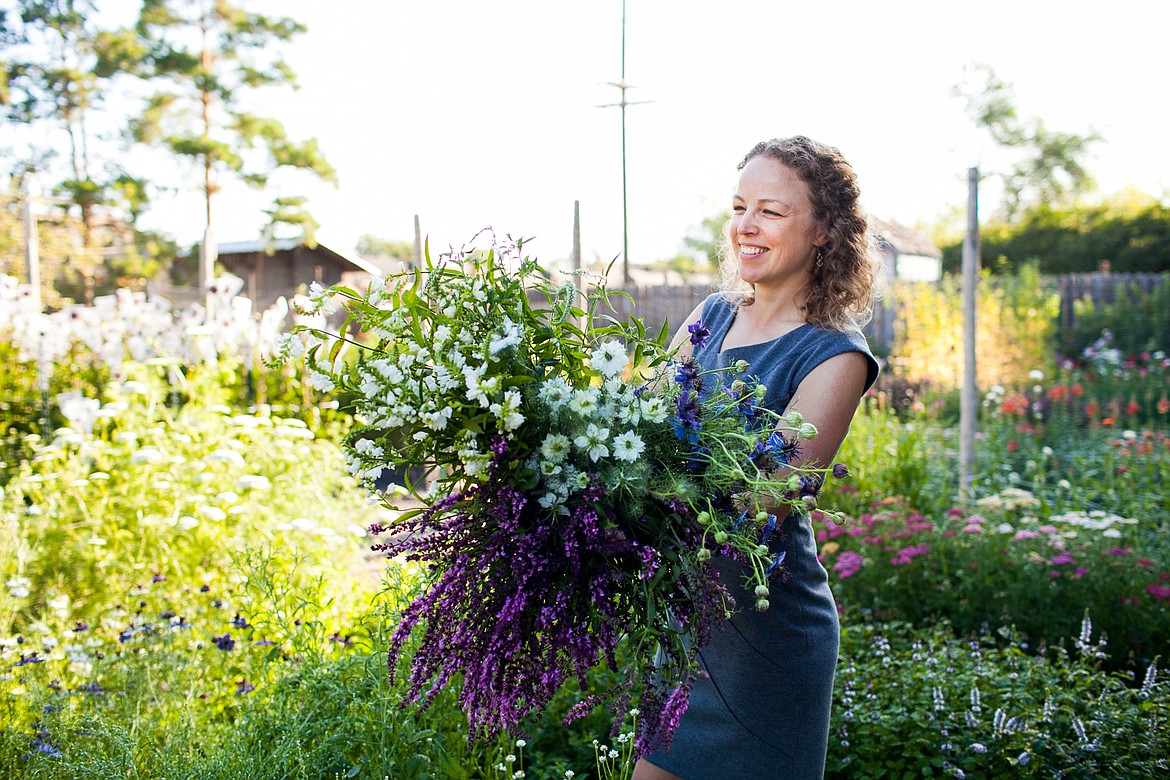 April Vomfell carries freshly picked flowers in her backyard farm in Kalispell. (Courtesy of Archer Messenger)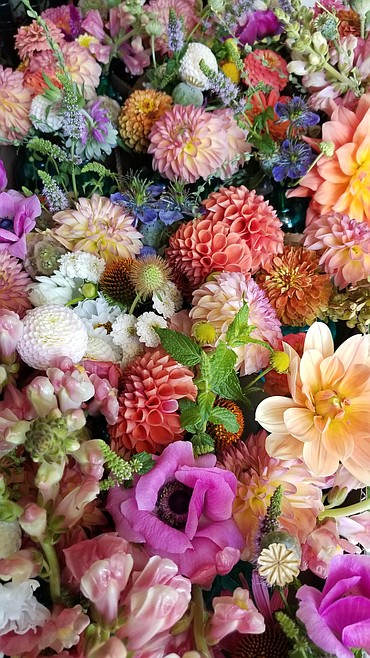 April Vomfell creates flower arrangements for weddings using blooms picked by hand at Flathead Farmworks in Kalispell. (Courtesy of April Vomfell)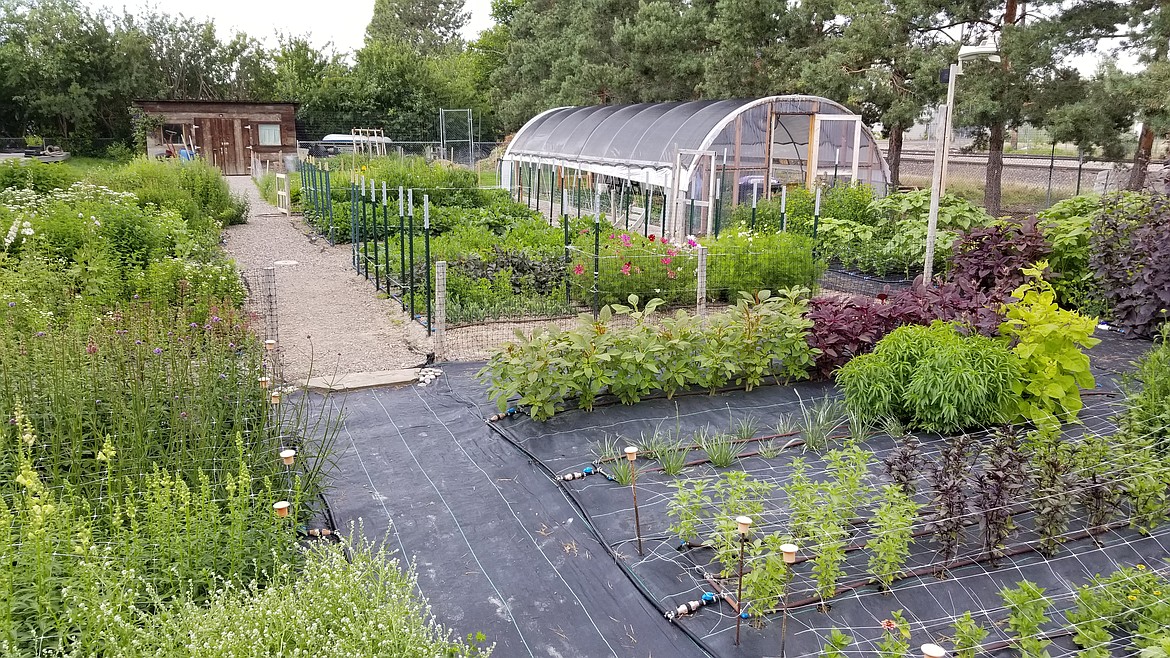 Flathead Farmworks takes up just a half-acre of April Vomfell's backyard near downtown Kalispell. (Courtesy of April Vomfell)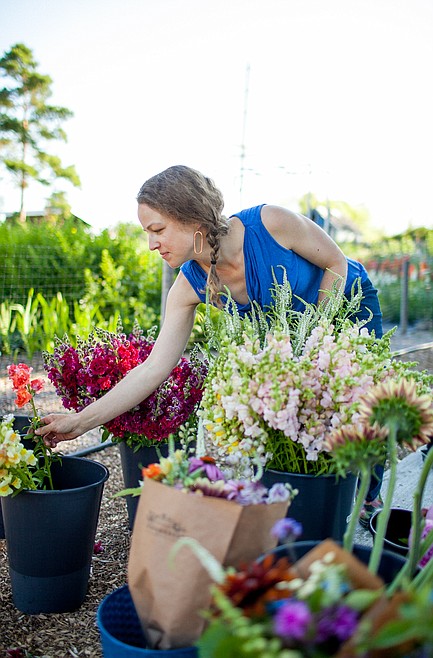 April Vomfell carefully picks blooms at Flathead Farmworks in Kalispell. (Courtesy of Archer Messenger)
Previous
Next
by
BRET ANNE SERBIN
Daily Inter Lake
|
September 5, 2021 12:00 AM
From tiny backyards to wide-open farms, a local flower movement is taking root.
"It's all about using flowers grown locally and seasonally," said April Vomfell, who started one of the first flower farms in the Flathead Valley.
She launched Flathead Farmworks in Kalispell in 2015. Inspired by the movement around locally sourced foods, Vomfell started cultivating vegetables and plants in her backyard.
During her first few years, she noticed plenty of enthusiasm for sustainable food raised close to home. But she didn't see many options for products that aren't edible.
She created Flathead Farmworks to fill a gap left over by gardens, nurseries and corporate floral businesses.
At flower farms like hers, a small team hand-plants and hand-picks a special selection of flowers. Weddings, florists and members of a Community Supported Agriculture program make up a lot of the usual customers.
The business model started to germinate over the past few years, but the Covid-19 pandemic turned it into a full-fledged industry.
"People see it and go 'I could do that,'" Vomfell said.
IT'S EASY to see the allure of flower farming.
Vomfell works on a half-acre plot tucked innocuously behind her Kalispell home. The garden is an explosion of life and color, although it's barely noticeable from beyond the gate.
A rainbow of dahlias, zinnias and sunflowers seems ready to burst out of the tight rows that keep them contained behind Vomfell's wooden fence.
Every day, Vomfell commutes a few steps from her house to her compact garden or the nearby greenhouse. When she's not in the yard, Vomfell is usually planning out seed schedules, arranging bouquets or making deliveries. Two part-time employees help out in the busy summer months.
Her field of work is growing quickly.
Further out of town, Althea Hogle is in her first summer of production at Phyllary Farm.
Hogle's operation on her family's land looks a little more like a traditional farm than Vomfell's urban oasis.
About a quarter-acre of the family's 6-acre plot is dedicated to flower farming. Cosmos, sunflowers and dahlias bloom across what used to be fallow fields just last year.
Though Phyllary Farm might look fairly typical at a glance, closer inspection reveals there isn't much conventional about Hogle's business. That's one of the many draws of the flower farm model.
While Vomfell, with Flathead Farmworks, selects for soft pastel colors that work best in weddings, Hogle prefers unusual colors, less familiar flowers and a growing style that isn't very highly manicured.
"I like the weird ones," Hogle said while showing off purple sunflowers and spiky nigella seed pods.
Hogle also differs from Vomfell in her organizational approach. Since Phyllary Farm is less confined than Flathead Farmworks, Hogle can take more liberties with her planting. In contrast to Vomfell's meticulous layout, Phyllary Farm looks more like a wild prairie.
Vomfell has spent years analyzing the exact microclimates of every corner of her backyard, keeping close track of the spots that get more sunlight and quicker snowmelt. Hogle, meanwhile, doesn't seem to mind if her plants take a little more leeway with their location and growing time.
"It's not perfect," Hogle readily admitted. "It's perfect for what it is. It's perfect in its imperfection."
THE BEAUTY of flower farming lies in the independence of each small farm.
"Figuring out your niche is big," Hogle said.
That's been an important part of the process at 2 Kay's Flower Farm, a mother-daughter flower farm that seeks to connect customers to their roots.
Many flower farms are closed to the public, because the small, delicate spaces can't accommodate many visitors.
But bringing outsiders onto the farm is a big goal for Marlene Horsfall and Crystal Allison.
They built 2 Kay's Flower Farm on a massive family farm that dates back five generations.
"After this many generations, we're proud of it," said Horsfall, the mom in the duo. "It's just fun to share that."
Now in its second season, 2 Kay's Flower Farm is designed to be experienced firsthand.
Horsfall and Allison sell a lot of their flowers at a stand on the western edge of their property, where they've parked an antique truck original to the farm. Known as Fyrne the Ford, the 1960 vehicle practically begs visitors to stop by and snap a photo — there's even a cell phone stand to eliminate the need for a photographer.
Each of the growing spaces is equally visitor-friendly. Groups of flowers are separated — perennials in one, annuals in another — with plant-covered gates leading into each area.
This summer, Horsfall and Allison started hosting tours, giving people an opportunity to pick their own flowers and arrange a bouquet. They initially planned for just a single tour but ended up holding three sold-out events.
Going forward, they hope to make 2 Kay's more accessible to visitors. They've been inspired by a Stevensville flower farmer to connect with local retirement homes. They'd also like to bring in photographers, elopements and weddings to the unbelievably photogenic farm. And they hope to add a pumpkin patch, a sunflower maze and a small event center.
"People want to connect to rural America," Allison said. "There's a connection that can be made through flowers."
Reporter Bret Anne Serbin may be reached at 406-758-4459 or bserbin@dailyinterlake.com.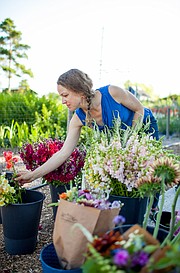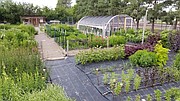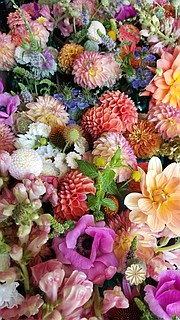 Recent Headlines
---