National security and honoring our values: Montana and Afghanistan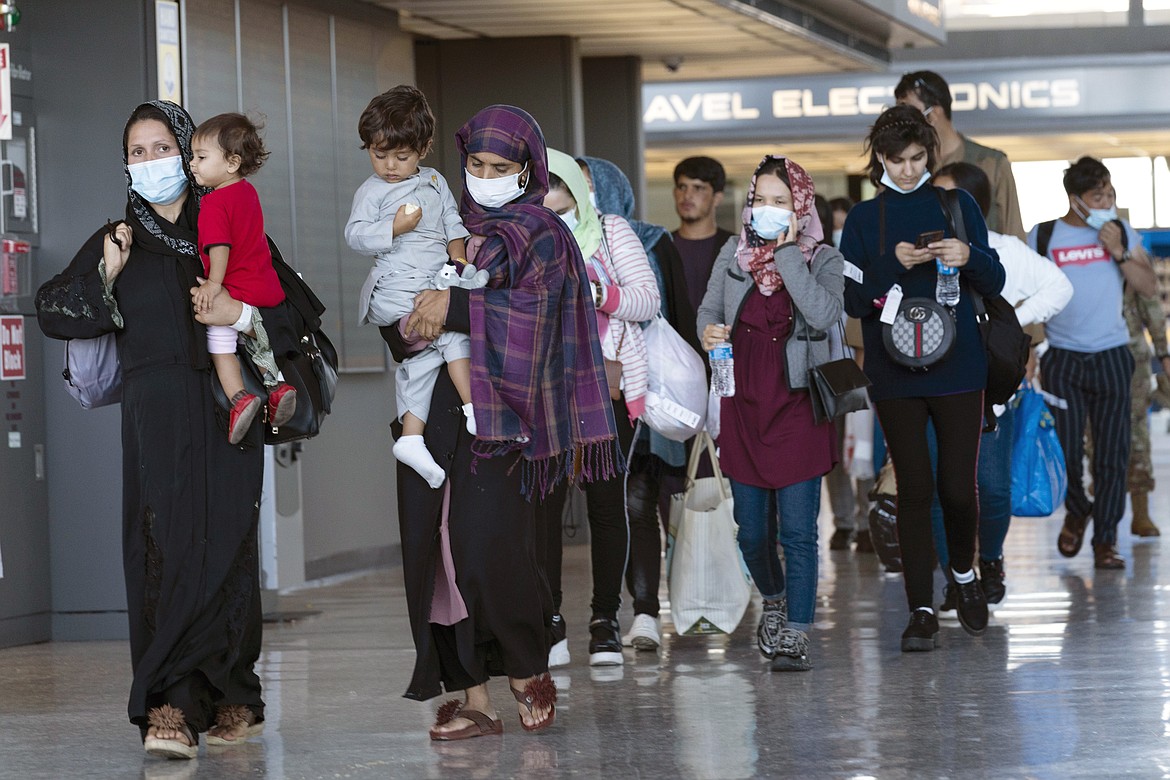 Families evacuated from Kabul, Afghanistan, walk through the terminal before boarding a bus after they arrived at Washington Dulles International Airport in Chantilly, Va., on Friday, Sept. 3, 2021. (Jose Luis Magana/Associated Press)
by
Chris Hyslop and Deena Mansour
|
September 5, 2021 12:00 AM
The fall of the Afghan government and the return of the Taliban has left policymakers and the public grasping for answers and apportioning blame. The deaths of 13 U.S. servicemen and -women and 170 Afghans at the Kabul airport punctuate this tragic state of affairs. Many ask how the Afghan government, after an injection of $89 billion over 20 years, could collapse so quickly. Critical to this debate is Montana's support for our veterans – as well as the Afghan people.
We tend to assign failure to anyone who easily concedes or changes sides, like the Afghan Army. What we may not see is the premium placed on survival of family and community. Afghans acting to save their families and villages surrender as a means to survive. This is understandable in a society which has survived generations of conflict.
The rapid fall of the Afghan government is also due to its corruption and poor governance. Despite U.S. funds and support, the Afghan government failed to create a cohesive rule of law that benefited society at large. The Taliban represent the return of a brutal regime: no one knows this better than the Afghan people. But for many Afghans who do not have a choice, they will seek to live with them rather than to die by them.
U.S. efforts to secure our national interests have a direct impact on people's lives. This is especially true in a state where veterans comprise more than 10% of our population. At the same time, we have a history of receiving immigrants — from those who supported Butte decades ago to those receiving refugee assistance today through generous community members. The Montana World Affairs Council works in communities and schools to engage Montanans on these important international issues that affect each of us.
The war in Afghanistan will have a lasting impact on Montana. Caring for our servicemen and -women is a top priority. Montana's greatest statesmen, Mike Mansfield, led a storied career in military service, serving in the Navy, Army and Marines. His legacy of support for our veterans continues in our congressional delegation today, as reflected by the selection of U.S. Sen. Jon Tester to chair the Senate Veterans' Affairs Committee. It is essential that we continue to support our veterans through such organizations as Impact Montana and the Montana VA Health Care System.
At the same time, we honor the values that our veterans fought for in Afghanistan. As Montana veteran John Quintrell recently stated, "These people that helped us in Afghanistan are just like the people who helped us in Vietnam. They're true patriots. Why would there be anyone against bringing those patriots here and giving them a chance?"
Within a U.S. Department of State educational exchange for global secondary educators, the Mansfield Center recently virtually hosted an Afghan teacher working for the Ministry of Education. We came to know "A" well through Zoom, including his passion to get textbooks into the hands of young students. A is currently in hiding with his parents and three siblings, noting that the Taliban, "object to my focus on human rights, democracy and women's rights. They claim that the textbooks are aligned to the U.S. education system, and as a result we are living in fear."
Our veterans deserve our thanks and support. At the same time, tens of thousands of people like A are desperately seeking a lifeline to live our shared values. We respect the essential role of the people of Montana in recovering from this long war as we support both our veterans as well as the people of Afghanistan.
Chris Hyslop is the executive director of the Montana World Affairs Council. Deena Mansour is the executive director of the Maureen and Mike Mansfield Center. Both nonpartisan organizations are dedicated to supporting Montanans statewide in global engagement.
---