Glacier unveils plan to phase out sightseeing flights over park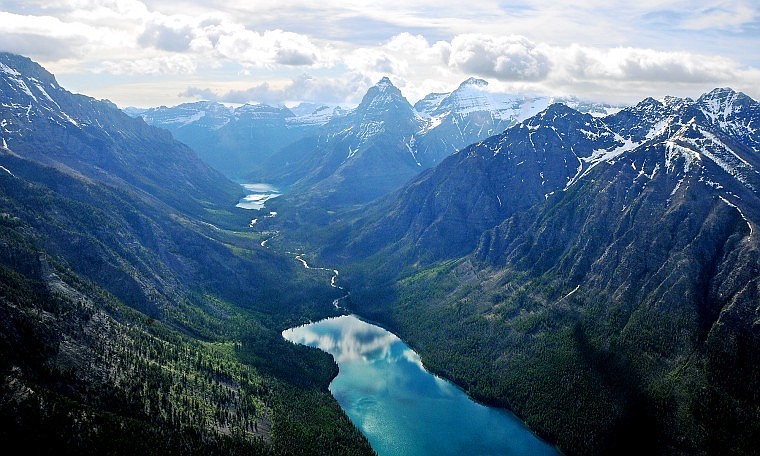 The glassy surface of Kintla Lake reflects clouds and mountain peaks near the northeast corner of Glacier National Park in this June, 25, 2010, aerial photo. (Daily Inter Lake)
by
CHAD SOKOL
Daily Inter Lake
|
September 6, 2021 12:00 AM
Officials are asking the public to weigh in on a plan to manage — and eventually phase out — commercial aircraft tours over Glacier National Park.
The National Park Service and the Federal Aviation Administration said the proposed Air Tour Management Plan would effectively cap the number of permitted flights over the park at current levels, enable the park to set no-fly periods and better define acceptable routes for chartered planes and helicopters.
The proposed plan comes more than a year after a federal appeals court found the two agencies had failed to comply with the National Parks Air Tour Management Act of 2000, which aims to reduce noise and impacts to wildlife from sightseeing tours.
The law required businesses that provide tours over national parks and certain tribal lands to obtain special permits from the FAA. Amended in 2012, it also required the Park Service and the FAA to establish air tour management plans for national parks, or enter into voluntary agreements with flight operators.
The law applies to all airspace over national parks and a half-mile perimeter outside park boundaries, within 5,000 feet above ground level.
FRUSTRATED BY noisy helicopters around national parks in Hawaii, two groups — Public Employees for Environmental Responsibility and the Hawaii Island Coalition Malama Pono — filed a lawsuit seeking to force the government to comply. The U.S. Court of Appeals for Washington, D.C., ruled in their favor in May 2020.
"Left to their own devices, the agencies have failed to comply with their statutory mandate for the past 19 years," Judge Thomas Griffith wrote at the time, ordering the agencies to develop management plans for about two dozen national parks within two years.
One of those parks was Glacier.
Until recently, five businesses held FAA permits to provide tours over Glacier, but two surrendered their permits earlier this year.
The remaining permit holders — Homestead Helicopters Inc., Minuteman Aviation Inc. and Red Eagle Aviation Inc. — together conducted an average of 144 flights over the park each year from 2017 to 2019, according to the Park Service.
The agency's proposed plan would cap the number of permitted flights at that level, 144 per year, while also enshrining the park's authority to limit when and where planes and helicopters can be flown. Over the years, park officials anticipate a gradual phasing-out of sightseeing tours through further "attrition" of permit holders.
Glacier's General Management Plan currently allows for up to 891 flights over the park each year.
THE PROPOSED Air Tour Management Plan can be found at parkplanning.nps.gov/glacieratmp. A public meeting regarding the plan is scheduled from 4:30 to 6 p.m. on Sept. 21. It will be livestreamed on YouTube, Facebook and Twitter. Meeting information and recordings will be posted to the project website. The deadline to submit comments on the plan is Oct. 3.
"We encourage anyone who is interested in air tours over the park to share their thoughts on the proposed plan for Glacier National Park on the project website," Glacier's acting superintendent, Pete Webster, said in a statement.
"The draft plan continues scenic air tour activity over the park at current levels while reducing the number of flight allocations annually from what was set during the interim operating authority provided by the National Air Tour Management Act," Webster said. "It achieves the direction, set forth in Glacier's General Management Plan, to eventually phase out air tour activity over Glacier National Park."
Two of Glacier's permitted flight operators didn't immediately comment on the proposed plan when reached by phone Friday.
Assistant editor Chad Sokol may be reached at 406-758-4439 or csokol@dailyinterlake.com.
---