Fire lookout rentals take camping to the next level
The Bald Mountain Lookout in Idaho is 50 feet tall. (Bret Serbin/Daily Inter Lake)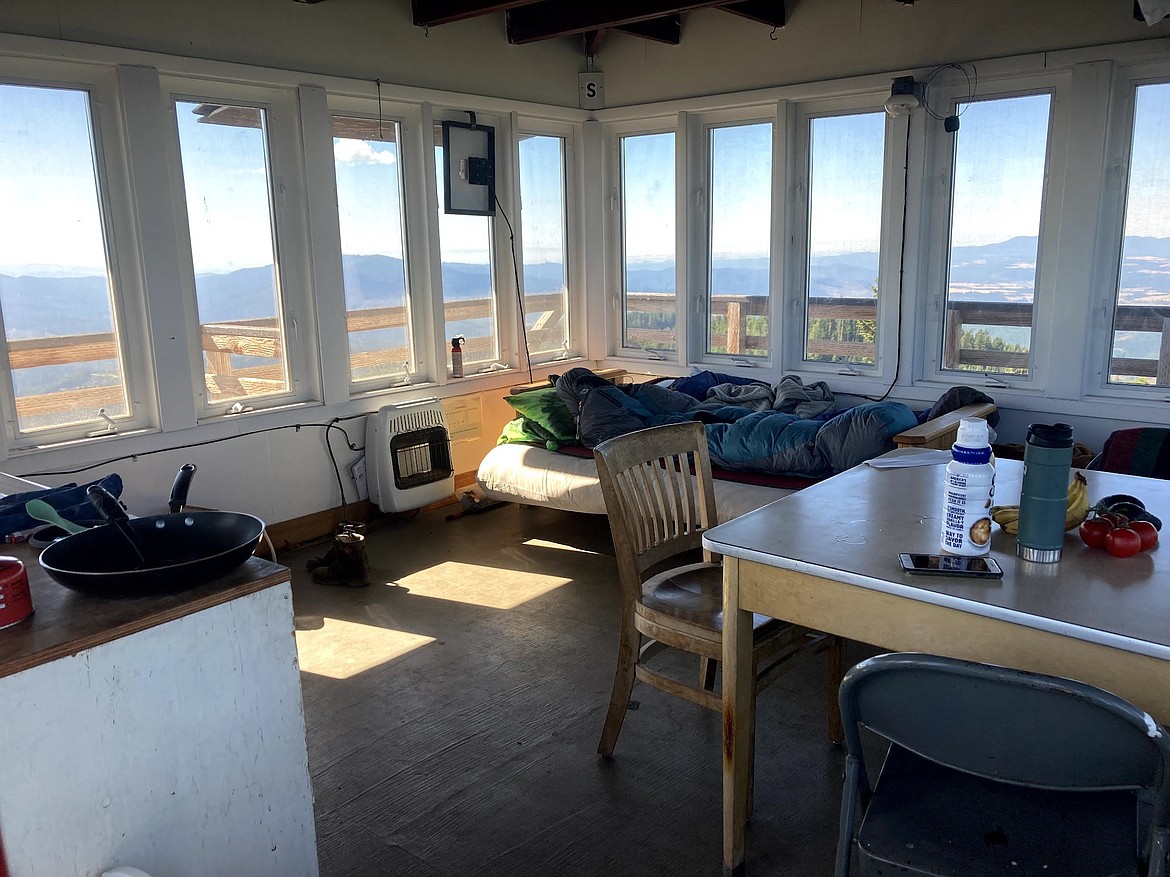 The Bald Mountain Fire Lookout is equipped with a propane heater, a sink and a stove. (Bret Serbin/Daily Inter Lake)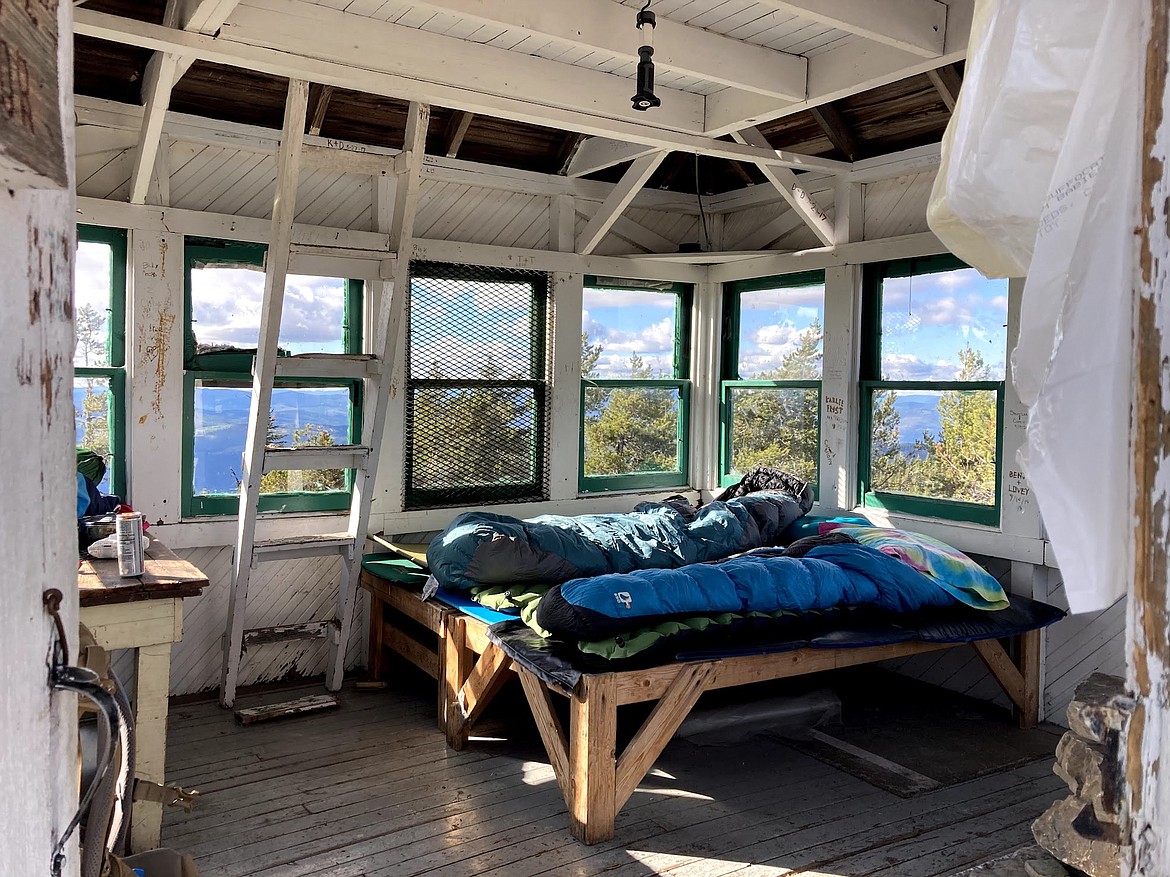 The McGuire Mountain Lookout near Eureka doesn't have many more amenities than a sleeping space, a wood stove and a cupola for observation. (Bret Serbin/Daily Inter Lake)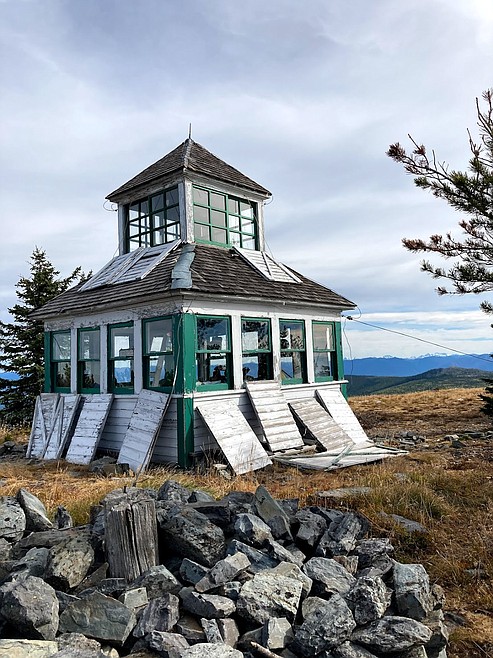 The McGuire Mountain Lookout near Eureka is accessible only from a 2-mile trail. (Bret Serbin/Daily Inter Lake)
Previous
Next
by
BRET ANNE SERBIN
Daily Inter Lake
|
September 9, 2021 12:00 AM
National park visitation smashed records this summer. Campgrounds filled to the brim. Hiking trails started to feel like Manhattan sidewalks with a slightly greater risk of encountering a wild animal.
It's a good time to get above the fray in a fire-tower lookout.
The staggering structures, built to spot wildfires, aren't out of the ordinary to most outdoors people in Northwest Montana. Many can be found on hiking trails or dirt roads in Glacier National Park and nearby national forests.
But for an elevated experience, some fire tower lookouts can be rented out for an overnight stay.
There are dozens of lookout rentals spread across Montana and Idaho. Most consist of nothing more than a 12x12 room with sleeping space for four people, rustic amenities and 360-degree nature views.
For around $40 per night, they're a step up from the traditional camping experience—or in some cases, 50 steps up.
That's my estimate of the number of steps I climbed while staying at Bald Mountain Lookout in Idaho at the end of August. After a few flights of narrow wooden stairs, it was tricky to keep an exact count.
All the more reason to stay put once I made it to the shelter at the top of the 50-foot tower.
Bald Mountain Lookout sits at 5,334 feet overlooking the Clearwater Nez-Perce National Forest in southwest Idaho. It was built in 1964 and retired from Forest Service use in 1984. These days, it's a vacation spot for guests who want a truly isolated experience, and a reminder that no two fire tower lookouts are the same.
Bald Mountain was my third fire-tower stay, along with McGuire Mountain Lookout near Eureka and Thorny Mountain Fire Tower in West Virginia, the only rentable fire lookout east of the Mississippi.

Each of the three lookouts offered something slightly different in the way of access, amenities and overnight experience.

THE TRUE towers, like Bald Mountain, perch atop precarious-looking wooden staircases. What these lookouts sacrifice in the discomfort of descending to the pit toilet in the middle of the night, they make up in breathtaking vistas from the catwalk porch wrapped around the cabin.

Others don't rely upon manmade buttresses to boost them above nearby peaks and trees. McGuire Mountain Lookout is built on the ground at the summit of its namesake peak. Visitors who aren't wild about heights — or the need to haul their gear up with a pulley system — can climb a short interior ladder to the cupola that Forest Service scouts once used as their vantage point across Kootenai National Forest.

Gaining access to these mountaintop structures is a different adventure every time. Dirt roads lead all the way up to some sites, like Bald Mountain, while others can only be reached on foot. The hike to McGuire Mountain is a surprisingly gentle 2 miles.
Summer is the typical season for staying in a fire tower, but a few rentals are available year-round. In the winter, guests usually have to ski, snowshoe or ride a snowmobile up to the cabin. A wood stove or a propane heater makes it possible to spend the night during the cold months.
But lookout guests shouldn't bank on amenities. Bald Mountain Lookout was the most luxurious of my three stays, with its heater, stove and sink. McGuire Mountain, meanwhile, was limited to just a wood stove with an imperfect seal that made for a chilly awakening around 5 a.m.
Fire lookout guests are expected to bring their own water, flashlights and bedding. Facilities are pack-in, pack-out.
Likely the hardest part about getting into a lookout is securing the space. Lookout rentals go on sale online at the start of each year, and bookings usually fill up right away.
A few rentals operate on a first-come, first-served basis, so early visitors might be able to snag a spot on the day they want to stay.

Alternatively, it's possible to take the place of a canceled reservation at the last minute. I managed to reserve Bald Mountain and McGuire Mountain just a few days before each trip when I saw availability.

The key is to be on the lookout for your chance on recreation.gov.
Reporter Bret Anne Serbin may be reached at 406-758-4459 or bserbin@dailyinterlake.com.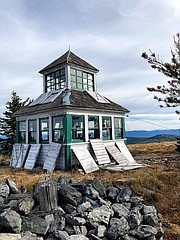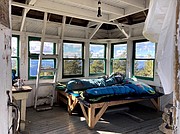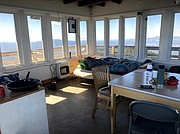 Recent Headlines
---