Dogs sweep Cats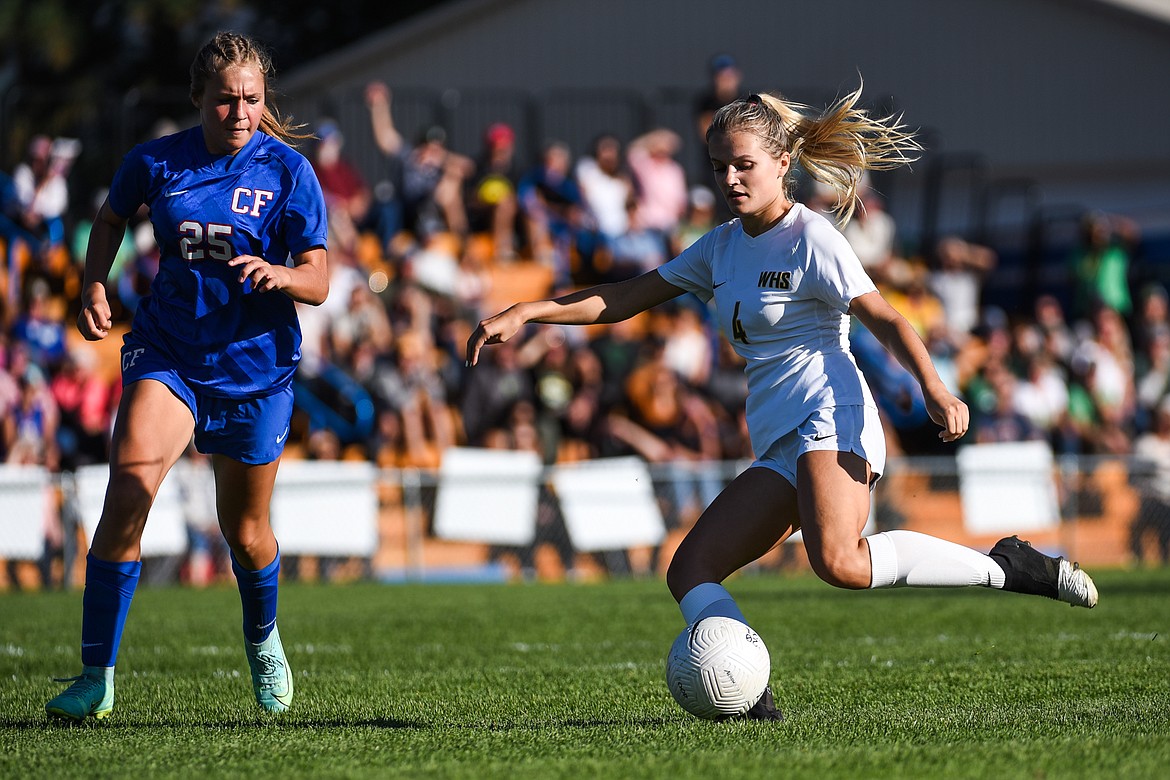 Whitefish's Sophie Olson (4) looks to shoot in the first half against Columbia Falls at Columbia Falls High School on Tuesday, Sept. 14. (Casey Kreider/Daily Inter Lake)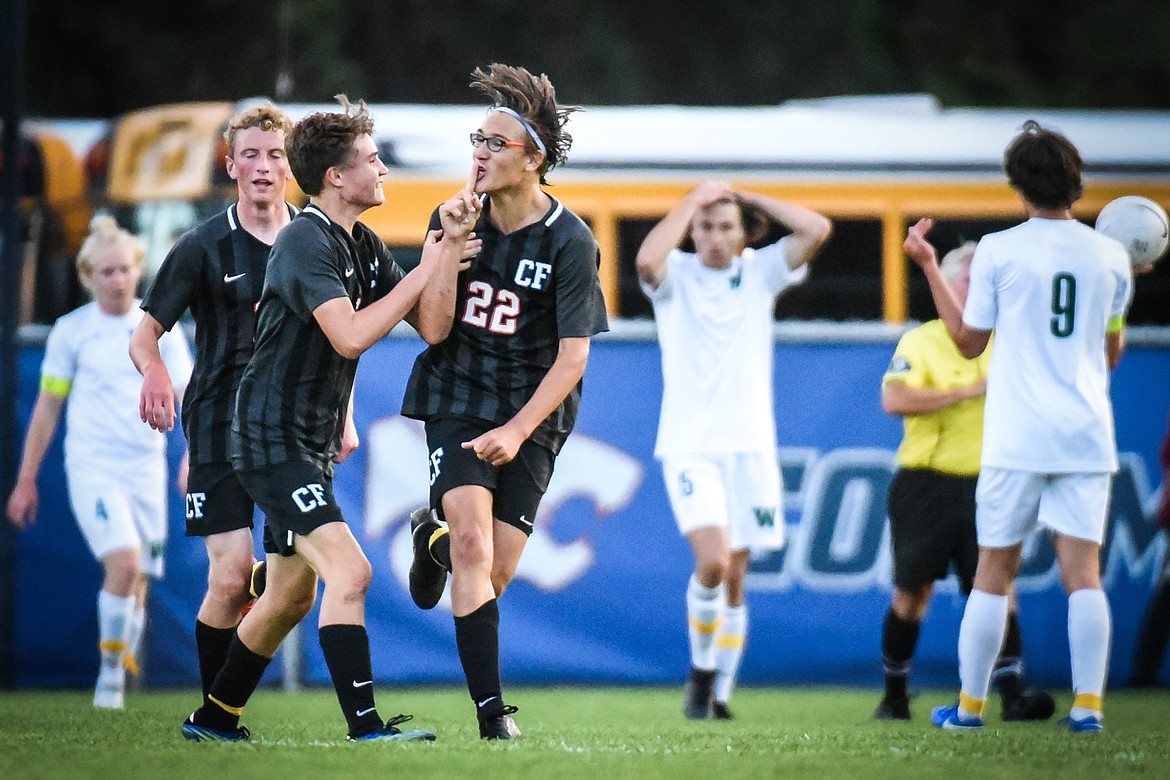 Columbia Falls' Finley Sundberg (22) celebrates after scoring on a penalty kick in the first half against Whitefish at Columbia Falls High School on Tuesday, Sept. 14. (Casey Kreider/Daily Inter Lake)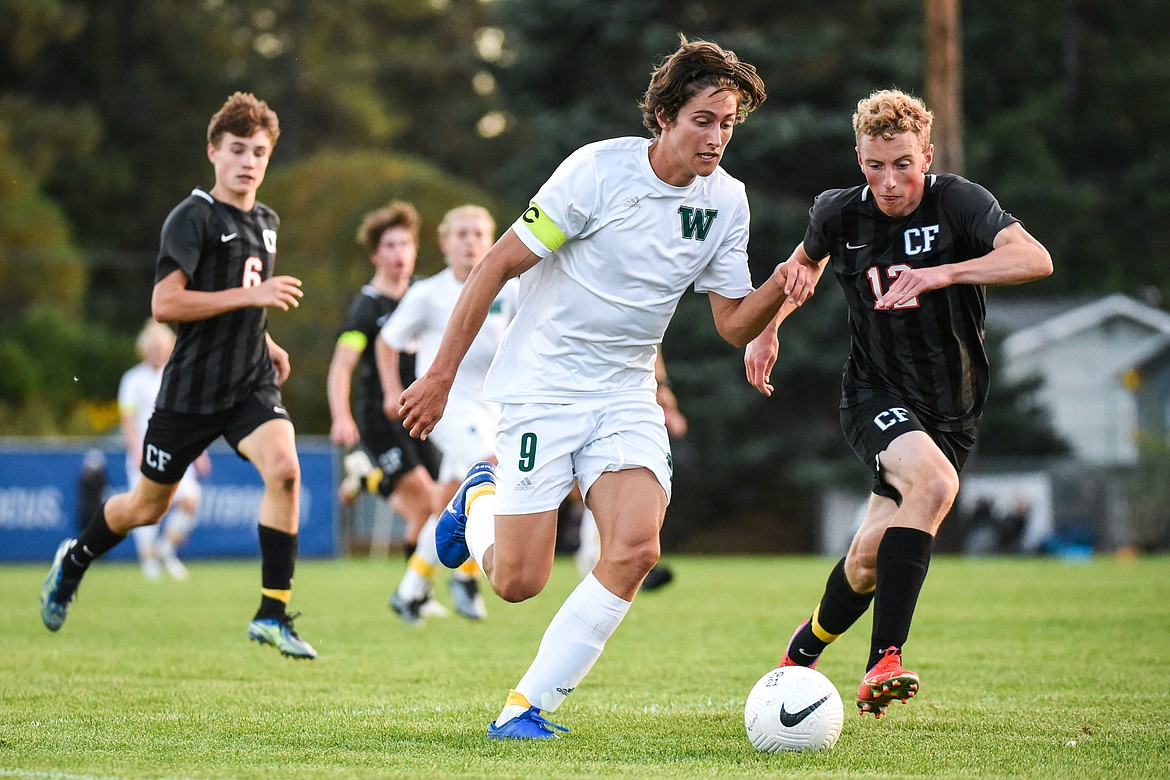 Whitefish's Gabe Menicke (9) pushes the ball upfield against Columbia Falls' Andrew Miner (12) in the first half at Columbia Falls High School on Tuesday, Sept. 14. (Casey Kreider/Daily Inter Lake)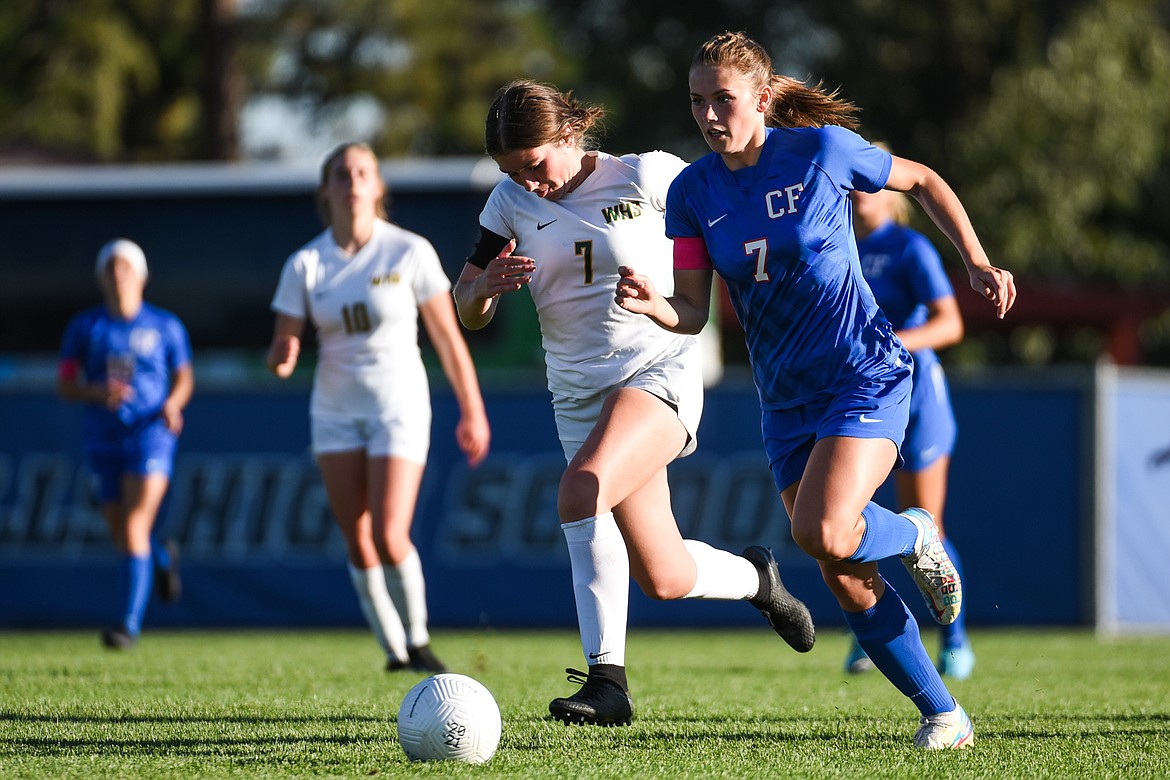 Columbia Falls' Maddie Robison (7) pushes the ball upfield in the second half against Whitefish at Columbia Falls High School on Tuesday, Sept. 14. (Casey Kreider/Daily Inter Lake)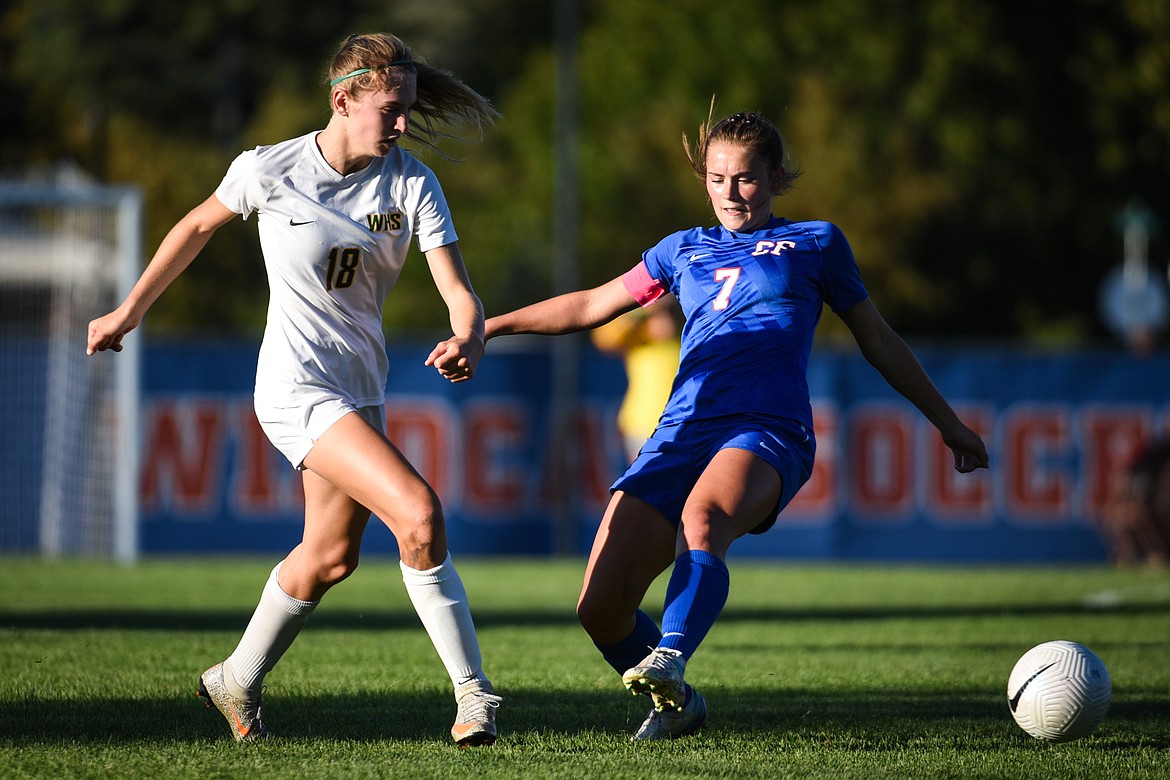 Whitefish's Maeve Ingelfinger (18) pushes the ball past Columbia Falls' Maddie Robison (7) in the second half at Columbia Falls High School on Tuesday, Sept. 14. (Casey Kreider/Daily Inter Lake)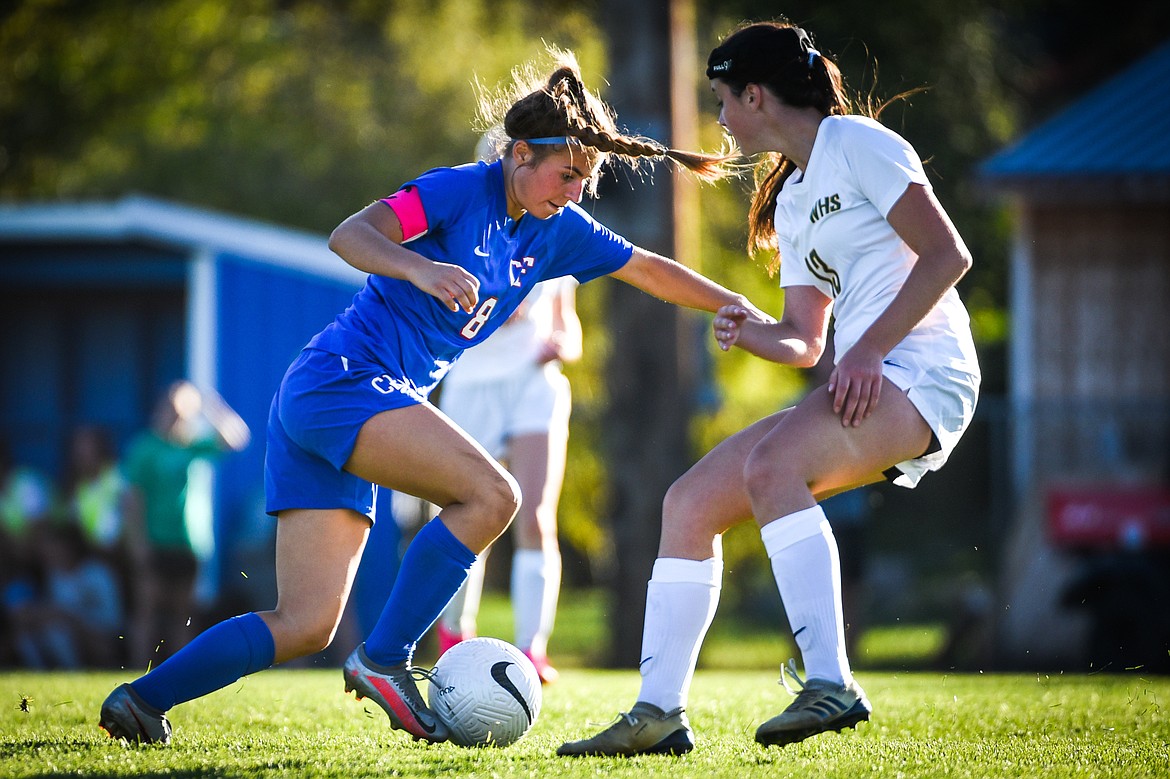 Columbia Falls' Cheyanne Johnston-Heinz (8) works the ball upfield in the second half against Whitefish at Columbia Falls High School on Tuesday, Sept. 14. (Casey Kreider/Daily Inter Lake)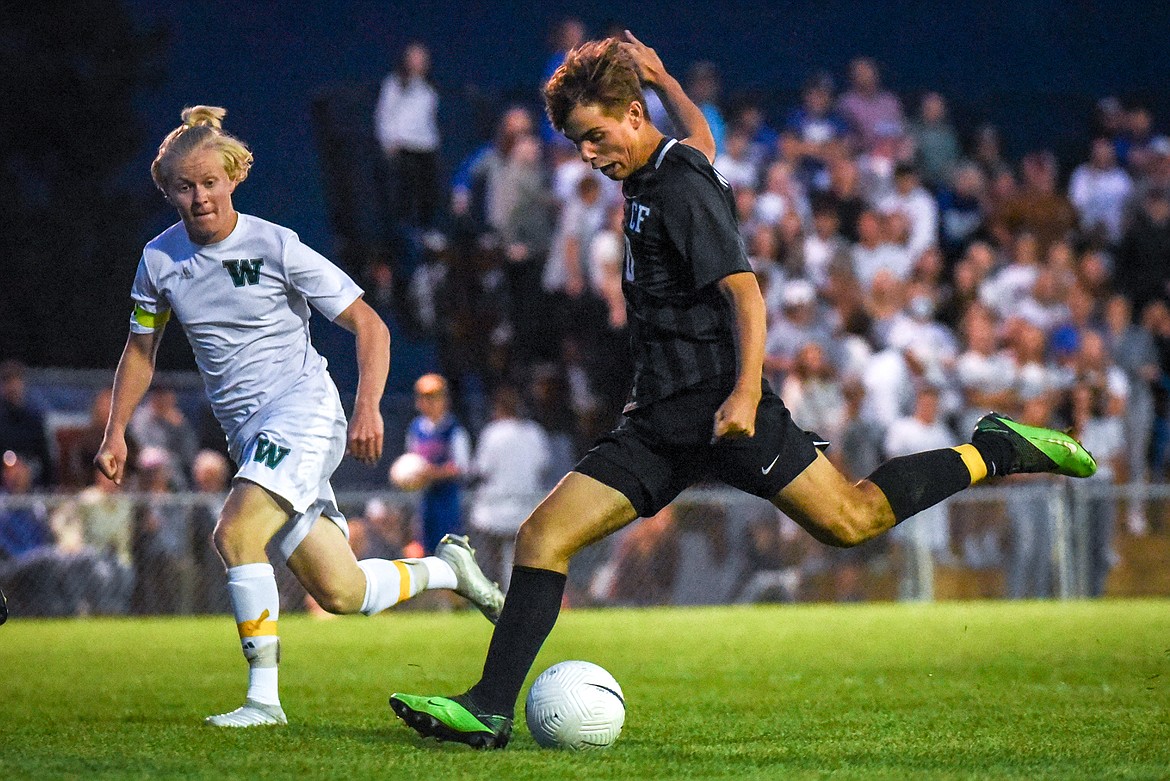 Columbia Falls' Kai Golan (10) has a shot glance off the post in the second half against Whitefish at Columbia Falls High School on Tuesday, Sept. 14. (Casey Kreider/Daily Inter Lake)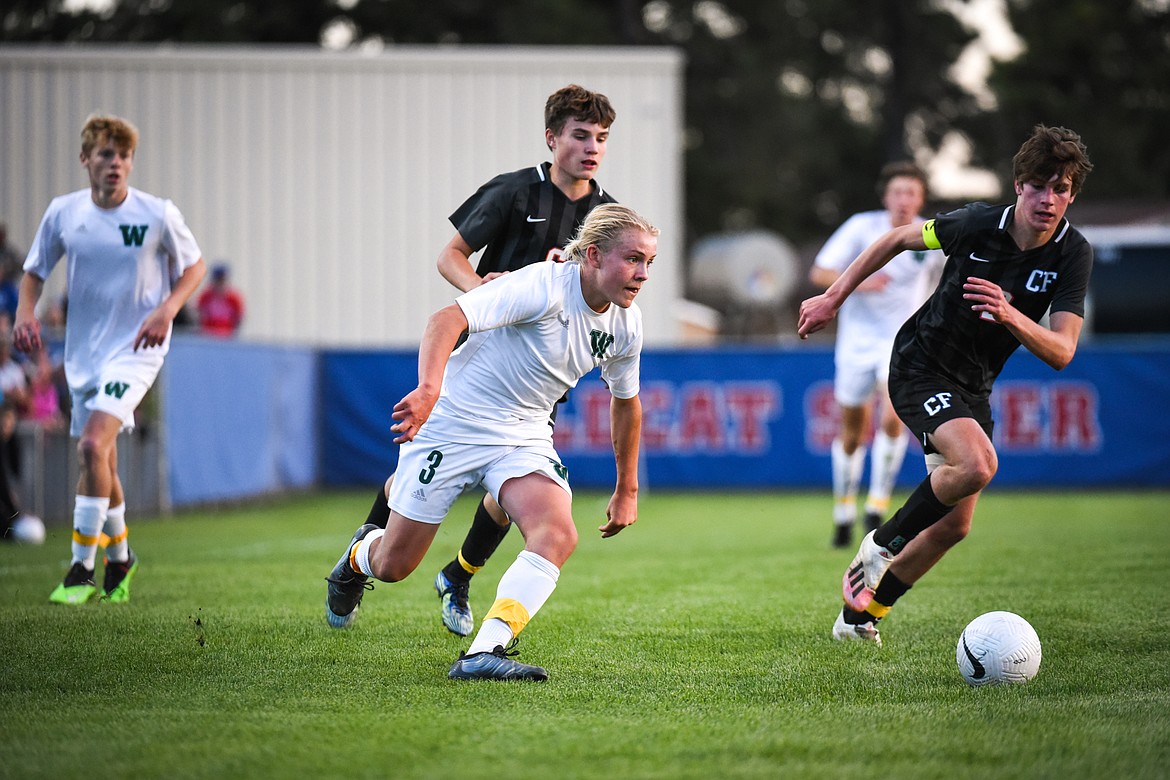 Whitefish's Chase Sabin (3) pushes the ball upfield in the first half against Columbia Falls at Columbia Falls High School on Tuesday, Sept. 14. (Casey Kreider/Daily Inter Lake)
Previous
Next
by
KATIE BROWN
Daily Inter Lake
|
September 14, 2021 11:41 PM
COLUMBIA FALLS — Adrienne Healy got Whitefish rolling with the first of her two goals in the first half and helped the Bulldogs put on a clinic and beat the Columbia Falls Wildkats 4-0 on Tuesday.
Healy's first goal came three minutes in, and her other was at 34:00, off a corner kick from Emma Barron. Sophie Olson scored in between that, and the Bulldogs took a 3-0 lead into the half.
Brooke Roberts capped off Whitefish's scoring in the second half by beating Columbia Falls goalie Zoey Byrd from the left side at 56:00.
"The biggest thing for us coming in was we have to mentally win the game against ourselves and believe that we can play here," Whitefish coach Roland Benedict said.
Columbia Falls was kept off the board but that's not to say it didn't have its chances — Maddie Robison had shots go wide and others where she couldn't get a good shot off. Cheyanne Johnson-Heinz fought her way into the goal box several times only to find herself outnumbered by Whitefish players when she got there.
"I think we came out flat," Columbia Falls coach Thomas Clark said. "We lacked the energy you're going to need in a tight game like that. To concede early against a high-quality playoff team is always tough."
Whitefish's trademark is dominating possession and exhausting opponents by making them work hard for every inch.
"Four goals is a good result," Benedict said. "It's funny, the girls came off the field and they were a little disappointed with the way they played, which is a great sign."
The Bulldogs (now 6-0 overall and 3-0 in Northwestern A) have only allowed two goals all season.
Columbia Falls (4-2-0, 1-1) had no shortage of chances either — things were pretty even between the teams. It came down to finishing.
"They are in control of their own destiny now," Clark said. "And I expect them to have a deep run in the playoffs and hopefully we will too."
The Wildkats' Tayler Lingle was hit in the face by a ball and left the game in the second half, but Clark said she was fine and was medically cleared to play, though she didn't return.
Whitefish goalie Norah Schmidt made three saves in the shutout. Zoey Byrd made 10 for the Wildkats.
Whitefish 3 1 — 4
Columbia Falls 0 0 — 0
WF — Adrienne Healy 3:00
WF — Sophie Olson 18:00
WF — Healy 34:00
WF — Brooke Roberts 56:00
Shots — Whitefish 15, CF 7. Goalie saves — WF 3 (Norah Schmidt), CF 10 (Zoey Byrd).
Boys
Whitefish 4, Columbia Falls 1
COLUMBIA FALLS — There was end-to-end action from the start under the lights at Columbia Falls field where the visiting Whitefish Bulldogs played to a 4-1 win in a hyped up rematch of the 2020 State A soccer final.
Whitefish, the defending state champion, nursed a 2-1 lead over Columbia Falls late into the game off goals from Gabe Menicke and Chase Sabin. Sabin punched in another with four minutes left and Charlie Hyatt scored in the last minute to punctuate the win.
"Super exciting game," Whitefish coach John Lacey said. "And so pleased to show off to the whole valley — all the boys stepped up. It's about the fans, it's so nice to have everybody back now. Just a treat to put that kind of soccer out there for them."
Columbia Falls' Findley Sundberg tied the game 1-1 two minutes after Menicke's goal.
In the second half, both teams had shots go off the post within seconds of each other. Sometimes things like that come down to pure luck.
"Any of those moments could have turned the other way," Lacey said. "Pretty thankful for the post."
The game remained in reach for the Wildcats until things began to unravel in the waning minutes with Sabin and Hyatt's goals.
"We feel a little bit like we choked in the second half," Wildcats coach O'Brien Byrd said. "We just gave away possession easily and Whitefish did a good job keeping the ball and eventually punished us for it."
Byrd thought his team ran out of gas by the end, but still put up a good fight.
"We had a great attitude, we never gave up," he said. "Just made a couple mistakes, and Whitefish capitalized. We also should have scored."
The win was Whitefish's 48th consecutive one, dating back to the 2018 season. There are two ties in that 48-0-2 record, one of them from the Wildcats last season.
Columbia Falls (4-1-1,1-1) goalie Bryce Dunham made eight saves, Will Peppmeier had six for the 6-0, 2-0 Bulldogs.
Whitefish 2 2 — 4
Columbia Falls 1 0 — 1
WF — Gabe Menicke (Charlie Hyatt) 27:00
CF — Findley Sundberg (Walt Nichols) 29:00
WF — Chase Sabin 30:00
WF — Sabin (Aaron Dicks) 76:00
WF — Hyatt (Dicks) 79:00
Shots — Whitefish 10, CF 9. Goalie saves — Whitefish 6 (Will Peppmeier), CF 8 (Bryce Dunham). Corner kicks — Whitefish 6, CF 4. Fouls — Whitefish 13, CF 13. Cards — Whitefish 1.
---