Evergreen awarded $1M grant for sidewalk project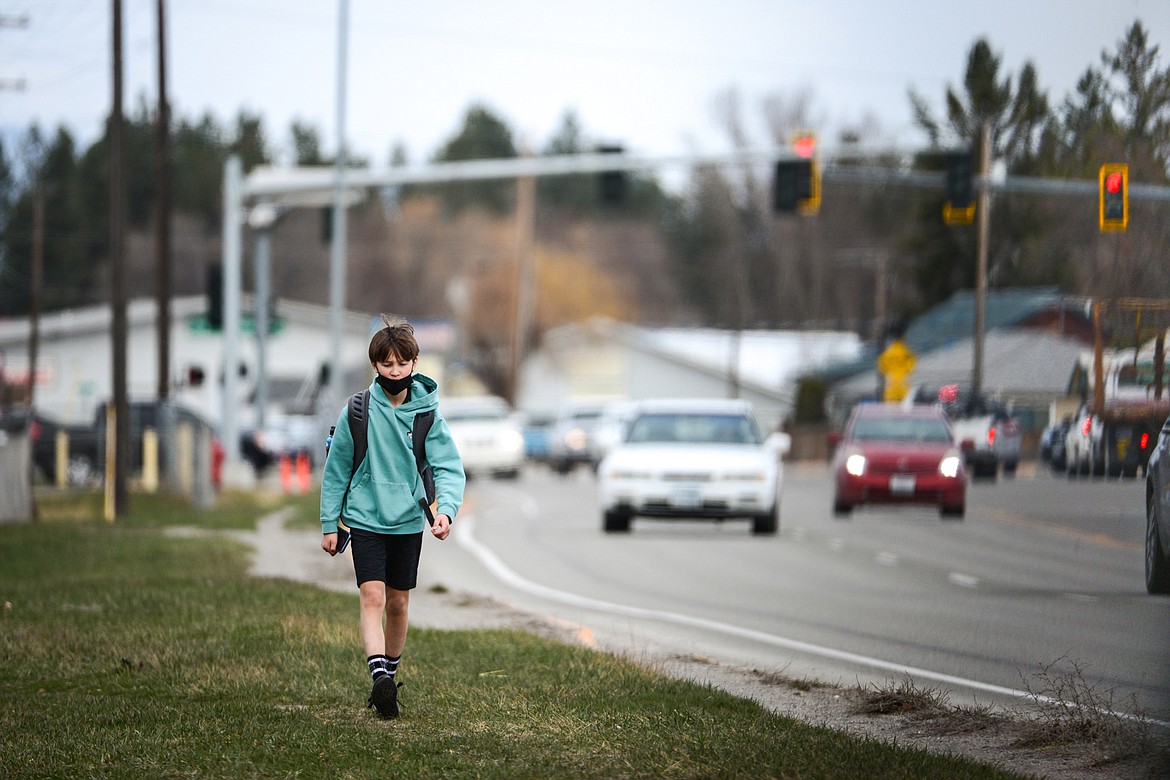 A student walks along U.S. 2 outside Evergreen Junior High School in this April 7, 2021, file photo. (Casey Kreider/Daily Inter Lake)
by
CHAD SOKOL
Daily Inter Lake
|
September 14, 2021 12:00 AM
The Montana Department of Transportation has awarded nearly $1 million for the construction of new sidewalks in Evergreen, the largest source of funding for the long-anticipated project that aims to provide safe routes to schools in the community.
Daren Engellant, a local businessman who has helped spearhead the project as vice president of the Evergreen Chamber of Commerce, announced last week that the department has approved a $984,881 grant for the construction of paved paths along U.S. 2 between Montana 35 and Sunset Drive, and along portions of Montana 35 and West Evergreen Drive.
"Fantastic news for Evergreen!" Engellant said in an email.
The grant is the last piece of a financial puzzle that Evergreen community leaders worked for several years to develop. The U.S. 2 corridor is lined for much of the year with muddy or dusty foot paths, or nearly impassable mounds of snow and ice, forcing students to walk or bike along the edge of the highway to and from Evergreen's elementary and junior high schools.
Evergreen is an unincorporated community and can't levy its own taxes. And state and county officials have said they don't have enough state or local funding to build and maintain new sidewalks. The just-approved grant comes from the Transportation Alternatives Program, which states use to funnel federal funding into targeted infrastructure projects.
Additionally, the Flathead County commissioners recently set up two special taxing districts covering 61 properties along the stretch of highway where the sidewalks will be installed. Those taxes will pay for maintenance of the sidewalks in perpetuity.
The county also is requiring the Evergreen group to effectively loan it $50,000 by this December, as the taxing districts won't begin generating revenue until November 2022.
"From what I understand speaking with the county, we will now need to start fundraising to come up [with] the $50,000," Engellant said. "Our Evergreen Community Partners and Evergreen Chamber committees will need to meet to deal with this now that our project has been selected. We will be working out the details of this within the coming weeks."
As for the construction timeline, he said, "it will now be in the hands of MDT as they will take over the project and create the timeline for engineering and buildout."
The Evergreen project is one of 10 projects in Montana slated to receive grants through the Transportation Alternatives Program this year. Also on that list is the city of Columbia Falls, which will receive just over $981,000 for pedestrian improvements along Fourth Avenue West and Railroad Street.
Working with limited funding, the Montana Department of Transportation denied 26 other grant applications, including a $701,000 request from the city of Kalispell for a sidewalk extension along Four Mile Drive, a $590,000 request from Flathead County to replace a switchback trail between Whitefish Stage Road and Lawrence Park, and $965,000 request from the Confederated Salish and Kootenai Tribes for a path between Elmo and Big Arm.
Assistant editor Chad Sokol may be reached at 406-758-4439 or csokol@dailyinterlake.com.
---