West Reserve upgrades come with $68M price tag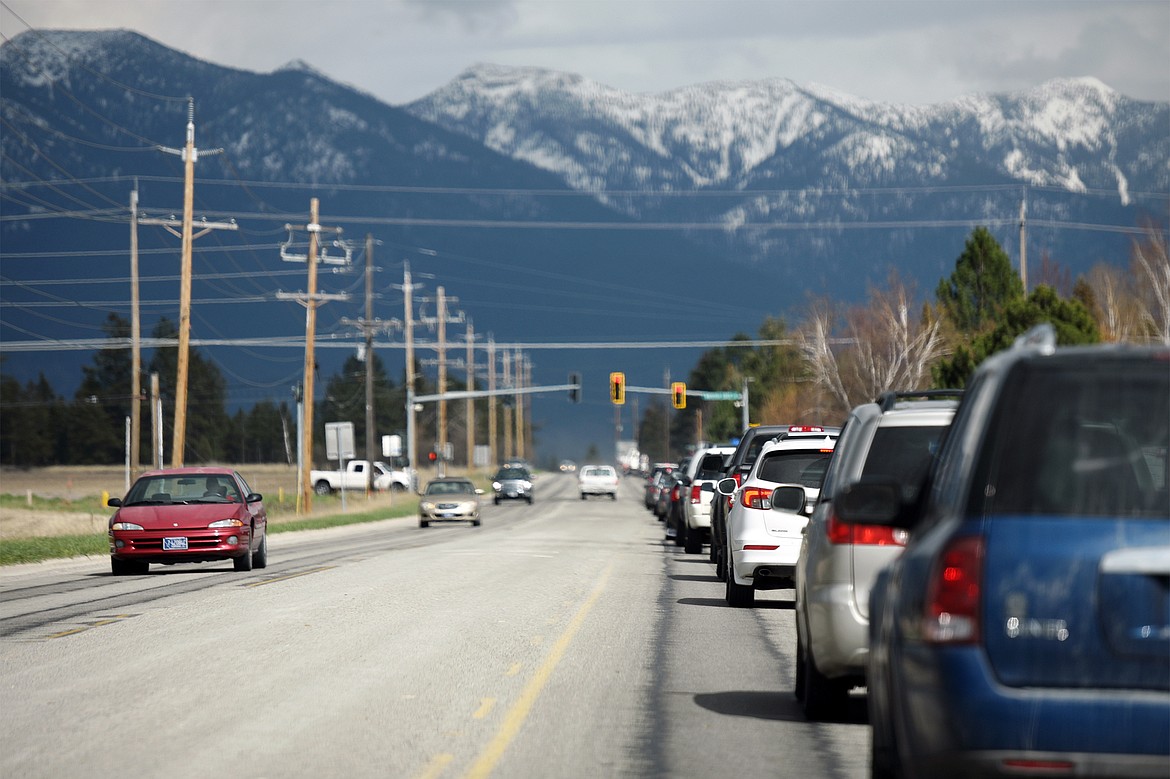 Traffic builds heading eastbound on West Reserve Drive as it approaches the traffic light at Whitefish Stage Road in Kalispell in this May 2, 2019, file photo. (Casey Kreider/Daily Inter Lake)
by
BRET ANNE SERBIN
Daily Inter Lake
|
September 14, 2021 1:40 PM
A year-long corridor study of West Reserve Drive has laid out traffic improvement options for the busy east-west corridor, and they won't come cheap.
A cost summary of the full slate of recommended improvements between Hutton Ranch and U.S. 2 estimates intersection improvements at $20.7 million and roadway widening at roughly $47.7 million, for a total of $68.4 million.
The Montana Department of Transportation laid out various options in the corridor study, which advocates for five lanes on West Reserve from Hutton Ranch to U.S. 2. The state agency held its second public involvement meeting last week. The first such meeting took place in March.
The study analyzed current conditions on and around the busy corridor, and recommended potential future improvements.
Those improvements could run the gamut from widening the road, to adding turn lanes to redoing individual driveways. The solutions are aimed at improving safety and traffic flow in the West Reserve Drive corridor, where 725 crashes took place in the past 10 years. That number reportedly doubled in the past decade, and the traffic counts in the area are growing at 2.4% per year.
Based on the conditions recently observed on West Reserve Drive, the Department of Transportation is suggesting the addition of turn lanes at all three major intersections on West Reserve Drive: at the western crossroads with U.S. 93, at the eastern intersection with U.S. 2 and at the interchange with Whitefish Stage Road.
A summary of the recommended improvements includes:
Intersections
• U.S. 93 — Interim: add dual left-turn lanes on east-and westbound approaches.
• Hutton Ranch Road — Add east-and westbound thru lanes to the intersection
• Whitefish Stage road — Full: Provides two east-west thru lanes, north and southbound left-turn lanes, east-and southbound right-turn lanes.
• U.S. 2 — Dual protected east- and northbound left-turn lanes, exclusive east- and southbound right-turn lanes, exclusive westbound left-turn lane.
The state's recommendation for West Reserve is to widen the roadway from three to five lanes, including the Stillwater and Whitefish river bridges; and add 6-foot boulevards with 8-foot sidewalks on the north and 5-foot sidewalks on south.
The study also recommends a 4-foot shoulder with curb and gutter on Whitefish Stage Road extending 0.5 miles north from the intersection of Whitefish Stage Road and West Reserve Drive.
The study addresses access management, recommending that driveways be consolidated near Whitefish Stage to improve traffic operations
It might also help to restrict movements at Home Depot and Country Way through signage or channelized islands, the study suggested.
Neither funding nor an exact timeline for the proposed improvements have been determined yet. The study suggests pursuing a mix of private resources and government funding at the federal, state, county and city levels.
MDT is accepting comments on the corridor planning study until Oct. 9. Comments in writing can be sent to Vicki Crnich, Montana Department of Transportation, PO Box 201001, Helena, MT 59620, or by email to vcrnich@mt.gov.
For more information about the West Reserve Drive Corridor Planning Study, visit https://www.mdt.mt.gov/pubinvolve/westreserve/public-involvement.shtml.
Reporter Bret Anne Serbin may be reached at 406-758-4459 or bserbin@dailyinterlake.com. News editor Lynnette Hintze contributed to this report.
Recent Headlines
---