Logan Health nurses reach union contract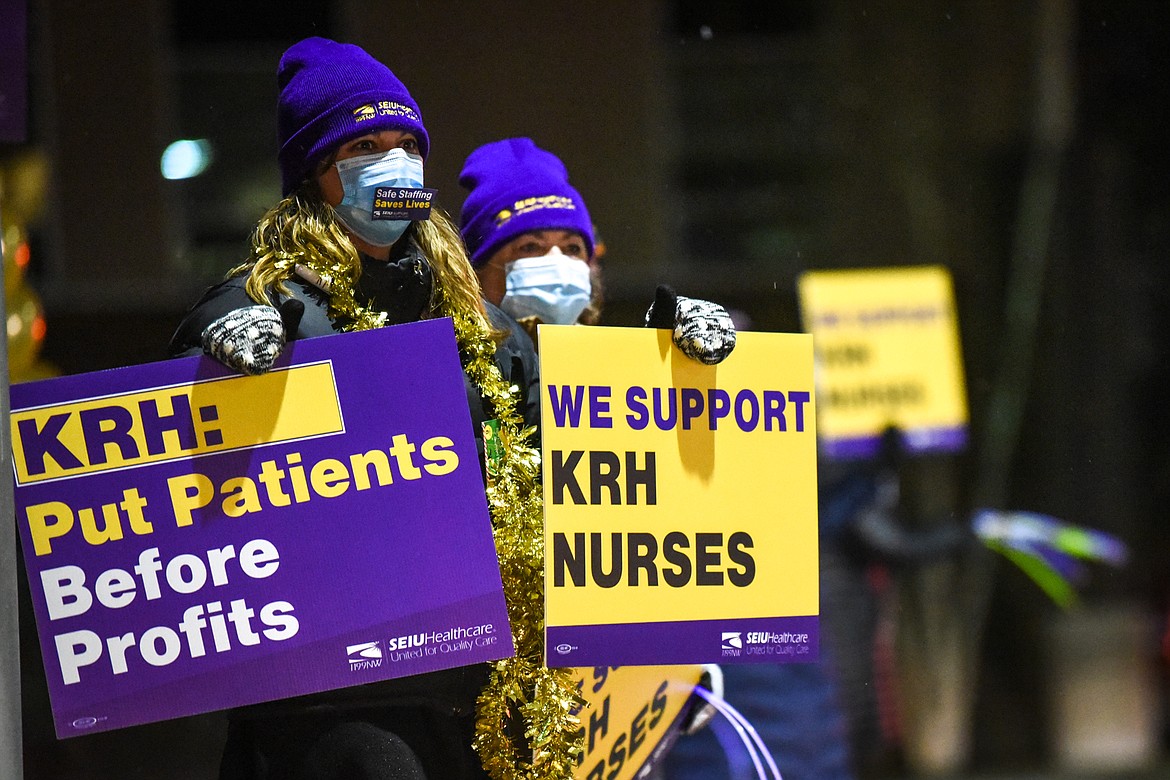 Logan Health registered nurses hold signs during a "Solidarity Drive" car caravan for a fair contract outside Kalispell Regional Medical Center on Friday, Dec. 11, 2020. (Casey Kreider/Daily Inter Lake)
by
MATT BALDWIN
Daily Inter Lake
|
September 16, 2021 1:00 PM
Following two years of contentious contract negotiations and a three-day strike in June, unionized nurses at Logan Health in Kalispell have reached a deal with hospital administration.
According to a press release from Service Employees International Union Healthcare 1199NW, 650 registered nurses at Logan Health voted to ratify their first union contract Wednesday evening. The agreement that runs through July of 2023 includes pay increases, a set wage scale and enhanced benefits. It also addresses scheduling issues, establishes discipline and grievance procedures, and gives nurses a "stronger voice" in future decisions about staffing and wages.
According to Amy Clark with SEIU, the contract provides a 7% pay increase for union nurses "across the board."
The deal also calls for the creation of a "staffing committee" made up of 12 union nurses and 10 members of management, Clark said.
Nurses with then Kalispell Regional Medical Center, The HealthCenter, Brendan House and Kalispell Regional Health Clinics voted 372 to 199 in July 2019 to unionize with the SEIU. The hospital system rebranded as Logan Health this summer.
At the bargaining table, the union had argued that nurses in Kalispell are paid less than those at other Montana hospitals of similar size and that the hospital has made cuts to staffing without their input. Hospital officials had countered that staffing was adequate and that the demands for increased pay were unrealistic.
Clark said the persistence shown by union negotiators paid off.
"The bargaining team and nurses as a whole just showed that they're united and stayed with it," Clark said. "They stuck with their values, and came back to the table every time holding the line. Management saw that these were the demands, and they were able to hear that."
"The nurses are so appreciative of the community for their support," Clark said. "They're really excited to be able to get to work and give the care they love to give."
Sarah Shanklin-Johnson, a registered nurse in the ICU and member of the SEIU bargaining team, said she believes the terms of the deal will improve patient care.
"This contract means that I can afford to give my kids the life I always imagined for them," Shanklin-Johnson said "I can afford to stay in our house, spend more time with my kids instead of working extra to make ends meet, and know that I have a voice in making my workplace safe. And I can stand taller knowing that I'm providing the quality of care our community needs."
Hospital officials also said they were satisfied with the contract outcome.
"We held firm in this contract that wage increases and benefit enhancements for union nurses would not exceed those received by other Logan Health employees, and they did not," said Ryan Pitts, Logan Health's Chief Nursing Officer.
TWO YEARS of heated negotiations between the union and hospital administrators spilled into the public at times, with both sides seeking to gain support through newspaper ads and campaign-style yard signs.
In early June, hundreds of union nurses participated in a three-day strike to protest what they viewed as Logan Health's unwillingness to budge on union demands. During the walk-out, hospital officials said more than 150 nurses offered to work, with former employees pitching in as needed.
At one point hospital executives accused the union of running a "smear campaign" after a newspaper advertisement criticized Logan Health CEO Craig Lambrecht, who joined the hospital just a few months prior to the union vote in 2019.
Meanwhile, the union filed a complaint against Logan Health with the National Labor Relations Board alleging unfair labor practices.
Clark said those complaints will be dropped as part of the new contract.
SEIU Healthcare 1199NW is made up of more than 32,000 health-care workers. They are also part of the Service Employees International Union, the largest union of health-care workers in the nation.
This is a developing story and will be updated.
Recent Headlines
---