Whitefish admits overcharging water fees, rejects other allegations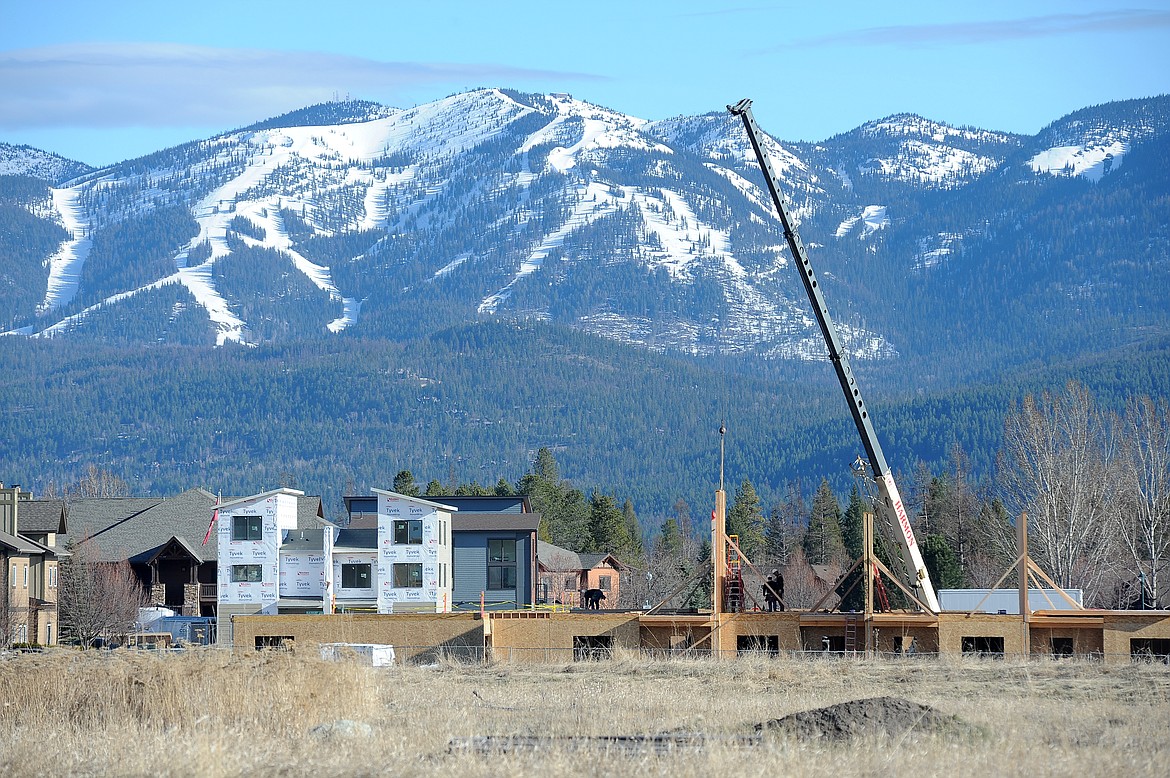 Construction crews work on a new development in Whitefish in this April 14, 2021, file photo. (Matt Baldwin/Daily Inter Lake)
by
CHAD SOKOL
Daily Inter Lake
|
September 22, 2021 12:00 AM
Whitefish's city manager and City Council members have responded to allegations that the city has "systematically overcharged" developers and homeowners on water and sewer impact fees, which help cover the cost of extending pipes and expanding treatment facilities to serve new buildings.
During a council meeting Monday evening, City Manager Dana Smith acknowledged city staff made an error that likely resulted in small overcharges for the installation of showerheads in new developments. Smith said staff will conduct an internal review of water impact fees charged between January 2019 and July of this year, when the error was corrected, and the city will issue refunds to any developers who were overcharged.
"We did find an error in our program calculator, which is an Excel spreadsheet, in which we account for the number of fixtures per building," Smith told the council. "We're aware of that issue. It hasn't been in effect this whole time, so it's a very limited window that we're going to have to look at, which is about two years. And we'll go back and we will look at how that impacts the buildings that had applied during that period, and if any refunds were required."
Smith emphasized she found no indication of "malicious or fraudulent intent" behind the error, which assigned too many "fixture units" to showerheads on the matrix used to calculate water impact fees. A city employee will review past building permits and determine how many refunds are warranted as time allows, she said.
"It's going to take a significant amount of staff time," Smith told the Daily Inter Lake. "My hope is that we can get something done within the next three months, but with other city projects ongoing, it's going to simply take some time to do that."
THE ERROR came to light after Whitefish residents Paul Gillman and Bill Burg raised a litany of concerns about the city's impact fees and the formulas used to calculate them.
Burg is an accountant and a former member of the Flathead City-County Health Board. Gillman has a background in computer science and began digging into the impact fees after applying to build a home addition last summer. Gillman said the showerhead error could have cost him several hundred dollars if he hadn't caught it, and he wants to see the problem rectified for everyone else who might have been affected.
Gillman and Burg also contend the showerhead error is the tip of an iceberg, alleging the city has overcharged builders hundreds of thousands or even millions of dollars in recent years. The pair have collected reams of city documents and performed their own calculations, which Gillman has compiled in a report spanning more than 20 pages.
"Impact fees are governed by Montana statute 7-6-16 that puts strict limits on what types of projects can be included, how fees are calculated and the max fees that can be collected," Gillman wrote in a letter to the council. "The City of Whitefish appears to violate all of these restrictions."
But city officials say Gillman and Burg's analysis is flawed, and they have rebuffed the pair's demand for an independent audit of the impact fee program.
"There are numbers thrown out in [Gillman's] report that I cannot confirm if they're accurate or not," Smith told the council Monday.
"I know that Mr Gillman and Mr. Burg both would like an independent audit of our impact fees," she said. "I am not opposed to that. But I also question the use of taxpayer dollars to audit something that has gone through a significant public process."
After fixing the showerhead error and speaking with FCS Group, the consulting firm that helped revise the city's impact fees in 2018, she said, "I do believe that we are assessing impact fees correctly."
She also noted Whitefish is subject to annual audits by the state.
IMPACT FEES are a standard part of the permitting process for new developments, and many cities use them to keep up with demand for services. Whitefish has seven categories of impact fees, with the largest being charged for water and sewer services.
"When a new home or a new commercial building attaches to the water system, there is additional demand from the flow, and so we have to be able to produce more water to meet those demands," Smith said.
While some cities charge water and sewer impact fees at flat rates, Whitefish uses a complex formula that begins with base fees and then adds costs for various types of plumbing fixtures. Toilets, sink faucets, showerheads and hose spigots are each assigned a specific number of "fixture units," which are then added up to determine the final amount of the fees.
Smith said that's a more equitable approach that ensures small and large developments are charged commensurate fees. In the case of the showerheads, she said, there appeared to be a mix-up between standalone showers and bathtubs that also have showerheads.
State law requires cities to revise their impact fees every five years to align with development trends and the cities' own financial needs. Whitefish significantly raised its water and sewer fees in 2018 to pay for upgrades at its water and wastewater treatment plants.
But Gillman and Burg allege the city relied on an outdated table as the basis for its calculations, failed to distinguish between different sizes of water meters and inappropriately factored in certain capital-improvement projects, including a solar array that was proposed several years ago at the wastewater treatment plant but never built.
SMITH, WHO has met with Gillman and Burg, said none of those allegations are accurate.
It's true that the city has more than tripled its collections of water and sewer impact fees, from about $488,000 in fiscal 2018 to nearly $1.6 million in fiscal 2020. That's partially because of the higher fees, but also because the number of building permits issued by the city has risen dramatically.
Smith said the city issued 200 permits for residential, commercial and remodeling work in 2018. Last year, that number was 354.
On Monday, two council members voiced confidence in Smith's leadership on the matter.
"I just want to reassure the public, when we have people accuse us of something, we do research it, of course. But she does know what she's talking about, too," council member Rebecca Norton said of Smith.
Council member Andy Feury added that he's "comfortable with not having an outside audit."
"I think Dana caught the imperfections in our spreadsheets, and I'm perfectly fine with that," Feury said, before criticizing Gillman's report. "Quite frankly, the way this letter is written, I can find a lot of flaws in it, too."
Gillman said Tuesday that he and Burg have retained an attorney to look into the impact fees, and submitted a complaint to the Montana Department of Labor and Industry, which oversees plumbing codes.
Assistant editor Chad Sokol may be reached at 406-758-4439 or csokol@dailyinterlake.com.
Recent Headlines
---