Town hall meeting on suicide prevention efforts planned in wake of recent suicide deaths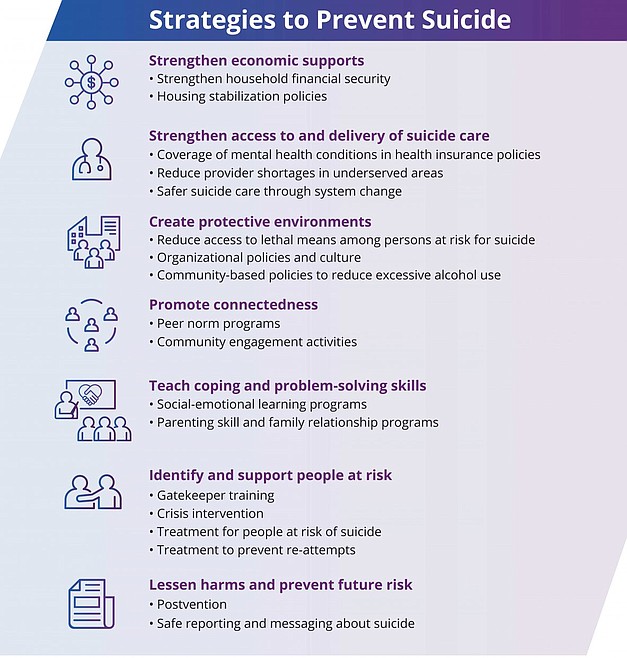 by
HILARY MATHESON
Daily Inter Lake
|
September 24, 2021 12:00 AM
In response to a suicide cluster among teens in the Flathead Valley, a town hall meeting is planned Wednesday, Sept. 29, to start a community-wide discussion on a serious public health problem.
The gathering, hosted by the Northwest Montana United Way, will have a panel of professionals from Kalispell Public Schools, Nate Chute Foundation for Suicide Prevention, Tamarack Grief Resource Center, Undaunted Family Connections, Kalispell Police Department and the director of the Suicide and Violence Prevention Office at Nova Southeastern University in Florida, who is an expert on youth suicide and self-injury.
United Way Executive Director Roxanna Parker said the public can expect to be informed on what efforts are underway and participate in the conversation on what is needed in the community.
"We want to bring awareness to existing programs and services, identify possible service gaps, generate positive solutions for supporting our community members, while facilitating a collaborative environment for everyone to work together to prevent suicides in our community," Parker said. "By encouraging mental health interventions, promoting effective resources for families and community, and teaching affirming communication and support for individuals and families, we want to save lives and bring hope to those affected by suicide."
The town hall meeting will be held from 6:30 to 7:30 p.m. Wednesday, Sept. 29, at Gateway Community Center, 1203 U.S. 2 W.,Kalispell.
A SUICIDE cluster is defined as "greater-than-expected number" of suicides/suicide attempts that occur close together in time and location, according to the Centers for Disease Control and Prevention (CDC).
There have been eight suicide deaths among teens ages 14 to 19. Seven of the suicide deaths were students who attended Flathead and Glacier high schools and occurred over a more than 16-month timeframe.
Nationwide, suicide is the second leading cause of death among ages 10 to 34, according to the CDC and about 1% to 5% of teen suicides make up clusters.
Leanna Troesh, executive director of Undaunted Family Connections, said the intent of a town hall format, she said, is to listen and learn from each other and focus on solutions rather than casting blame.
"It's for community members, for parents, for organizations to come out and have a voice and hear what's going on with all these recent suicides," Troesh said. "It's time to get together and build each other up. As parents, how can we best show up for our kids and each other?"
For more information about the town hall meeting call United Way at 752-7266 or email info@unitedwaycares.org.
Reporter Hilary Matheson may be reached at 758-4431 or by email at hmatheson@dailyinterlake.com.
If you go
What: Town hall meeting discussing suicide
When: 6:30 to 7:30 p.m. Sept. 29
Where: Gateway Community Center, entrance A, 1203 U.S. 2 W., Kalispell
Panelists:
• Tina Barrett, licensed clinical professional counselor, executive director and co-founder of Tamarack Grief Resource Center
• Micah Hill, superintendent of Kalispell Public Schools
• Kacy Howard, executive director at Nate Chute Foundation for Suicide Prevention, nationally certified school suicide prevention specialist through the American Association of Suicidology.
• Kalispell Police Department.
• Scott Poland, licensed psychologist, director of the Suicide and Violence Prevention Office at Nova Southeastern University in Florida, expert on youth suicide, self-injury, bullying, school crisis prevention and intervention, threat assessment and parenting in challenging times
Cost: Free and open to the public
Get help
If you're feeling suicidal, or know someone who is, talk to someone. Help is available.
Call the National Suicide Prevention Lifeline at 1-800-273-8255, the TrevorLifeline for LGBTQ+ individuals at 1-866-488-7386, or Veterans Crisis Line at 1-800-273-8255 and press 1.
Text "start" to the Crisis Text Line at 741-741, the Trevor Lifeline at 678-678, or Veterans Crisis Line at 838255.
If you don't like using the phone, or don't have access to one, connect to the Lifeline Crisis Chat at crisischat.org, the TrevorLifeline chat at www.thetrevorproject.org or Veterans Crisis Line at www.veteranscrisisline.net.
---