Floy Dorreen McBroom Baker, 87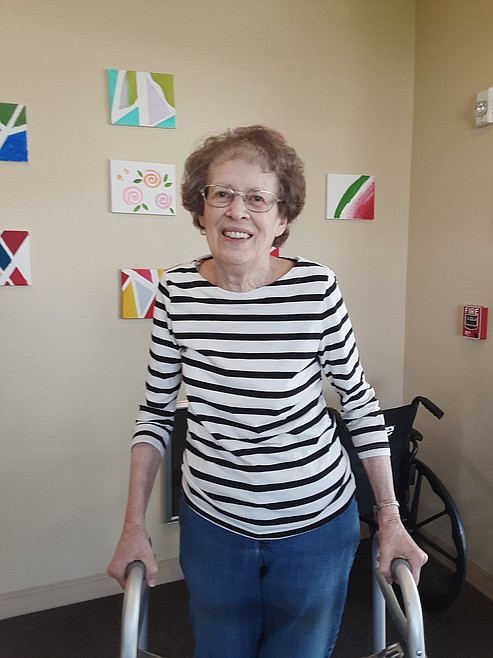 |
September 26, 2021 12:00 AM
Floy Baker passed away Sept. 8, 2021, at Expressions Memory Care in Kalispell.
She was born Oct. 30, 1933, on the east-south side of Kalispell to Clifford McBroom and Floy Idella (Howell) McBroom. A fourth generation Montanan, Floy's great-grandmother Floy (Thompson) Johnston was born in Gallatin Valley in 1870. Both sets of her great-grandparents were early settlers in the Flathead Valley.
Floy graduated in 1952 from Polson High School. She married her first husband Delbert Griffin in Lubbock, Texas, in July 1952. They had three children, Christine, Steve and Nyle.
In February 1963, she "lost her mind" and married Obert Myers. In December 1964, Floy married Roger Baker in Coeur d'Alene, Idaho. Roger had five children, Ken, Clint, Dean, Deanne and Ross. Floy and Roger were married for 54 years until Roger's passing in 2019. Floy and Roger lived in Montana, Alaska, Hawaii, and Alaska (again) before returning to Whitefish in 1980 for good.
Floy worked for Pay 'N' Save for 10 and a half years in Fairbanks, Alaska, and one year in Kona, Hawaii. She owned a small business for 2 and a half years, called "Little Folks World" in Evergreen and retired after selling her business.
In 1981, with her good friend Ruth, Floy chaperoned a group of teenage girls and traveled through Europe for four weeks. In Floy's own words, "had lots of fun and adventures, even saw the Mona Lisa."
Floy enjoyed digging for fossils and dinosaur bones with her friend Sharon. Gardening was Floy's passion.
Floy was preceded in death by her parents, Clifford McBroom and Floy Idella (Howell) Stalcup, husband Roger Baker, brother Clayton "Buzz" McBroom, sister Carol Poil, and stepson Dean Baker.
Floy is survived by daughter, Christine Tucker (Tom) of Kalispell; sons, Steve Griffin (Vickey) of Polson and Nyle Griffin of Plains; stepchildren, Ken Baker (Karen) of Kalispell, Clint Baker (Yting) of Kalispell, Deanne Kruse (Deryl) of Nenana, Alaska, and Ross Baker of North Pole, Alaska; siblings, Myrna Teskey of Kalispell, Sandra White of Squatter Cove, Utah, Lyle McBroom of Polson, Rita Vanorio of Stevensville, and Corey Stalcup of Everett, Washington; six grandchildren, 12 great-grandchildren, 16 stepgrandchildren, and numerous stepgreat-grandchildren.
Many thanks to the staff at Expressions Memory Care and to Logan Hospice nurses for taking good care of our mother/grandmother.
A memorial will be held sometime during the spring of 2022.
Austin Funeral and Cremation Services in Whitefish is caring for the family.
---