State unveils proposed changes to hunting regs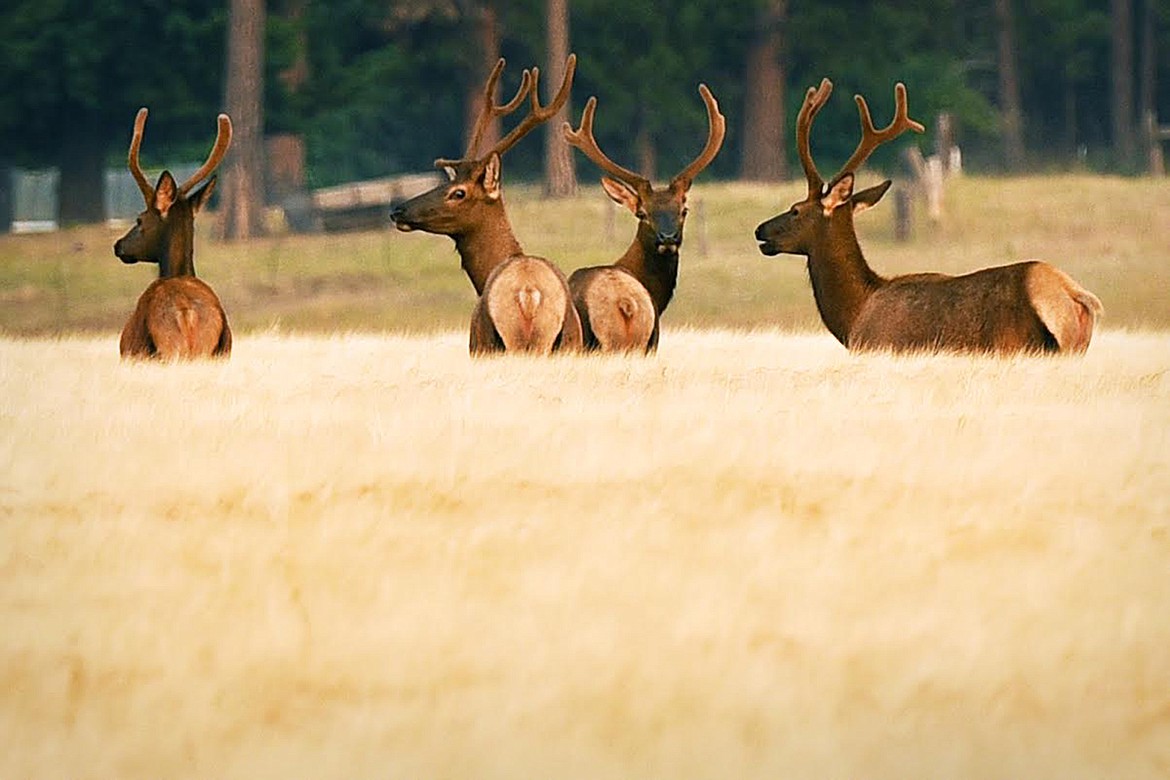 Four bull elk gather in a field along Montana 206 south of Columbia Falls in this March 2020 file photo. (Casey Kreider/Daily Inter Lake)
by
CHAD SOKOL
Daily Inter Lake
|
September 26, 2021 12:00 AM
The Montana Department of Fish, Wildlife and Parks this week unveiled a long list of proposals to streamline hunting regulations in 2022 and 2023. The agency is seeking public feedback on the proposals, which it says are aimed at making the rules "simpler and easier to understand" for hunters.
"Over the last several weeks, FWP biologists have worked on these potential changes with a sharp focus on the science behind the regulations," the agency said in a news release. "The potential changes focus primarily on deer and elk regulations; however, some regions have included regulations for other species as well. The potential changes include a reduction in the number of hunting districts and the simplification of license structures."
The deadline to submit comments on the proposals is Oct. 20, and FWP biologists and other staff will revise the proposals before presenting them to the state Fish and Wildlife Commission on Dec. 14. Once the commission grants preliminary approval, there will be a second 30-day public comment period involving regional FWP Citizen Advisory Council meetings.
The commission will adopt final hunting regulations at a meeting in early February.
THE PROPOSALS unveiled this week include statewide and region-specific changes to Montana's hunting regulations. One proposal for Northwest Montana's Region 1, for example, would convert all antlerless elk permits to antlerless elk licenses.
"This would simplify regulations but may be unpopular with sportsmen who think only one elk per person should be harvested in Region 1," the agency said. "Changing this opportunity to an Elk B License would be easier to enforce. Preference points can be switched from permits to licenses but will take considerable public outreach."
Another Region 1 proposal would remove the antlerless white-tailed deer opportunity during the last week of the general season in hunting districts where it occurs. The opportunity is currently valid only on private land, not including corporate timberlands.
"Large-scale changes in land ownership make this regulation confusing because some of the former timberland is no longer owned by timber companies," the agency said. "The land ownership changes make it more difficult to enforce the current regulation."
FWP said the proposal would have no biological implications on wildlife, "although this could limit landowner ability to reduce deer numbers and could increase game damage complaints."
The full list of draft regulations and options for submitting comments can be found at fwp.mt.gov/aboutfwp/public-comment-opportunities/hunting-reg-changes.
Assistant editor Chad Sokol may be reached at 406-758-4439 or csokol@dailyinterlake.com.
---