Covid cases stress Logan Health bed capacity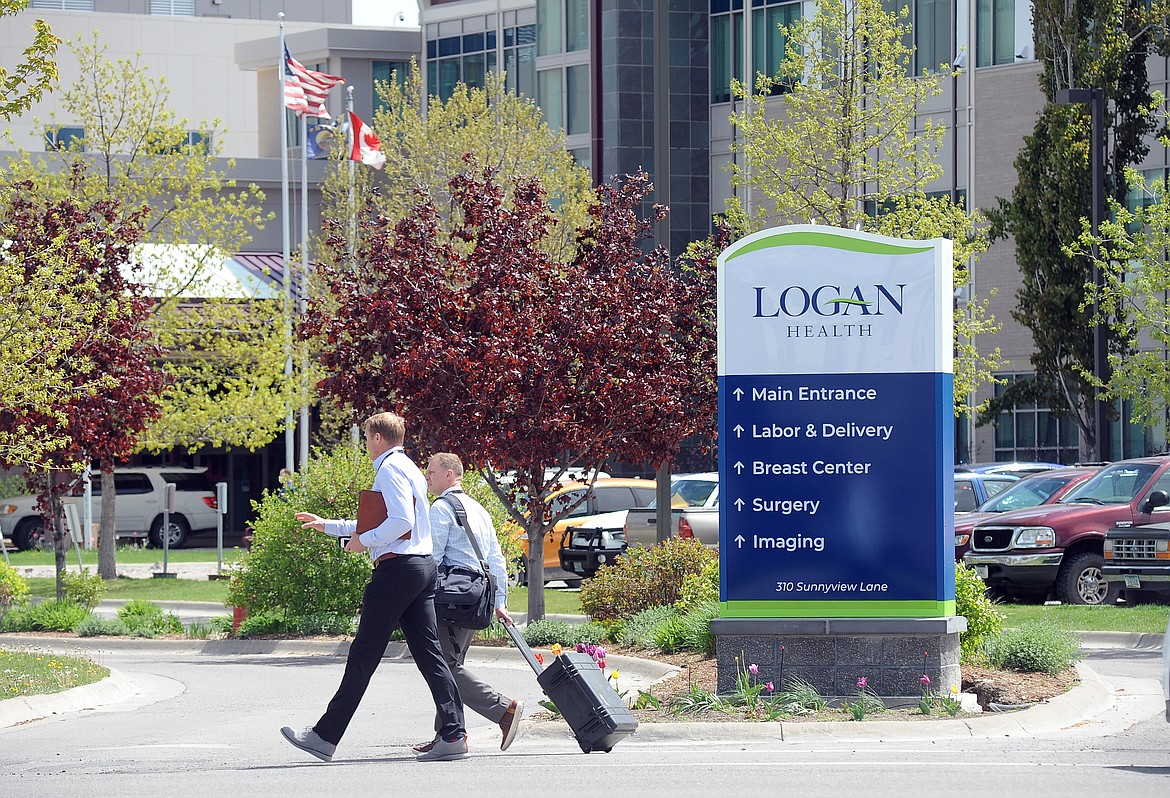 People walk past a new sign for Logan Health at the entrance to the hospital in Kalispell on Tuesday, May 19, 2021. (Matt Baldwin/Daily Inter Lake)
by
MATT BALDWIN
Daily Inter Lake
|
September 29, 2021 1:00 PM
Logan Health Medical Center continues to be challenged by an influx of mostly unvaccinated Covid-19 patients, with the Kalispell hospital routinely approaching or exceeding its bed capacity over the last month.
Wednesday's status report from Logan Health showed 42 patients hospitalized with Covid; 34 of those had not received the Covid shot. Eleven patients were in the ICU — including 10 unvaccinated patients and one vaccinated patient — and six were on ventilators, including one vaccinated person.
Hospitalizations at Logan Health Medical Center have topped 40 for the last 12 days. That number peaked at 48 on Monday, with Covid cases accounting for more than half of all patients. There were 11 Covid patients at Logan Health Whitefish.
Hospital bed capacity for the entire county was at 92% on Monday.
Dr. Cory Short, Logan Health hospitalist and physician executive of acute care services, said this second wave of Covid fueled by the more contagious delta variant has tested hospital staff.
"People thought this would be a sprint, and it's turned into a marathon," Short said in an interview last week.
"There's no question that morale has been challenged."
Short said this round of Covid is affecting a larger percentage of younger people, especially those in their 30s and 40s who chose not to get the vaccine. Deaths have climbed as well, with Flathead County reporting 26 Covid fatalities over the last two weeks alone.
"It's tough to see a death of any age," Short said, "but young families are being altered [by the virus]."
Statewide deaths topped 2,000 on Wednesday, with 200 reported over the last four weeks.
THE RECENT announcement that Montana National Guard members will arrive in the Flathead Valley next week to aid with nonclinical duties came as relief to Short, who said the constant volume of patients is stressing the entire hospital system's staff.
"There's an amazing amount of nonclinical work that goes into each patient's treatment," he said.
According to Gov. Greg Gianforte's office, 25 Guard members are set to assist at the Kalispell hospital, and two will help out in Whitefish. They will help with Covid testing, maintenance, meal delivery and other needs.
Short said the hospital has also tapped into travel nursing agencies to help maintain clinical staffing ratios.
But even with the extra hands, Short said the hospital system is spreading out elective procedures while bed capacity is taxed by Covid patients. Those procedures, however, won't be canceled like they were during the surge last fall.
"In the last surge, there was so much focus on Covid," Short said. "But what we learned is that we can't forget the non-covid [needs]."
And while other Montana and Idaho hospitals have implemented crisis standards of care guidelines, Logan Health hasn't had to take that step yet.
"Fortunately, we are not at the point right now," Short said, noting that one day last week the ER was utilizing hallways to hold some patients.
In a proactive move, Logan Health is prepping its temporary "alternate care center" at the Logan Children's Medical Center, should the need arise.
Crews with the U.S. Army Corps of Engineers set up the space in May of 2020 on the unused third floor of the new children's hospital. The unit is intended to be used for non-Covid patients to create more capacity for treating patients infected with the virus in the hospital's acute-care settings.
Short encouraged people to get the vaccine as the best way to help slow the spread of the virus and keep the hospital below capacity.
"The pattern has clearly been that those who are vaccinated, their illness will be less severe," Short said. "You have got to get the vaccine."
"Tensions are high everywhere," he added. "People want to get back to their regular lives."
Flathead County's vaccination rate of 44% is the lowest among Montana's most populated counties, but has inched upward from 40% about a month ago.
The Flathead City-County Health Department has an automated public information line at (406) 751-8188, and regularly updates their website FlatheadHealth.org with Covid vaccine information.
Recent Headlines
---