Glacier sweeps crosstown tennis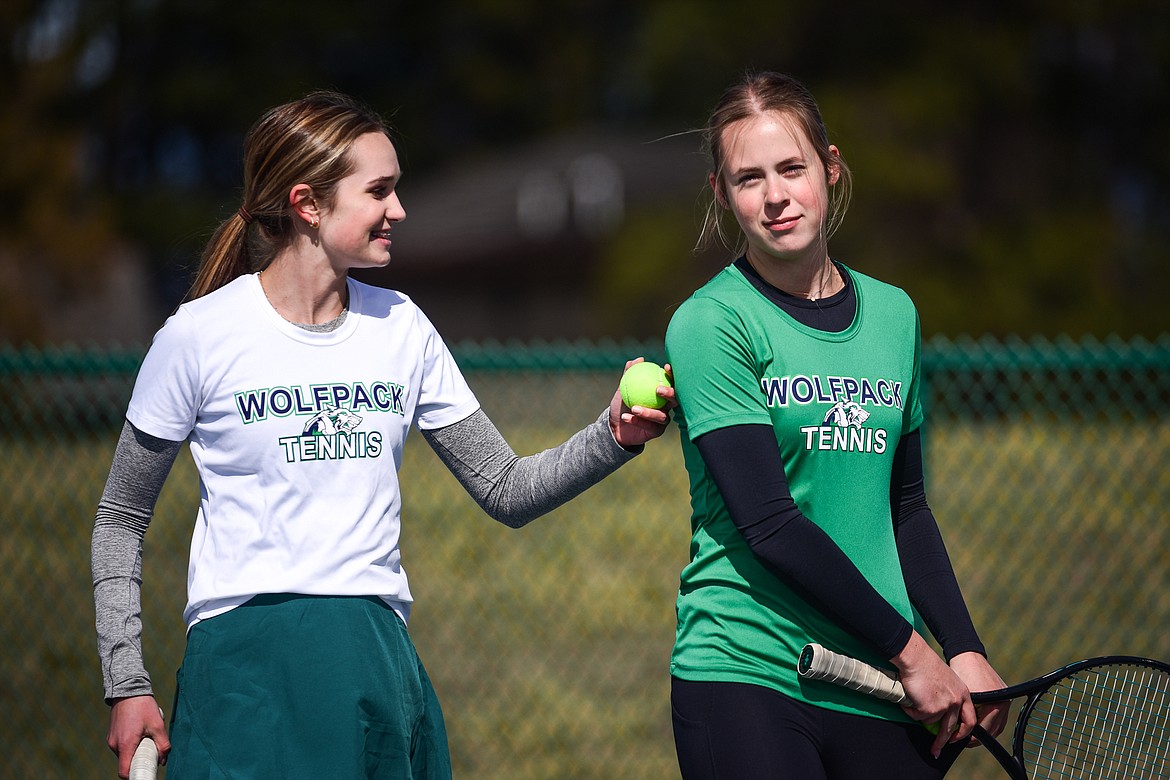 Glacier's girls doubles duo of Haven Speer and Sarah Downs chat between sets against Flathead's Sophie Dykhuizen and Abby Clark at Flathead Valley Community College on Thursday, April 14. (Casey Kreider/Daily Inter Lake)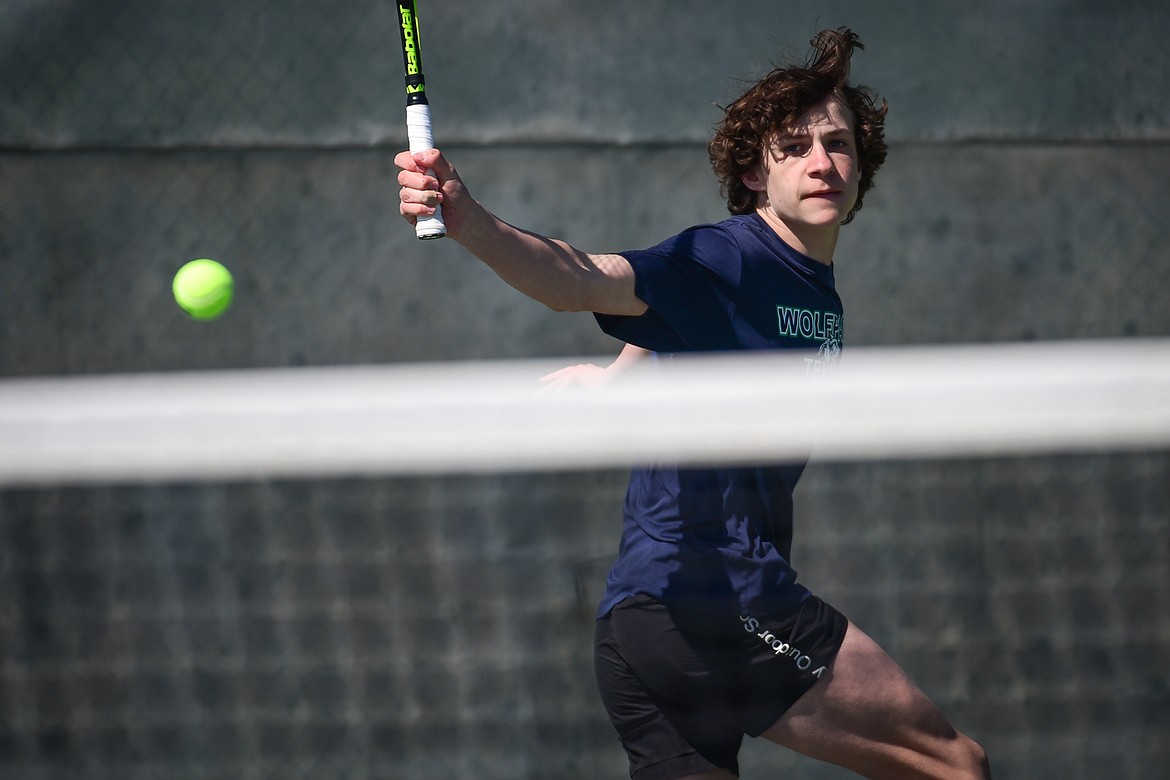 Glacier's Will Rudbach hits a backhand return against Flathead's Kutuk White at Flathead Valley Community College on Thursday, April 14. (Casey Kreider/Daily Inter Lake)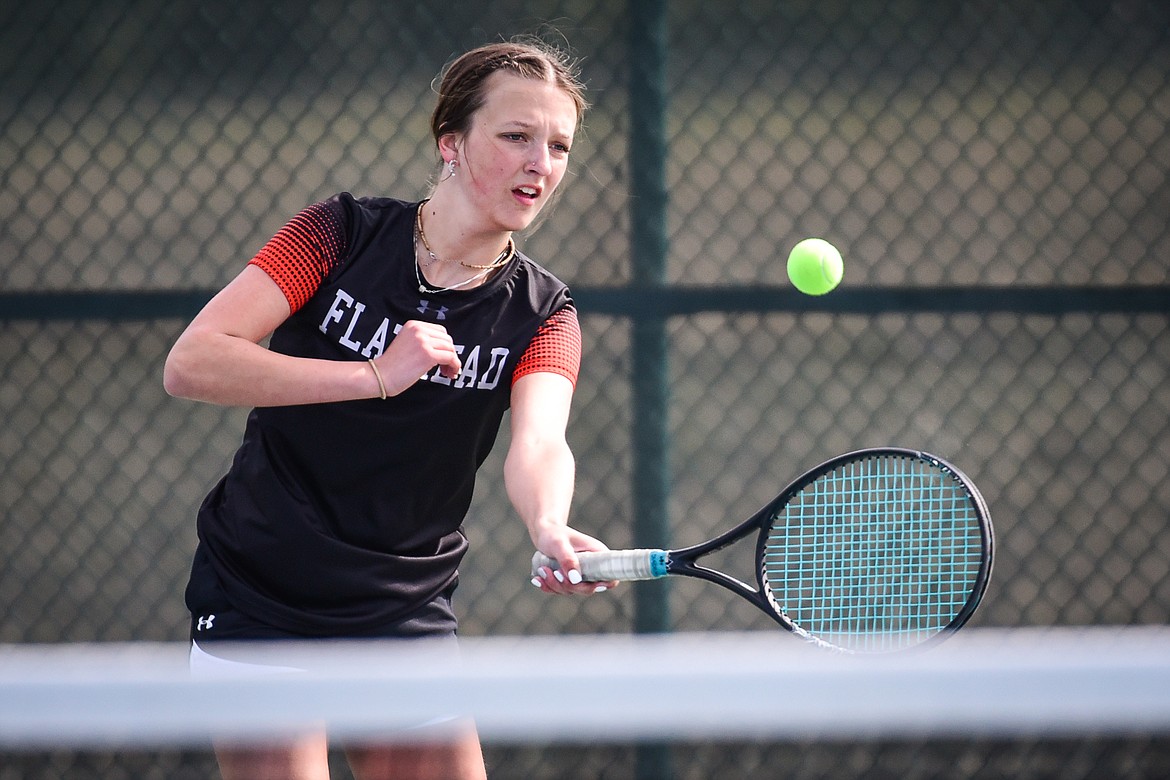 Flathead's Alexis Kerstein hits a return against Glacier's Naomi Jutzi at Flathead Valley Community College on Thursday, April 14. (Casey Kreider/Daily Inter Lake)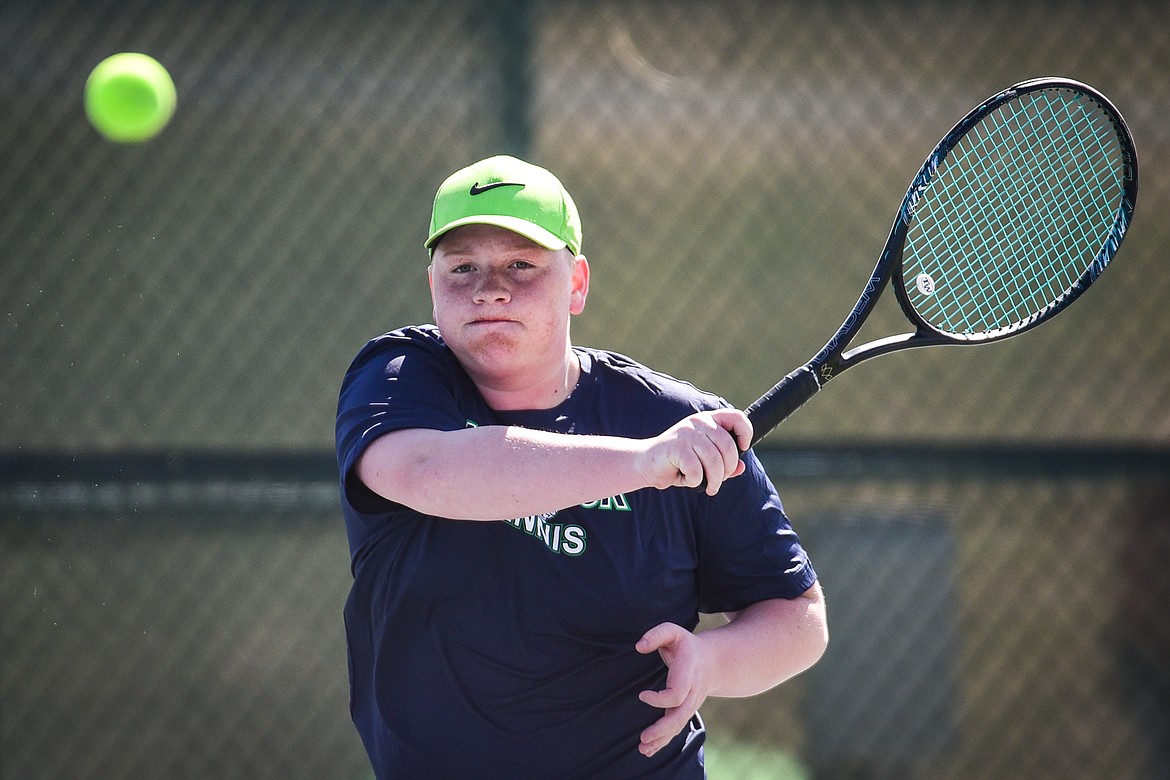 Glacier's Alex Galloway hits a return in a doubles match with teammate Timmy Glanville against Flathead's Evan Sevaly and Cody Ramer at Flathead Valley Community College on Thursday, April 14. (Casey Kreider/Daily Inter Lake)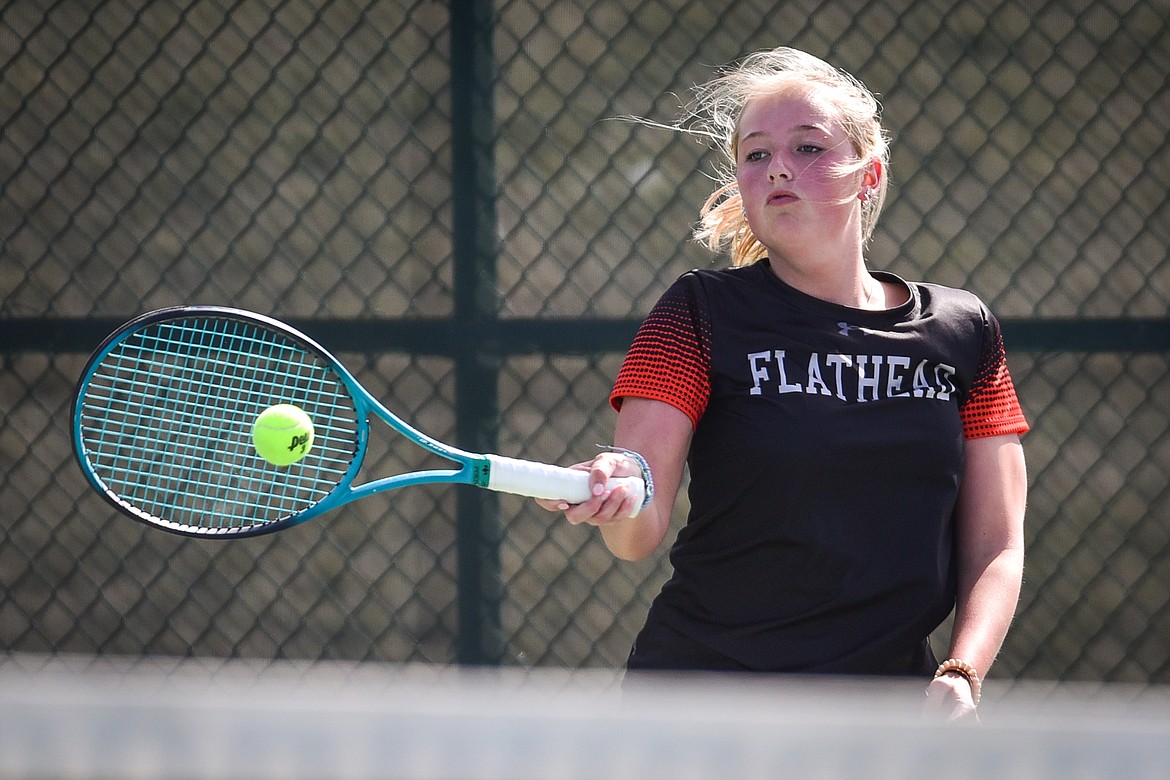 Flathead's Patricia Hinchey hits a return against Glacier's Rachel Jutzi at Flathead Valley Community College on Thursday, April 14. (Casey Kreider/Daily Inter Lake)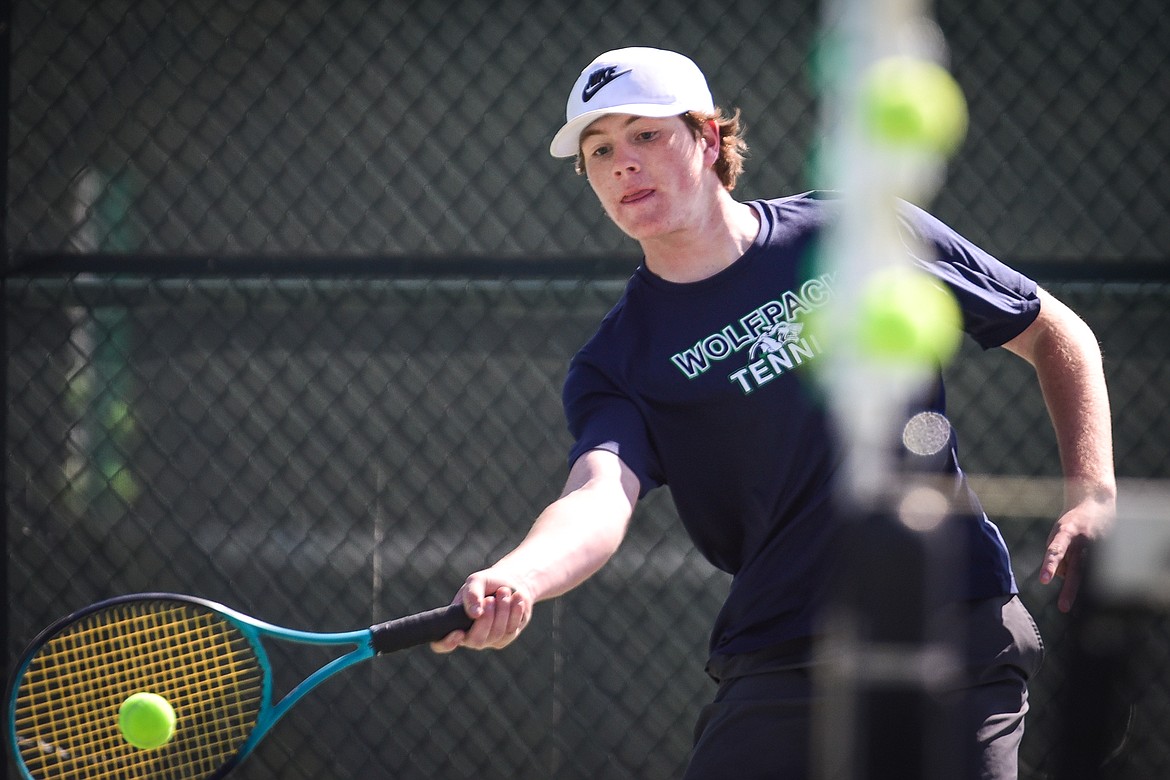 Glacier's Timmy Glanville hits a return in a doubles match with teammate Alex Galloway against Flathead's Evan Sevaly and Cody Ramer at Flathead Valley Community College on Thursday, April 14. (Casey Kreider/Daily Inter Lake)
Previous
Next
by
KATIE BROWN
Daily Inter Lake
|
April 14, 2022 9:40 PM
There was finally tennis in Kalispell Thursday after cancellations earlier this week iced a set of duals for both Flathead and Glacier.
The sun shone and a light wind blew at FVCC for the first crosstown dual of the season, which Glacier swept. The boys won 8-0, the girls 5-3.
"It was a good day. We battled the elements a bit but finished strong, tried to get off the court before the winds got too strong," Glacier coach Josh Munro said.
The winds started to pick up during the last match of the day, at No. 3 girls singles between Flathead's Isabella Parrott and Glacier's Tori Dobis, which went to three sets. In the end, Parrott prevailed 6-7(8), 7-5, 6-1.
The Wolfpack boys are 6-0 in duals this season and have had strong performances up and down the lineup.
Thursday was no exception, with the usual suspects — Will Rudbach, Harrison Sanders and doubles pair Alex Galloway and Timmy Glanville — earning victories in Nos. 1 and 2 singles and No. 1 doubles.
"I'm very happy with the boys all the way around, pretty solid play," Munro said. "They're taking care of business, playing their game, and being aggressive."
Doubles looks so far like the strongest area for Glacier's girls and that showed Thursday when they won all four doubles matches.
The Pack's Haven Speer and Sarah Downs defeated Abby Clark and Sophie Dykhuizen of Flathead in two sets. Pair Katy Bitney and Colette Daniels won as did Kendall Van Aken and Elise Strobel.
"The girls doubles are very solid," Munro said.
Patricia Hinchey and Alexis Kersten of Flathead also won at No. 1 and 2 singles.
Bella Teggeman was the Glacier girls' lone singles winner, at No. 4, defeating Flathead's Gracie White 6-1, 6-1.
"Overall a pretty good day," remarked Munro. "I'm proud of the kids, there's been a lot of switches and schedule changes this week."
More schedule changes are ahead for both schools. Due to snow expected Saturday, duals with C.M. Russell and Great Falls high schools have been rescheduled to Thursday.
Girls
Glacier 5, Flathead 3
Singles
Patricia Hinchey (Flathead) def. Rachel Jutzi 6-1, 6-1; Alexis Kersten (Flathead) def. Naomi Jutzi 6-1, 6-0; Isabella Parrott (Flathead) def. Tori Dobis 6-7(8), 7-5, 6-1; Bella Teggeman (Glacier) def. Gracie White 6-1, 6-1.
Doubles
Haven Speer/Sarah Downs (Glacier) def. Abby Clark/Sophie Dykhuizen 6-1, 6-0; Katy Bitney/Colette Daniels (Glacier) def. Kylie Amundson/Elle Westner 6-0, 6-0; Kendall Van Aken/Elise Strobel (Glacier) def. Natalie Hagg/Lolita Sattler 6-0, 6-0; Mady Terry/Maddie Davis (Glacier) def. Rebecca Vosen/Delilah Eslich 6-0, 6-2.
Boys
Glacier 8, Flathead 0
Singles
Will Rudbach (Glacier) def. Kutuk White 6-3, 6-2; Harrison Sanders (Glacier) def. Quaid Ring 6-0, 6-1; Kyler Knutson (Glacier) def. Tyler Shawbuck 6-1, 6-0; Carl Bitney (Glacier) def. Elias Bailey.
Doubles
Alex Galloway/Timmy Glanville (Glacier) def. Evan Sevaly/Cody Ramer 6-1, 6-0; Ethan Woods/Trey Engellant (Glacier) def. Kobe Schlegel/Jack Thompson 6-2, 6-0; Calvin Schmidt/Brighton Kelsey (Glacier) def. Steven Baker/Thomas Konopka 6-0, 6-0; Rhett Measure/Dalyn Mathison (Glacier) def. Maverick Huestis/Holden Asvig 6-1, 6-0.
Recent Headlines
---