Daines returns from Ukraine calling for more aid, and more quickly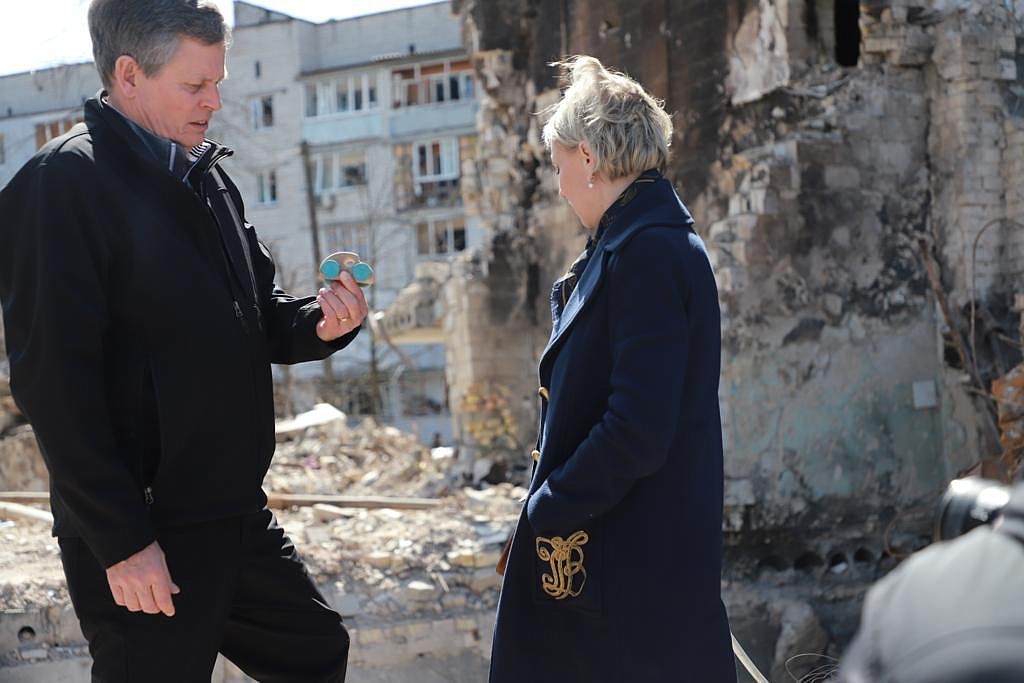 U.S. Sen. Steve Daines, R-Montana, at Kyiv, Ukraine during a tour last week where he met with Ukrainian officials. (Provided photos)
by
DERRICK PERKINS
Daily Inter Lake
|
April 21, 2022 12:00 AM
Fresh off a tour of the recently liberated suburbs of Kyiv, Sen. Steve Daines called for the U.S. to more quickly ship lethal aid to Ukraine, reestablish a diplomatic presence there and welcome refugees from the war-ravaged nation at home.
The senator visited the embattled Eastern European nation last week with fellow Republican U.S. Rep. Victoria Spartz of Indiana. During the trip — the two were the first known U.S. officials to visit since Russia invaded in February — they saw first hand evidence of Russian war crimes, he said. In Bucha, which was liberated as Russian troops withdrew from the region around the Ukrainian capital of Kyiv, Daines reported seeing the mass graves of local civilians.
"I don't think anybody can fully prepare to see the atrocities that I saw in Bucha and in some surrounding villages," Daines told reporters during an April 18 press call. "… To see shallow graves and the bodies being exhumed, to smell the stench of death, to see the small body bags … you can't prepare for that. It's one of the most horrible things I've ever seen."
Scenes from Bucha elicited shock and horror from around the world since the Russian withdrawal. Multiple media outlets, independent investigators and Ukrainian officials have documented evidence of torture, dismemberment and beheadings in the suburb. "War crimes," Daines repeatedly called it.
ALONG WITH Bucha, he passed through Lviv, a city in western Ukraine, and spent time in Kyiv, where he met with local officials, including the mayor, Vitali Klitschko, a former boxing champion. Many of the Ukrainian officials he spoke with shared the same request from the U.S. lawmakers, he said. They wanted lethal aid: armor, surface to air missiles and heavy artillery.
"The officials in Ukraine are very clear in what they need," Daines said.
Since the onset of war, Ukraine has received a stream of aid from NATO countries, which Daines said he wanted to see more of in the weeks ahead. Weaponry and equipment pledged by the U.S. includes Stinger anti-aircraft missiles, anti-armor weapons, including Javelins, drones, grenade launchers, rifles, body armor and helmets, according to the White House, which announced an $800 million package earlier this month. Another military aid package is in the works, Reuters reported this week.
Acknowledging the pledged aid, Daines said that he wanted to see the Biden administration transfer military supplies more quickly.
"There are dollars authorized for lethal aid; there is a lot of work being done, but we need to go even faster," he said.
On April 19, he and Spartz, who was born in Ukraine and has family there, sent a letter to the White House calling on Biden to do just that.
But Daines stopped short of recommending sending U.S. troops into the country, calling such a move escalatory and cautioning that it could lead to American soldiers exchanging fire with their Russian counterparts. Ukrainian officials he spoke with never raised the question and even dropped talk of a no-fly zone, he said.
Daines did want to see the U.S. diplomatic personnel in Ukraine. Prior to the Russian invasion, officials ordered the evacuation of the U.S. Embassy. Diplomatic staff have worked out of neighboring Poland ever since.
"I think it's important to have a diplomatic presence in Ukraine as we're going through the war and working on humanitarian and lethal aid," he said, echoing calls from other Republican lawmakers.
The trip, which included stops in Hungary and Slovakia, impressed upon him the need to increase American energy production. Europe, he said, had grown reliant on Russian oil and gas. NATO partners, in particular, need to rethink their dependence on not just Russia, but also China, regarding natural resources.
He also took aim at the Biden administration for what he saw as attempting to hamstring oil and gas industries, saying the White House had "flat out declared a war on American energy."
European nations, which are trying to find alternatives to Russian energy, should serve as a warning, Daines said.
"It's really important that America continues to be the leader in oil and gas in the world," he said.
AS FOR Ukrainians fleeing the carnage he saw up close, Daines said the U.S. should welcome them.
President Joe Biden has pledged to take in up to 100,000 refugees from Ukraine, but details of how they will become citizens remain scarce, according to The Washington Post. In the meantime, the U.S. saw an influx of migrants from Ukraine of more than 5,000 in March, some of them crossing at the southern border.
The U.N. put the number of Ukrainians fleeing that nation at 4.65 million as of April 12.
Daines recalled being approached on Easter Sunday by a physician friend wanting to take in refugees. That's to be encouraged, he said.
"I believe we should allow Ukrainian refugees to come into our country and I'm hoping we'll see Montana families adopt some of these families," Daines said.
The humanitarian crisis sparked by the war — Daines described seeing throngs of aid workers and agencies as he crossed into Ukraine — will not subside until the conflict ends, he said. And he expressed doubt that peace talks could bring the war to an early close.
"The humanitarian crisis is not going to end until the war ends. The war crimes are not going to end until the war ends," Daines said. "The war is not going to end until Ukraine defeats the Russians."
News Editor Derrick Perkins can be reached at 758-4430 or dperkins@dailyinterlake.com.
Recent Headlines
---