Flathead Electric Co-op celebrates 25 years of Roundup for Safety grants
by
TAYLOR INMAN
Daily Inter Lake
|
August 1, 2022 12:00 AM
After 25 years and $4.3 million given to local projects, Flathead Electric Co-op is celebrating their Roundup for Safety program.
The program asks co-op members if they would like to round-up their bills to the nearest dollar. Those funds then get divided out on a monthly basis by a board of nine people from different areas in the Flathead. The total cost for the program per household is around $6, but the grants can have a priceless reach, according to Flathead Electric Co-op Public Affairs Specialist Courtney Stone.
She said the co-op learned of similar programs in the 1990s when staff visited a training in Arlington, Virginia, with the National Rural Electric Co-op Association. Co-ops are community minded and funded, Stone said, so they are always looking at different ways to give back. They learned of a program called "roundup" and decided to focus on projects that specifically funded anything to help with safety.
"Our people at Flathead Electric Co-op saw a very specific need here in the Flathead for safety," she said. "So they made that distinction, that if our members just roundup it would go towards life saving projects here in the service territory, which I think really makes sense for our areas since we are so rural, even much more so as recently as the 90s."
Stone said funding safety projects in the Flathead Valley is imperative for a lot of communities, bridging gaps in funding to buy necessary equipment for first responders, for example. The co-op's service area reaches from Essex, west to Libby and south to Swan Lake, covering many unincorporated communities that do not get as much funding as cities in the region. Life saving equipment in places like Marion or Essex could make a huge difference in emergency situations.
"Increasing as many community safety assets in underserved areas throughout the service territory because there's a lot of areas now that have always been really far removed from first responders, or have first responders who are really underfunded, since they're just community volunteers. They have greatly benefited from that Roundup for Safety funding," Stone said.
But, Roundup pays for more than important equipment for first responders. The monthly grants go toward all sorts of projects to support safety, including the recent $10,000 that went towards a $60,000 school safety inventory for local schools. In March, the board awarded KALICO Art Center with $460 to pay for a first aid kit, a grab bar and door paddle. In June, $10,000 was granted to North Valley Food Bank for a backup generator. They also fund many requests for local sports teams, like the Columbia Falls Swim Team, who were given $4,500 in May for an AED and swim lesson equipment.
"When we see these projects that benefit thousands and thousands of people across the service area: all of these students, all of these teachers and administrative staff, and all of the people that walk into our schools every year," Stone said. "Whether we're voting or going to a basketball game, or a craft fair, whatever that might be— I just love it when I see Roundup for Safety dollars going back to benefit huge numbers of the community."
Stone said funding these projects not only keeps locals safe, but also anyone who visits the area — including the millions of tourists who enjoy outdoor activities. The Patrol Fund was granted $2,000 in April to fund training for avalanche dogs, who would search for people in the event of an avalanche.

Roundup for Safety Board Chair Bill Leininger has served on the board for around five years and represents the Bigfork area. He said the program is one of the most rewarding things he is involved with and that it's humbling to witness people who are very invested in the community work hard to facilitate these projects while also watching organizations try to make the community safer.
"Everybody on our committee takes it very seriously, that we have the fiduciary duty to be stewards of the money that people have graciously rounded up on their electric bill, which is small in the scheme of things — maybe it's an average of a little over $5 a year. But that provides us with about $20,000 a month that we have to use to help different nonprofits to get safety related items," Leininger said.
With around $20,000 a month to give out, Leininger said it can be difficult to pick projects to give grants to, especially when the board sometimes receives up to $60,000 to $70,000 in funding requests. He said the committee follows strict guidelines, which say that the project funded must be related to safety in some way.
"We have our guidelines there for a reason. So we can show that we, as a committee, have our marching orders and we can treat all organizations the same. In other months, maybe we don't have that many requests and we can help people more fully. But we always try to do our best," Leininger said.
Leininger said what they can provide to first responders across the valley, as well as necessary equipment for people backcountry and on the water, is just a fraction of the projects he is proud to fund on the Roundup board. He said he hopes some of the projects never have to be utilized, but he is grateful they are available to those who need it.
Stone said she believes the program is successful because of co-op's members who want to give back to the community.

"Part of the reason that we have so many people who are contributing is that people here have always been very community minded. And I think as the nature of our valley changes, people see the value in banding together for things that we can all agree on for the common good of keeping people in the area safe," Stone said.
Of 56,000 co-op members, 63% are enrolled in Roundup For Safety. Anyone interested in enrolling can find more information on Flathead Electric's website or by calling 406-751-4483.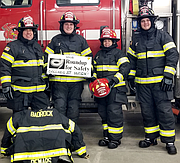 Recent Headlines
---