MSU's computer science program gives Kalispell undergraduate room to run in unexpected directions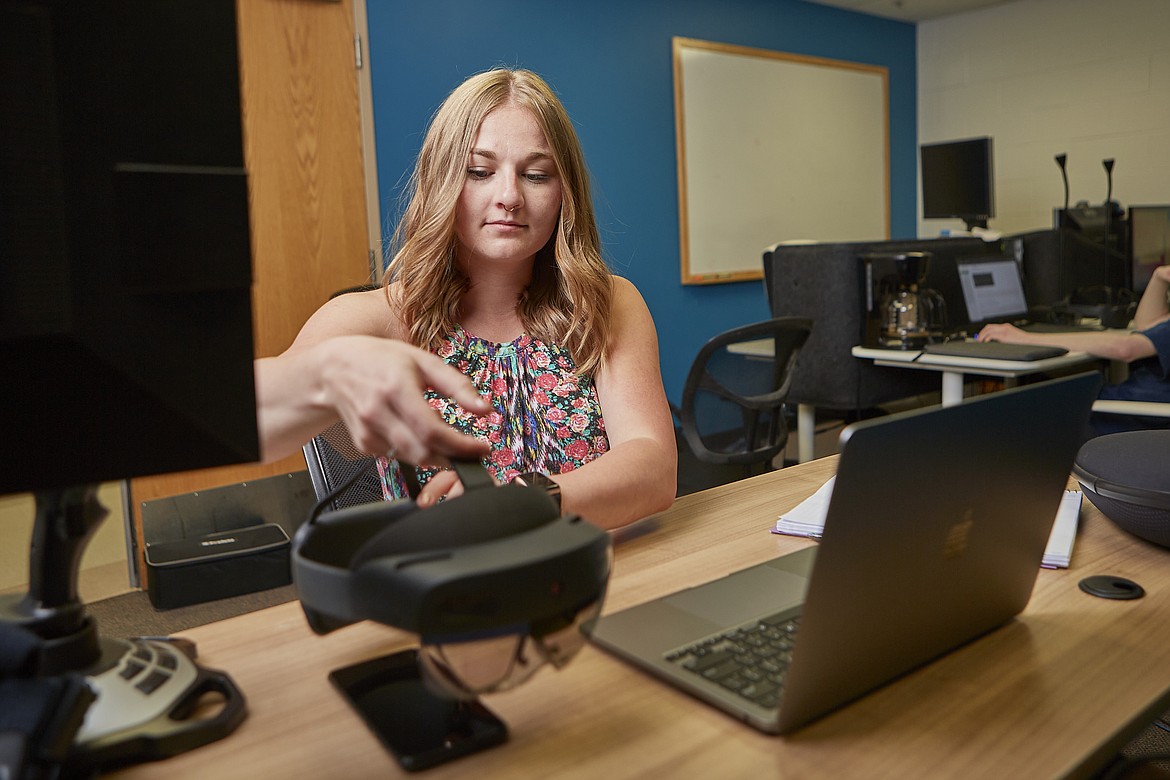 Kajia Coziahr works with an augmented reality headset in Laura Stanley's lab on June 29. (MSU Photo by Adrian Sanchez-Gonzalez)
by
Marshall Swearingen MSU News Service
|
August 3, 2022 12:00 AM
BOZEMAN — Kajia Coziahr had never seen a line of programming code when she decided to study computer science. She hadn't considered research but found that she loved it. And graduate school wasn't much on her radar, but that's where she's heading this fall.
For the recent Montana State University student, computer science has matched her adventurous spirit and work ethic, giving her room to run in sometimes unexpected directions as opportunities present themselves.
"Computer science is such a wide field," said Coziahr, who earned her bachelor's in computer science from MSU last spring and will continue with a master's program there this fall. "There are so many different options to choose from and opportunities to explore."
A Kalispell native who started in computer science at Flathead Valley Community College because the field was interesting and held strong job prospects, Coziahr transferred to MSU in 2019 for the more intensive course offerings, she said. Then, the summer after her first year, she jumped at the chance to analyze network data for cyberattacks as part of MSU's Research Experience for Undergraduates program. "Even though it was challenging, I had a lot of fun and learned a lot from the experience," she said.
Soon after, she was in a course about human-computer interaction when the professor, Laura Stanley, described her own research, including a project to help treat opioid addiction by designing augmented reality headsets that can help patients resist cravings and get real-time support from treatment professionals.
"I thought, 'This is something I could really get into,'" Coziahr said. She approached Stanley and was offered a research assistant position in her lab.
For the project — which is backed by a $1.2 million grant from the National Science Foundation and the National Institutes of Health and involves partnerships with medical professionals and researchers at Prisma Health and Clemson University in South Carolina — Coziahr has interviewed patients and translated their experiences into improvements in the computer interface. She found that she likes research so much that she decided to pursue a master's in computer science to continue the work with Stanley.
"The work that Kajia was doing as an undergrad was really on more of a graduate level, so I'm happy to see her going on to grad school," said Stanley, associate professor in the Gianforte School of Computing in MSU's Norm Asbjornson College of Engineering, who is also working on a $1.2 million NSF-funded project to improve how automated manufacturing equipment interfaces with human operators. "And because she's very self-motivated and organized, she's really become a leader that helps rally our research team."
For Stanley, Coziahr also stands out as an example of how students with varying backgrounds and interests can forge their own paths as computer science grows and expands to encompass more fields and professions.
"Computer science has so much to offer beyond what some people might think of as just coding," said Stanley, whose background as an industrial engineer led her into the field called user experience, sometimes abbreviated as UX. Professionals working in UX design the apps and other computer interfaces that humans directly interact with, drawing upon data science, psychology and other fields to create an optimal experience. "I try to show students that there are these other paths in computer science."
With Stanley's encouragement, Coziahr participated in an online mentorship program where she met regularly with Microsoft professionals to learn more about the day-to-day life of a UX engineer. The experience helped cement her interest in pursuing a career in the field.
Computer science has provided all the challenge that Coziahr could want, she said. There can be a steep learning curve, but her advice to students who are where she was a few years ago is: "Don't try to go through your studies alone," she said. "Find people who know more than you do and learn from them. If you just keep going, things will eventually start to click."
It has helped that she has had the support of people like Stanley, Coziahr said, especially because she's the first person in her immediate family to go to college. "Laura has been a truly powerful role model for me," she said. Other professors as well as her fellow students also create a welcoming atmosphere, she added. "There are a lot of interesting people here with varying interests and backgrounds," she said. "It's nice to have a community you can turn to at anytime."
Ahead of starting her master's degree this fall, Coziahr is continuing her research with Stanley this summer. "I see Kajia being a leader, one way or another, in her career," Stanley said.
Recent Headlines
---