Colleagues and friends have fond remembrance of fallen Glacier climbers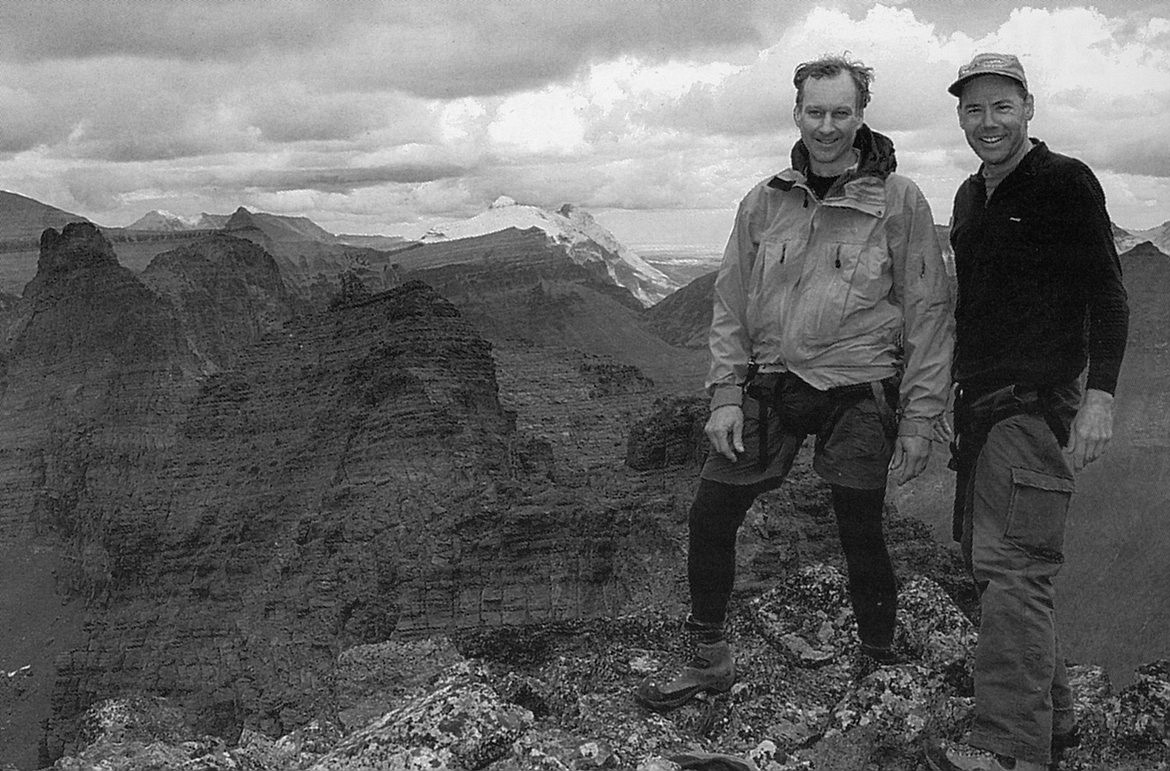 Jack Beard, left, and Brian Kennedy on the summit of Mount Doody in 2006. The two were trying to traverse the Cloudcroft Peaks in Glacier National Park from Doody, but ran into a host of cliffs. (Photo courtesy of the Glacier Mountaineering Society.)
by
CHRIS PETERSON
Hungry Horse News
|
August 4, 2022 12:00 AM
On July 22, Flathead Valley residents Brian Kennedy and Jack Beard, both 67, fell to their deaths while climbing the east face of Dusty Star Mountain in Glacier National Park. Colleagues and friends shared memories of the two men.
BRIAN KENNEDY
Back in the early 1980s a gay group called "Out in Montana" ran a classified ad in the Hungry Horse News.
One of the largest advertisers at the time, a local grocery store, found the ad to be offensive and demanded that editor and publisher Brian Kennedy pull the classified, or they would pull their advertising.
Kennedy refused.
"Brian said, 'Fine, pull your advertising,'" former Hungry Horse News reporter and Daily Inter Lake news editor Scott Crandell recalled last week.
Kennedy went on to write an editorial on why the ad would stay, noting he disagreed with the ad's content, but defended the right of the group to publish it.
That's the sort of principled journalist the young Kennedy was, Crandell recalled.
Kennedy died July 22 after a fall while climbing Dusty Star Mountain in Glacier National Park, along with his friend Jack Beard. Both men were 67 years old.
Kennedy was the editor of the Hungry Horse News from 1978 to early 1999. Sage Publishing of Wyoming, a group on newspaper investors that included Brian's father, Bruce Kennedy, bought the newspaper from Mel Ruder in 1978, and Kennedy and his late wife Carol took full ownership in 1987.
Bruce Kennedy was a well-known journalist and editor, publishing the book "Community Journalism, A Way of Life."
Brian Kennedy followed in his father's footsteps, receiving a degree in journalism from the University of Wyoming and then working at the Sheridan Press before taking the proverbial reins of the Hungry Horse News at the age of 23.
Crandell came on board in 1979 and worked with Kennedy until 1986.
"We worked well together," Crandell recalled. "We put out a helluva good newspaper."
He recalled when then Vice President George Bush visited Glacier Park in 1983. Crandell and Kennedy learned Bush had a trip planned to hike to Hidden Lake to fish, but the press wasn't invited.
So Crandell got up at 4:30 a.m. and sneaked down to the lake to try to get Bush's picture, but Bush was delayed well into the day and Crandell wondered if he would ever show up.
Meanwhile, Kennedy got an iconic shot of Bush laughing as he paused on the Hidden Lake Trail with Glacier superintendent Bob Haraden and Wyoming Sen. Alan Simpson.
Kennedy had connections with Simpson through his family in Wyoming and was able to get the trio to pause just long enough for the color photo.
"It was a great shot," Crandell said.
Another iconic moment was when an Amtrak train derailed near Essex. Security was tight at regular crossings, so they couldn't just walk down the tracks.
"We took off across Bear Creek and then through a foot of snow," to the wreck, Crandell recalled.
There they took photos and at one point, Kennedy boosted Crandell up on his shoulders so he could get shots of a tipped over railcar before security officers shooed them away.
The resulting photos and story won the newspaper a National Newspaper Association Award.
But it was also a challenging time for Kennedy, Crandell noted.
He was just a young man, with a young family and he was running a newspaper in the shadow of a Montana legend in Mel Ruder.
Kennedy modernized the newspaper. He brought in a press to the Columbia Falls location (it had been printed in Kalispell). He instituted modern pagination and brought color photos to its front pages.
In the late 1990s, the newspaper employed more than 40 people and also had a busy print shop. The Kennedys also owned the Whitefish Pilot.
In 1992 Kennedy was named a master publisher and editor by the Montana Newspaper Association.
In January 1999, they announced the sale of both newspapers to Lee Enterprises, ending their tenure in the Flathead Valley.
Carol Kennedy died in a car accident in 2015. The two had divorced in 2011.
They have three grown children, Justin, James and Christina.
After Kennedy sold the newspapers he stayed in Columbia Falls and continued his passion for mountain climbing. For years, he was the editor of "Going to the Sun," the journal of the Glacier Mountaineering Society. He recently gave Larry Hiller, a fellow society member, a list of all the peaks he had summited over the years up to February 2021, including summitting Denali in Alaska in 2015 with fellow climbers Warren Lane, Stephen Smith and Richard Briles.
There are 234 named peaks in Glacier, according to the Glacier Mountaineer Society.
Kennedy had summitted 230 of them.
JACK BEARD
"You expect people to slow down as they get older," David Steele, friend and climbing partner of Jack Beard said last week.
But slowing down wasn't in Beard's wheelhouse, though there was every reason why it should have been.
Beard survived a 600-foot fall while climbing with Steele in 2015 on the Lithoid Cusp, a spire between Merritt and Ipasha in the Belly River region of Glacier National Park.
Beard, who was 60 at the time, lost his footing in a near vertical snow chute, went over a rock ledge and down a waterfall, landing on a rock outcropping. He sustained a concussion and fractured his ribs, spine and right forearm.
But after he recovered in the hospital and later at home, he was back in the hills, climbing.
Poet Robert Browning wrote, "A man's reach should exceed his grasp, or what is heaven for?"
That was Jack Beard.
Local mountaineers Jeff Young and Dennis Bonawitz had fond recollections of Beard.
They recalled one incident in particular in June while climbing Chief Mountain some 22 years ago.
After summitting the mountain, the weather rolled in and it was blizzard conditions.
Beard did a head count and one man was missing. Beard, Young and Bonawitxz turned around in the snowstorm and headed back up the mountain to look for him.
They found a set of tracks going the wrong direction and gave a yell and found the man. He was soaking wet and freezing. They got him into some dry clothes and they all made it out OK.
"He was the kind of guy who would give you the shirt off his back, when he only had one shirt," Steele said.
Beard was always up for adventure.
Young recalled climbing Swan Peak in the Bob Marshall Wilderness with Beard in a route that required a mountain bike ride with 2,000 feet of elevation gain before the climb by foot even began.
"He was a very fit climber," Young said.
Fellow climber Richard Hanners bagged the remote Logan Mountain in Glacier with Beard.
The trip was a lot of fun, Hanners recalled.
"He was an experienced climber and authentic gentleman," Hanners said.
Beard and Brian Kennedy had done many trips together before the accident on Dusty Star that claimed the lives of both men July 22.
In 2006, they chronicled an adventure where they summitted Mount Doody and then attempted a traverse of the Cloudcroft Peaks in Glacier National Park that ended in an eight-rappel descent when things went a bit sideways.
The previous year they had climbed the Pumpelly Pillar Spire and Mount St. Nicholas together — two difficult peaks in their own right.
But it was a climb that Steele did without Beard that he will remember for a long time. The two had talked about a 1,000-foot vertical route up the west face of the Little Matterhorn in Glacier.
"It was something (Beard) had been looking at, but hadn't gotten a chance to do," Steele recalled.
Steele and fellow climber Jason Mills did the climb in 2019. Some climbers may have been jealous, but Beard was thrilled they had done it.
"We decided to call it, 'Where's Jack?" Steele said. "It's another example of who the guy was. He had great eyes for (climbing) lines."
"Brian and Jack were two extraordinary mountaineers with an incredible knowledge the mountains of Glacier National Park and surrounding areas. They inspired others with their stories and willingly shared routes. They will both be greatly missed. Brian and Jack were great companions, guides, and teachers on many a Glacier Mountaineering Society outing," Greg Notess, president of the Glacier Mountaineering Society said.
Recent Headlines
---