FWP seeks ideas for new Somers Beach State Park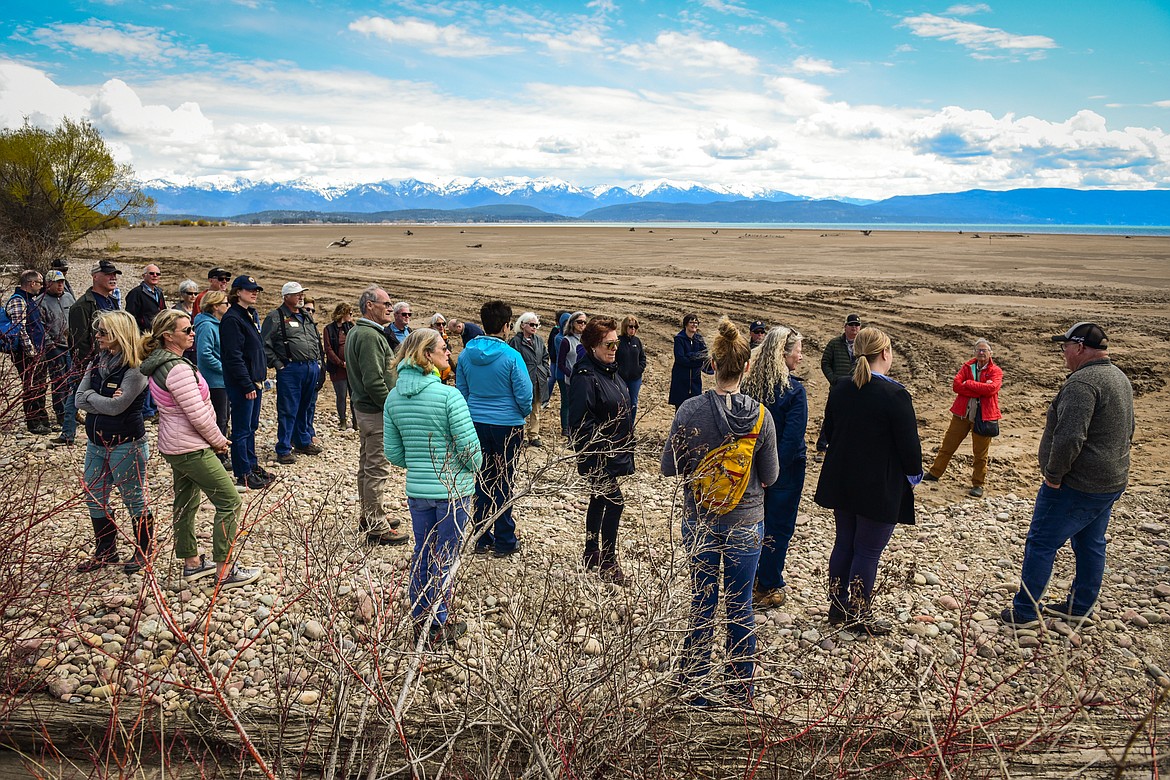 Attendees walk out to the beach along Flathead Lake after a ribbon-cutting ceremony at Somers Beach State Park on Thursday, May 12. (Casey Kreider/Daily Inter Lake)
by
TAYLOR INMAN
Daily Inter Lake
|
August 4, 2022 12:00 AM
Montana Fish Wildlife and Parks is seeking community input as officials begin planning for amenities at the newly created Somers Beach State Park.
The effort is part of Phase 2 of the state park's public planning process, which included an in-person and virtual open house that allowed community members to give their input. FWP sent out a survey this spring concerning Somers Beach State Park that drew more than 1,200 responses. Those results served as a jumping off point for FWP, who will use that data and what they learned at their July open houses to form concrete proposals for amenities.
Efforts to turn the area into public land — ongoing for years — officially took off when FWP acquired the 106-acre beach property in October 2021. The land previously belonged to the Sliter family, who allowed public access to the property. The Flathead Land Trust has been working with the family for more than a decade to secure the land for the long term.
FWP Region 1 Recreation Manager Dave Landstrom said results from their spring survey show that of the parks' three service level designations, 54% of respondents said the area should be rustic. FWP defines a rustic park as a park that attracts visitors who expect a self-directed experience with limited developed amenities.
Other levels of service include core parks, which provide moderate levels of service and amenities, and enhanced parks, which offer high amenity levels and different options for enhanced visitor experiences. Landstrom said Wild Horse Island could be defined as a rustic park, with Lake Mary Ronan as a core park and Lone Pine State Park as an enhanced park.
About 33% of respondents wanted Somers State Park to become a core park.
Experience categories brought a more varied response. Forty-eight percent of respondents preferred Somers Beach to become a park that focuses on natural experiences, which is defined by FWP as parks that connect visitors to nature and allow them to learn and reflect. Thirty-eight percent said they wanted the park to focus on recreation, putting an emphasis on outdoor activities like hiking, biking or kayaking.
Only 13% of respondents said they thought the park should focus on heritage experiences, which are parks that invite visitors to reflect on the past as they learn and hear stories from Montana's history.
Landstrom said there are basic features for the park that must be included to operate and safely manage the area. This includes a parking lot and entrance gate, an entry/fee station, a host site with utilities, flush restrooms, access to potable water, universally accessible trails, interpretive opportunities, picnic areas, a hand launch boat ramp and park boundary delineation/screening.
Officials will have the ability to get flushing restrooms at Somers Beach because they can connect to municipal sewer and water. Landstrom said this is advantageous for FWP, because it is becoming increasingly difficult to find vendors to pump latrines at other state parks.
Trails and interpretive opportunities will be discussed in more detail in the future.
Sixty-one percent of respondents said they'd prefer if Somers Beach be designated as a day-use park, with no overnight camping opportunities. There were some mixed responses, and of those who said they were interested in camping, the majority suggested tent camping or a combination of tent camping with other options.
"It was clear they weren't interested in large-scale RV type camping, like we offer at some of our other parks," Landtsrom said.
During discussion of land-based day-use areas, Landstrom said they are looking at four main options based on survey responses. This includes picnic areas, reservable group use shelters, natural playground and a rustic amphitheater. He said natural playgrounds are somewhat of a new option for FWP. For reference, officials have shared a photo of a child hopping from stump to stump as a visual example of a natural playground.
"When we said 'playground' people might have expected brightly colored apparatuses … But there's actually kind of a cool movement towards these natural playgrounds that incorporate different elemental pieces like wood, stone, etc., but they function as a playground," Landstrom said.
Of these options, most people preferred seeing picnic areas, with some interested in seeing group use shelters and a natural playground — few people were interested in seeing a rustic amphitheater. Attendees of the in-person open house were given color dot stickers to place on a map of the park to show where they would like to see these day use areas. To see the results of this exercise, check out the full zoom presentation posted on FWP's Youtube channel.
The third major topic up for discussion was offering water-based day-use areas. Based on survey results they are evaluating a hand launch boat ramp, a gravel beach and a wildlife viewing platform. Gravel beaches already exist due to a project by FWP to curb erosion on the north shore, but this proposal offered the creation of additional gravel beaches. Open house respondents voiced pretty much equal support for all three options, with a gravel beach area and wildlife viewing platform garnering the majority of support.
Landstrom said they do not anticipate any use of motorized trail use in the park. They proposed different uses such as pedestrian, bikes and equestrian — as well as different trail materials, like boardwalk and concrete. Fifty-six percent of respondents said they would prefer pedestrian trails in the park. Thirty-four percent said they would like to see some bike trails and only 8% said they would enjoy equestrian trails.
Of the materials, there was overwhelming support for seeing bare earth and boardwalk trails.
Interpretive approaches offered four ways patrons could interact and learn about Somers Beach. This includes traditional signs, interactive signs, QR codes and decorative signs. Most support, a combined 72%, went towards traditional and interactive signs.
FWP said they are taking into consideration that the park is adjacent to the U.S. Fish and Wildlife Service waterfowl protection area and has two BNSF inholdings. For the waterfowl protection area, this means there could be periods of the year where they have nesting closures. Both inholding areas from BNSF are designated as Superfund sites that are undergoing extensive remediation from the company to contain underground contaminants.
Landstrom said FWP is being careful to not disturb their work during the development of the park.
Input from these open houses will help FWP staff develop a draft environmental assessment with formal proposals this fall. Landstrom said this will synthesize input from their public comment period and will highlight options and alternatives for the development and design of the park. Another public comment period will follow after the release of that document in the fall. Anyone with additional questions or input about the planning process at Somers Beach State Park can reach out to Landstrom at dlandstrom@mt.gov or by calling (406) 751-4574.
A timeline and key milestones for the park can be found on FWP's website for Somers Beach State Park Planning Project.
This article has been updated to include the correct email for David Landstrom.
Recent Headlines
---