Whitefish High grad Grattan wins 67th Montana State Seniors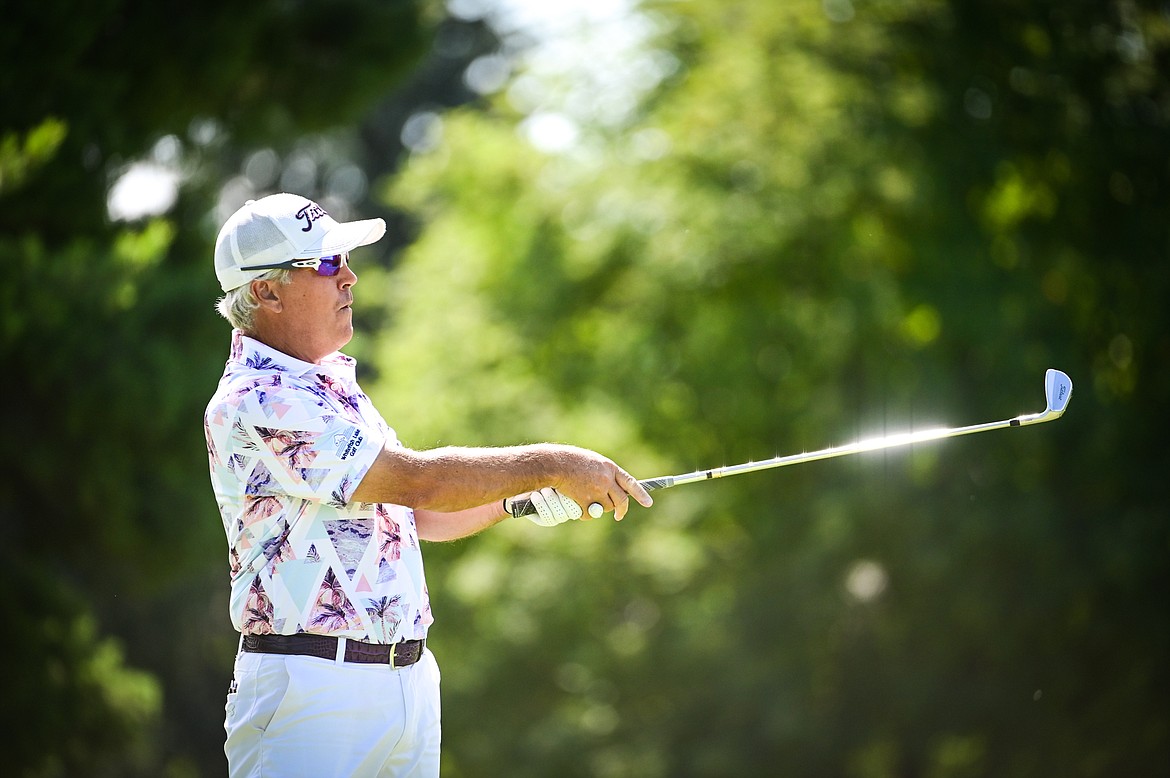 Brad Grattan watches his tee shot on the 12th hole during the Montana State Senior Golf Tournament at Buffalo Hill Golf Club on Thursday, Aug. 4. (Casey Kreider/Daily Inter Lake)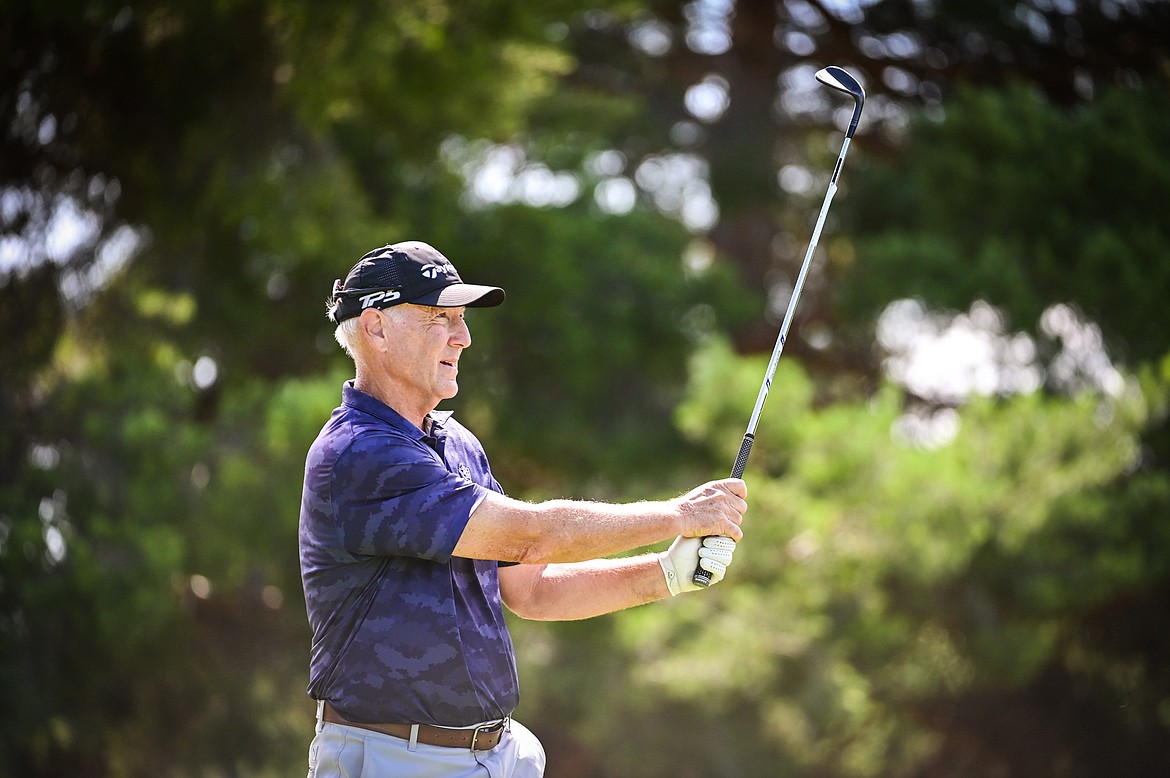 Gene Walsh watches his tee shot on the 12th hole during the Montana State Senior Golf Tournament at Buffalo Hill Golf Club on Thursday, Aug. 4. (Casey Kreider/Daily Inter Lake)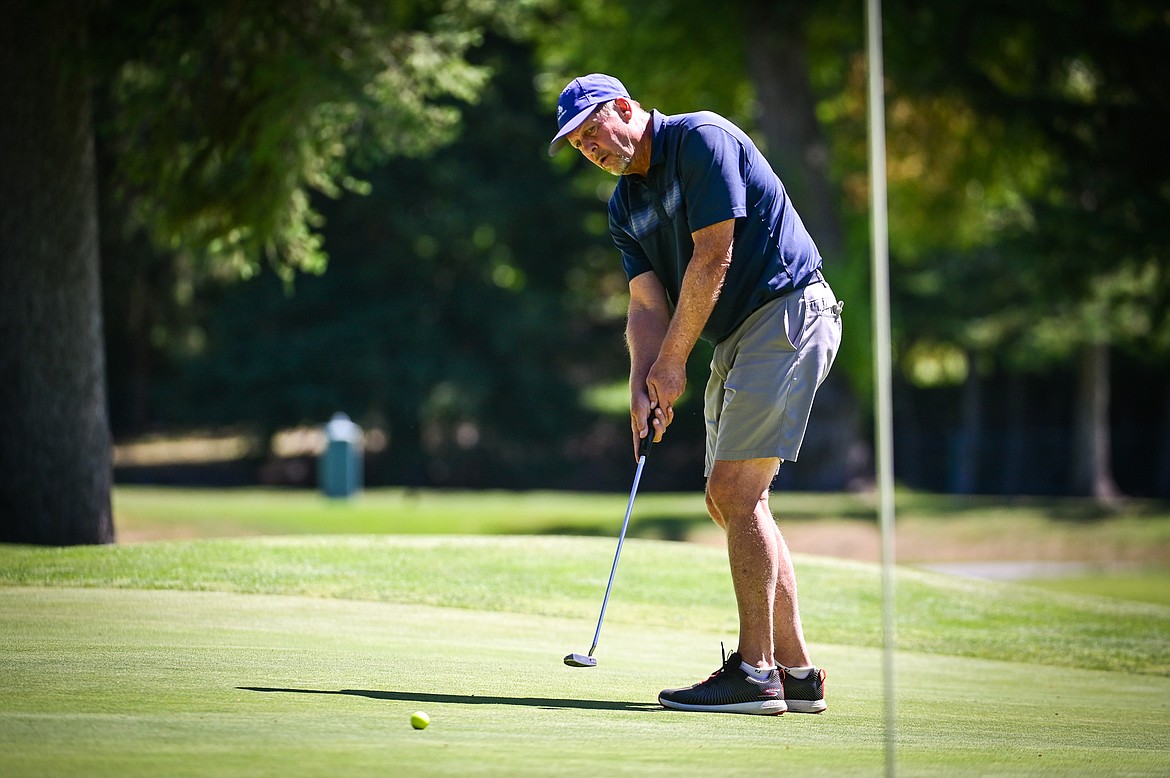 Jeff Niesen sinks a long putt for birdie on the 14th green during the Montana State Senior Golf Tournament at Buffalo Hill Golf Club on Thursday, Aug. 4. (Casey Kreider/Daily Inter Lake)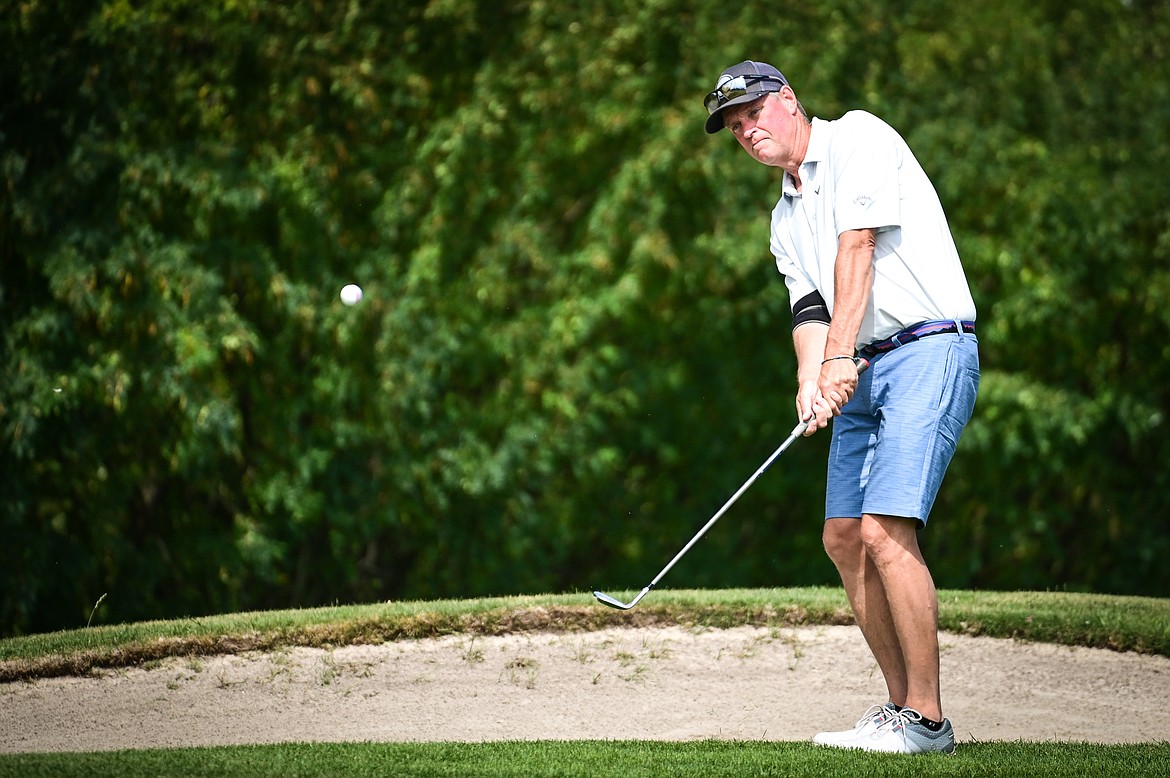 Bill Dunn chips onto the 11th green during the Montana State Senior Golf Tournament at Buffalo Hill Golf Club on Thursday, Aug. 4. (Casey Kreider/Daily Inter Lake)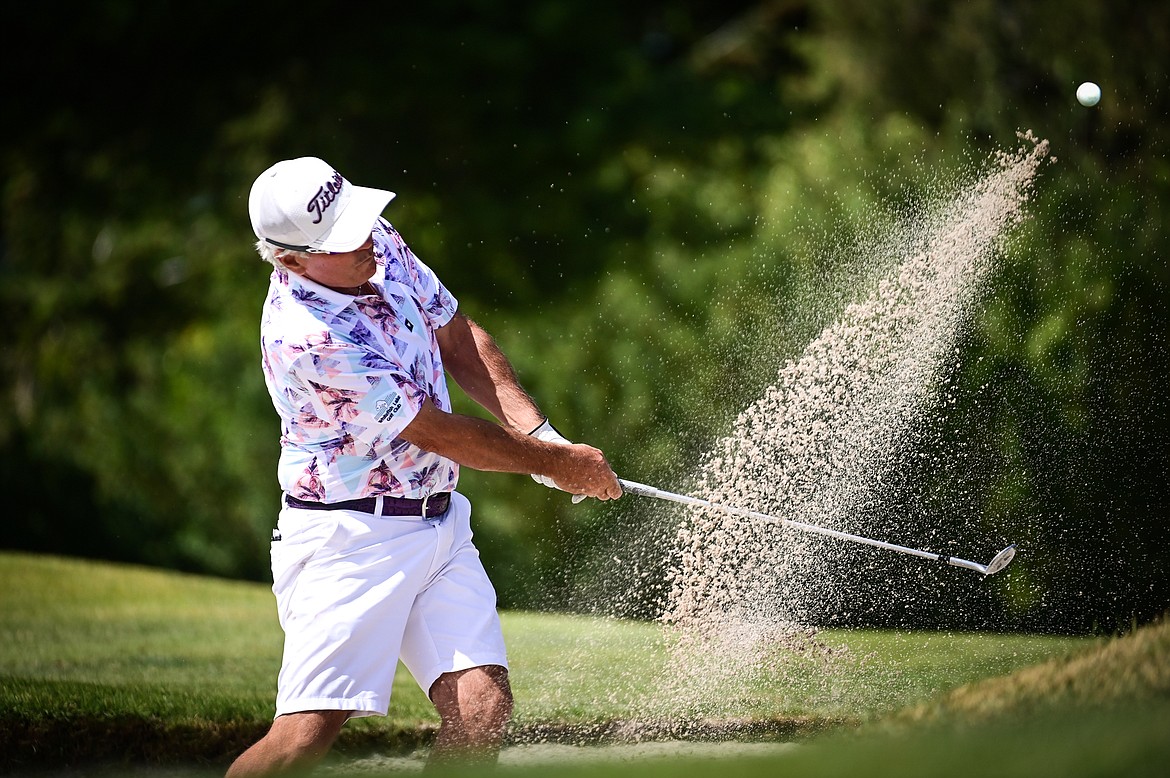 Brad Grattan chips out of a greenside bunker on the 11th hole during the Montana State Senior Golf Tournament at Buffalo Hill Golf Club on Thursday, Aug. 4. (Casey Kreider/Daily Inter Lake)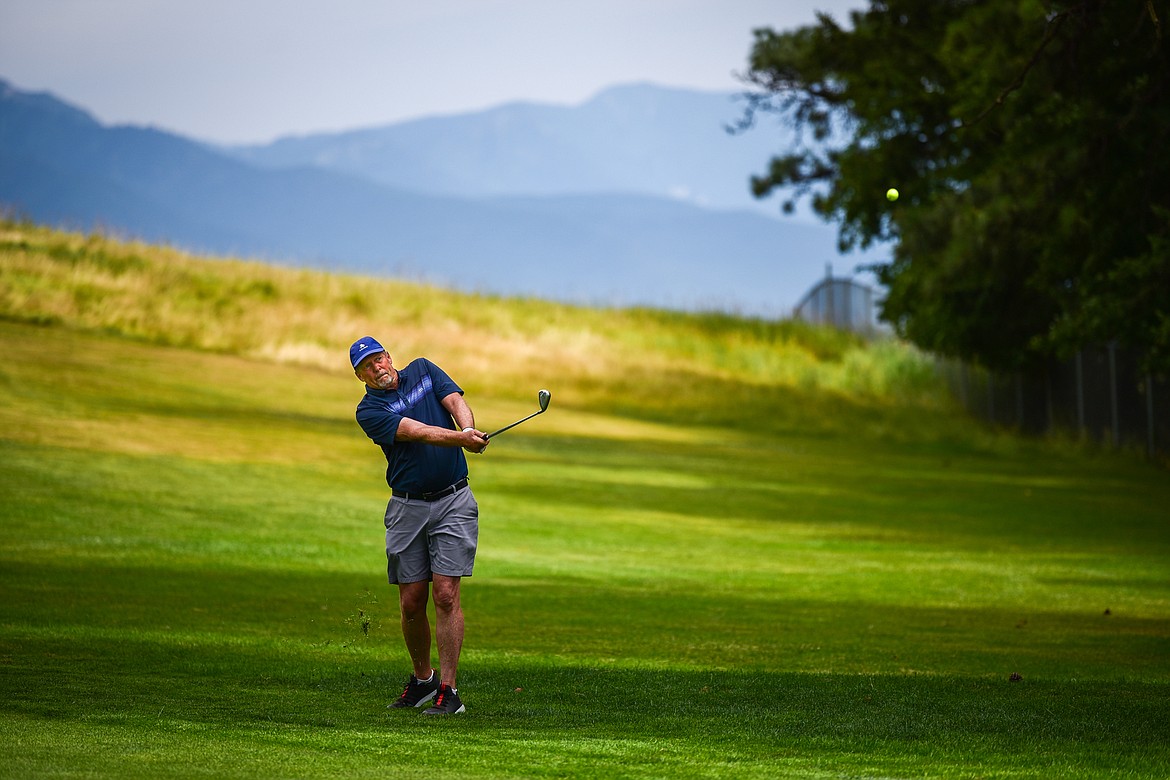 Jeff Niesen hits his approach on the 18th fairway during the Montana State Senior Golf Tournament at Buffalo Hill Golf Club on Thursday, Aug. 4. (Casey Kreider/Daily Inter Lake)
Previous
Next
by
FRITZ NEIGHBOR
Daily Inter Lake
|
August 4, 2022 11:55 PM
Brad Grattan has Whitefish Lake Golf Club listed as his home course, but notes he plays more at Buffalo Hill.
He's played there so much in fact — and hit the same tree so many times — that his buddies, owing to his 5-foot-6 stature, started thinking Grattan was the Keebler Elf.
"I always hit the tree on No. 4," Grattan said Thursday.
"And they called it my Factory. And it just kind of stuck."
"Keebs," it is noted, is your 67th Montana State Seniors champion. The 57-year-old Whitefish High graduate fired a final round 70 to overtake Eagle Bend golfer Jeff Niesen, who began the day seven strokes ahead. After back-to-back 69s Niesen fired an 81 Thursday, which was less due to the blustery conditions than the tight, shot-rewarding layout of Buffalo Hill.
The final foursome — Grattan, Niesen, defending champion Bill Dunn of Missoula and Gene Walsh of Whitefish — teed off from No. 1 and took six hours to go 18. Grattan's three-day total was 215, 1-under par. Niesen finished at 219.
Dunn ran in a pair of long putts, put up five birdies coming in and at one point was four strokes out of the lead. He shot 72 to finish alone in third at 221. Walsh closed with a 75 and a total of 222.
Grattan began the day bogey, birdie, par and bogey and then started making up ground.
"This is kind of my 'homiest' course, because all my buddies play here," Grattan said. "I know where to hit it, it's just whether I can get it there."
Grattan made up four strokes on the front, and seemed poised to make up more on the par-5 No. 11. Niesen was off the green putting for par from 50 feet, while Grattan was looking at a 12-footer for birdie.
"I was two feet off the green and in the rough, but it was downhill and I only had to hit the putt three feet," the 67-year-old Niesen said. "And the darned thing went in for par."
When Grattan two-putted, a two-stroke swing had been averted. But Grattan, whose vanity plates say KEEBS, was steady.
"It took him five more holes," Niesen noted. "I'm glad I held him off until 16. He was parring or birdying every hole. He could have shot 66 today."
Oh, yes, the par-3 16th. Nobody put it real close off the tee, but it looked like Niesen was pin-high.
"I thought I was on the green," he said. "Then I get up there and I'm two inches from the bunker with a sandy, horrible lie."
Niesen, who used a hybrid to pitch onto the previous green, went with a wedge. It chunked. It took three more strokes from there to get down; Grattan parred and was up two strokes.
"The grass was a little long," Niesen. "In retrospect I should have putted or hit the hybrid.
After everybody not named Grattan found trouble on the sloped, short par-4 17th — Grattan got his fourth birdie of the day — the gap was four. The new champion got up and down from just off 18 for par to close it out.
"It was a good match," Grattan said. "Again, Jeff has not played here that much. I'm comfortable with it, he's not."
"It doesn't really suit my style, very much," Niesen allowed. "I like hitting driver and having a little more wide-open holes. So this one was a challenge."
Niesen was a member at Whitefish Lake before joining Eagle Bend a year ago; before that he was a member at Dove Canyon in Orange County, California. In 20 years as a devoted golfer, he's never shot better than 69. Then he did it twice in the Valley.
"I'm pretty happy with the results," he said. "I wish I could have played a little bit better today, but I'm really happy with these three days of golf."
Grattan was elated. He made four attempts at the Champions Tour Q-school, and may try again, but this was pretty sweet. This was his second State Seniors; he finished 10th in 2021.
"There's a little pressure," he said. "Pressure I mostly put on myself because I'm so competitive.
"This course is more a placement course than a bomber's course, and I can bomb it when I need to, but you have to play this course the way it is designed to play. Otherwise it's really tough to score."
Montana State Seniors Championship
Aug. 2-4, Kalispell
Wednesday
Brad Grattan, Whitefish Lake GC 77-68-70—215
Jeff Niesen, Eagle Bend GC 69-69-81—219
Bill Dunn, Missoula CC 76-73-72—221
Gene Walsh, Whitefish Lake GC 75-72-75—222
Dave Stengel, The Ranch Club 75-74-78—227
Bill Leach, Livingston GC 76-74-79—229
Ron Ramsbacher, Missoula CC 79-74-76—229
Rod Brady, Whitefish Lake GC 79-75-77—231
Carl Funk, Polson Bay GC 77-76-81—234
Ron Janney, Wilderness Club 80-79-77—236
David Meeks, Eagle Bend GC 80-78-78—236
Lou Bahin, Canyon River GC 79-77-81—237
Martin Reilly, Fairmont GC 79-76-83—238
Brady Selle, Cabinet View GC 79-75-84—238
Hunter Lloyd, Bridger Creek GC 76-81-82—239
Michael Managhan, Cabinet View GC 84-76-79—239
Tony Kindle, Marian Hills GC 77-78-84—239
Lee Levine, Riverside GC 80-79-80—239
Cory Bedel, Larchmont GC 85-78-76—239
Will Eide, Valley View 79-80-81—240
Joe Cielak, Cabinet View GC 78-76-86—240
Complete results and tee times can be found at msgagolf.org
Recent Headlines
---