Presumptive case of monkeypox discovered in Flathead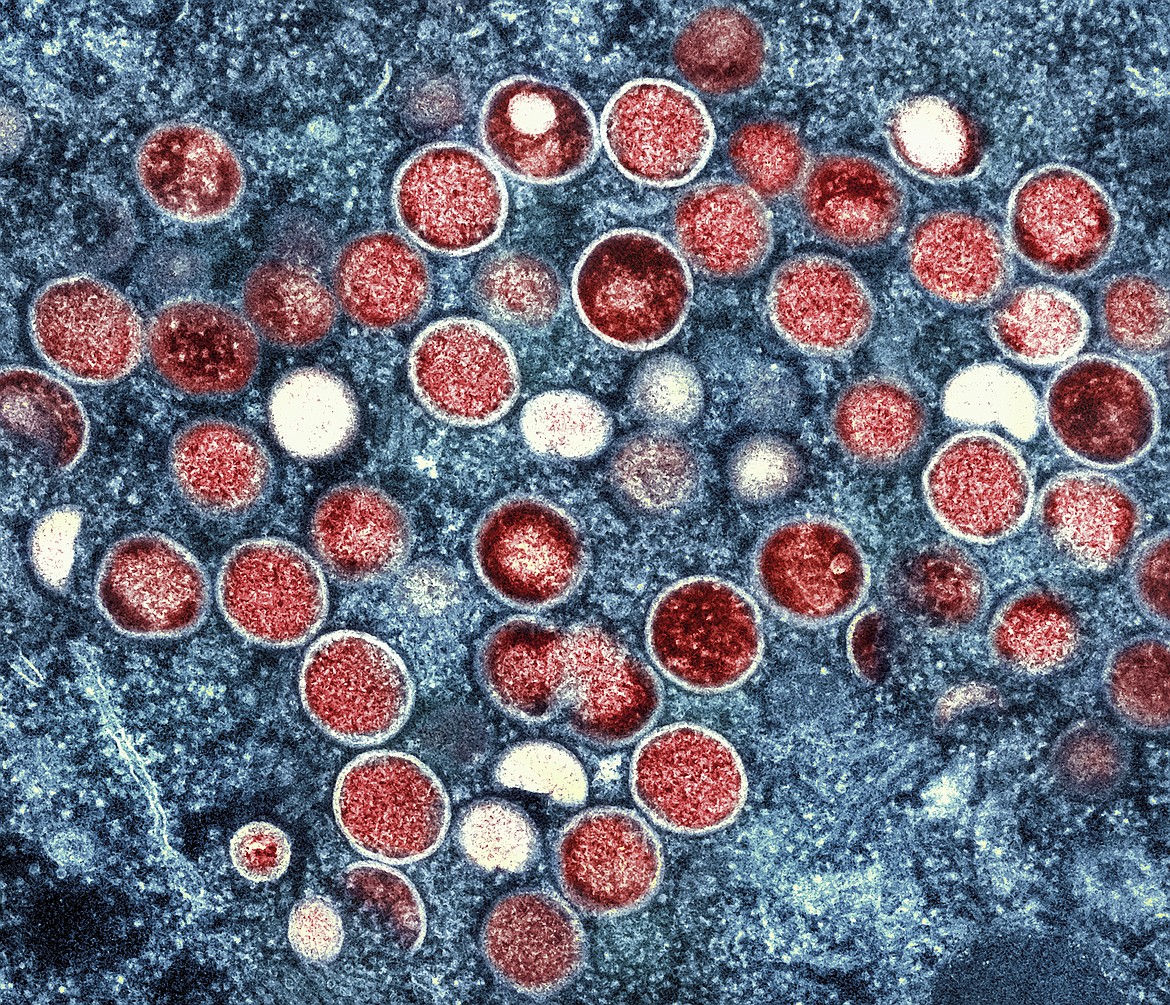 This image provided by the National Institute of Allergy and Infectious Diseases (NIAID) shows a colorized transmission electron micrograph of monkeypox particles (red) found within an infected cell (blue), cultured in the laboratory that was captured and color-enhanced at the NIAID Integrated Research Facility (IRF) in Fort Detrick, Md.
by
DERRICK PERKINS
Daily Inter Lake
|
August 5, 2022 3:25 PM
A day after the federal government declared a public health emergency for monkeypox, state officials announced that Flathead County likely is home to Montana's first case of the virus.
Officials with the Department of Public Health and Human Services announced that they, along with employees of the Flathead City-County Health Department, found a presumptive case of a monkeypox virus infection in a local adult on Aug. 5. The Centers of Disease Control and Prevention will confirm the results, officials said.
Authorities are working with the patient and their health care providers to identify their close contacts while they were infectious. Officials will then notify those individuals through contact tracing efforts, according to a press release issued by DPHHS.
The patient is isolating at home, officials said, and did not require hospitalization. No other details will be released to protect the patient's privacy, according to the release.
More than 7,100 Americans had been infected with monkeypox since the outbreak began in May. Worldwide, more than 26,000 cases of monkeypox, which is endemic in areas of Africa, have popped up in countries typically unaffected by the virus in that same timespan, according to the Associated Press.
The World Health Organization deemed monkeypox a global health emergency in late July. Still, the virus does not spread easily among people and usually is passed by prolonged physical contact, including via contact with sores and bodily fluids, or the sharing of clothing and other materials, like bedding, according to DPHHS.
Symptoms include fever, headache, muscle aches, backaches, swollen lymph nodes, chills, exhaustion and a rash. The latter often looks like pimples or blisters. They tend to occur inside the mouth, on the face or on other parts of the body, according to DPHHS.
"Early recognition of the characteristic monkeypox rash by patients and clinicians is necessary to minimize transmission of this virus," said DPHHS acting State Medical Officer Dr. Maggie Cook-Shimanek in a statement. "Anyone with symptoms of monkeypox should isolate from others and immediately consult a healthcare provider."
Monkeypox is similar enough to smallpox that antiviral drugs and vaccines developed for the latter can help prevent and treat the former. The level of treatment depends on the severity of the illness, officials said.
Health officials are preparing the logistics to respond to local outbreaks with treatment options. At this point, the CDC is advising against widespread vaccination against monkeypox, state officials said.
Authorities urged anyone with a rash that appears similar to the monkeypox symptom to discuss it with their health care provider. Anyone sick with monkeypox is asked to isolate at home. If they show signs of a rash, they should steer clear of anyone else living in their home, if possible, officials said.
To learn more about this virus, visit the CDC website at: https://www.cdc.gov/poxvirus/monkeypox/.
DPHHS' new monkeypox website is available at: https://dphhs.mt.gov/publichealth/cdepi/diseases/monkeypox.
Recent Headlines
---