Bias Brewing plans move following Kalispell Brewing closure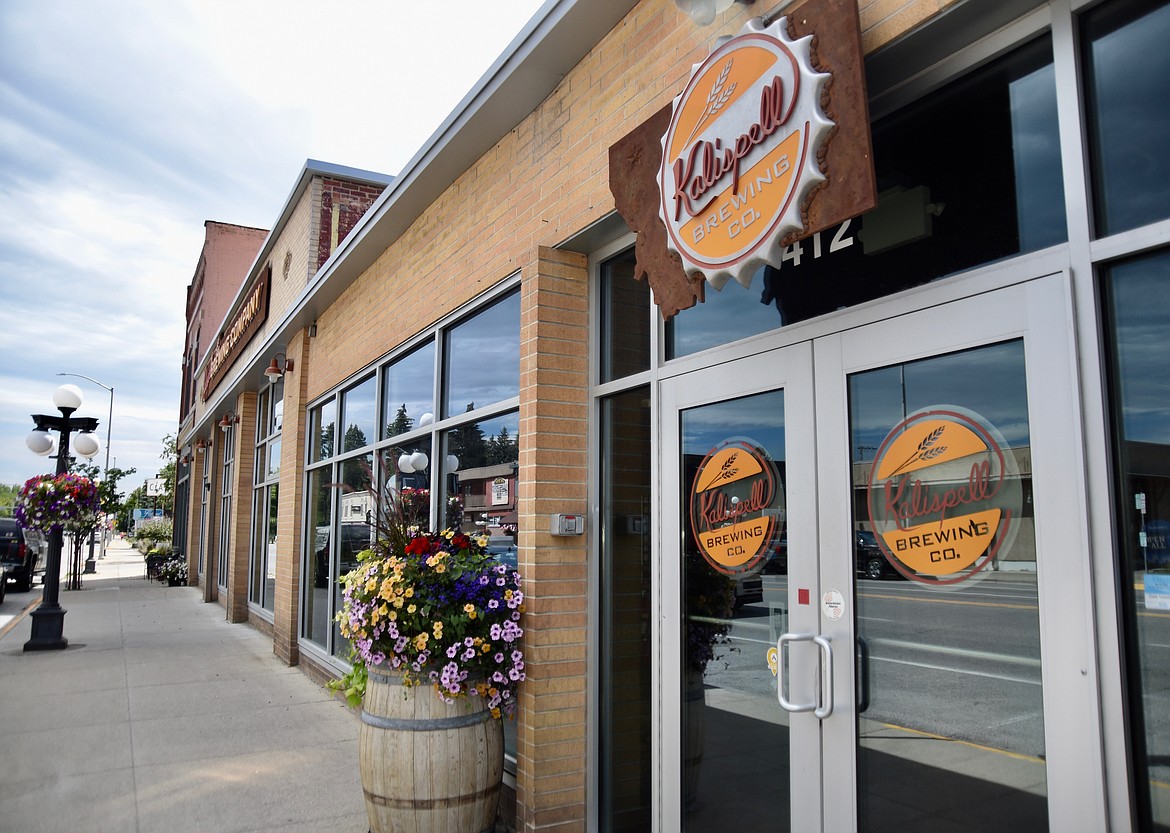 Kalispell Brewing Co. closed on Aug. 3 after operating on Main Street since 2014. (Heidi Desch/Daily Inter Lake)
|
August 7, 2022 12:00 AM
Changes are fermenting in Kalispell's craft beer scene.
Kalispell Brewing Co., which opened in the summer of 2014 on Main Street after remodeling the former Hendricksen Motors building, closed its doors on Aug. 3. Simultaneously, Bias Brewing Company, which has operated on nearby First Avenue East announced it would be moving into the space left open with Kalispell's closing.
"When KBC was listed for sale we were shocked and saddened to hear they would be closing their doors," said Gabe Mariman, co-owner of Bias Brewing Company, in a release. "Since opening four years ago, we have collaborated and shared a common love for this community and craft brewing, not to mention many beers with the owners and employees of Kalispell Brewing Co."
Mariman says Bias Brewing doubled its brewing production in 2020 and has subsequently outgrown its factory space. Since then, he and co-owner Adam Robertson have been looking for a larger or second location in the Flathead Valley to expand operations.
The purchase of the building was expected to close on Friday. Bias will continue to operate in its current location until re-opening on Main Street in early fall.
Kalispell Brewing Co. was founded in 2012 by Cole Schneider and Maggie Doherty. As the city's first downtown brewery, Kalispell Brewing focused on traditional German-style lagers and northwest-inspired ales and won numerous state and regional awards. After eight years in operation, the owners decided to sell the brewery and begin a new chapter in their lives with their two young children.
"Although this is a bittersweet goodbye for us, we know that Bias will keep 412 Main Street a bustling hub of the community replete with great beer," Schneider said in a statement.
Besides operating in downtown Kalispell, the breweries already had a strong connection.
Kalispell Brewing's 4th Street Red IPA was named after Mariman following an incident that started when a shipment of grain meant for KBC was mistakenly sent to Bias.
Since space in the Bias factory was tight and they were also expecting a delivery that day, Mariman fired up the Bias forklift, loaded up KBC's grain, and literally drove the forklift down Fourth Street and across Main. Upon entering the Main Street intersection the pallet broke in half, dumping the grain sacks onto the corner of Fourth Street East and Main.
Kalispell Brewing employees watched the situation unfold from the large picture windows of the Main Street brewery taproom, while Mariman struggled to reload sacks onto a truck with the help of a Good Samaritan who was passing by.
Mariman says he was sharing laughs with KBC employees at the bar while they recounted this story to a customer when he learned about the pending sale.
"While it took us by surprise, the opportunity to expand operations, move to a better location, and keep some of the amazing KBC staff in the industry they love, the decision was easy and we jumped in with both feet," Mariman said.
Bias Brewing plans to move its Heck's Kitchen to the new location to continue providing a lunch and dinner menu to customers. They also plan to continue manufacturing several of Kalispell Brewing Co.'s flagship beers and intend to continue much of KBC's events like Books and Brews and honor scheduled pint nights for nonprofits.
They also plan to offer discounted annual memberships to former Demersville Drinking Club members and honor any KBC beer tokens that are in circulation.
"We are honored to have an opportunity to join our Bias Brewing family with theirs and cannot think of a better spot to carry out our mission of 'creating community through craft brewing' and to carry on the legacy that Kalispell Brewing Co. has started," Mariman said.
Recent Headlines
---