Logan Health's foundation president aims to serve others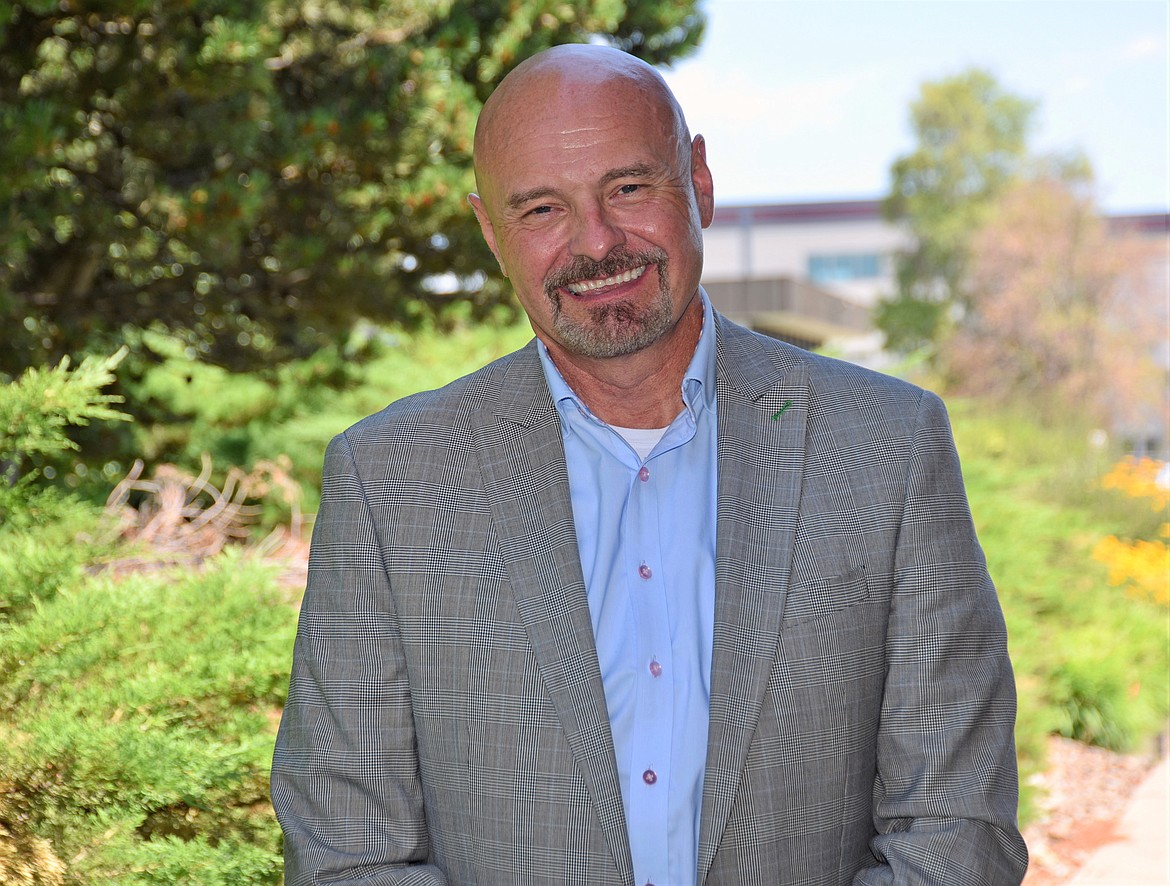 Joe McClafferty is the president of the Logan Health Foundation. (Heidi Desch/Daily Inter Lake)
by
HEIDI DESCH
Daily Inter Lake
|
August 8, 2022 12:00 AM
Joe McClafferty's roots in Butte run deep, but when the opportunity arose at Logan Health to serve as president of the hospital's foundation he made the move to the Flathead Valley.
"I'm interested in community and kids and making sure they have all the opportunities," he said. "I grew up maybe on the wrong side of the tracks, but I had the right people in my life at the right time. At Logan Health, our duty is to make sure that this valley has every opportunity that it should to have a great regional medical center."
McClafferty took over at the foundation in February replacing Tagen Vine, who left the position to join the Flathead Valley Community College Foundation.
Prior to joining Logan Health's foundation, McClafferty served as vice chancellor for development and alumni engagement and CEO of Montana Technological University Foundation. Before that he was the director of athletics for the school following 20 years working in the financial services industry in Butte.
Born and raised in Butte, he's also a graduate of the university having attended the school on an athletic scholarship. He and his wife Therese met while in high school.
"My grandparents were immigrant miners — they settled there in the early 1900s," he said. "Butte was a cool place to grow up. I had a ton of family there. We grew up very modest, but very loved."
His time at Montana Tech was key for him, including playing basketball for Coach Kelvin Sampson who led the Orediggers to several conference championships and went on to coach for Washington State, Oklahoma, Indiana and the NBA.
"It was a great opportunity because we didn't have a lot of money to go to college and I was able to get an athletic scholarship," he said. "My friends were going to college and I knew that was a step forward I needed to do."
"What I got was a real benefit of life lessons," he added.
Saying it was the greatest job he was never paid for, McClafferty spent time doing color commentary for basketball games for a TV show sponsored by Montana Power Co., traveling around the state. He hadn't intended on working for tech, but when a full-time athletic director position was created, a friend encouraged him to apply, pointing out that McClafferty routinely complained about his day job in finance.
McClafferty said he brought a passion for the university that guided the transformation of the athletic program — from adding a new arena and football stadium to increasing the number of scholarships and adding championships. Later as the vice chancellor for development, his focus shifted to the larger university.
WHEN THE position came up at Logan Health, McClafferty says he was interested in the possibility of leading the foundation that creates a bridge between donors and the hospital.
"This has some really cool potential," he said of looking at the job before coming here. "It's small enough that your impact is big, but it's big enough that it really matters."
Working at Montana Tech the focus was the student, and McClafferty is applying a similar approach to the Logan Health foundation.
"When you're in financial services it's always about qualifying for another club level," he said. "But it's different in academia because your focus is on providing a scholarship for a first-generation student, and now the focus is on looking to provide health care for a student in some outlying area."
But the focus of the foundation is also broader.
"We're trying to make it more human-focused," he said. "Not only do you have a patient using your services, but you also have to make sure that the people who work here are taken care of."
He says the two main areas of focus are accessibility — to health care services and streamlining the process for patients when they come through the doors — and sustainability — building initiatives to make sure that the hospital is serving the Flathead Valley and beyond into the future.
"The impacts of giving to Logan Health is larger — the dollar goes farther," he said. "As somebody who has traveled all around the state. We have a huge need for health care because of all the rural areas in the state, where there needs to be quality health care."
"We need to look out for the mission of the hospital, but we're there to protect the donor and protect where their money goes," he adds.
McClafferty had visited the Flathead Valley many times over the years — often for sporting events involving his now grown children, Brianne, Micaul and Gabe. His wife left her position as the human resources director at Butte School District moving into the same department at Logan Health.
"The valley is beautiful and it's still in Montana," he said. "We were pretty rooted in Butte. But we were both ready to expand our brains and learn something new."
Features Editor Heidi Desch may be reached at 758-4421 or hdesch@dailyinterlake.com.

Recent Headlines
---