Montana company fights fires from the air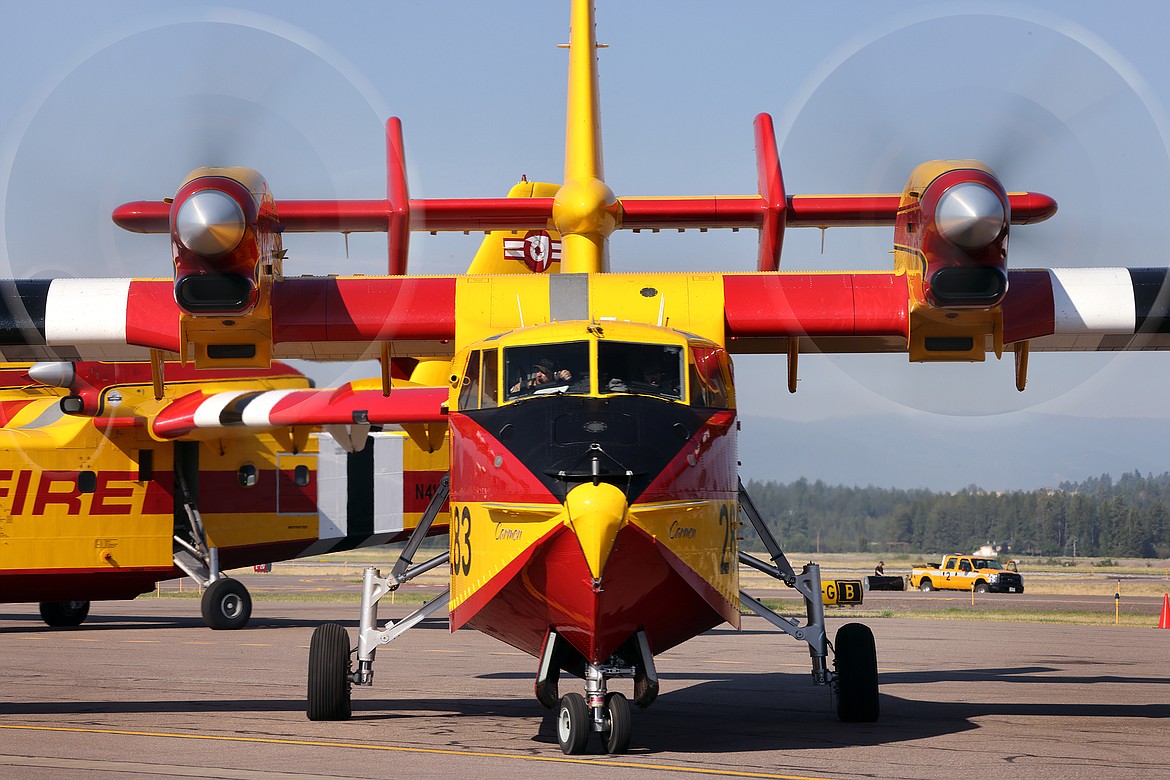 A Bridger Aerospace CL-415EAF super scooper prepares to take off from Glacier Park International Airport Monday, Aug. 1. (Jeremy Weber/Daily Inter Lake)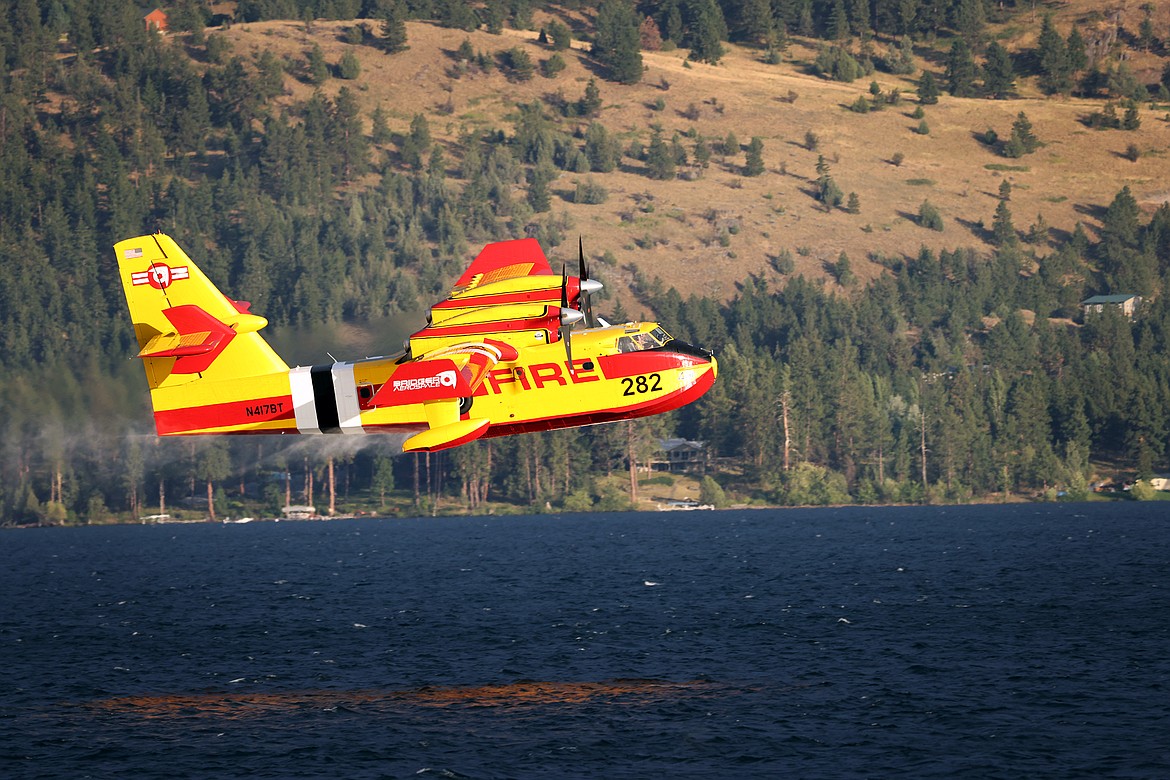 A Bridger Aerospace CL-415EAF super scooper pulls water from Flathead Lake between Elmo and Dayton Aug. 1. (Jeremy Weber/Daily Inter Lake)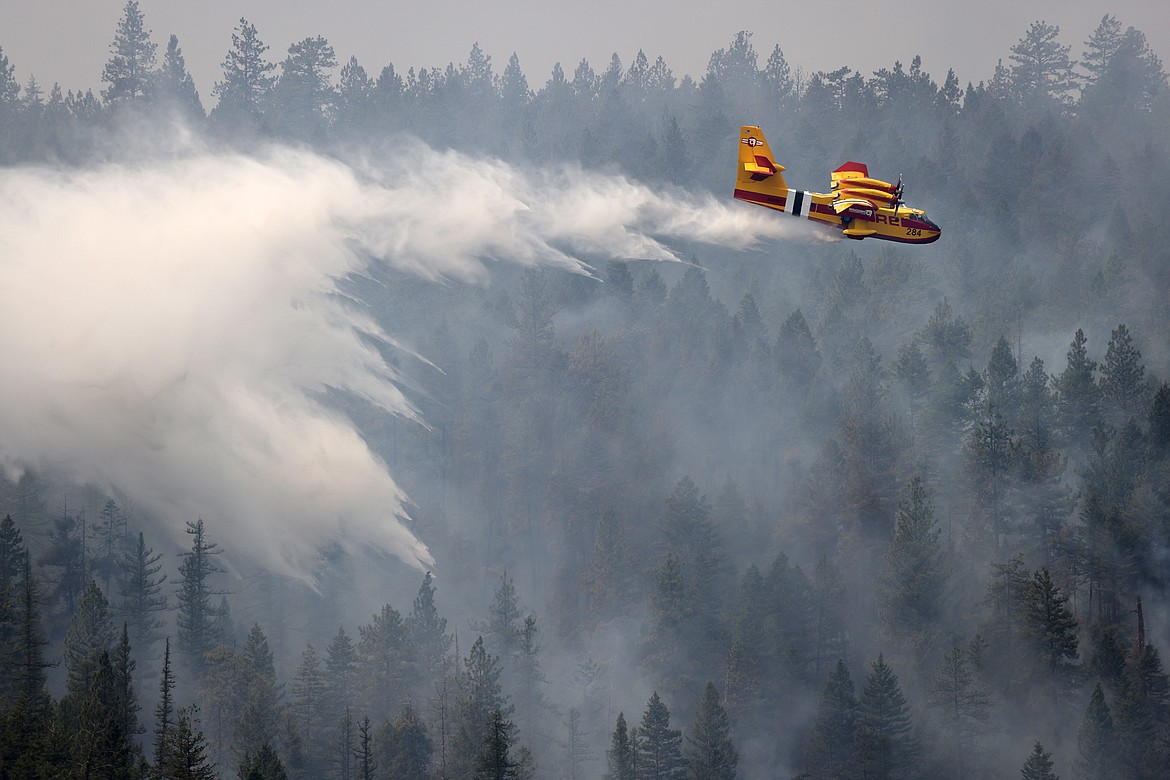 A Bridger Aerospace CL-415EAF super scooper drops water on the Elmo Fire near Black Lake Monday, Aug. 1. (Jeremy Weber/Daily Inter Lake)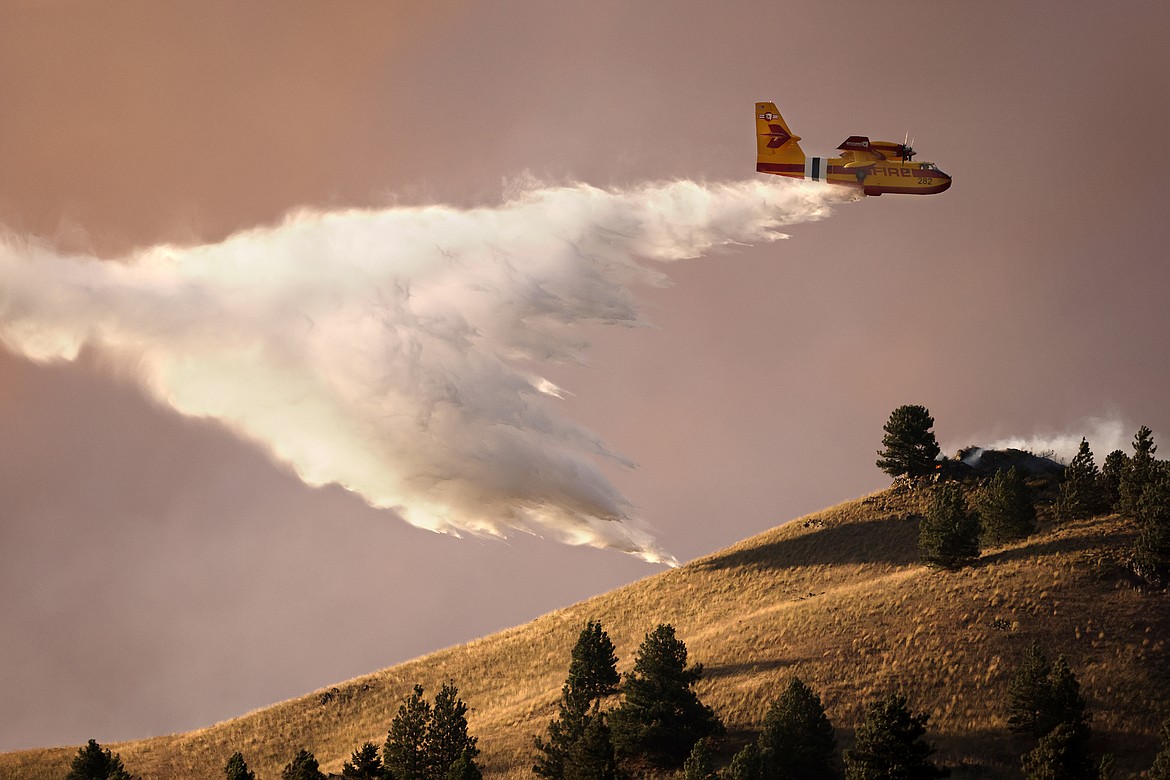 Belgrade-based Bridger Aerospace "Super Scoopers" were instrumental in helping fight the Elmo 2 Fire earlier this month. (Jeremy Weber/Daily Inter Lake)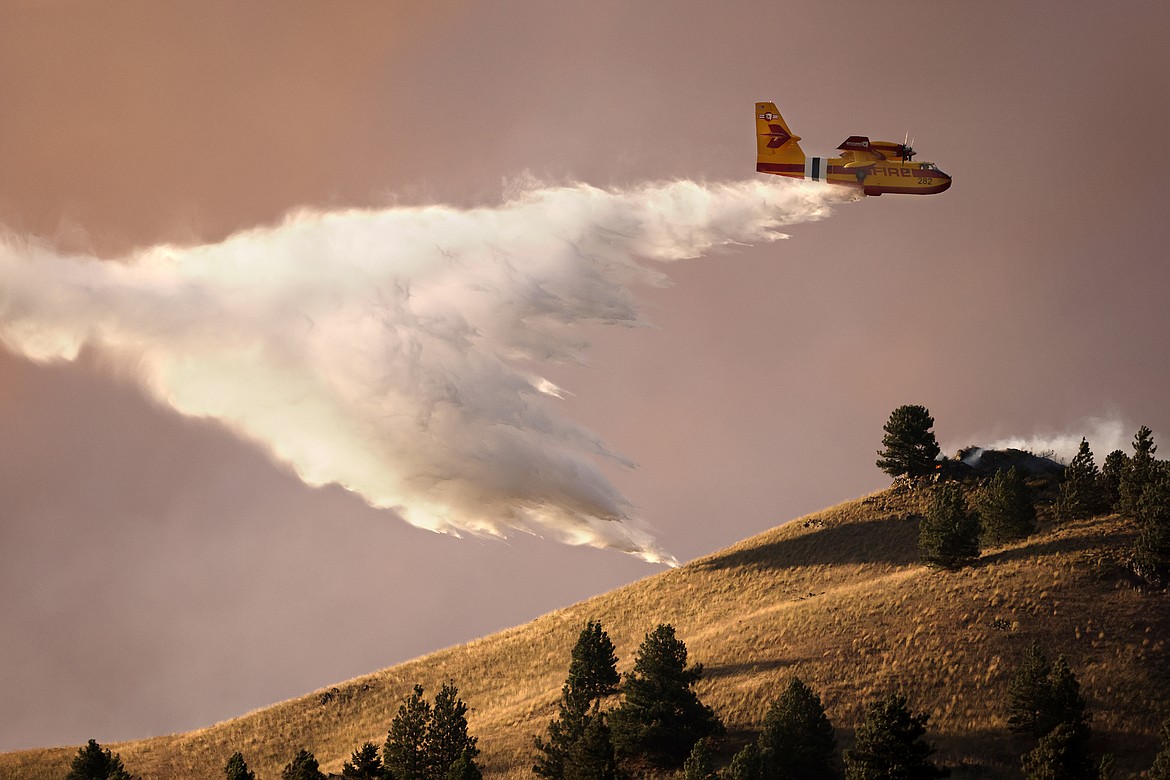 Belgrade-based Bridger Aerospace "Super Scoopers" were instrumental in helping fight the Elmo 2 Fire earlier this month. (Jeremy Weber/Daily Inter Lake)
Previous
Next
A Montana-based aerial firefighting company has played a major role in helping contain the Elmo 2 Fire as Bridger Aerospace Super Scooper pilots dumped millions of gallons of water on the blaze over the course of several days.
Operating from Kalispell's Glacier Park International Airport, the Belgrade-based company sent all four of its available De Havilland CL-415EAF (Enhanced Aerial Firefighter) "Super Scoopers" to begin dropping water on the fire July 30.
Two scoopers were still operating from the airport on Friday morning.
The incident marked the first time all four of the company's scoopers had operated on a fire together in Montana since the company began flying operations in 2015.
"As a Montana-based company, we were proud to all be together fighting a fire in our home state, but it was also bittersweet because we were out there because our home state was burning," pilot Barrett Farrell said. "We were very happy to be out there supporting our home state."
With a 90-foot wingspan, a four-hour fuel cycle and 1,412-gallon water-holding capacity, Bridger Aerospace's super scoopers need just 1 mile of open water 6 feet deep to fill their tanks. Collecting through a pair of 8-inch probes from the bottom of the aircraft, the planes can fill their water tank in less than 10 seconds.
With high maneuverability, the scoopers have the ability to hug the steepest of terrain to make pinpoint water drops to areas inaccessible to ground-base firefighters.
Despite these advantages, the job is not an easy one.
"The biggest challenge for us is getting that water exactly where it is needed," Farrell said. "There is no computer or targeting system in the plane. It's all looking out the window and pushing the button at just the right time. We have to judge the terrain, the wind and our airspeed to make sure we get the load of water right where we want it."
In addition to weather concerns, the pilots and their crews are also very careful not to cross contaminate lakes with invasive species when working on multiple water sources when fighting fires.
All of these factors came into play as the Elmo 2 Fire grew from 7,000 to 21,000 acres between July 30 and Aug. 4.
"There was a lot of fire activity for a few days, but luckily the wind was in our favor and was pushing the smoke to the interior of the fire so we could work around the edges," Farrell said. "There were some pretty high flames at times, though."
The combination of aerial and ground-based efforts along with slightly cooler weather helped fire crews hold the blaze away from hundreds of structures in the Lake Mary Ronan area, an effort that included scoopers dropping more than half a million gallons of water a day on the fire.
"Weather was a huge factor in getting the fire under control, but the ground firefighters are extremely smart and they had a plan that really helped us get it contained," Farrell said. "They gave us a plan and we followed it. We can't do our job without the crews on the ground and that is who we are out there to support."
It was one of the first times in the company's seven-year history that the aircraft had played a direct role in saving homes.
"Most of the fires we have fought have been in the wilderness and not too close to structures. It was a completely different experience on the Elmo fire being able to interact and speak with the owners of the homes we were trying to save," Bridger Aerospace spokesman K Mita said. "The support and appreciation we received was amazing. It was powerful to me to see six scoopers, our four plus the two from AeroFlite, all in the air doing everything they could to assist the firefighters on the ground."
FOUNDED BY current Chief Executive Officer and former Navy SEAL Tim Sheehy in 2014, Bridger Aerospace began flight operations with a single aircraft in 2015 and has grown to operate a fleet of 24 aircraft today which includes "Super Scoopers" air attack and logistical support aircraft (Next Generation Daher Kodiaks, Pilatus PC-12s, DeHavilland Twin Otter and legacy Twin Commanders) and UAVs (Unmanned Aerial Vehicles).
Bridger also offers FireTRAC, an innovative data gathering platform that helps users keep up with fires around the country.
A mission-driven company focused on addressing the year-round threat of economic and environmental damage caused by wildfires, Bridger Aerospace supports front-line firefighters with world-leading technology and aerial fire suppression systems.
"Our outlook as a company has always been identifying a need and figuring out how we can address it," Mita said.
FireTrac is available on the web and as an app and includes fire maps and sensor data, near real-time imagery of critical fire incidents, satellite and weather data, and user-uploaded reporting and updates.
Bridger Aerospace made news last week when it announced its intention to become a publicly traded company through a merger agreement with Jack Creek Investment, a special purpose acquisition company.
The merger valued the company at $869 million, and could earn Bridger Aerospace $345 million in cash when the deal is completed, according to a press release. The additional funds would help Bridger Aerospace with the financing of two airplane hangars to be located at Gallatin Field in Belgrade and the acquisition of four new SuperScooper firefighting aircraft.
The company could hit the stock exchange by the fourth quarter of this year, and is expected to list on the NASDAQ Capital Market under the ticker symbol "BAER."
Recent Headlines
---