Flathead teacher gets a glimpse of working in manufacturing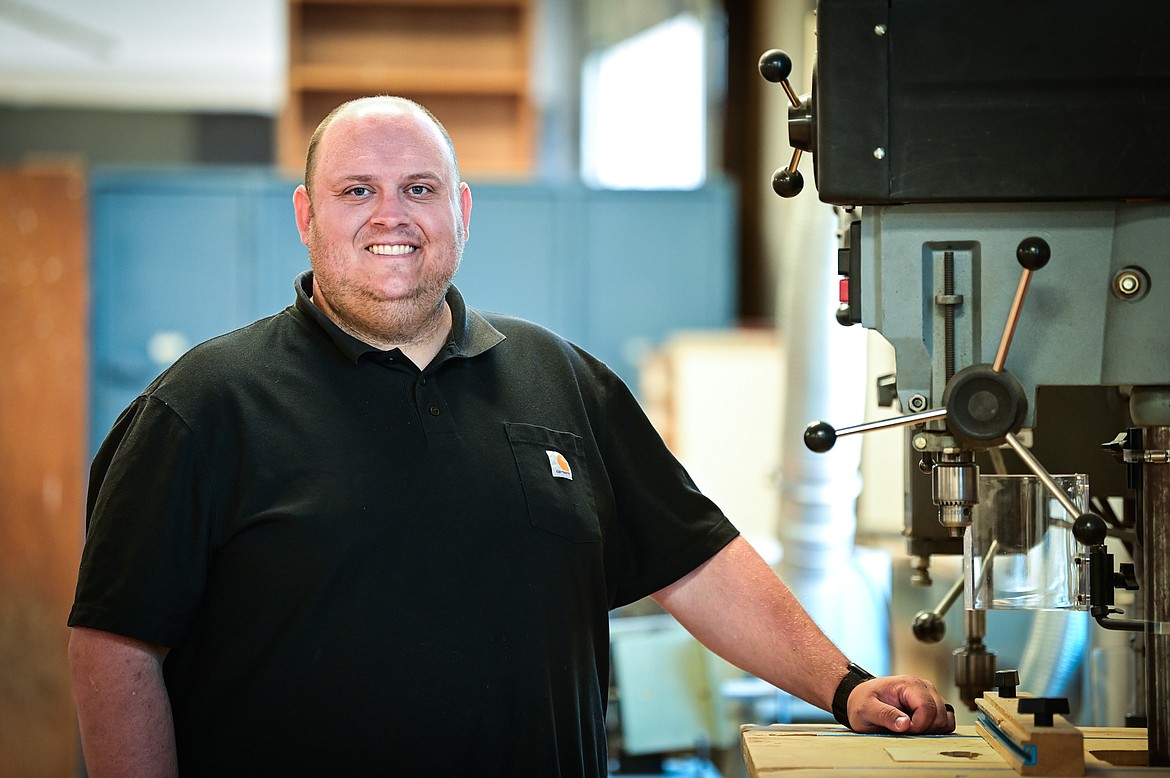 Career and Technical Education teacher Ben Butts at Flathead High School on Thursday, Aug. 4. (Casey Kreider/Daily Inter Lake)
by
HILARY MATHESON
Daily Inter Lake
|
August 24, 2022 12:00 AM
Flathead High School Industrial Arts and Technical Education teacher Ben Butts this summer gained new insight into the manufacturing process through a weeklong externship at Applied Materials.
"I saw it as a pretty high-quality experience for a teacher like myself to go into an industry setting and see exactly what employees are doing. Now, when I go back to the classroom and students ask me what it's like to work in that field, or they ask me what do I need to know to do this, I can tell them," Butts said.
The externship, which was offered to teachers throughout Montana, was developed through a partnership between Reach Higher Montana and the Montana Manufacturing Extension Center. Both organizations are members of a state work-based learning collaborative that seeks to address Montana's workforce needs by tapping into student potential, according to a Reach Higher Montana. According to the 2021 Montana Manufacturing report, more than 3,900 manufacturing firms are in operation throughout the state.
Butts was able to choose from a list of manufacturers with a few participants located right in the valley. He chose Applied Materials, a global semiconductor and display equipment company with locations in Kalispell and Evergreen, because he thought it would apply to the engineering and drafting classes he teaches.
While he had toured Applied Materials in the past, the externship brought a more in-depth experience that included hands-on opportunities. He completed a portion of Applied Materials' training, which included practicing different job tasks.
He said much of the work requires a grasp of basic math and reading skills, particularly when it comes to measuring (using both U.S. and metric systems), counting and following directions accurately.
"All employees are not necessarily people with master's or engineering degrees, but you need to know basic stuff — measuring, counting — and have pride in your work with attention to detail," he said.
"You might be counting out 100 tiny screws. If you put 103 screws in the bag someone is going to lose money down the road, or if you short them, [the customer] wouldn't be able to finish assembling the part," he said, as an example.
He said engineers who designed various parts and projects were usually available on-site to help assemblers, assist with project changes and escalations.
"The one thing I really noticed is how they worked well as a team to accomplish an end goal to get their product out the door and shipped," Butts said.
In addition to teamwork and motivation, other soft skills he noticed were important were communication, organization and adaptability. As a result of the experience, he hopes to put more emphasis on soft skills in the classroom.
"Just like regular academic skills … those are all things that make it easier to do your job, be recognized, and level up positions at a company like Applied," he said.
The average annual pay of manufacturing jobs was roughly $52,000, according to the Montana Manufacturing report. Compared to the state average, that is a percentage increase of 11%.
"The old myth that manufacturing jobs are dangerous, dirty, dead-end, and depressing couldn't be further from reality," Montana Manufacturing Extension Center Director Paddy Fleming said in the press release. "Manufacturing today offers career opportunities that are high-paying, high potential, important, and interesting. We want teachers to experience the industry first-hand to help bring relevant, real-world contact into classrooms throughout Montana."
Reporter Hilary Matheson may be reached at 758-4431 or hmatheson@dailyinterlake.com.
Recent Headlines
---