Semiconductor bill a boon for local manufacturer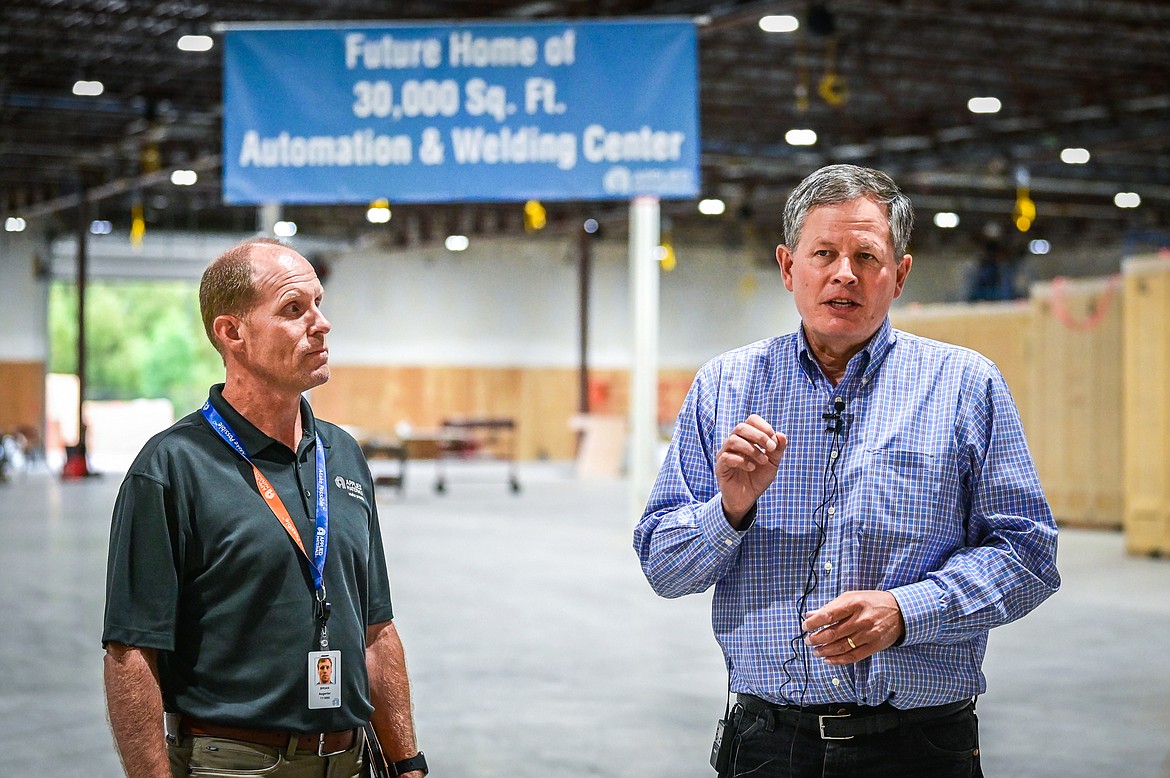 Sen. Steve Daines, right, answers questions with Brian Aegerter, Applied Materials General Manager for Montana, during a tour of the facility in Evergreen on Wednesday, Aug. 24. (Casey Kreider/Daily Inter Lake)
by
MATT BALDWIN
Daily Inter Lake
|
August 24, 2022 2:00 PM
Applied Materials is banking on sustained growth in the Flathead Valley following the recent passage of bipartisan legislation aimed at jumpstarting domestic production of computer microchips.
Earlier this month President Joe Biden signed the CHIPS and Science Act, which funnels more than $52 billion into U.S.-based semiconductor manufacturing and research initiatives.
The bill is intended to ease ongoing supply-chain issues created by a microchip shortage, while also giving the U.S. an edge over competitors in east Asia, where more than 75% of microchip production currently takes place.
Both Republican Sen. Steve Daines and Democrat Sen. Jon Tester supported the bill.
Daines stopped in Kalispell on Wednesday to look over Applied Materials' new Evergreen facility at the former Shopko site, which he described as "ground zero" in the effort to ramp up U.S.-made semiconductors and bring good-paying jobs to the area.
The California-based company that produces equipment used to manufacture semiconductors added 300 jobs in the last three months in the Flathead Valley, and anticipates bringing on an additional 150 in the coming year as it builds out its Evergreen location. According to Brian Aegerter, general manager for Applied Materials in Montana, the company currently has 825 employees on the payroll in the state.
Tax credits made available through the CHIPS and Science Act will allow the company to further expand its equipment infrastructure, Aegerter said.
The act also uncorks $39 billion in manufacturing incentives, and another $13 billion for research and design workforce development.
Daines expects the legislation will have an immediate impact on the supply-chain challenges that have plagued the production of everything from new vehicles and appliances to computers and cellphones. But it's the legislation's long-term investments in research and workforce development that will help keep the U.S. more competitive in the global market, Daines said.
"These are jobs that exist in China today that will be coming to the U.S., and specifically Montana," Daines said.
Aegerter agreed, saying that the microchip development knowledge-base has dwindled in the U.S. over the last 25 years.
"We need to bring that back and educate the entire workforce," Aegerter said.
Tapping into domestic minerals used in many technology components is the next battleground in ramping up production and fixing the supply chain, Daines said.
"We've got to continue to extract more of those minerals here in the U.S," said Daines, who sits on the Senate Energy and Natural Resources Committee. "That's going to be a longer-term challenge, but very important."
Like the CHIPS Act, the senator said there appears to be a flicker of bipartisan support on the mineral extraction front, as well.
"It's taken us over 35 years to get a copper mine permitted here in Northwest Montana — Rock Creek — it's ridiculous," he said of the Hecla Mining Company project in Lincoln County.
In speaking with the press during the Applied Materials tour, Daines also blasted Biden's announcement Wednesday to cancel up to $10,000 in college debt for borrowers who earn less than $125,000 annually.
Daines said it's unfair to the people who have already paid off their college loans, and called the plan a transfer of debt to taxpayers.
"It's a terrible idea," Daines said. "When you think about how many hard-working Montanans had a student loan and worked hard to pay it off, and now they're going to forgive the student loans? I had a student loan … and I worked hard and got it paid off."
He said he would work to stop the measure.
Recent Headlines
---