Columbia Falls old-timey farmer's market has bit of everything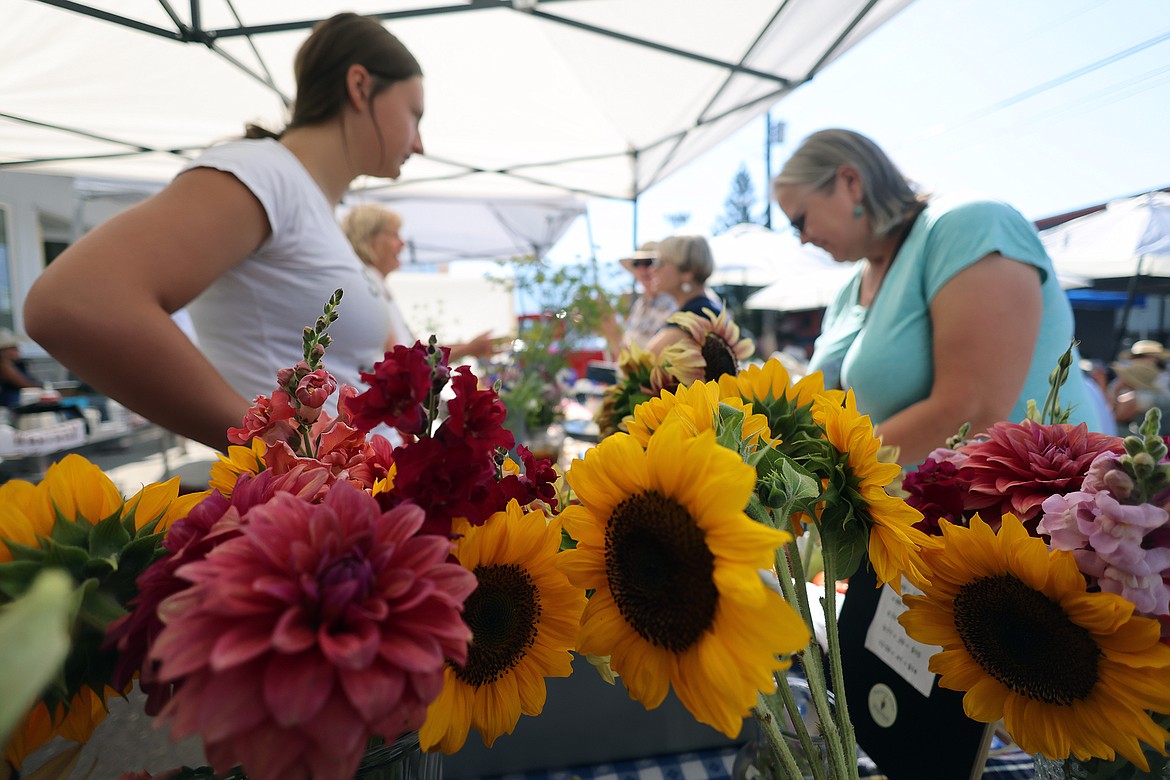 Canyon Masters talks with customers behind bouquets of fresh flowers by Ruby Connor at the new Columbia Falls Farmers Market July 31. (Jeremy Weber/Daily Inter Lake)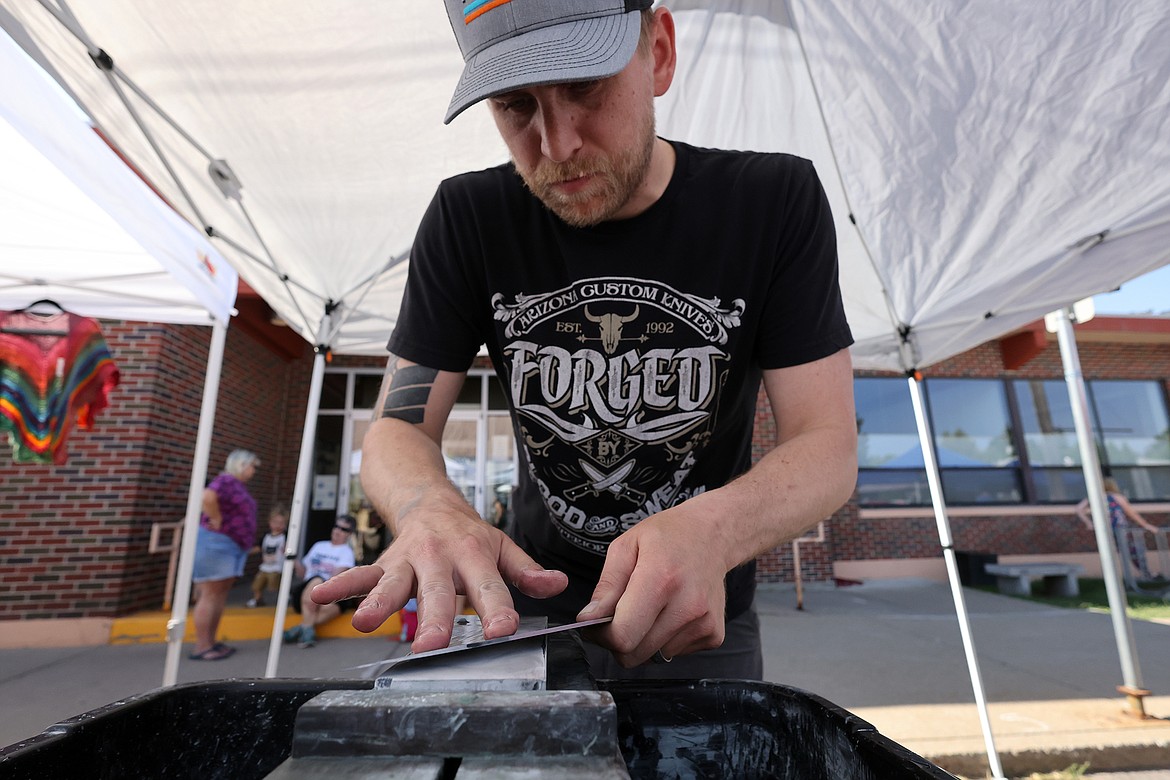 Jesse Jarosz of Jarosz Knives sharpens a customer's blade at the new Columbia Falls Farmers Market July 31. (Jeremy Weber/Daily Inter Lake)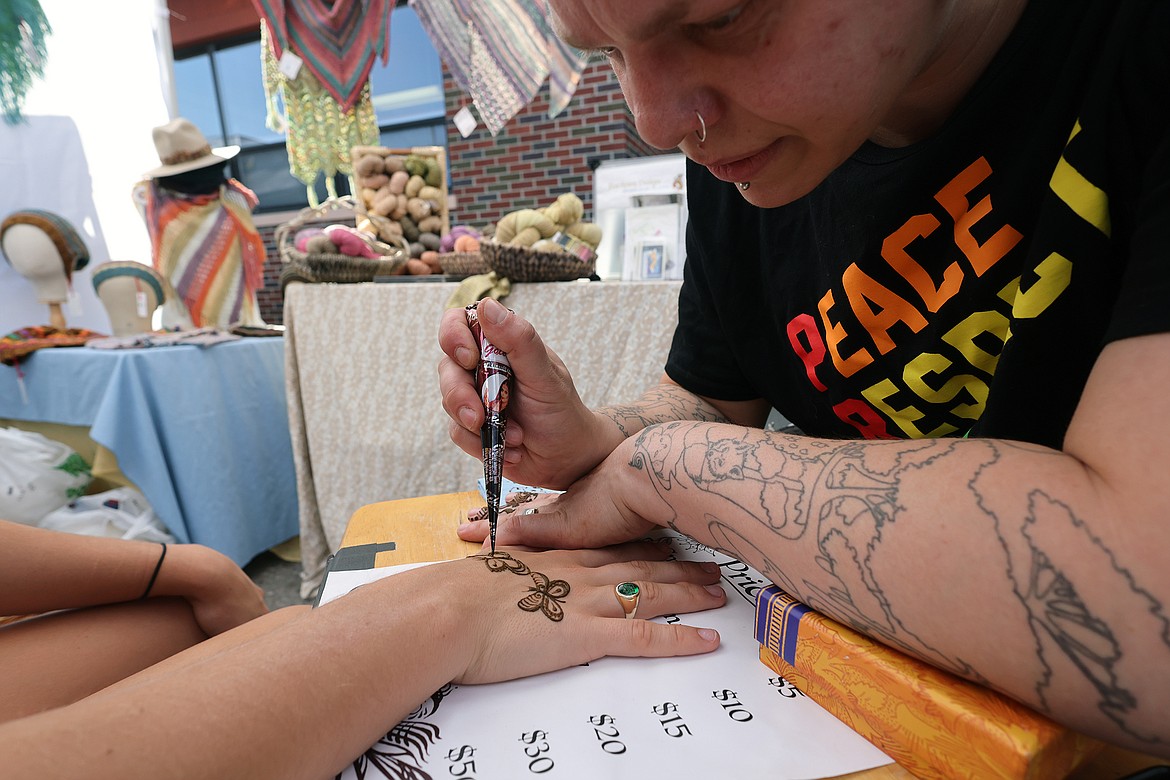 Julian Keller-King works on a butterfly henna tattoo at the new Columbia Falls Farmers Market July 31. (Jeremy Weber/Daily Inter Lake)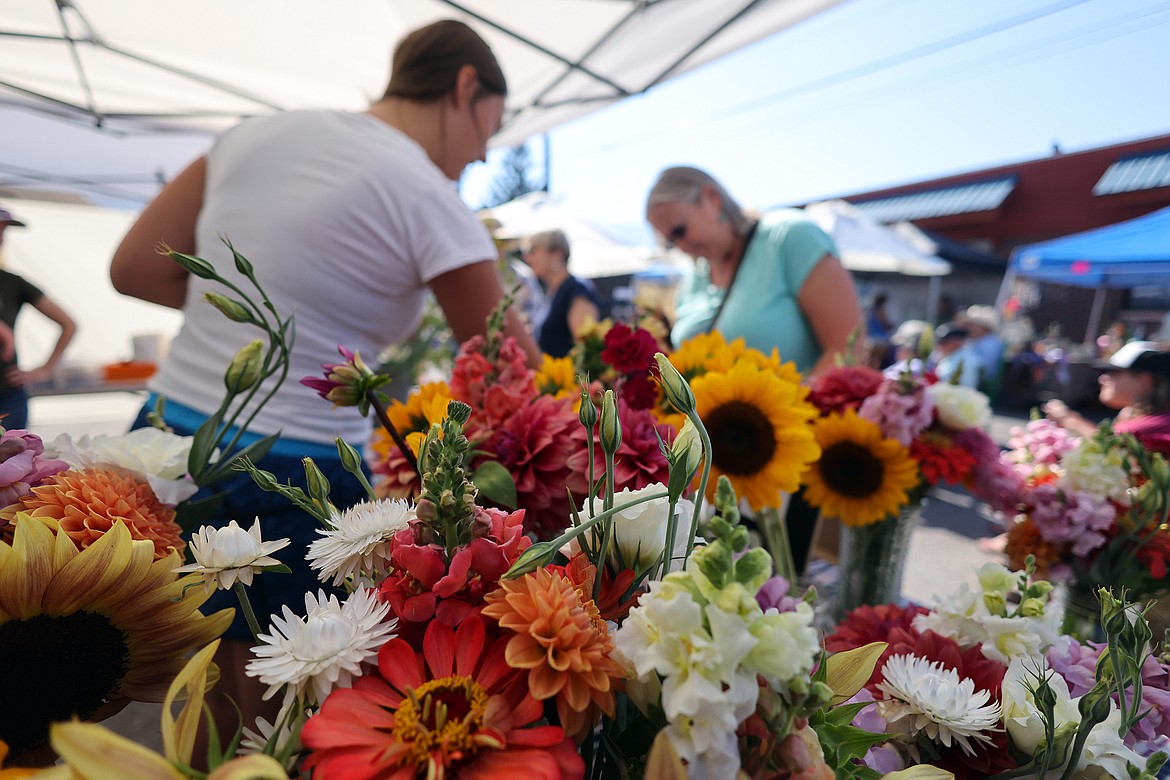 Canyon Masters talks with customers behind bouquets of fresh flowers by Ruby Connor at the new Columbia Falls Farmers Market July 31. (Jeremy Weber/Daily Inter Lake)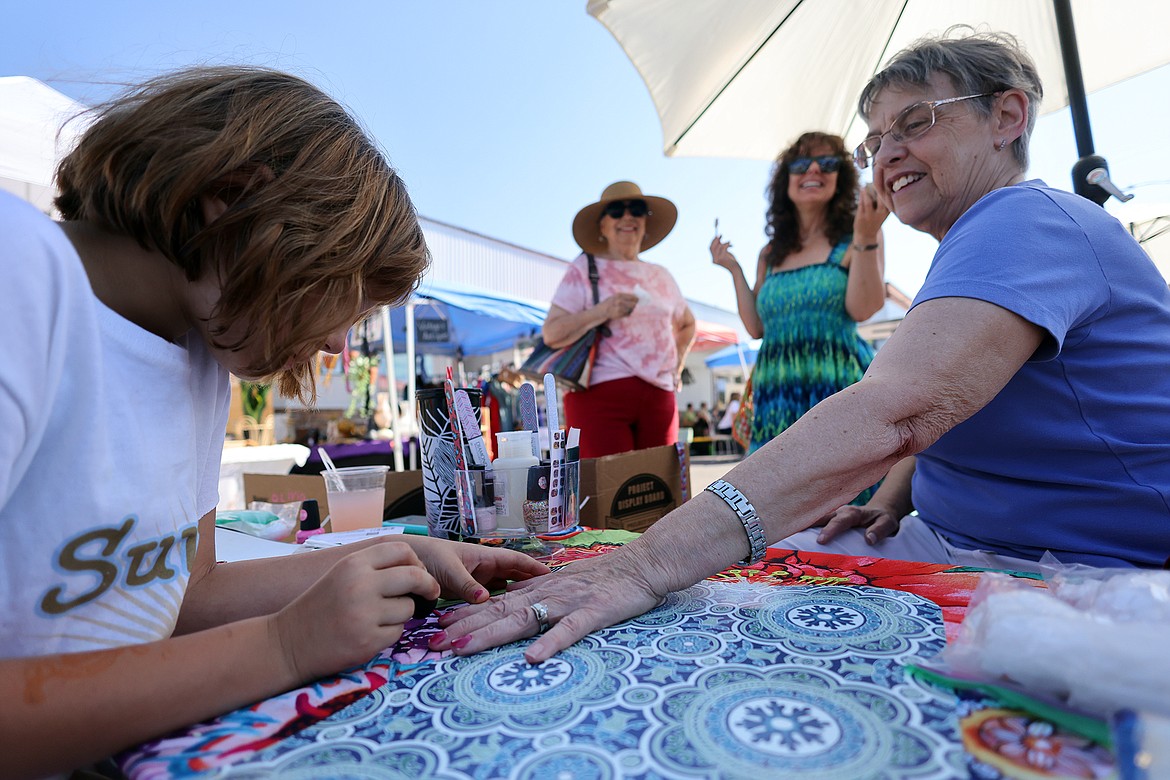 Olivia Paris paints the nails of Nancy Lemke at the new Columbia Falls Farmers Market July 31. (Jeremy Weber/Daily Inter Lake)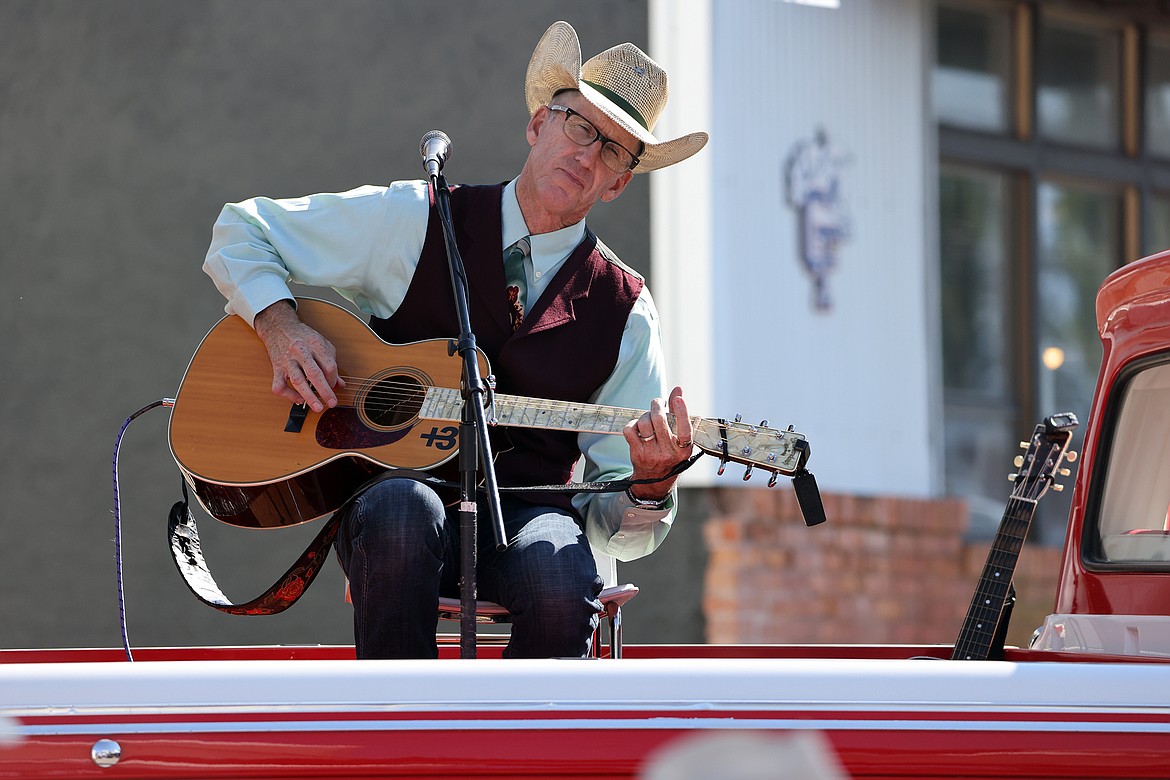 Singer, songwriter and world renowned yodeler Wylie Gustafson of Conrad entertains the crowd at the new Columbia Falls Farmers Market from the bed of his pickup truck July 31. (Jeremy Weber/Daily Inter Lake)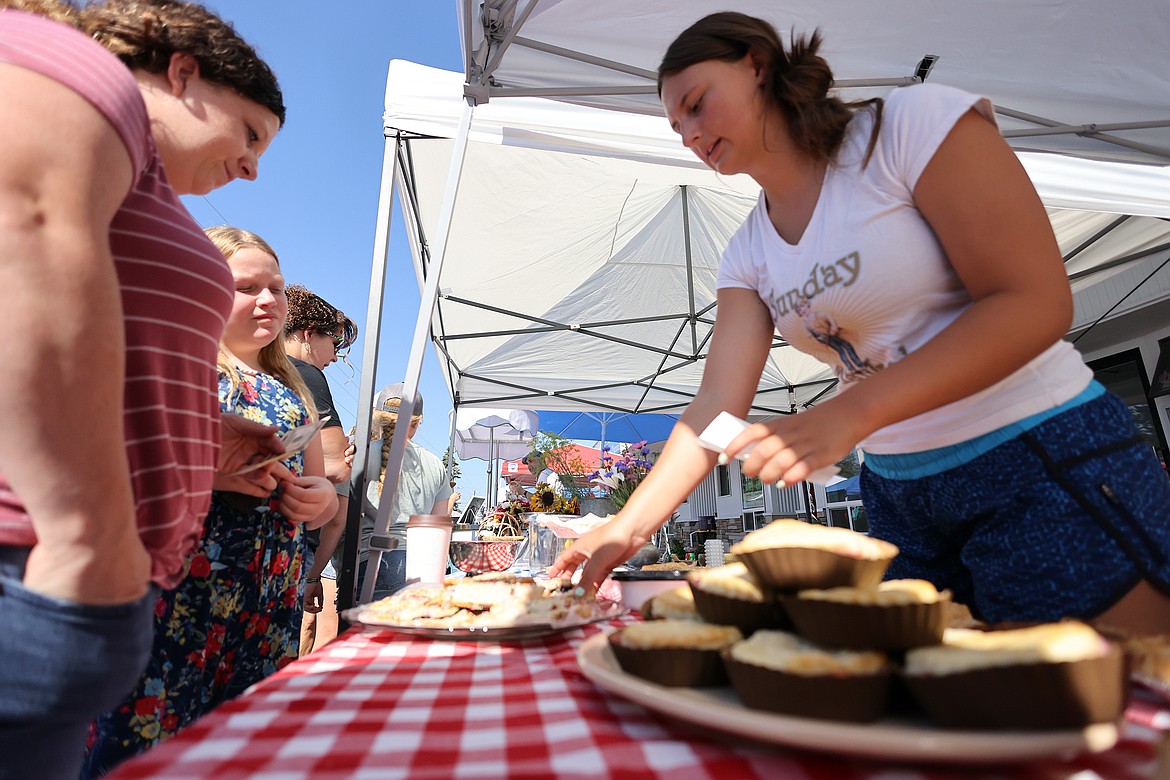 Canyon Masters describes the taste of the homemade pop tarts available at the Prairie Girl Farms booth at the new Columbia Falls Farmers Market July 31. (Jeremy Weber/Daily Inter Lake)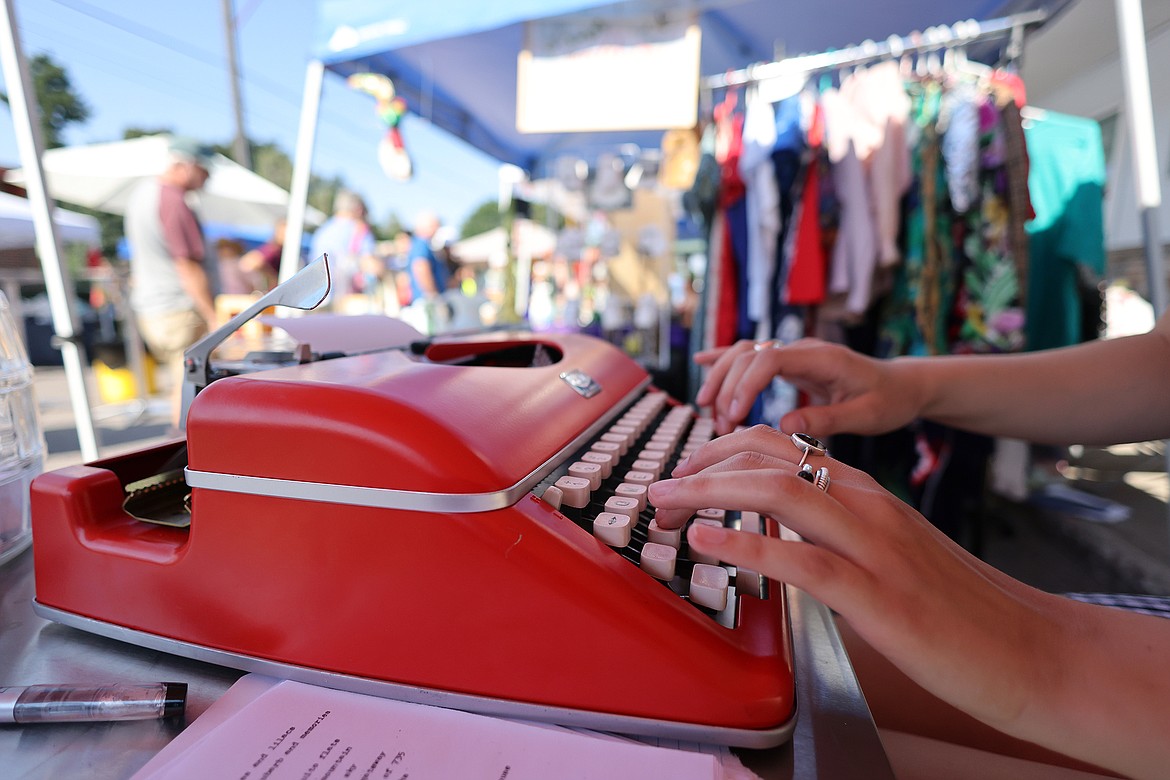 The hands of Paige Moriarity peck away at her typewriter as she prepares custom poems for the patrons of the new Columbia Falls Farmers Market July 31. (Jeremy Weber/Daily Inter Lake)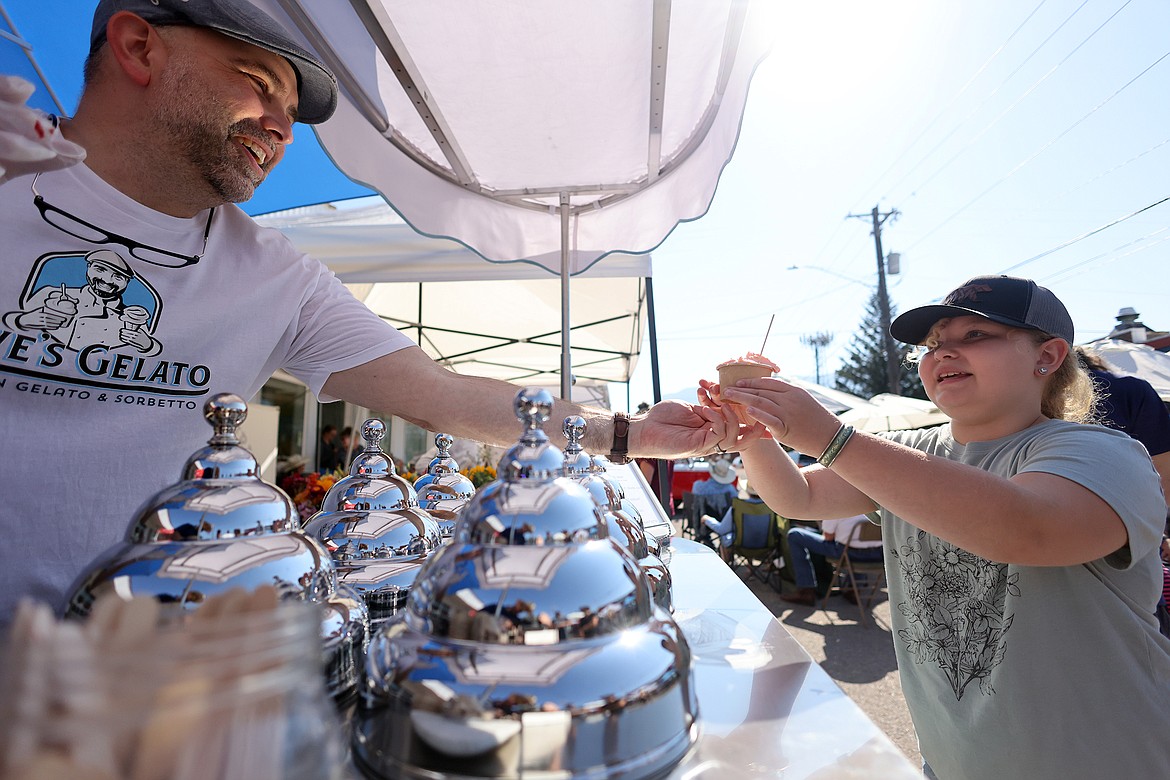 David Restivo of Dave's Gelato hands out a cup of his tasty treats at the new Columbia Falls Farmers Market July 31. (Jeremy Weber/Daily Inter Lake)
Previous
Next
by
JEREMY WEBER
Daily Inter Lake
|
August 28, 2022 12:00 AM
Whether it is homemade gelato, a fresh apple pie or even a custom-written poem, the "New Old-Timey, Feel-Good Farmer's Market" in Columbia Falls has a little bit of everything.
The brainchild of Columbia Falls businesswoman Jean Flynn, the new market has space for 22 vendors and has so far in its first year of operation featured a vendor who will sharpen your knives, a woman who does clothing alterations, a person selling intricate hand-knitted items and much more.
"I just had a feeling that people wanted something that was a little more nostalgic and old timey," Flynn said about the new market. "We have a very special collection of vendors that I think really make this market feel both classic and unique at the same time."
Flynn grew up on a farm outside of Chester near the Sweet Grass Hills and owned her own restaurant by age 27 before finding a new career in Hollywood, where she worked on 17 different films and was part of a design team that won a primetime Emmy.
After 32 years on the West Coast, Flynn made the move back to Montana 14 years ago and now owns her own studio on Sixth Street West in the old union hall across from City Hall.
Despite her success, Flynn continued to cultivate a love of baking, a skill she learned from her mother at an early age.
It was outside of her studio, selling her delicious pies one afternoon that that idea for the new market came to her.
"I was out there selling my pies by myself and I just basically wanted some company," she laughed. "I thought that the street in front of my shop is so quiet, it would make a great spot for a small farmers market."
And so, she made it happen.
After getting the go ahead from the city, Flynn began searching for vendors that fit her idea for the market and the feeling she wanted to establish there.
"I met a lot of people during the winter getting ready for this and we would just spend time talking about the vibe I wanted to create. I wanted a friendly atmosphere where we would all be willing to help each other. I feel we have really captured that spirit," she said. "My philosophy is that you should operate your business from a place of friendliness, generosity and love. If you do that, that money will follow. If you are only worried about making money, then nothing good is going to happen."
Along with vendors, Flynn also began looking for musical performers for her new venture, from fiddle players to world renowned yodeler and singer Wylie Gustafson.
"I wanted a place where people could come and listen to acoustic music, which I think turned out to be very important for the vibe customers get at our market," Flynn remarked.
With the first season of the new market nearing its end, Flynn is delighted at how the first year has turned out and is excited for the prospect of more seasons to come.
"It's all about having a place for the community to gather that is low key and fun. We only have two rules: Nothing made in China and no politics allowed. We wanted people to be able to just come out and relax and I feel we accomplished that."
The market continues on Sundays in front of Columbia Falls City Hall from 9 a.m. to noon through Sept. 11.
Recent Headlines
---