Family recipe inspires organic skin care business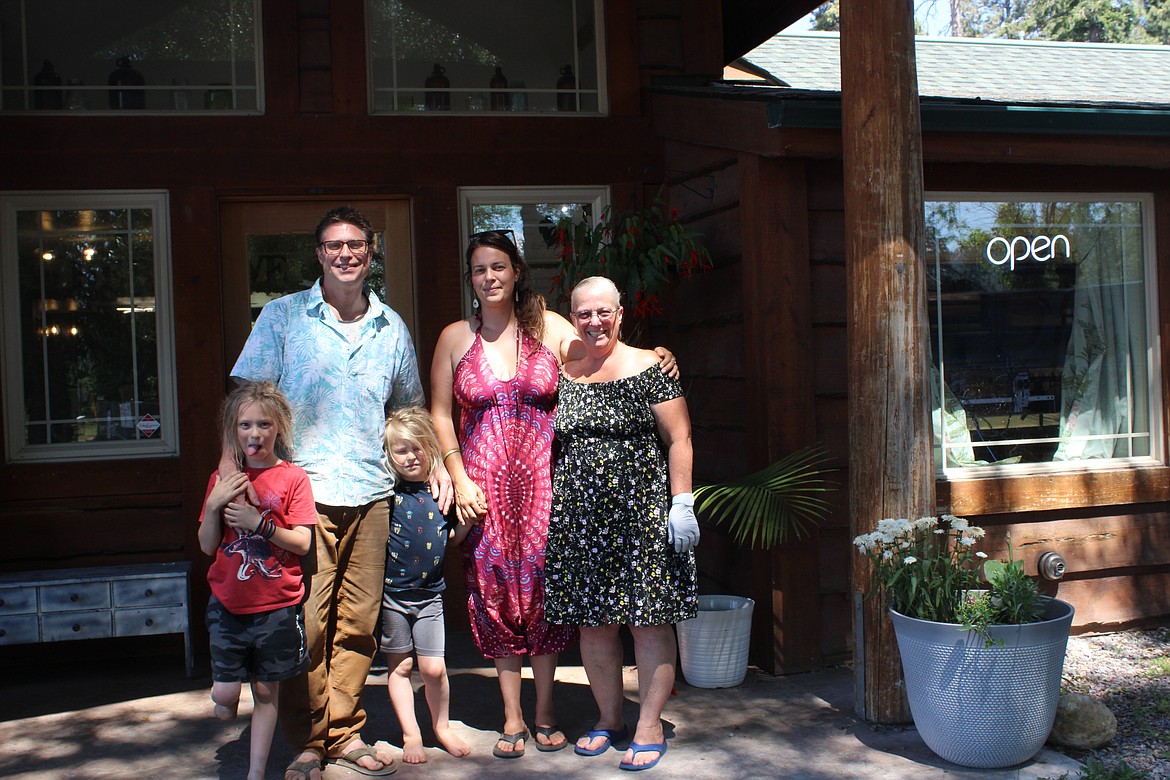 The Good Stuff Botanicals founders Michael and Maranda Johnson stand in front of the shop in Bigfork with their kids Everest and Finn and Product Specialist Judy Durant. (Taylor Inman/Bigfork Eagle)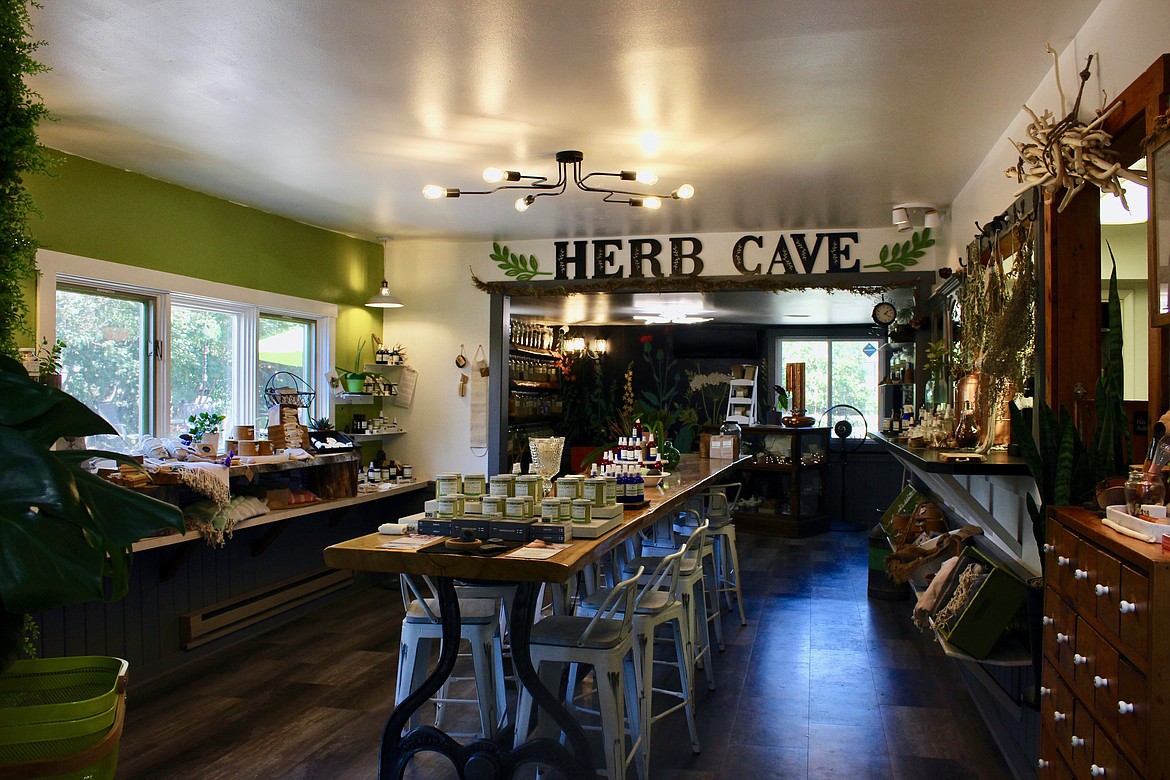 The Good Stuff Botanicals shop in Bigfork includes the "Herb Cave" that leads to their wall of loose leaf teas and herbs. (Taylor Inman/Bigfork Eagle)
Previous
Next
by
TAYLOR INMAN
Daily Inter Lake
|
August 28, 2022 12:00 AM
The Good Stuff Botanicals co-founders Maranda and Michael Johnson said their business ideas follow a common ethos: we all come from nature, so most of what ails us can be solved by it.
It's hard to not see this throughout their storefront, which they acquired in 2020, on Grand Drive in Bigfork. The shop is lined with little jars and bottles, skin care, makeup and rollerball scents, among many more products. Everything the Johnsons make is sustainably sourced and all natural — no synthetic chemicals, GMOs, or artificial coloring. As their products have grown in popularity, locally and throughout the country and world, the Johnsons said it's more important than ever for them to find sustainable and ethically sourced ingredients.
"Everything we get is sustainably sourced, certified organic unless it's wild-crafted. We're really conscious about where we get our stuff from," Maranda said.
The business was inspired by Michael's, or MJ's, psoriasis and a family recipe in 2012. Maranda said the condition is something he struggled with for a long time, taking steroids to ease symptoms.
Over the course of two years, the couple tinkered with a family recipe, adding different types of oils until they settled on cold-pressed hemp seed oil and mineral water from a Montana hot spring. This made a huge difference in MJ's condition and it wasn't too long before they started giving jars of their Gypsy Cream to friends and family — who started asking for more.
"His parents really encouraged us to make a business out of it. So we quit our day jobs and started going to farmer's markets. Then two weeks later, we found out I was pregnant with our first. We wanted to raise babies, so we decided to put everything into it," Maranda said.
They started going to the local farmer's markets, keeping them busy five days a week. MJ then made one of their first big wholesale accounts: having their products for sale in Rosauers Supermarkets, available all across Montana, Idaho, Washington and Oregon. It continued to grow and now their products are available in 130 stores across the country.
They also donate some of their products to veterans and hospitals, and when the pandemic hit in 2020, they joined forces with Whistling Andy Distillery to be among the first in the state to provide sanitizer to first responders and the public.
THE COUPLE continues to come up with new ideas for products too. Lately, they've been working on creating rollerball scents and said they want to sell more loose leaf tea blends in the future. MJ said they also get inspiration from customers, but the couple looks at their own lives and what they would want when thinking about creating a new product.
"That's where the whole business started from. We make it the way that we would want it and we would use it, like how the whole Gypsy Cream thing was born," MJ said.
After a slurry of new residents have taken an interest in foraging, the couple said they have been even more cautious about their sustainability practices. Finding their own patches of plants like arnica, devil's club and stinging nettle. Maranda said it's important to be mindful about who else needs the plant in nature, adding that there are less invasive ways to collect items when foraging.
"When we collect cottonwood buds, we wait until after a winter storm to go out because the buds start growing in the winter — they start producing the resin and filling up of resin and those turn into leaves. These cottonwood branches that we can reach, deer can also reach. It's one of the first leaves that comes out in the spring and that's good important deer food," Maranda said.
Their practices follow the 80/20 principle for foraging, meaning you can collect 20% of what's available and still leave the majority of what's left to keep the plant healthy. They rotate different foraging spots, even somewhat tending to certain patches to find them growing when they return.
"Our nettle patch is out in the middle of nowhere and we've been kind of nurturing it over the last few years," Maranda said. "We will replant some of the stalks when we go to our devil's club patch, there's never been a place we can't go back to," Maranda said.
"We will go through and just clip off the nettle tops and some of the little things here and there, then we watch it grow and get healthier over the years," MJ said.
There are some ingredients that cannot be found in Montana, like shea butter, which the couple sources from an organic, fair trade women's group from Ghana.
ASIDE FROM keeping their shelves stocked and dreaming up new products, the Johnsons would like to see their storefront be a welcoming place for community members. They've been working on their garden area outside and welcome anyone to come in and sit down — without the pressure of having to buy a product to stay.
"It's a great space out there, there's a sandbox for kids to hang out. We'll be doing more workshops and little fun like, Friday foot soaks by the fire out there," Maranda said.
Maranda was raised in Bigfork and said it's important for her to keep quiet, secluded hangout spots for locals alive and well.
"When Bigfork would get so crazy downtown and so hot, there's a secret little spot that we would go to that was all mossy and shaded … so I just wanted to make sure that there's still a spot like that here, especially as it gets bigger and there's more people and maybe some of those secret places aren't so secret," Maranda said.
The Good Stuff Botanicals products can be found in stores all across Montana, particularly in the Flathead Valley. Find a full list of retailers and their online store at thegoodstuffbotanicals.com.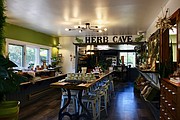 Recent Headlines
---