Griz aim to stun Fargodome crowd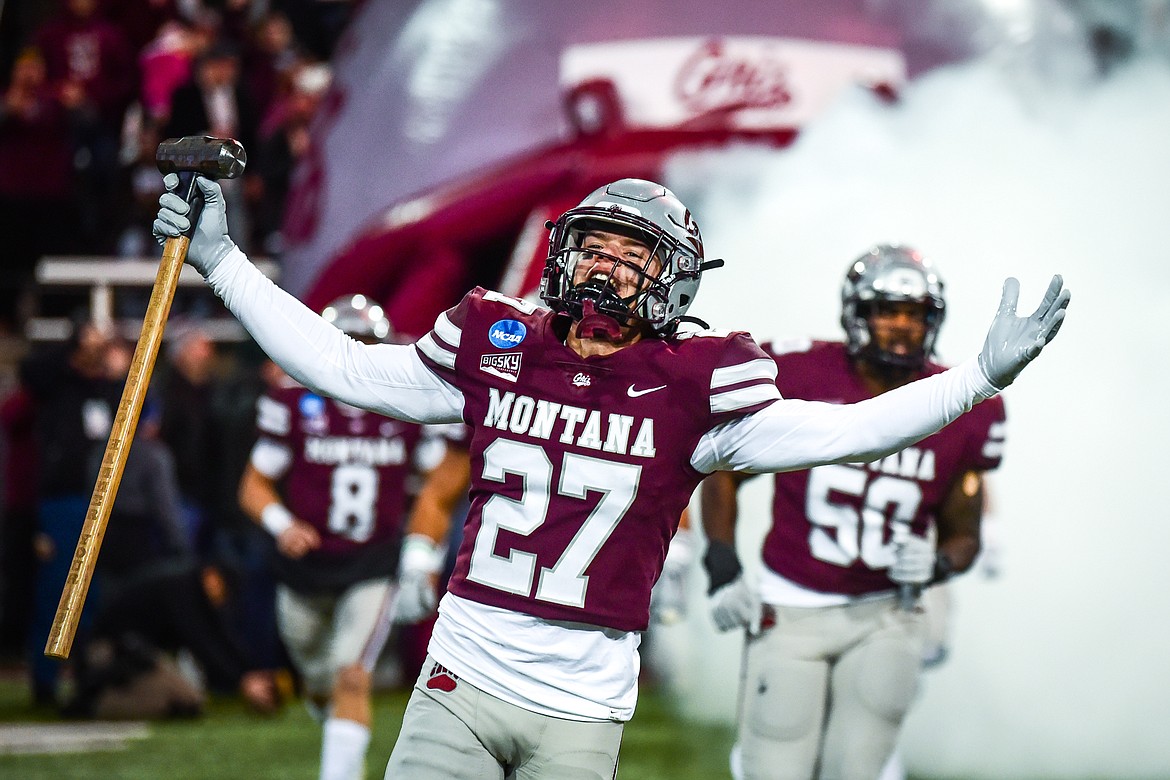 Grizzlies cornerback Trevin Gradney (27) leads Montana out onto the field before an FCS playoff game against Southeast Missouri State at Washington-Grizzly Stadium on Saturday, Nov. 26. (Casey Kreider/Daily Inter Lake)
Bobby Hauck's first game as coach of the Montana Grizzlies was in September of 2003, and it didn't go as expected.
The North Dakota State Bison, in the process of transitioning from Division II to the FCS, outscored the Griz 23-0 the second half and won, 25-24.
It was a stunner. If the Griz were to win in Fargo Saturday, that would be another one.
The Bison have been that dominant the past decade; they have nine FCS titles and do not seem satisfied. They have a key injury to fullback Hudson Luepke, some key kids hit the transfer portal and don't look much worse for wear heading into Saturday's 1:30 p.m. kickoff.
"I'm a fan of how they play," Hauck said of the Bison, who average 262 rushing yards a game, fourth in the nation. "It's evident on film. They play hard, they're physical, and they play with a temperament that I can appreciate.
"Their offensive line is, I'd say, the best we've seen this year. They've got a lot of personnel groups and formations and different things that make it hard to gap out."
Minus Luepke's 621 yards and nine TDs rushing, the Bison (9-2) picked apart intrastate rival North Dakota 42-21 while throwing 12 passes. Cam Miller threw for 159 yards but more importantly ran for 93 yards and five scores.
"He can deliver the ball," Hauck noted, then added: "They have a lot of designed quarterback runs for him. The plus-one run game has given us problems."
One of the few teams averaging more rushing yards than NDSU is Montana State, which piled up 439 rushing yards against the Griz in a 55-21 win two weeks ago.
That Montana bounced back with a comeback, 34-24 playoff win over Southeast Missouri State has to lend some confidence. This will be Hauck's first meeting with NDSU since that 2003 game; none of the current players have faced the Bison.
"To be able to go and play in Fargo, I think that's what a lot of these guys have been looking forward to since we got here," Montana nose tackle Eli Alford said.
"I have not been there but everybody says it's a great game-day environment," Hauck said. "That's exciting. Should be fun."
Bison coach Matt Entz noticed the Grizzlies' two special teams touchdowns against SEMO, and the length of UM's receivers. And he likes QB Lucas Johnson.
"Their quarterback is going to be the position that drives that (offensive group)," Entz said. "Big arm, can make all the throws, can extend plays.
"We need to make them one-dimensional if we can."
Beyond that Entz, who has guided NDSU to two national championships in three seasons, says his players are up for a new challenge.
"The fact that this is a program that has a lot of street cred to it, I think heightened the excitement and anticipation of this game for our kids," he said. "They know who Montana is."
Wildcats at Bobcats
Roughly 30 minutes earlier the Weber State Wildcats and Montana State will kick off their second-round game, a rematch of an Oct. 22 battle that MSU survived, 43-38.
The Wildcats had their pluses and minuses on special teams that day: They scored twice on returns, but gave eight points back with jail-break punt snaps that resulted in safeties.
Since then, Montana State has played some excellent football.
"I thought the last couple weeks, two different opponents, we've answered the call (on defense)," said second-year MSU coach Brent Vigen. "When our "ones" are out there, we've been really disruptive."
Meanwhile an offense that has ridden dual quarterbacks Tommy Mellott and Sean Chambers to remarkable numbers now welcomes back Isaiah Ifanse, who piled up 1,600 rushing yards a year ago before having two knee surgeries.
Saturday would mark his first action.
"I think he has a chance to be better," Vigen said. "He's healthy now and I know we're real excited to insert him into what we do. I think he'll give us something we haven't had — not to say anything against Elijah (Elliott), Lane (Sumner) or any of those guys. He's just different. One of the hardest guys to tackle that I've been fortunate to be around."
Keeping Abraham Williams from breaking a return — he has taken four kicks for TDs — would help the Cats, who are facing a bit of history: Several times a playoff rematch between Big Sky foes ends in a reversal of fortune.
That includes: Montana's 57-41 win over Eastern Washington last year; Weber State's 17-10 over Montana in 2019; Weber State's 30-13 playoff win over Southern Utah in 2017; Montana's 24-13 win over Weber in 2008; all the back to Nevada-Reno beating Boise State 59-52 in triple overtime in the 1990 semifinals.
Overall the team that lost the regular season matchup has gone 9-3 in the playoff rematch. The good news for MSU: Eastern Washington swept Montana in 2014, including a 37-20 win in the playoffs. Both games were on the Eagles' red turf.
Recent Headlines
---