4 local students nominated for military academies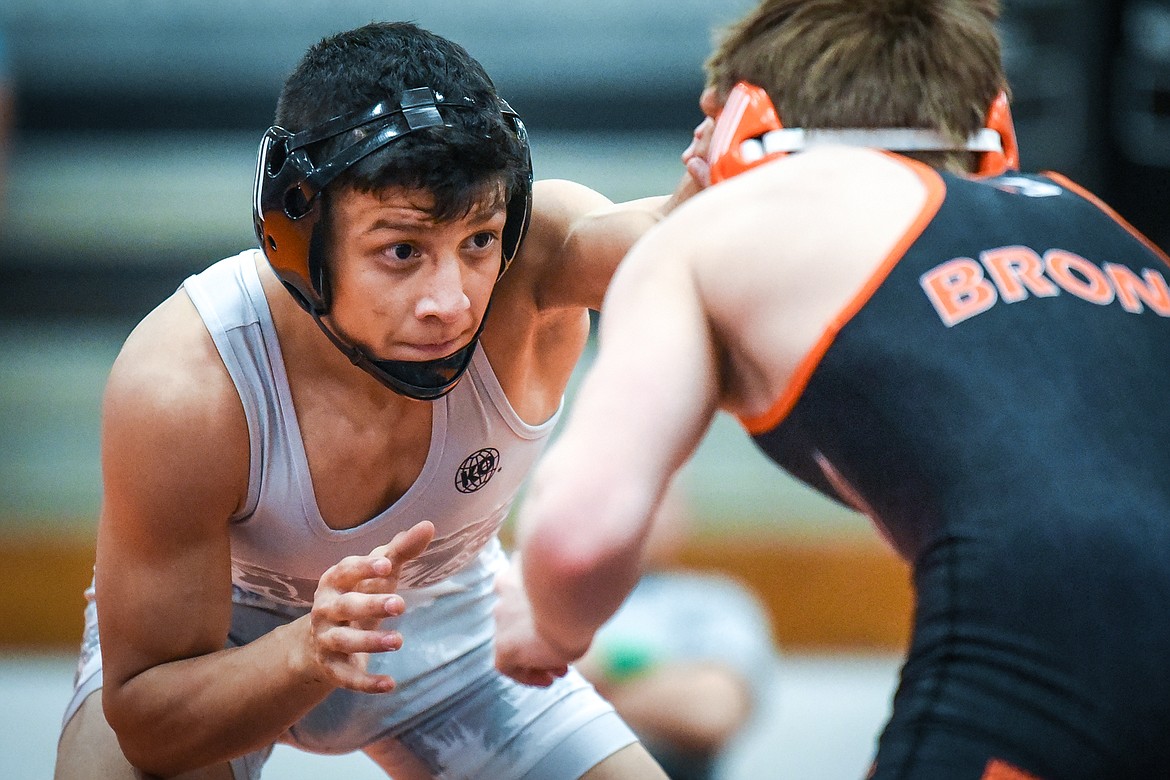 Glacier's Teegan Vasquez wrestles Billings Senior's Jalen Vladic at 120 lbs. at the State AA wrestling tournament at Flathead High School on Saturday. (Casey Kreider/Daily Inter Lake)
|
December 10, 2022 12:00 AM
U.S. Sen. Jon Tester has nominated four Flathead County students to the country's four prestigious military service academies.
Tester selected a total of 21 students based on their academic accomplishments, extracurricular activities, and dedication to serving and leading in the United States military. A nomination from a member of Congress is a student's first step in applying to the U.S. Military Academy at West Point, the U.S. Naval Academy, the U.S. Air Force Academy, and the U.S. Merchant Marine Academy.
"Montana has a long and proud history of producing some of our nation's finest military men and women, and it's a great honor to nominate our state's best and brightest to continue this legacy at one of our military service academies," said Senator Tester. "Their outstanding work ethic and dedication to serving our country prove they are exactly the kind of leaders we need in the military and I look forward to watching them continue to make our state and country proud."
Tester's Flathead County Military Service Academy nominees:
Nicholas Dills - U.S. Naval Academy, U.S. Merchant Marine Academy
Nicholas is a student at Stillwater Christian School where he is treasurer of the National Honor Society and a member of Stillwater Christian's House leadership program. Outside of school, he is a Cadet Major in the Civil Air Patrol and a Boy Scout. He has received the Civil Air Patrol's Amelia Earhart and General Billy Mitchell Award, and also attended the Naval Academy Summer Seminar Program last summer.
Josh Clark - U.S. Air Force Academy
Josh is a recipient of the Falcon Foundation Scholarship from the U.S. Air Force Academy to attend a preparatory school. He is currently enrolled in the Northwestern Preparatory School. Since graduating from Glacier High School last year, he obtained his private pilot's license over the summer and received the Air Force Math and Science award from his recruiting office.
Luke Leech - U.S. Military Academy, U.S. Merchant Marine Academy
Luke is student body president at Flathead High School, where he also is a member of Model U.N., the science club, National Honor Society, and Distributive Education Club of America (DECA). He also plays rugby for the Black and Blue Rugby Club in Flathead Valley, and participated in Boys State last summer.
Teegan Vasquez - U.S. Naval Academy, U.S. Merchant Marine Academy
Teegan is a student at Glacier High School, where he is captain of the wrestling team and a choir member. He was Montana High School AA Wrestling State Champion in 2020, 2021, and 2022, and volunteers for the Veterans of Foreign War in his free time.
Recent Headlines
---