Commitment to care: Aspiring nurse inspired to help others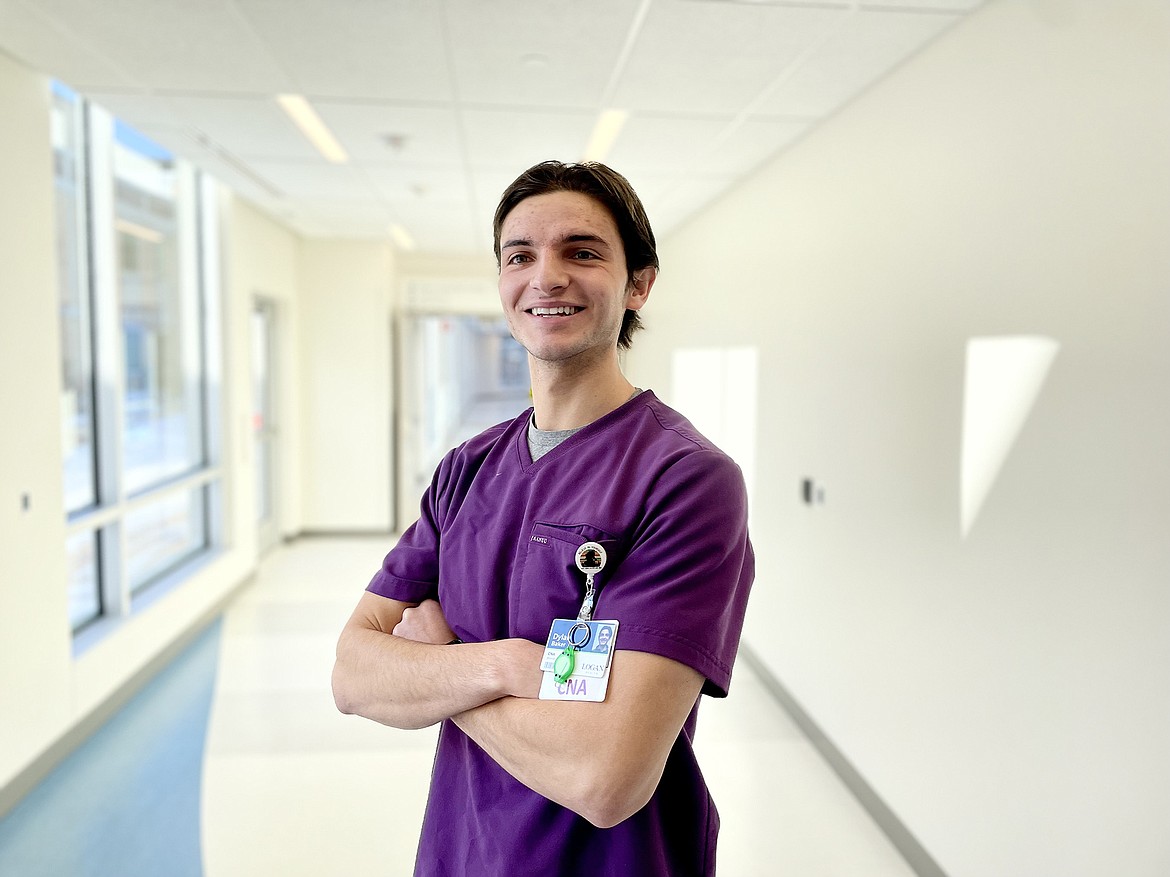 Kalispell resident Dylan Baker, 19, at Logan Health Children's on Thursday, Dec. 22, 2022. Baker is a CNA at Logan Health Brendan House and is pursuing a nursing degree through Flathead Valley Community College. (Matt Baldwin/Daily Inter Lake)
by
MATT BALDWIN
Daily Inter Lake
|
December 25, 2022 12:00 AM
Life can change in a flash. Just ask Dylan Baker.
One day he's a rising star athlete for the Flathead Braves, the next he's on an emergency flight to Seattle Children's Hospital facing a life-threatening medical emergency.
"Life is so unexpected," said 19-year-old Baker. "You hear it all the time, but it's so true. The only predictable thing about life is that it is unpredictable."
It was March 2019 when Baker's world was turned upside down. A sophomore at Flathead High School, he was at track practice when he felt an uncomfortable sensation in his leg. While usually one to just power through the pain, this time Baker pulled himself out of practice.
"I had this pain, and I wasn't sure what it was," he explained.
That day his father took him to a primary care office, where he was told it could be nothing more than a pulled hamstring. The physician advised resting for the weekend, and if it didn't get better to come back the following Monday.
"I spent the whole weekend on the couch, tuckered out," Baker said, not typical symptoms for a pulled muscle.
A return visit to the doctor prompted an X-ray and then an ultrasound. The latter revealed the issue: Baker was suffering from serious blood clots in his legs.
He had an extreme case of deep vein thrombosis in both legs, along with an occluded inferior vena cava — a serious diagnosis that needed to be addressed right away.
"We were either going to Denver or Seattle," Baker said. "That same day I was life-flighted out."
At Seattle Children's Hospital, Baker underwent three surgeries in four days. His legs were totally immobilized during that span.
"That was really difficult for me, to not be able to move and have those conversations about what this will look like for me afterward," Baker said.
Doctors said the diagnosis meant no more contact sports like football or wrestling, and that he'd be on anticoagulants the rest of his life.
He'd also have to take part in intense physical therapy. In a span of a month, Baker went from sprinting at track practice, to learning to walk again.
"It was a little pain, but more so confusion. So many times I was asking myself, Why me?" Baker said.
All totaled, Baker would spend two weeks at Seattle Children's.
BUT THIS is where Baker's story takes a turn.
At Seattle he was paired with a nurse — Jamal — who kept a special eye on Baker's progress.
"He would bring me fruit roll-ups — and see that smile on my face."
"He took time to come and see me, even when he wasn't doing rounds. That was so special to me, because I was so lost and confused. To have that level of care, really made me feel calm."
Baker never forgot that commitment, and years later he says it's Jamal who inspired his current career path in health care.
"I tell people I want to be someone else's Jamal," Baker said. "I want to provide that level of care and make them feel the way I felt."
Baker currently works as a CNA at Logan Health Brendan House, and plans to pursue a nursing degree through Flathead Valley Community College.
He said his personal experience with Logan Health Children's and Seattle Children's inspires him to provide Brendan House residents with a high level of care, every day.
"I feel indebted to our medical community here," Baker said, specifically noting Logan Health's Dr. Allie Maffit.
"The people I interacted with both in Seattle and at Logan Health were so amazing and helpful. I was young and scared and confused, and the nursing staff really made sure I felt comfortable and safe. Nursing is so personal. That's why I became a CNA, I want to be there for our patients and our community."
Through it all, Baker has emerged with a positive look on his future. He doesn't dwell on what's no longer possible due to his diagnosis.
"Life throws hurdles at you, but you can overcome them step by step," he said.
"It's interesting to see how quickly life can change, but then to see how you can come out of it and adapt to the situation. It truly was a life-changing experience for me. Maybe not in a positive way, at face value, but there is so much good that came out of it."
Recent Headlines
---