Electrical failure stranded several hundred skiers, says resort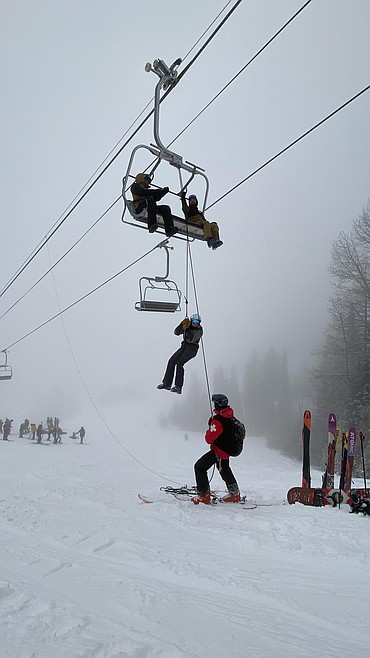 A Whitefish Mountain Resort ski patroller lowers a stranded skier down from the Big Mountain Express Chairlift on Wednesday Dec. 28. According to the resort, electrical failures caused the breakdown. (Photo courtesy of Ben Haigh)
by
ADRIAN KNOWLER
Daily Inter Lake
|
December 30, 2022 12:00 AM
Passholder and Whitefish resident Nathan Dugan had only just boarded the "Big Mountain Express" chairlift at Whitefish Mountain Resort when it broke down Dec. 28.
"We were on for 30 seconds before it stopped," said Dugan on Thursday. "The first hour was OK, not too cold. The last three hours were pretty tough. It was cold, the wind picked up and we were pretty wet."
Resort spokesperson Chad Sokol blamed failures in the electrical and backup electrical systems for the chairlift, also known as Chair 1, for the multi hour shutdown. Chair 1 went down at around 12:30 p.m., he said, and between 200 and 300 skiers were evacuated from the lift by the resort's regular closing time of 4 p.m.
A second chairlift that ran into trouble the same day, Chair 2 or "Swift Creek Express," also stopped running, but without stranding any resort-goers, Sokol said.
Photos and videos uploaded to social media show ski patrollers lowering Chair 1 passengers one at a time using a rope and belay system.
Dugan said that the first he heard from the resort on the matter was through an update to its snow report, published daily online. Dugan said the report listed Chair 1 as "on hold."
Dugan recalled seeing ski patrollers make their way down the lift line, reassuring skiers that help was coming. Patrollers unloaded the chairs from the summit down, meaning Dugan and his lift buddies were among the last to be evacuated.
On the chair with Dugan was Carson Haigh, a college student and "frequent skier card" holder who didn't even get a chance to ski Wednesday before he got stuck, according to his father Ben.
Sokol said that chairlifts fail every year due to high use, but having the backup fail as well was rare. He also said that failures affecting two of the resort's largest lifts on the same day was uncommon.
Sokol confirmed that the resort is offering evacuees lift tickets and a hot cocoa voucher for their troubles. According to the resort, the issue was addressed and all the lifts were working again on Thursday.
"We thank all our guests for their patience and understanding, and we will work to avoid and better address such challenges in the future," wrote Sokol in an email.
Reporter Adrian Knowler can be reached at 758-4407 or aknowler@dailyinterlake.com.
Recent Headlines
---