New and updated courses coming to Flathead and Glacier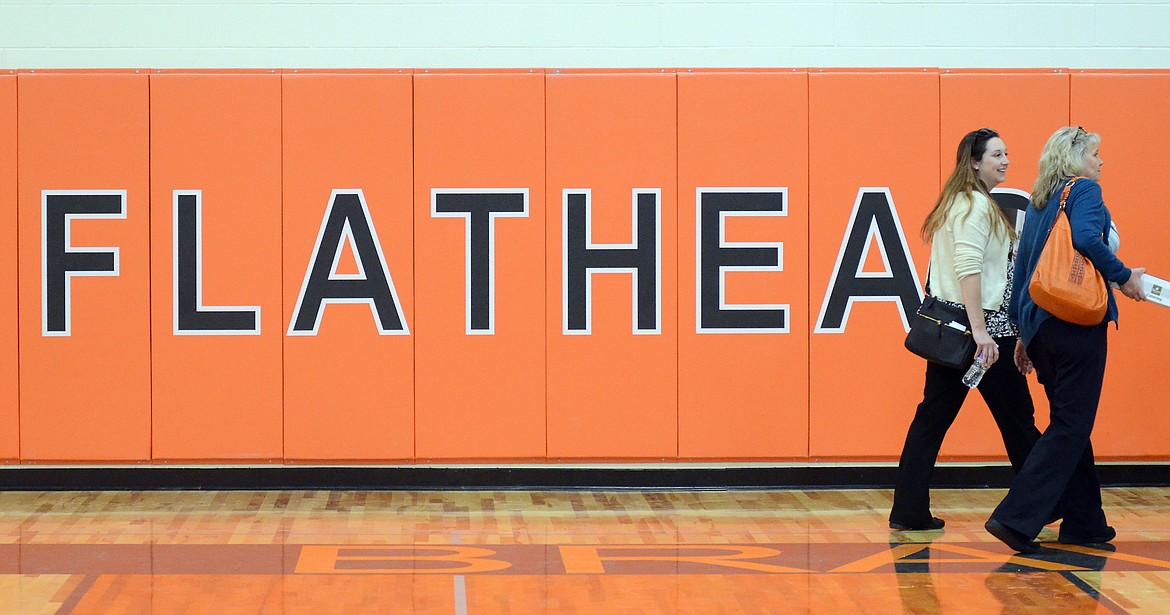 People tour the new auxiliary gym at Flathead High School on Tuesday afternoon. Construction of the gym was part of the school's $18.2 million addition and remodel project. (Matt Baldwin/Daily Inter Lake)
by
HILARY MATHESON
Daily Inter Lake
|
February 3, 2022 12:00 AM
New and updated courses at Flathead and Glacier high schools will be offered next school year, including a semester-long Equipment Operation Internship.
Up to a dozen juniors and seniors are projected to enroll in the internship at Flathead. Students will learn how to maintain and operate heavy equipment through on-the-job training, according to the course objectives. Students will train with a sponsoring equipment dealer and construction company. For the 2022-23 school year, sponsoring companies are RDO Equipment Co. and Schellinger Construction.
"This internship provides a unique opportunity for non-college-bound students to enter the workforce directly out of school. Students will gain skills and wage-earning capacity to stay in the valley if they choose. Local businesses are willing to invest in our students in order to avoid employee shortages," Flathead career and technical education teacher Rob Hunter wrote in the course proposal.
Internship students will be able to obtain one credit for the semester-long course.
LEARNING INTERRUPTED by the pandemic and enrollment fluctuations were also cited as reasons for some of the changes.
High School Band for Beginners is a new course that will be offered to Flathead students at all grade levels who have little to no music experience. Students will learn to play an instrument and read sheet music, preparing them to enroll in the existing band class.
"Due to the pandemic, high school band directors across the state (and country) are experiencing low enrollment because Covid restrictions severely limited or eliminated traditional band instruction," Flathead Band Director David Johnke wrote in the course proposal.
"The number of students in our band program is low, and a significant percentage of students coming into 9th-grade band are missing fundamental skills needed to be successful in a high school band program," he continued.
Glacier Band Director David Barr echoed a similar statement in an email to the Daily Inter Lake and has expanded its Beginning Percussion class to include all instruments, renaming it as Beginning Band.
"This year I had several students wanting to get into band and percussion that had no experience, but all of the desire. It is a struggle for those beginners to perform with students who have had band classes for three or four years," Barr said. "Our hope is to fill the gap, provide a meaningful musical experience, and have fun! Music is an important part of our lives. Students are searching for ways to express themselves, understand music, and play an instrument with fellow students."
Automotive classes were also affected. Automotive 1 curriculum shifted to Automotive 2 due to the pandemic-related shutdown in 2020, which came with increased absences and additional early dismissals, according to Hunter in the course proposal.
With the projected enrollment expected to surpass 50 students next year, Automotive 2 will change from a year-long to a semester-long course to allow more students to take it and avoid having to turn them away. In this class, juniors, sophomores and seniors disassemble and reassemble a Honda engine, perform vehicle maintenance and other entry-level automotive tasks. The student fee is $15 and Automotive 1 is a prerequisite.
OTHER NEW classes at Flathead include Printmaking, Debate Workshop, Technical Theatre 3 and Technical Theatre 4.
Printmaking is an art elective open to Flathead juniors and seniors who have taken Art Survey and Drawing 1. Students will learn the history, contemporary use and techniques of relief and intaglio printmaking and alternative processes. There will be a $20 fee for the semester-long course.
Debate Workshop is a semester-long course in the English department where students will learn traditional styles such as: Lincoln-Douglas debate, forum debate, policy debate and legislative debate. Students will study modern issues and controversies, hold live debates, evaluate arguments and claims supported by credible sources, which ties into principles of the International Baccalaureate program, according to the course description and proposal. The class is open to all grade levels. With the addition of the new class, Conflicts and Controversies will be discontinued in the social studies department.
Technical Theatre 3 students will further their understanding and application projection and prop design, according to the course description. Theater 1 and 2 are prerequisites. In Technical Theatre 4, students learn stage management, develop a theatrical resume and do college exploration. By the end of the course, students will have created capstone portfolios. Theater 1-3 are prerequisites.
Students in both classes will read and analyze a play from a design perspective in addition to designing and implementing lessons and projects with Theater 1 and 2 students, respectively, for high school productions. Both classes cover a semester and are open to sophomores, juniors and seniors.
New classes at Glacier include Computer Science Essentials, a Project Lead the Way course, and Physics. Both are year-long classes.
Computer Science Essentials is an introduction to programming. According to the course description, students will use visual-based programming, transitioning to text-based programming to create apps and develop websites. The class will be offered to all grade levels.
Physics will serve as an introductory course to "the fundamental functions of everything around us," according to the course description.
Passing Algebra 2 with a minimum grade of "C" is a prerequisite.
Reporter Hilary Matheson may be reached at 406-758-4431 or hmatheson@dailyinterlake.com.
Recent Headlines
---