Today's Achievers, Tomorrow's Leaders: Flathead senior leads with kindness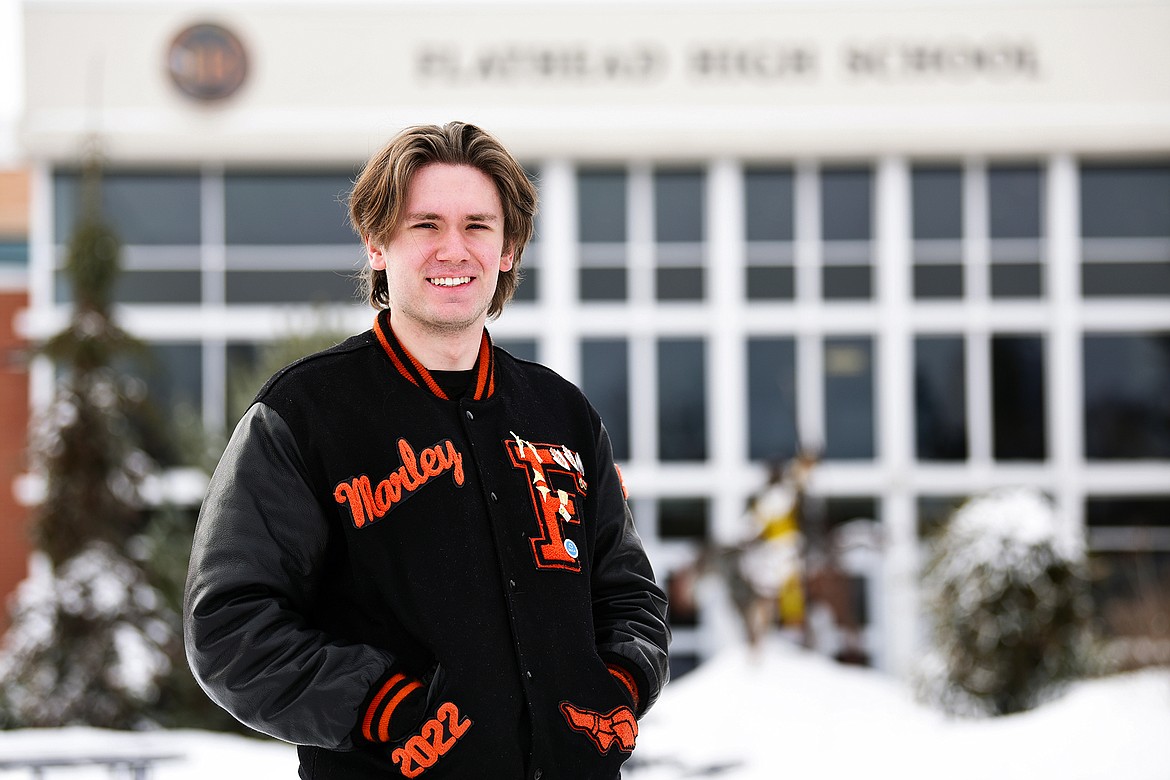 Marley Miller outside Flathead High School on Wednesday, Feb. 2. (Casey Kreider/Daily Inter Lake)
by
HILARY MATHESON
Daily Inter Lake
|
February 9, 2022 12:00 AM
Flathead High School senior Marley Miller is someone who leads and mentors with kindness, empathy and maturity.
Flathead Career Center Director Mike Kelly highlighted Miller's natural inclination to seek out ways he can help out and does so with "a bright and positive energy that lifts others along with him," in his letter nominating the International Baccalaureate student and Academic All-State athlete.
"Marley stands out as one of the most impressive, self-motivated, engaged and kind students at Flathead High School," Kelly wrote.
The Today's Achievers, Tomorrow's Leaders program recognizes the academic achievement and community involvement of high school students who contribute to improving the lives of others. The award is sponsored by Logan Health in collaboration with the Daily Inter Lake. In addition to the recognition, honorees choose a school club or activity to receive a $250 donation.
Miller is donating the money to Brave Mentoring, a program he has been involved with throughout high school and is a member of the executive leadership team.
"It really has been helping the freshman in our high school — making it a welcoming environment for them," Miller said.
Miller has taken on various leadership roles at the state and local level. At the state level, the Flathead student body vice president is a former president of Montana HOSA (a health occupations organization) and is currently one of the state officers for Montana DECA (a business-focused organization). He was also selected to attend the 2021 American Legion Boys State, where he was voted in as governor by other student delegates in a mock election during the educational government experience.
He noted that he was a junior while serving as a president for HOSA, where activities went virtual due to Covid.
"It was really tough but it taught me a lot of stuff," he said.
As a junior, he was the youngest of the executive officers at the time.
"I really had to step up my role there and learn how to kind of, you know, gain my place among people who were older than me," he said.
INITIALLY, MILLER sought out as many opportunities as he could, while overcoming challenges at home, to bolster his chances of earning scholarships to attend college as a pre-med student and take the financial burden off his family. His ultimate goal is to become an anesthesiologist.
During his freshman year, his family lived for four months in West Glacier where he made the roughly hour and a half commute to high school a priority, sometimes spending the night at his grandfather's home in town to make it to sports practices.
"I really love Flathead," he said.
Around this time, his father was diagnosed with Non-Hodgkin lymphoma. About a year and a half later, there was another blow to the family.
"During 2020, my stepmom, who has been in my life since I was 3, got diagnosed with breast cancer," Miller said.
"That really made me want to do better and find more opportunities to help my family and myself and put less stress on them. I guess the root of it is I want to put less stress on my family with my own financial troubles … make it so they don't have to worry about college, at the same time, trying to inspire other people to do great things," he said.
What he discovered was how much he enjoyed being involved and that he could inspire others, help them find success or learn new skills such as DJing for events, the latter of which he learned about a year ago when the student council purchased a complete DJ setup. This led to him DJing prom and homecoming and landing a job at Peak Audio Kalispell.
"I'm teaching three other freshmen now to DJ so that they can take up that role when I leave and I'm starting a club here soon — hopefully — between both high schools," he said. "It would give students opportunities to become DJs and get paid."
Being down-to-earth and "being yourself," are important qualities of good leaders Miller said.
"Really being thoughtful, like taking each one [person] to the side, checking in with them, being caring with them, making sure everyone is doing everything OK, and everyone is OK — mentally and physically — and is comfortable in their own space is a big thing of course," he said.
While Miller has a laid back leadership style, he is not afraid to take charge when the situation necessitates it to get people to stay on track but does so with care and concern.
It's an honor when a teacher or staff member approaches him with a new leadership opportunity, Miller said.
"I've been really honored and really fortunate to have such great people in my life to do that," he said.
"I just want to be a good person and a good leader and help other people because a lot of people are going through hard things. I just want people to have a good time in high school and [have] everything go as smooth as possible," he said.
Reporter Hilary Matheson may be reached at 758-4431 or by email at hmatheson@dailyinterlake.com.
Learn More
Today's Achievers, Tomorrow's Leaders nomination criteria:
Eligibility: High school students in Flathead or Lake County.
Academics: Students who value their education by exhibiting academic responsibility (preferably have a 3.0 GPA or higher).
Character: Students who display integrity, compassion, service, excellence.
Citizenship: Students who nurture healthy communities through community service, volunteerism or other contributions to their community and/or school.
Leadership: Students who take initiative and are role models for others.
Forms are available at https://www.logan.org.
Recent Headlines
---