Flathead Lake state parks see visitation declines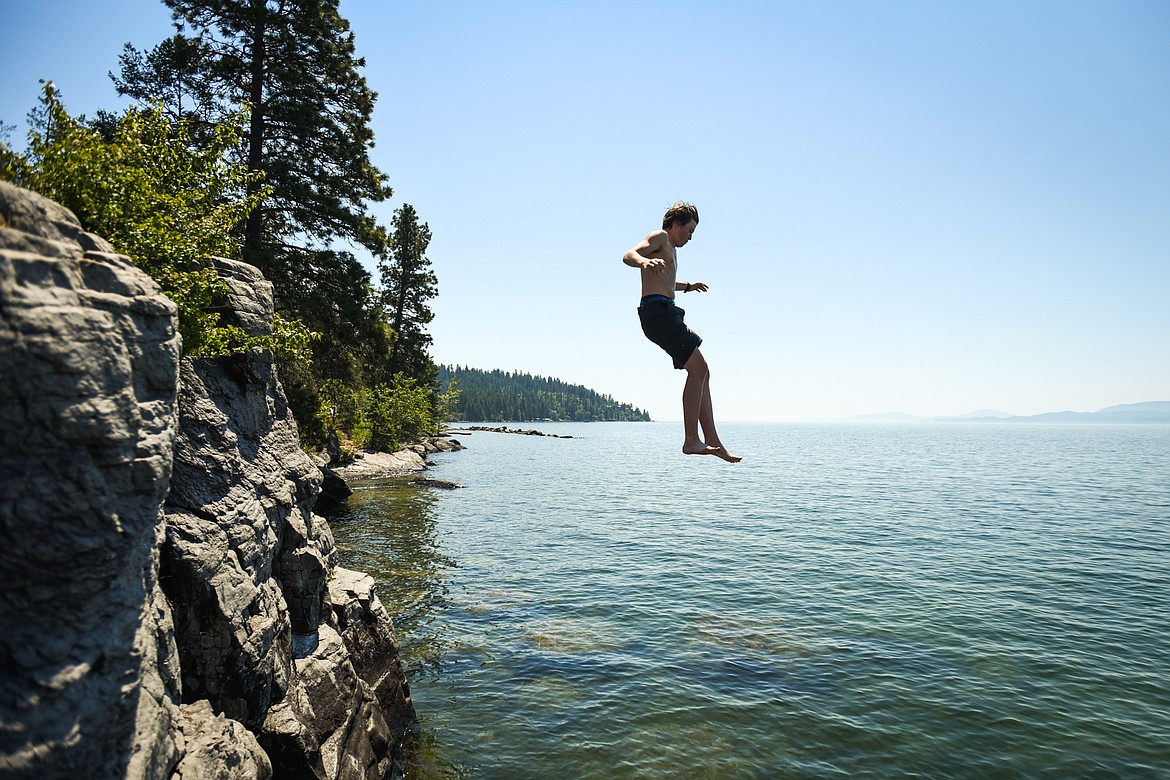 Makoa Aneca, of Bigfork, jumps into Flathead Lake from a cliff at the Wayfarers Unit of Flathead Lake State Park in Bigfork on Tuesday, June 29, 2021. (Casey Kreider/Daily Inter Lake)
by
MATT BALDWIN
Daily Inter Lake
|
February 19, 2022 12:00 AM
The state parks around Flathead Lake remained a popular destination last year, visitation data shows, but not matching the record-setting levels of the last two years.
All of the lake's park units combined accounted for 339,631 visits in 2021, the second most among Montana state parks overall. Yet, the total is a decrease of 28% compared to 2020, and about 4% lower than 2019 totals.
Statewide, Montana's state parks recorded more than 3.4 million visitors in 2021, falling just 1.3% short of matching its all-time high set in 2020.
State officials note that visitation in 2021 grew at a record-setting pace through July, but then slowed due to wildfire smoke and drought conditions, and then colder temperatures. Still, visitation was nearly 28 percent higher than in 2019.
"The number of visitors coming to Montana's state parks is a testament to their importance in the everyday lives of our communities both for users' health and as a critical component of our outdoor recreation economy," said Parks and Outdoor Recreation Division Administrator Hope Stockwell in the release. "We continued to see first-time visitors and those who know our parks well, and we are encouraged by their efforts to recreate responsibly."
According to the report, Northwest Montana parks served approximately 844,620 visitors in 2021, an estimated 15.3% decrease compared with last year. However, 2020 was a year of significant growth as the region played host to nearly 1 million visitors for the first time.
"While the pace of growth softened in 2021, compared with 2019, the region's visitation was still 9.7% higher," the report notes.
A driver of 2021's overall decline in Northwest Montana was lower visitation at Wayfarer's Unit of Flathead Lake, which was likely due in part to the Boulder Fire in late summer near Finley Point. Wayfarer's had 153,155 visitors in 2021, down 41% compared to 2020 and down 22% compared to 2019.
Big Arm had the second highest visitation total on Flathead Lake with 62,168 people counted, which is 9% off the pace set in 2020.
West Shore was the only Flathead Lake park to see an increase compared to 2020 with 44,097 visitors last year.
Thompson Chain of Lakes also saw declines compared to 2020, with 140,659 visitors last year. That's a 17% drop for the region's second-most popular state park.
Visitation at Lake Mary Ronan was down 10% with 31,055 people counted, while Logan was down 15% with 30,355 visits. Lone Pine State Park in Kalispell was about flat with 128,640 people counted.
Whitefish Lake State Park bucked the trend in a big way, with visitation jumping about 22% compared to 2020 with 105,648 total visits. It's the first time the park on the west side of Whitefish Lake has counted over 100,000 visits.
Meanwhile, Les Mason State Park on the east side of Whitefish Lake had 51,396 visits, up about 2% year over year.
"The important public access these parks provide is underscored by their continued visitation growth year after year, especially as the Whitefish community grows in population," the state report notes.
In 2021, visitation exceeded 100,000 at 11 state parks compared to eight in 2020 and seven in 2019.
Giant Springs State Park had the highest visitation in Montana, with an estimated 414,889 visits, an increase of 8% over 2020. This park was the most visited state park in 2021. It has continued to attract numerous visitors and is a favorite destination for the city of Great Falls.
In Western Montana, Milltown State Park had the highest visitation in the region with an estimated 110,732 visits, an increase of 53% over 2020. 2021 was the first year that Milltown exceeded 100,000 visitors.
The top five most visited state parks in 2021 were:
Giant Springs (Great Falls) 414,889
Flathead Lake-all units (Kalispell) 339,631
Cooney Reservoir (Roberts) 263,691
Spring Meadow Lake (Helena) 254,141
Lake Elmo (Billings) 212,91
Recent Headlines
---