At-home mushroom cultivation workshop part of Free the Seeds event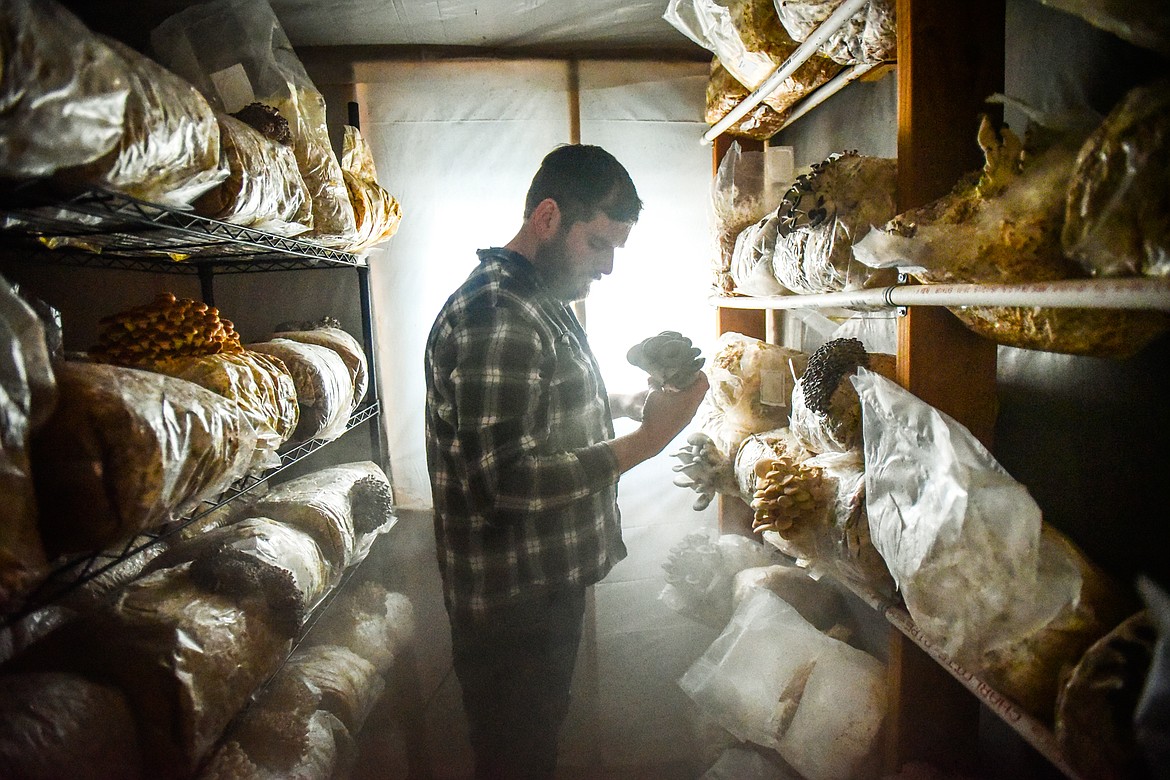 Shawn McDyre harvests a cluster of blue oyster mushrooms in his grow room at Sun Hands Farm on Monday, Feb. 21. (Casey Kreider/Daily Inter Lake)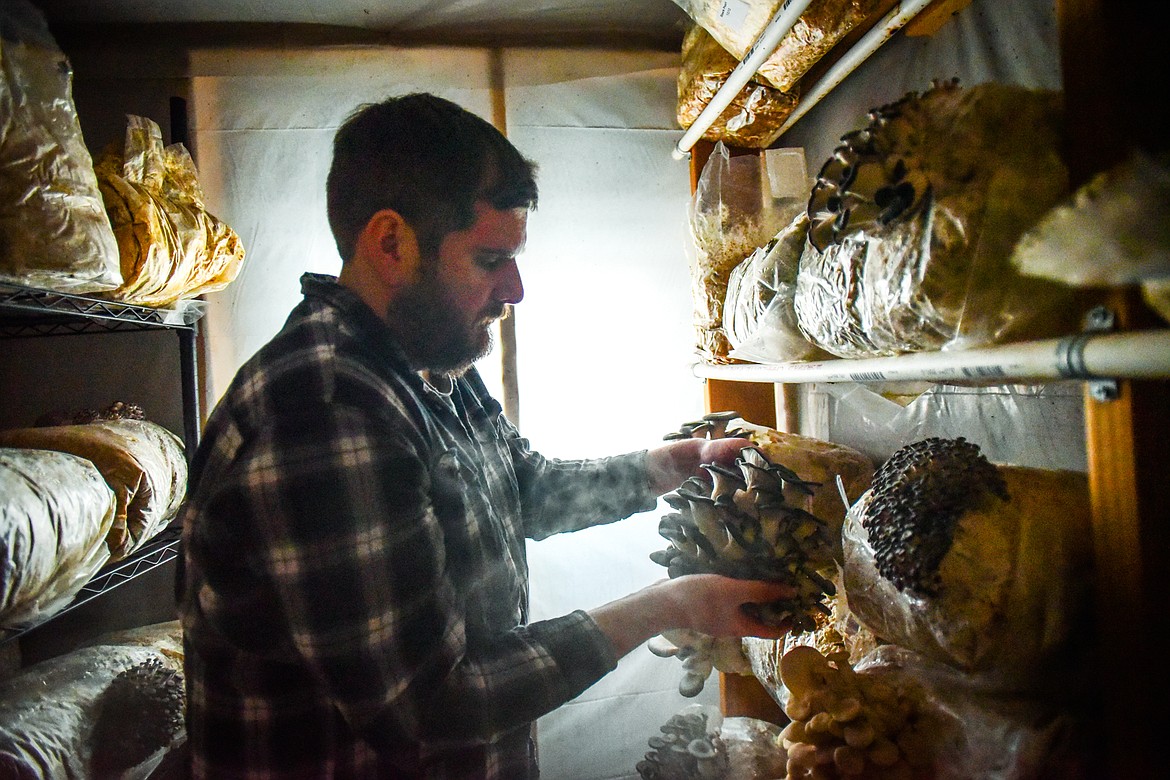 Shawn McDyre harvests a cluster of blue oyster mushrooms in his grow room at Sun Hands Farm on Monday, Feb. 21. (Casey Kreider/Daily Inter Lake)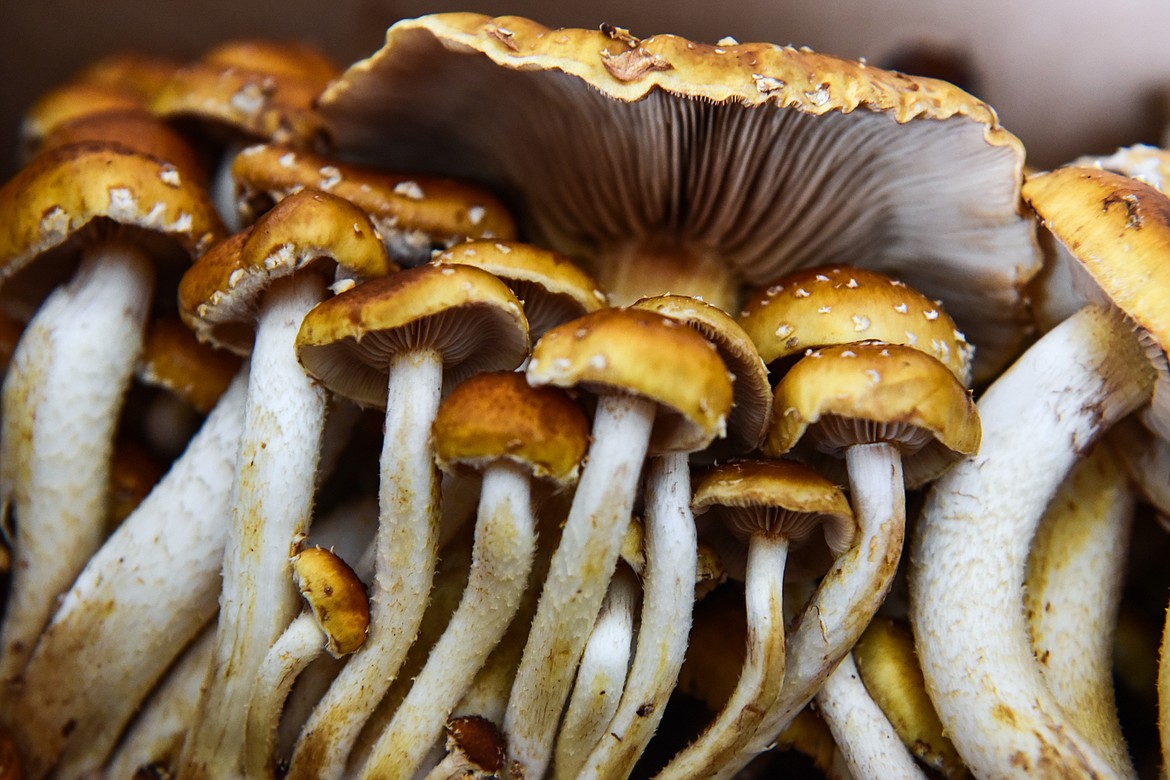 Recently harvested chestnut mushrooms at Sun Hands Farm on Monday, Feb. 21. (Casey Kreider/Daily Inter Lake)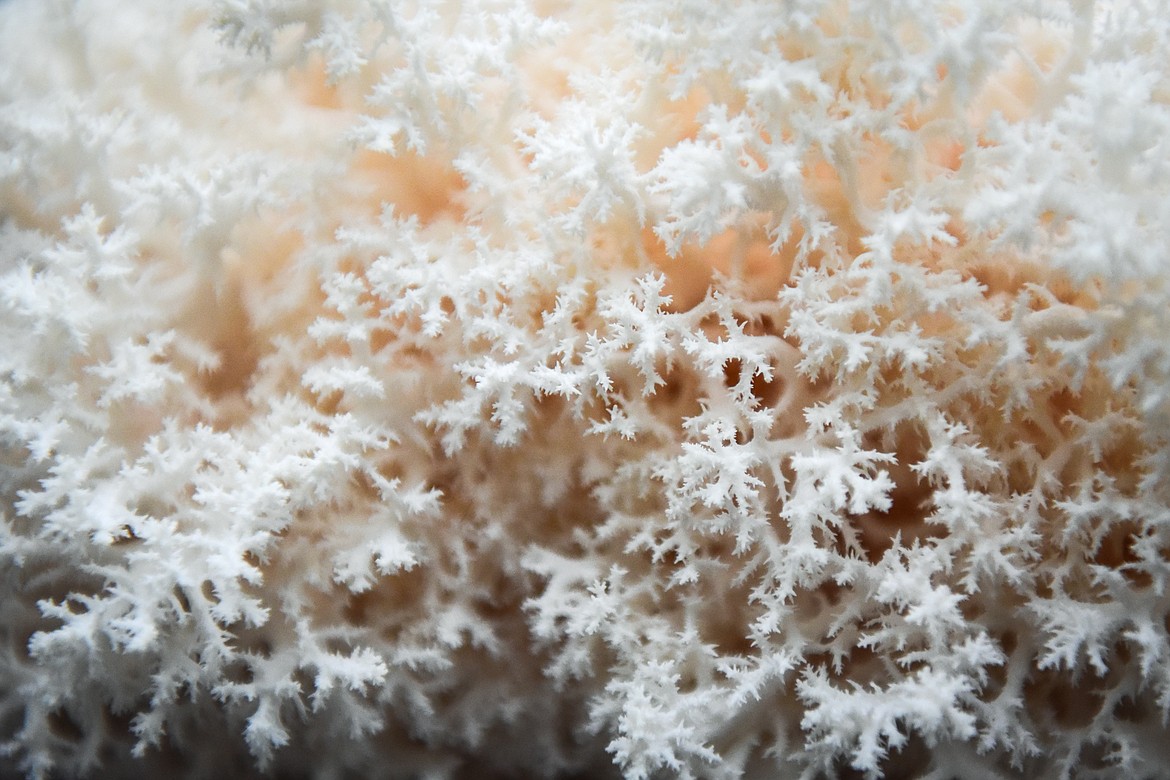 Detail of a coral tooth mushroom at Sun Hands Farm on Monday, Feb. 21. (Casey Kreider/Daily Inter Lake)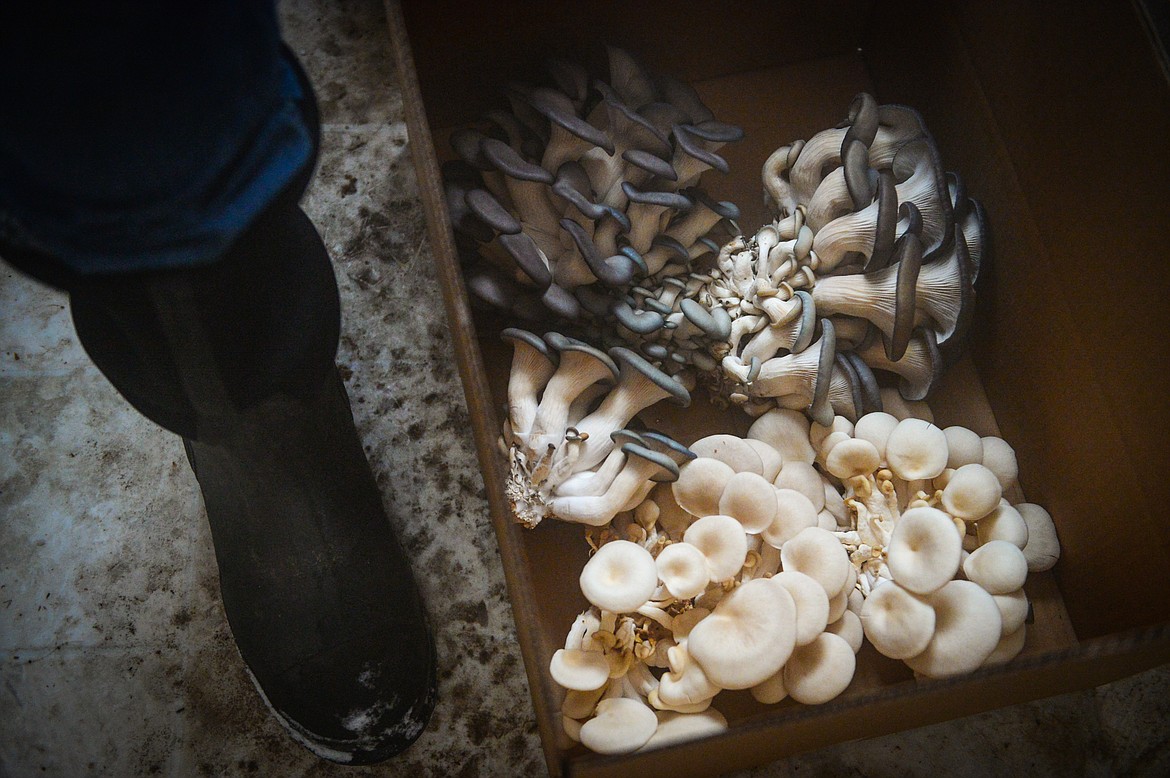 Shawn McDyre stands over a box of harvested blue oyster and elm oyster mushrooms in his grow room at Sun Hands Farm on Monday, Feb. 21. (Casey Kreider/Daily Inter Lake)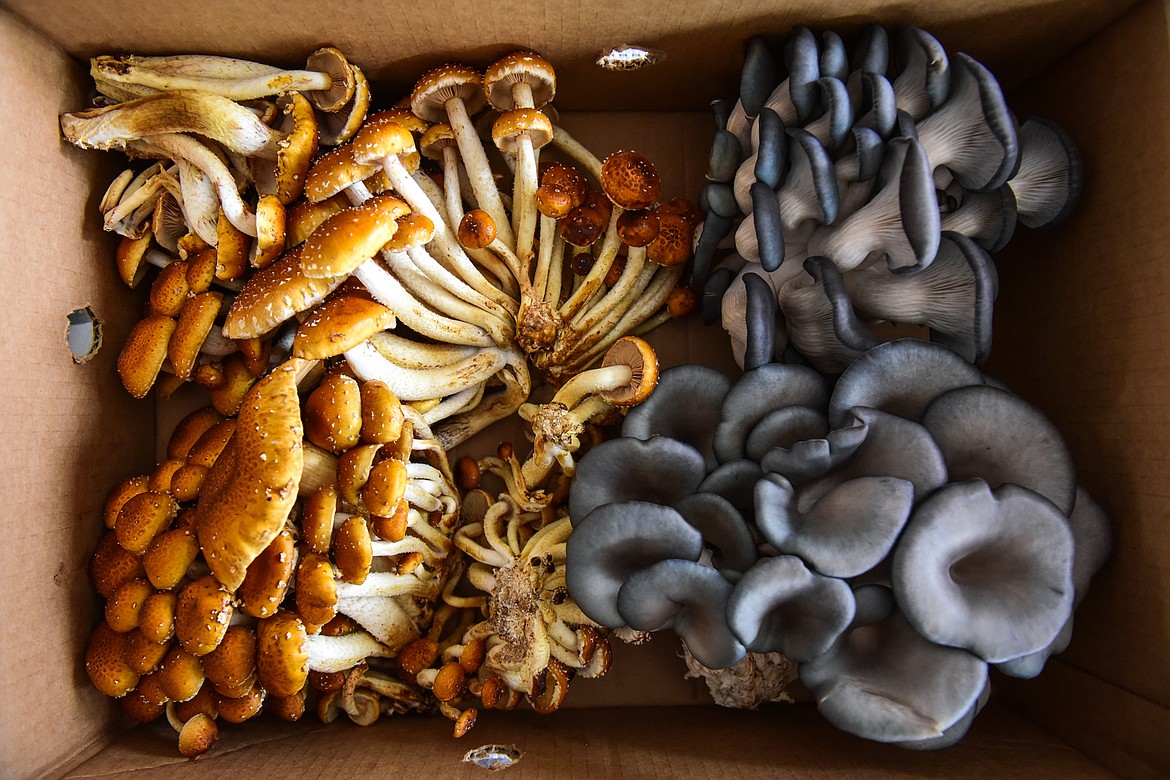 Clusters of recently harvested chestnut, left, and blue oyster mushrooms at Sun Hands Farm on Monday, Feb. 21. (Casey Kreider/Daily Inter Lake)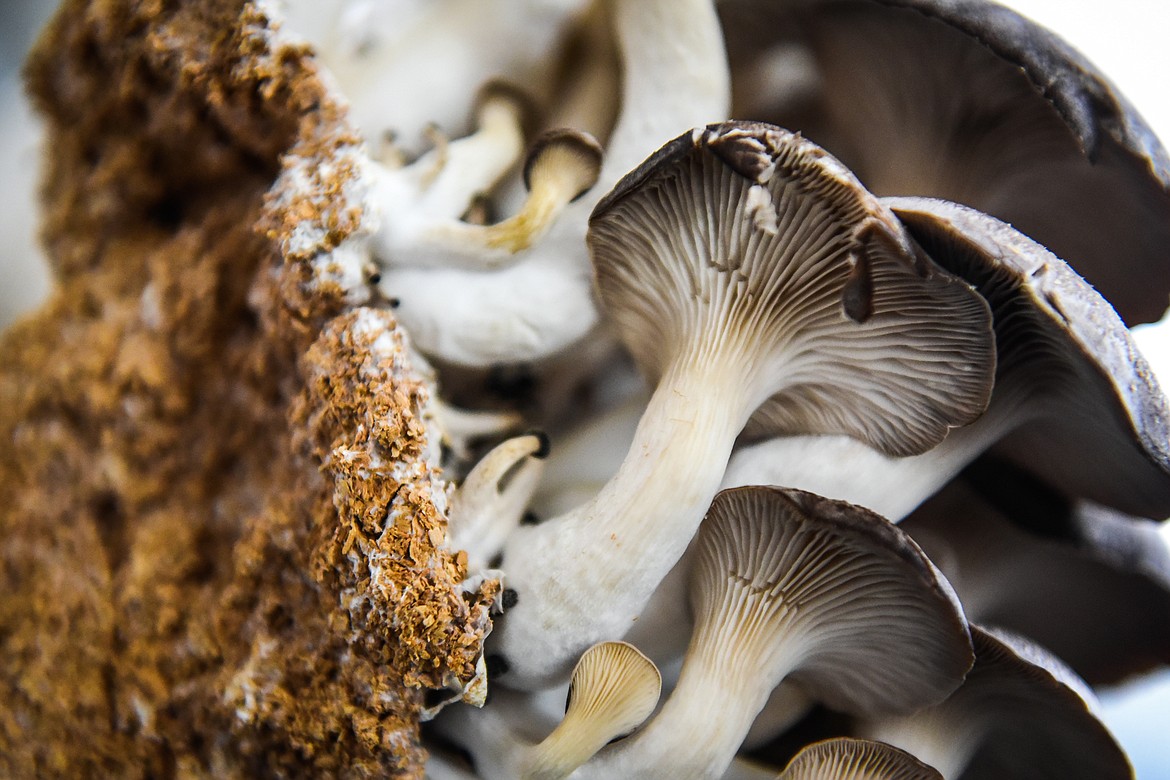 Recently harvested blue oyster mushrooms at Sun Hands Farm on Monday, Feb. 21. (Casey Kreider/Daily Inter Lake)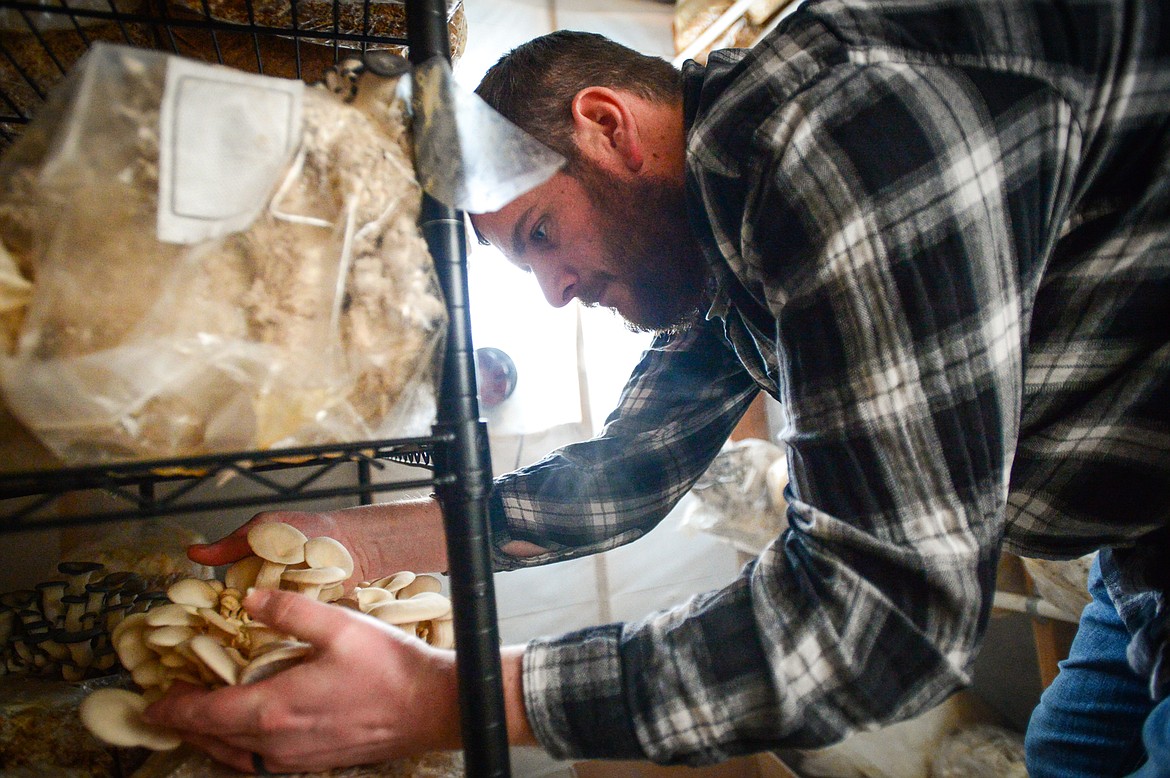 Shawn McDyre harvests a cluster of elm oyster mushrooms in his grow room at Sun Hands Farm on Monday, Feb. 21. (Casey Kreider/Daily Inter Lake)
Previous
Next
by
TAYLOR INMAN
Daily Inter Lake
|
February 27, 2022 12:00 AM
Shawn and Jennifer McDyre have spent years learning about the sometimes tricky growing process of mushroom cultivation.
While they officially started Sun Hands Farm four years ago, their journey learning how to grow mushrooms started nearly a decade ago.
"Our first kids were mushrooms. We took them where we went on vacation, we constantly made sure they were growing; that they had their humidifier. They had a special place where they stayed — we didn't have a nursery or extra bedroom, we had a mushroom room," Jennifer said.
Shawn will be sharing their years of knowledge during a mushroom workshop focused on at-home mushroom cultivation during the seventh annual Free the Seeds event which runs Saturday, March 5 through Monday, March 7 with several virtual workshops and two seed giveaway locations.
Land to Hand Montana is hosting the event which aims to provide free seeds and agricultural workshops for communities across the valley. Some of the workshops this year include pickling, making skincare products and a kid's cooking class, among others.
Now years later, the McDyres have real children that they are able to support by working on the farm. Shawn said "mushrooms are finally paying the bills," after he and Jennifer settled into six acres outside of Kalispell and left their careers to run Sun Hands Farm full-time. The first year they grew mostly produce, but soon realized there was a larger demand for their mushrooms — a crop they can grow year round in sheds.

Shawn said when the couple moved to Montana he had an interest in permaculture, alternative agriculture and microbiology. This naturally spilled over into growing mushrooms, which was a difficult feat eight years ago before information about it was readily available on the internet. He said he started reading books on the subject and began experimenting.
"I converted our garage, parts of our house to all these cultivation processes and through years of trial and error, a ton of failure and horrible moldy experiments, we just learned what works and then luckily four years ago, when we got the farm, there started to be more of a presence on Youtube and other social media where people shared what they were doing," Shawn said.
With more people sharing how they grow their mushrooms, Shawn was able to work on the final kinks in his years-long experiment. Now they have no trouble growing the mushrooms or selling them. He and Jennifer have a booth at the Whitefish and Kalispell farmer's markets in the summertime and also offer a subscription box service. He said every year more and more people are interested in mushrooms. The fungi offer a sustainable source of protein and are manageable to grow indoors.
"So, in a little two-square-foot area you're growing pounds of pretty high protein food. Mushrooms are in-between eggs and chicken in terms of protein content, and then the health benefits of mushrooms are off the charts," Shawn said.
Shawn's workshop during the Free the Seeds event will include at-home, low-tech methods for growing that don't need a ton of infrastructure. He said he will focus on cultivating oyster mushrooms which he considers the easiest for beginners. Growing mushrooms can be done on many surfaces, but things like straw and logs are preferable. Shawn said once he teaches the basics, he talks about growing other types of mushrooms and the differences between their commercial-scale operation and smaller, at-home growers. This is his fourth year giving the workshop and makes it available after the fact on their Youtube channel.
"Growing mushrooms at home has the same principles as gardening…in theory, it all seems very step-by-step, but sometimes there's a lot of troubleshooting," Jennifer said. "In the beginning, it sometimes seems like people are hoarding information, that it's inaccessible or something they can't understand, where that's Shawn's whole goal: showing people this can be enjoyable, it can be fun, it is complicated and you can fail, but there are ways around that."
Mushrooms continue to put food on the table for Shawn and Jennifer. Soon, they hope to start offering more ready-to-grow mushroom logs — a sort of all-in-one package that makes growing much easier. In the summertime, Sun Hands Farm has a booth at the Kalispell and Whitefish farmers markets, but their mushrooms are available year-round with their subscription box service and can be found at some local grocery stores. Find out where their mushrooms are sold at sunhandsfarm.com.
"I think the last couple of years have taught us that our food system is brittle and fragile right now, the more we can focus on local foods, the better. 'Saving seeds' and sharing is the theme of the event this year…the idea that you grow a bunch and share it with your community, with someone who doesn't have that and pay it forward in some way. You always learn something when you come to one of these workshops," he said.
The Free the Seeds runs March 5-7. This year's event includes a free seed giveaway and free virtual workshops and a panel discussion.
Seed giveaways will be 9 a.m. to noon on Saturday, March 5 in Kalispell at Flathead Valley Community College in the west parking lot and in Columbia Falls at the ImagineIF Library.
Each virtual workshop will feature an expert presentation with time for questions and answers.
On Saturday, March 5 workshops include Building Community Seed Gardens by Robin Kelson of The Good Seed Co. from 2-3:30 p.m. and From Seed to Potent Skin Care by Annegret Pfeifer of Kettle Care Organics from 4-5:30 p.m.
Also on Saturday, a community conversation panel from 6-7:30 p.m. called Inform Our Future includes presenters who will lead an open discussion with panelists and then the floor will open up and participants will be encouraged to engage in the conversation.
On Sunday, March 6 workshops include Mushroom Cultivation by Shawn McDyre of Sun Hands Farm from 1-2:30 p.m.; Pickling Your Garden by Julie Laing by Twice as Tasty from 3-4:30 p.m.; Kids' Cooking Class by Farmer Whitney by Land to Hand Montana from 5-6:30 p.m.
On Monday, March 7, will be Seed Starting 101 by Nathan Christianson of Raven Ridge Farm from 5-6:30 p.m.
Pre-registration is required for all workshops. Links to registration forms can be found at landtohandmt.org/programs/free-the-seeds/.
Besides giving away seeds, Free the Seeds welcomes seeds saved by local gardeners to pass on to other growers. Heirloom, open-pollinated, and non-genetically modified seeds can be donated at ImagineIF library locations in Columbia Falls and Kalispell. Seeds can also be mailed to Land to Hand MT, PO Box 4404, Whitefish, MT 59937.
For more information, email freetheseeds@landtohandmt.org or call Gretchen or Andrea at 406-616-2017.
Recent Headlines
---