Kalispell man gets 55 years for killing man with brick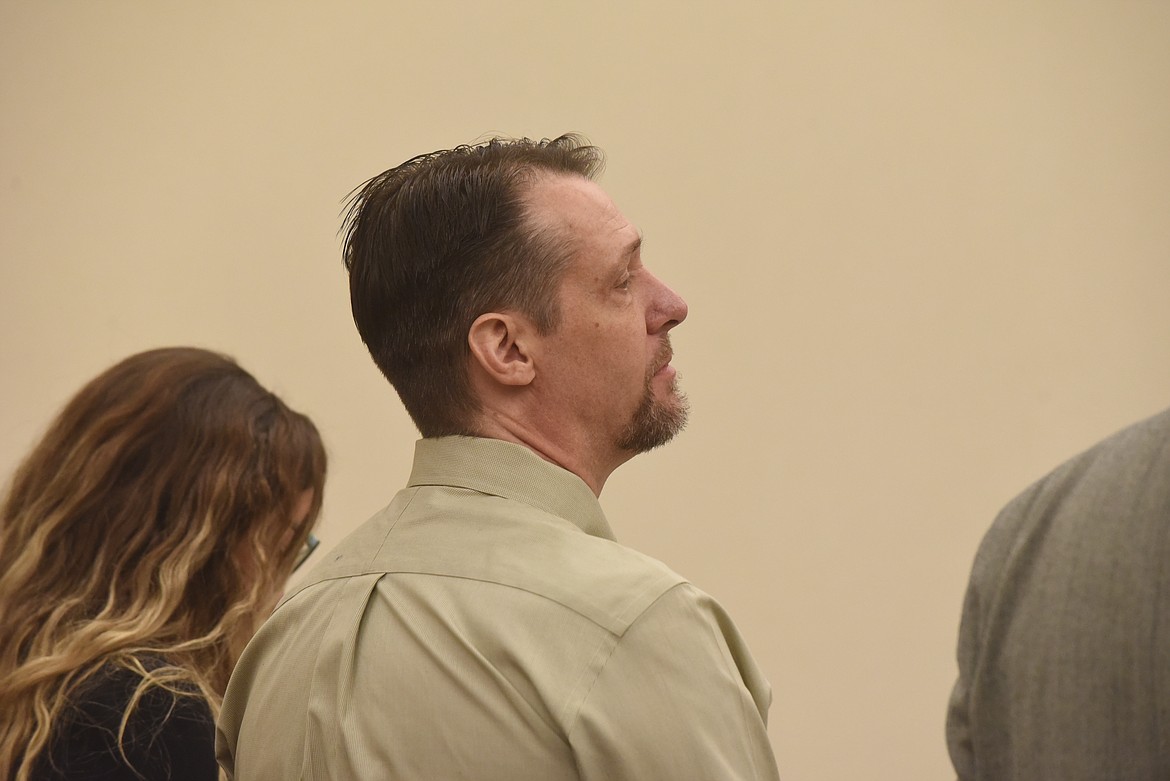 Leigh Garrett Medina, center, admitted killing Paul David Kellenberger Wednesday in Flathead District Court. (Scott Shindledecker/Daily Inter Lake)
by
Daily Inter Lake
|
January 1, 2022 3:00 PM
A Kalispell man who admitted to deliberately killing another man with a cement brick in 2019 is headed to the state prison.
Leigh Garrett Medina, 43, was sentenced Dec. 30 to 55 years in prison, with credit for 899 days served in the county jail. He will be eligible for parole consideration after serving 25% of his sentence. Flathead District Court Judge Dan Wilson presided over the sentencing.
In October, Medina pleaded no contest to one felony count of deliberate homicide after striking a plea deal following two days of a jury trial.
He admitted to killing David Paul Kellenberger, 67, with a cement brick on July 15, 2019, inside the victim's home on Lenwood Lane in Evergreen. The two were acquaintances who knew each other because of their involvement in the drug trade.
According to the court document, an eyewitness told law enforcement officers he saw Medina leave the home and told him to "not say anything" when the witness arrived looking for Kellenberger.
Another eyewitness said he was present when Kellenberger was killed. He said he saw Medina strike the victim several times in the head with a large cement brick.
The second witness said he told Medina to stop or he could kill Kellenberger, but Medina allegedly struck the victim several more times.
Documents also indicated Medina was found at a Third Avenue residence in Kalispell. After questioning, Medina allegedly admitted to being at Kellenberger's home earlier in the day.
Officers said they saw what they believed to be blood on Medina's clothing.
MEDINA HAS a prior criminal history in the Flathead dating back nearly a decade. In November 2009, Medina was accused of stealing several power tools and related items. He later pleaded guilty to an amended charge of theft and also to bail-jumping. He received a five-year sentence with three years suspended for the theft charge.
Then, in April 2014, Medina pleaded no contest to criminal endangerment after assaulting a man with a metal object at a Shadow Lane residence in Evergreen. The criminal complaint alleged Medina punched the victim in the face and struck him in the back of the head with a metal object that left the man bloody. The man fended off the attack with a rake he was using for yard work.
Medina also served time for those offenses.
Recent Headlines
---