Montana Coffee Traders to reopen Kalispell coffee shop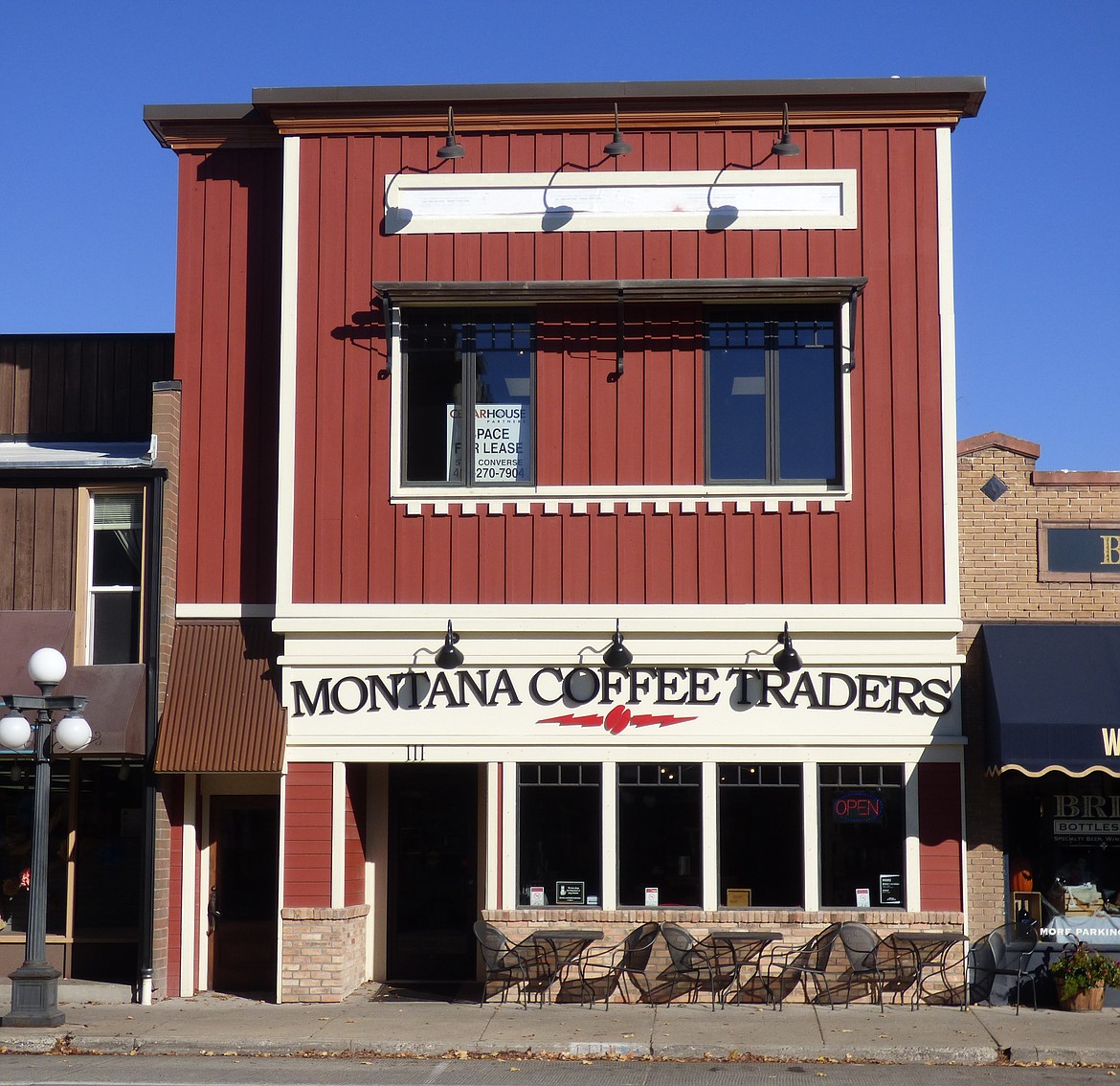 Montana Coffee Traders at 111 Main Street in Kalispell.
by
BRET ANNE SERBIN
Daily Inter Lake
|
January 2, 2022 12:00 AM
The aroma of fresh coffee, absent from downtown Kalispell since April 2021, will soon start wafting down Main Street once again. Montana Coffee Traders is planning on reopening its Kalispell cafe after a 10-month hiatus.
At this point, the coffee shop is targeting a February restart in downtown Kalispell.
"We're moving along," said Jessie Farnes, cafe coordinator with the Whitefish-based coffee company.
Founded at the U.S. 93 roastery in 1981, Montana Coffee Traders celebrated its 40th anniversary in 2021.
But the landmark year was filled with challenges for small businesses like Montana Coffee Traders, and the leadership team had to make some difficult decisions to keep operations running as smoothly as possible.
One adjustment with the pandemic was the conversion of the U.S. 93 location into Montana Coffee Traders Mercantile, a sleek and versatile model that could be tailored to social distancing guidelines.
The other major change was temporarily closing the downtown Kalispell coffee shop due to a lack of staffing. The suspension allowed Montana Coffee Traders to redirect resources into its other locations in Whitefish and Columbia Falls.
"The summer was very busy," Farnes recalled. "We wanted to focus on having enough time in our other locations. That's an ongoing challenge."
As soon as the hectic summer subsided, Farnes and her crew started contemplating the reopening in Kalispell. They entertained the idea of coming back in the fall, but that ultimately felt too rushed.
"We wanted to be sure we took all the necessary steps," she explained.
One of the biggest steps was finding a new manager. She didn't have to look far. The ideal fit turned out to be Abby Church, a Coffee Traders employee who joined the organization last October.
Church not only brings familiarity with the Montana Coffee Traders brand, but also a diverse resume that's particularly attuned to the unique situation at the Kalispell location.
Prior to joining Coffee Traders last year, Church, a lifelong resident of the Flathead, managed two small restaurants in Lakeside. The clientele there overlaps significantly with the population that visits the coffee shop on Kalispell's Main Street.
Church took a break from management when the pandemic hit, before moving north and starting as a barista at the downtown Whitefish Coffee Trader's location.
She eventually moved into a customer service role. When Church found out about the manager opening, she thought, "That sounds like fun. It'll be a good project."
Farnes said the Coffee Traders leadership was hoping to find someone who fits the culture of Montana Coffee Traders, knows the local community and brings management experience to the Kalispell café. Church, she said, "ticks all of those boxes."
With a new manager, however, there will be some new changes at the Kalispell cafe.
"It will be a new style of cafe," Farnes explained.
The coffee shop is taking a departure from the full-service breakfast it offered before closing, and will instead operate with a more limited menu similar to the downtown Whitefish coffee shop. Since cooks are one of the hardest positions to hire, limiting the need for those workers made the most sense.
Farnes said the Kalispell shop will continue to offer beans, signature coffee drinks, and its famous curry.
"We're thinking creatively," she said. "It's been a challenge to be closed for this period of time."
Montana Coffee Traders' Kalispell coffee shop is located at 111 Main Street S. It will be open from 8 a.m. to 2 p.m., Tuesday through Saturday. An exact reopening date has not been set.

Reporter Bret Anne Serbin may be reached at 406-758-4459 or bserbin@dailyinterlake.com.
---