Busy day starts off recreational pot sales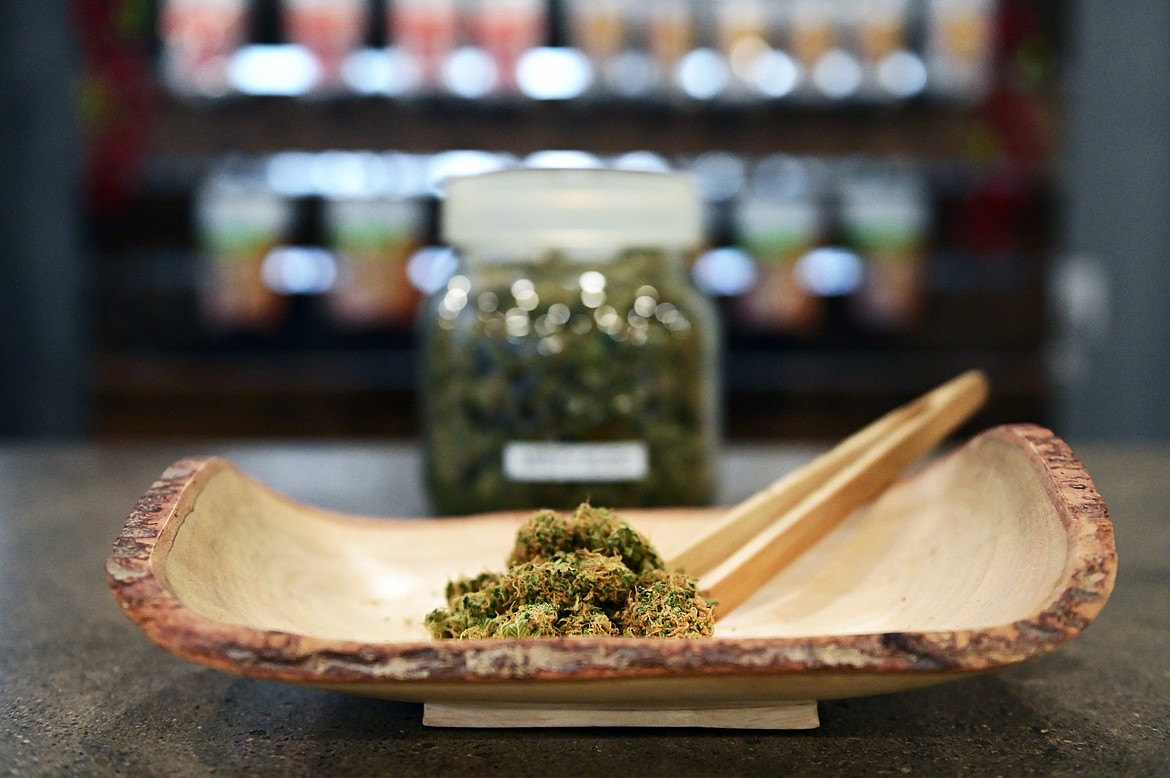 An indica strain of marijuana called Misty Kush is shown at Fruit Factory in Columbia Falls on Wednesday, Dec. 22. (Casey Kreider/Daily Inter Lake)
by
BRET ANNE SERBIN
Daily Inter Lake
|
January 4, 2022 12:00 AM
Sales lit up at local cannabis dispensaries this weekend with the inauguration of legalized recreational marijuana in Montana.
House Bill 701 took effect on Jan. 1, giving marijuana dispensaries the newfound ability to sell recreational cannabis to adult users with a valid driver's license. Dispensary owners reported a busy weekend as a result of the legislation becoming official.
"It was crazy," said Eric Harding, the Operations Manager at Lifted Meds in Evergreen.
As soon as Lifted Meds opened on Saturday morning, Harding said, there was a line wrapped around the building. Harding started the day with 35 people in his waiting room. He said the longest a client waited was half an hour to get their hands on recently legalized cannabis products.
"It was great," Harding said. "It was very interesting. There were a lot of happy Montanans."
He estimated Lifted Meds served at least double the number of customers the shop would see on a typical Saturday.
He said flower — the smokeable part of the cannabis plants — dominated sales on Saturday.
"Flower is king," Harding said.
Other forms of cannabis, including pre-rolls, edibles and concentrates, have also been popular, according to Harding. He said the breakdown of sales didn't change much this weekend, even though the Saturday crowd included a lot of new customers.
The pace of sales hasn't shown any sign of slowing since Saturday morning, either. Harding said he's continued to contend with lines out the door every day since legal sales took effect.
Harding is confident Lifted Meds is in good shape to serve all the new customers, but there are concerns over whether production can meet demand.
"We're more prepared than most," he said. "I feel we're as prepared as we can be."
He advised new customers to make sure to bring a valid photo ID to the shop in order to legally purchase products there. He also suggested signing up for Lifted Meds' preregistration program in order to make the purchasing process more efficient.
PAULSON PALMER also reminded shoppers to come with their photo IDs to the three Fruit Factory locations he runs in Kalispell, Evergreen and Columbia Falls.
Palmer, like Harding, said recreational marijuana sales have been busy at his trio of stores.
"We definitely saw a spike in our business," Palmer reported. "There was a steady flow all day Saturday and Sunday. We had fantastic days at all three stores."
Palmer is hopeful the production side of The Fruit Factory can keep up. Prior to legalizing recreational sales, all cannabis businesses were required to follow a vertical model, so all of the product had to be cultivated and manufactured by the seller. Now, businesses like The Fruit Factory are free to work with other partners to source their material.
Palmer said he added another wholesaler this past weekend to meet demand. He's using the Montana Cannabis Industry Association's new website, which connects different growers and sellers, to make sure The Fruit Factory is well-equipped.
It remains to be seen, however, where demand will ultimately settle after the initial excitement over recreational sales. He said it's too early to tell how much product he'll regularly need, and he'll have to adjust for seasonality over time, too.
"We're trying to identify what is that demand," Palmer explained. "We're figuring out schedules. We're getting things adjusted."
Reporter Bret Anne Serbin may be reached at 406-758-4459 or bserbin@dailyinterlake.com.
Recent Headlines
---