'We will rise' — Linderman student's drawing chosen as mascot design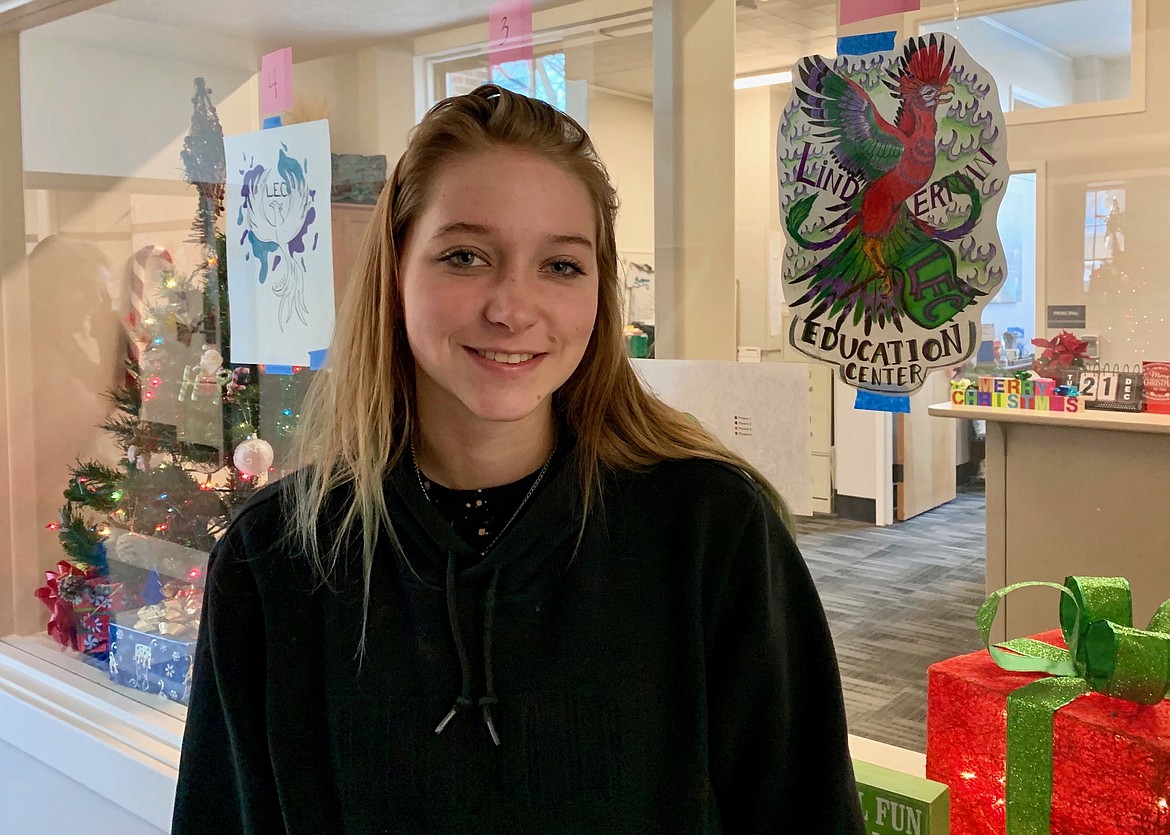 Kenzye Fishel stands next to her winning mascot design at Linderman Education Center Tuesday, Dec. 21, 2021. Linderman chose the mythical phoenix as a school mascot and asked students to submit and vote on designs. (Hilary Matheson/Daily Inter Lake)
by
HILARY MATHESON
Daily Inter Lake
|
January 4, 2022 12:00 AM
Kenzye Fishel's drawing of a phoenix in flight against a backdrop of flames was chosen to be the design for Linderman Education Center's new mascot.
The design was one of five submissions to a school mascot design contest the school held recently. Until last year, after a student council was formed, the school didn't have a mascot. Linderman is an alternative school serving Flathead and Glacier high school students.
Linderman Director Jodie Barber said a mascot has been requested for a long time.
"I said no, we don't need a mascot, we're not a traditional school," Barber said, noting that the school doesn't have sports teams, for example, to use a mascot.
"We have our Infinity Bridge outside — the sculpture — that's kind of what I have used as our representation of us," she said.
The sculpture, a collaboration between former students and local artist Lee Proctor in 2014, served as Linderman's logo. Made of glass and steel from a local dismantled bridge, it symbolized the merging Bridge Academy and Laser Alternative School in fall 2013.
"Then we got a student council last year. They said, 'We really want a mascot.' So last year, we voted on the mascot. We had students vote between the trailblazers and the phoenix."
While the sculpture represents the unified programs, the mythical firebird symbolizes the perseverance of students attending and graduating from Linderman. The next step is to have a graphic designer adapt Fishel's drawing into a graphic. While it hasn't been determined yet where the mascot will be used, Barber thinks it could be used on school gear, such as T-shirts, or put on the school's website. "We will rise," is the slogan Barber imagines will be incorporated when the mascot is used.
FISHEL HAS her own story of overcoming obstacles. During an interview at Linderman in December, Barber asked if she could share Fishel's personal story.
"Yeah, sure," she said.
"So, Kynze came to us as a freshman and she was pregnant and she struggled in her pregnancy. There was some different medical stuff going on. We didn't see her her sophomore year and she came back her junior year and said 'I want to come to school,'" Barber said, adding that Fishel had very few credits.
Topping it off, Fishel got Covid and had to quarantine for a period of time.
"She worked really, really hard her junior and senior year she came back for just a quarter of a fifth year and finished and graduated. So when I look at — not that her life was the ashes — but that she definitely is someone who had a story and persevere and graduated with a beautiful baby boy who is almost three," Barber said, bringing out a coloring book for Fishel's busy toddler, Nova.
"I definitely try to do art with him. He loves to color," Fishel said.
Like his mother, he also likes to draw, even on the walls at home Fishel said, smiling.
Fishel recalls finishing the phoenix drawing in the nick of time.
"On the last day before I finally got my last credit I finished it during the day," Fishel said. "Perfect timing."
The only guidelines for the contest were that submissions had to feature original artwork with the school colors purple and teal.
Fishel said she has taken art throughout high school and loves drawing and her current tool of choice are colored pencils.
"I like it because of all the colors that you can put into something," she said. "Yes, the expression of it, like making something come to life."
Now that Fishel's achieved her goal to graduate she's looking forward to the future.
"Now, I'm just trying to figure out where to go from here," she said hoping it will be something that involves art.
Reporter Hilary Matheson may be reached at 406-758-4431 or hmatheson@dailyinterlake.com.
Recent Headlines
---