The Hockaday presents Members Salon 2022
|
January 6, 2022 12:00 AM
Members Salon 2022 will be on view Jan. 7 through April 2 at the Hockaday Museum of Art in Kalispell.
An opening reception will be held from 5 to 7 p.m. Thursday, Jan. 13, with food catered by Desoto Grill.
This community favorite exhibition provides an opportunity for artists of all ages and skill levels to exhibit recent work together. Visual arts of all styles and mediums will be on view, including painting, sculpture, photography, drawing and more.
The Members Salon also includes a People's Choice Award for first, second and third prizes. Voting opens to the public beginning at the opening reception Jan. 13. Voting ends on Feb. 3. Awards are: First place, $250, second place, $100, third place, $50.
Artists are also invited to sell their work as a shared fundraiser for the museum and the artists.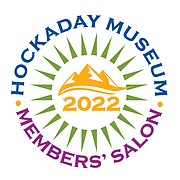 ---