Merry Maker kicks off Whitefish Winter Carnival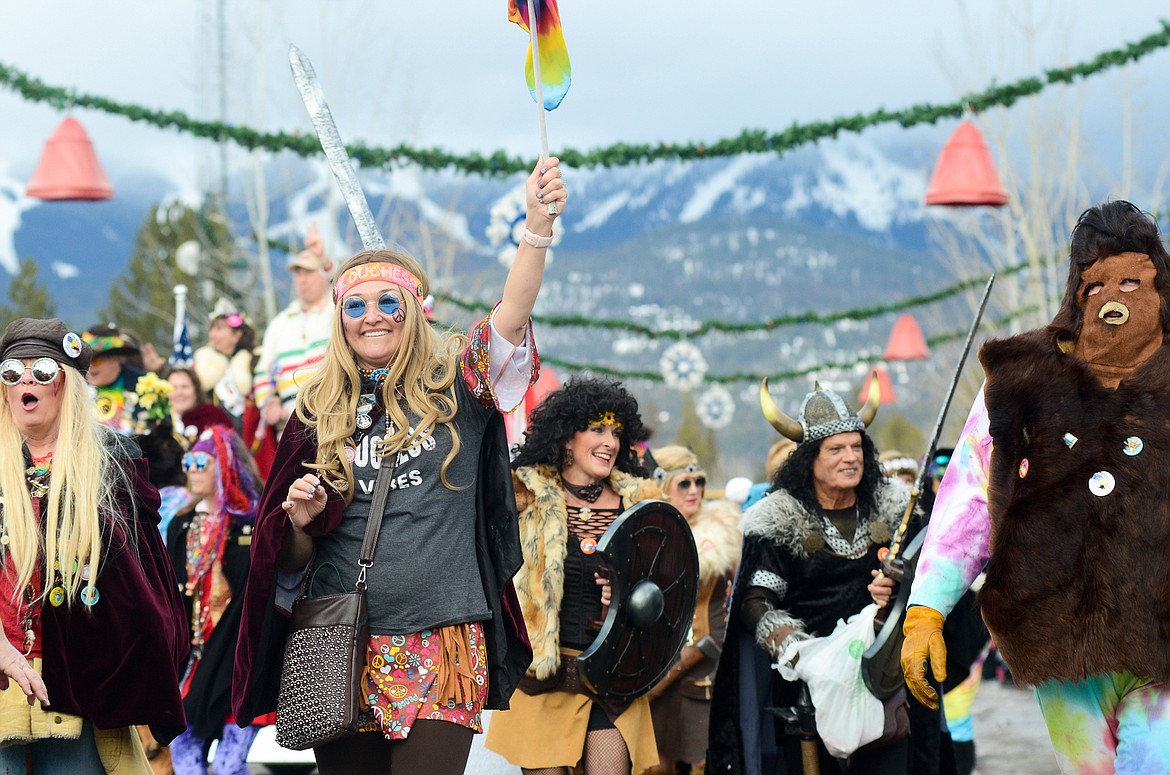 Scenes from the 2019 Whitefish Winter Carnival Grand Parade on Central Avenue in downtown Whitefish. The theme was Whitefish Woodstock. (Matt Baldwin/Daily Inter Lake file photo)
The Whitefish Winter Carnival LXIII gets under way starting today, Jan. 8, with the festive, bawdy adults-only Merry Maker party at 6 p.m. at the Whitefish Moose Lodge, a hilarious and hearty roast of Whitefish and current events.
This year's carnival takes on an '80s Rewind Totally Rad theme.
Festivities next week include the coronation of King Ullr and the Queen of the Snows and the Disco Party.
The coronation is a fun, family event takes place at 7 p.m. Saturday, Jan. 15, at the O'Shaughnessy Center. Be sure to get your Viking Diva kiss for protection from the lurking Yetis.
The Disco Party gets started at 9 p.m. at the Great Northern Bar. Prepare to groove. There will be prizes for best costume. You must be 21 or older to attend. There is a $15 cover charge, which includes a Carnival button.
On Jan. 21, Prince Frey and Princess Freya will be coronated at 7 p.m. at Whitefish High School between the girls and boys varsity games. Join the annual tradition and cheer on the Bulldogs.
Other upcoming Winter Carnival events include:
• Jan. 29-30 — Skijoring competition, Big Mountain Ranch
• Feb. 4 — Carnival Gala, 6 p.m. Whitefish Lake Restaurant. For those 21 and older, no host cocktails and a silent auction/raffle starts at 6 p.m. The program and dinner begins at 7 p.m. Tickets go on sale online Jan. 17.
• Feb. 5 — Penguin Plunge, 11 a.m. Whitefish Lake
• Feb. 5 — Pie social 12:30 to 3 p.m. St. Charles Parish, 230 Baker Ave. Pie and coffee will be for sale.
• Feb. 5 — Grand Parade, 3 p.m., downtown Whitefish, immediately followed by the Parade Social at the Firebrand Hotel.
• Feb. 6 — Rotary Pancake Breakfast, 8 a.m. to 1 p.m. at the Whitefish Moose Lodge.
• Feb. 16 — Grand prize button drawing, noon, First Interstate Bank. Chance to win either a 2021-2022 Whitefish Mountain Resort ski pass or $200.
For tickets and more details, visit whitefishwintercarnival.com
Recent Headlines
---