Brother duo takes family pride in tattoo parlor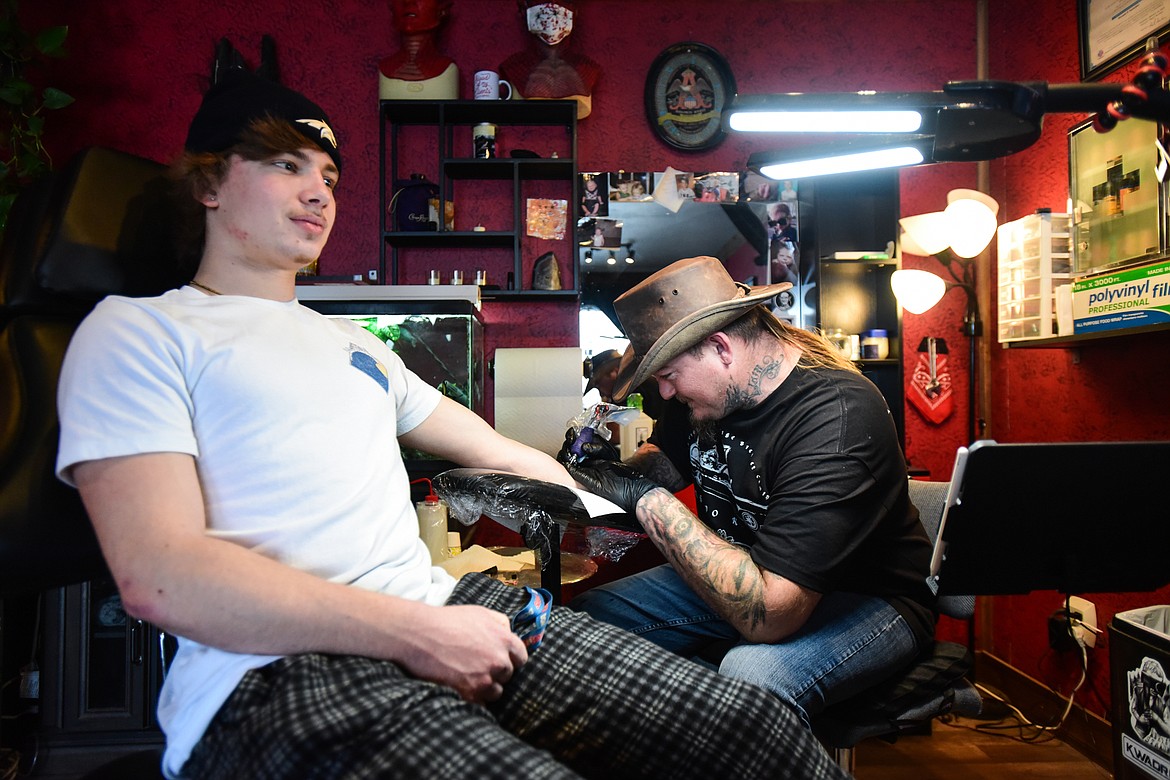 Ryan Swindler tattoos the forearm of Bridger Beach at Swindler Ink in Kalispell on Wednesday, Jan. 5. Beach was getting a short note from his sister tattooed on his arm. (Casey Kreider/Daily Inter Lake)
Ryan Swindler opens up an adhesive healing bandage to place on Bridger Beach's finished tattoo at Swindler Ink in Kalispell on Wednesday, Jan. 5. (Casey Kreider/Daily Inter Lake)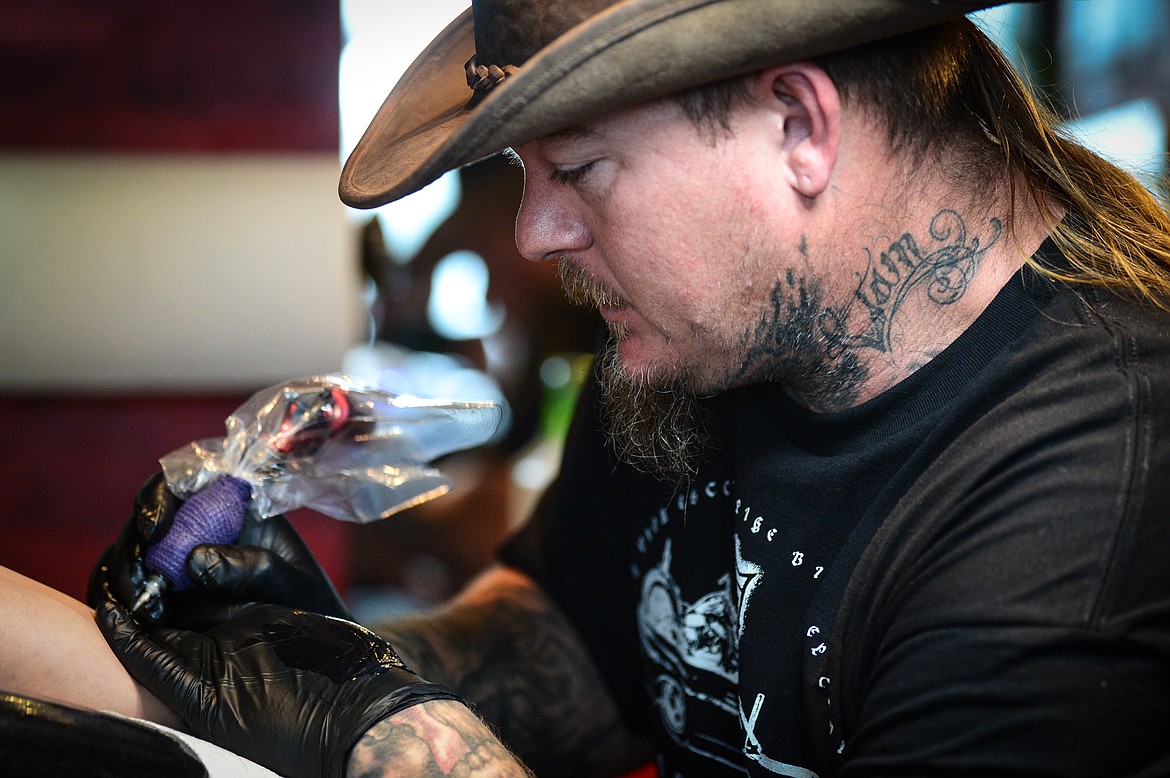 Ryan Swindler tattoos the forearm of Bridger Beach at Swindler Ink in Kalispell on Wednesday, Jan. 5. (Casey Kreider/Daily Inter Lake)
Ryan Swindler compares a sketch to the finished tattoo on Bridger Beach's forearm at Swindler Ink in Kalispell on Wednesday, Jan. 5. (Casey Kreider/Daily Inter Lake)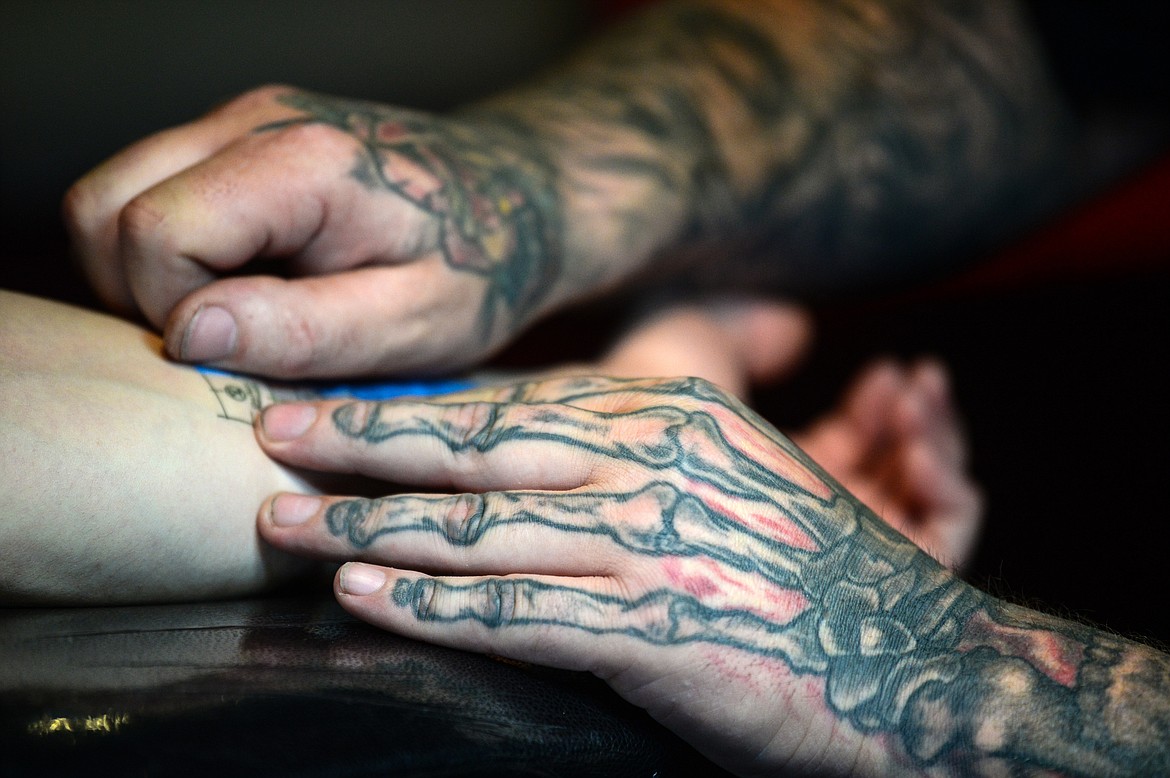 Ryan Swindler places an adhesive healing bandage on Bridger Beach's finished tattoo at Swindler Ink in Kalispell on Wednesday, Jan. 5. (Casey Kreider/Daily Inter Lake)
Previous
Next
by
BRET ANNE SERBIN
Daily Inter Lake
|
January 9, 2022 12:00 AM
Anyone with a tattoo knows the temporary suffering is worth the long-term satisfaction. That's how Ryan Swindler feels about Swindler Ink, the tattoo shop he runs with his younger brother Mike.
The brothers set up business in South Kalispell, next to Vintage Technologies motorcycle shop, in fall 2020.
"It's been a wild ride," said Mike.
"We've turned it into something not negative," agreed Ryan. "We didn't take the easy route."
The wild ride started when both brothers were working as heavy equipment operators. Ryan did a little tattooing as a hobby, but he never envisioned he would own a tattoo parlor.
"I wouldn't have believed it if eight or nine years ago, you told me I would own a tattoo shop," said Ryan. "It's crazy the path life takes you."
Ryan's path took a jarring turn when he was rear-ended by a semi-truck in Whitefish approximately 14 years ago. The accident left him with a back injury that prevented him from continuing to work as a heavy equipment operator, so he turned his hobby into a profession.
"Let's take this seriously," Ryan decided.
He started his first professional tattoo stint at Bad Rock Tattoo in Columbia Falls.
"That was cool," Ryan said of his time at Bad Rock. "I'm super appreciative. It took off from there."
After a few years, he had built up his skill and his client base to the point that he could go out on his own. He ran a shop in Bigfork and a mobile tattoo truck for a while before the Covid-19 pandemic put a halt to tattoos.
Ryan waited eagerly for quarantine restrictions to lift before he finally had the chance to open Swindler Ink in Kalispell.
"We had to restart," Ryan recalled, lamenting the challenges his shop endured due to the pandemic. "It seems to be going uphill now."
Ryan remodeled a break room that was part of the former Habitat for Humanity store and turned it into a small, intimate shop with fish tanks to help him and his clients feel comfortable and relaxed.
A few months after getting set up in the new shop, Ryan brought on his brother, Mike, as his apprentice.
"Ryan showed me a different way to make money," Mike said. "It's honest, fun work."
THE BROTHERS said the shop, which is open until 10 p.m., stays consistently busy. Mike said he's still honing his individual style, while Ryan prides himself on his versatility.
"I like being well-rounded in all the categories," Ryan said. "If the customer is happy, I'm happy."
He said cleanliness and customer service are also points of pride at Swindler Ink.
"It's somewhere everybody can come," said Mike.
Ryan said he's given tattoos to paramedics, policemen, teachers, and even a woman in her 70s who wound up coming back for a second piece of art.
"We built a lifetime relationship," Ryan said. "That's when I knew it wasn't just about the money."
"It kind of choked me up," said the heavily inked, long-haired tattoo artist from beneath his leather cowboy hat.
Swindler Ink is located at 2610 U.S. Hwy 93 South, Kalispell, MT 59901. Hours are 12 p.m. to 10 p.m. on weekdays.
Reporter Bret Anne Serbin can be reached at 758-4459 or bserbin@dailyinterlake.com
Recent Headlines
---