Two big housing projects up for consideration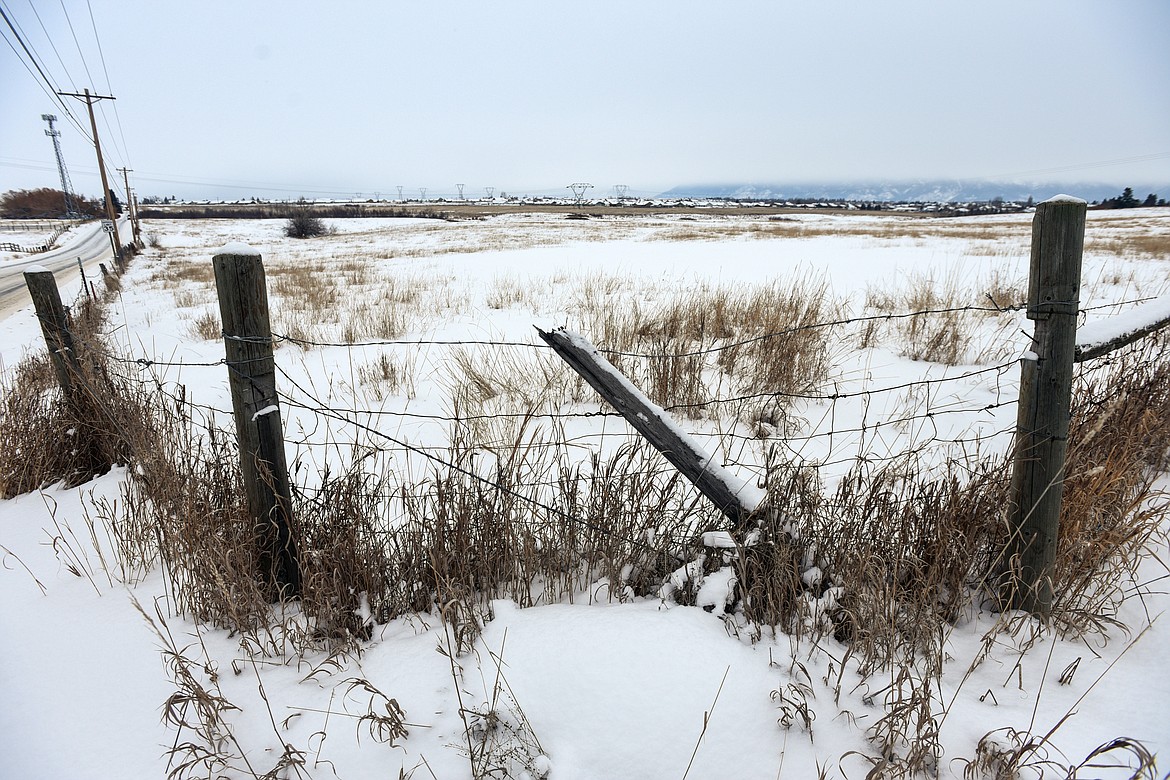 Site of a proposed development at West Springcreek Road and Two Mile Drive on Wednesday, Jan. 5. (Casey Kreider/Daily Inter Lake)
by
BRET ANNE SERBIN
Daily Inter Lake
|
January 9, 2022 1:00 AM
The need for housing has become one of the most critical challenges facing the Flathead Valley, and builders are racing to meet the demand.
Two proposals before the Kalispell Planning Board on Tuesday would add substantial housing stock to the city's inventory.
The planning board will hold a work session for a massive new housing proposal by GKM Associates, LLC for Spring Creek Park, a development that would add a total of 642 new living units in North Kalispell.
The Kalispell developer is proposing a sweeping new project that would include 65 single-family dwellings, 113 townhome/rowhouse dwellings, and 464 multi-family dwelling units, along with two commercial lots, a park area and open space.
The property is located on 90 acres east of West Springcreek Road, between Two Mile Drive and Three Mile Drive.
The developer has submitted an application for a zone change and a planned unit development overlay to bring the ambitious plans to life.
The proposed zone change would rezone approximately 44.24 acres of the R-3 Residential zoning to RA-1 (Residential Apartment). It would also realign and expand the B-1 Neighborhood Business area to approximately 5.82 acres. The existing planned unit development overlay would be replaced with a new overlay on the entire property.
The developer is also seeking preliminary plat approval for 40 acres in the southeastern portion of the property to build the single-family lots and 95 of the townhome/rowhouse lots.
"It's a lot," said PJ Sorenson, Senior Planner for the city of Kalispell.
AT THE same meeting, the planning board will hold a public hearing for a proposal to turn the Fairbridge Inn & Suites and Outlaw Convention Center, formerly known as The Outlaw Inn, into roughly 250 studio apartments.
Fortify Holdings, a Portland company with experience working on apartment complexes in Washington and Idaho, is proposing the remodel.
The hotel rooms would become studio apartments renting for approximately $1,000 a month. The interior commercial space would be refurbished for other commercial uses that haven't been determined yet. The parking lot would be upgraded. The cabins on the property don't have their future decided at this point.
"It's certainly a location that could use a facelift," Sorensen told the Daily Inter Lake.
THE TWO most recent proposals follow on the heels of a year full of development for the city of Kalispell.
The Kalispell Planning Department issued 402 building permits in 2021, including 116 townhouse permits, 185 single-family residential permits, 19 duplex permits and 21 apartment permits.
The Planning Department approved 468 residential building permits in 2020, a massive jump from 244 residential permits issued in 2019.
Sorenson expects the recent building trends to persist in the new year.

"We're fully expecting to stay busy," he said.
A combination of already approved projects and new interest is likely to spur continued growth, Sorenson predicted.
He pointed out numerous multi-phase projects are progressing throughout the city, like the 600-unit Parkland Meadows development in South Kalispell.
"We're starting to see some of those get underway," he said.
Every indication, including Spring Creek Park, suggests more big developments are on their way.
Sorenson said the need for housing is top of mind for city officials and local builders, since the vacancy rate in the city currently sits at 0%.
"That demand is still there," Sorenson stressed. "It's definitely moving forward quickly."
BUT SOME nagging challenges threaten that progress.
Builders, who have weathered a volatile year and a half, don't see any signs that recent construction trends will change soon. That means persistent high demand, material scarcities and labor shortages.
"I don't see it slowing down," said Ben Davis with Seven Hills Construction.
Davis was blunt: there is "no way" contractors can meet the demand they're currently facing.
"Good contractors are turning away more work than they're taking on," he said.
One of the biggest challenges builders like Davis are encountering is ongoing product scarcities.
"Shortages on all kinds of products are affecting every part of the home," said Davis.
Bear Barinowski said Malmquist Construction is running into shortfalls of everything from high-tech equipment that requires semiconductors, to windows that now take 20 to 22 weeks to arrive after ordering.
"In general, everything is creeping up and getting more expensive," said Barinowski.
The shortages are driving up costs, increasing the time it takes to build a house and forcing contractors to get creative in their processes.
"You have to change how you build," said Davis.
Contractors also have to change who does the building, because the lack of laborers has only grown more pronounced as demand has increased.
"Labor has definitely gotten worse," Davis observed. "There is more construction than people to do [the work]."
Barinowski said contractors are watching subcontractors pick and choose the projects they take on with increased flexibility.
Davis thought wage increases might be helping bring on workers, but they aren't making a big enough dent to influence the overall market.
Therefore, he urged home buyers to be understanding of the constraints on the construction industry.
"The process itself is not quite as simple or straightforward as it used to be," Davis pointed out. He advised: "know what you're getting into."
Reporter Bret Anne Serbin may be reached at 406-758-4459 or bserbin@dailyinterlake.com.
Recent Headlines
---