Flathead leads state in new business starts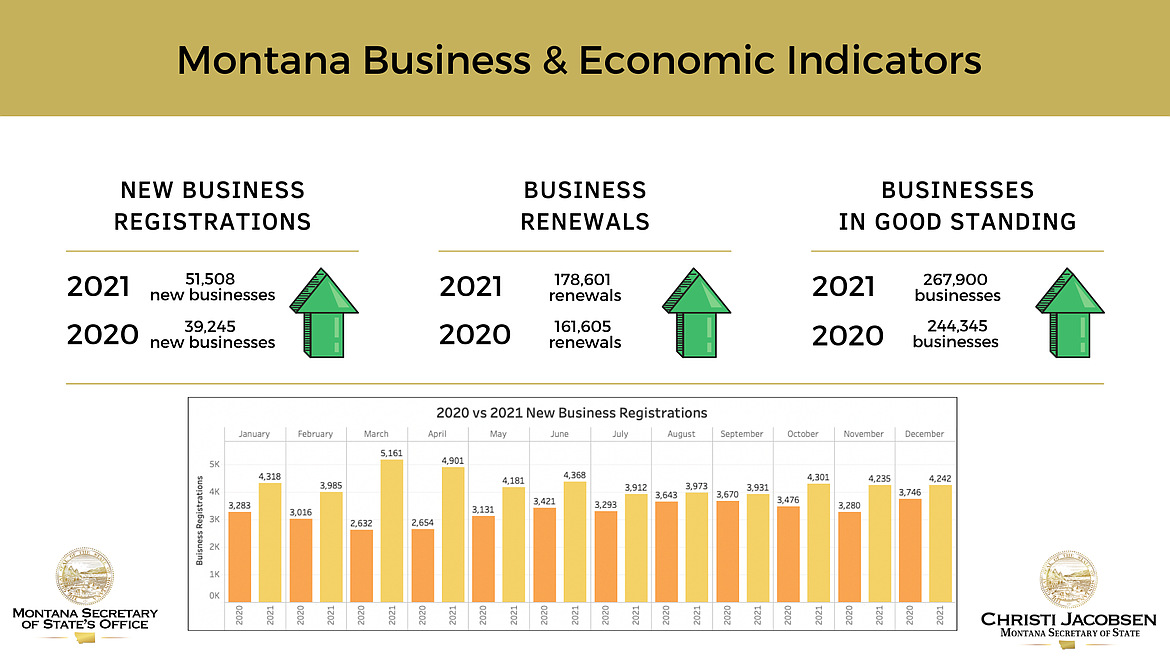 Data from the Montana Secretary of State's Office.
by
Daily Inter Lake
|
January 12, 2022 4:00 PM
Flathead County led the state in the number of new businesses registered in the state in 2021.
According to data from the Montana Secretary of State's Office, the 59901 ZIP code for Flathead County had the highest total in 2021, with more than 7,000 new businesses registered. 
The 59937 and 59912 ZIP codes in Flathead County were also among the highest in the state, with 1,030 and 604 starts, respectively.
Statewide, more than 51,500 new businesses were registered, setting a new record. The previous high was in 2020 with 39,245 new business registrations.
The number of new businesses has grown steadily each year over the last decade, with the largest increases coming in 2020 and 2021.
"A key indicator for economic strength in Montana is the continued growth of new businesses," said Montana Secretary of State Christi Jacobsen in a press release, "and the number of new businesses in Montana just continues to grow."
According to the state data, March had the largest number of business registrations in 2021, with 5,161 new businesses registering with the Secretary of State's Office. April had the second highest total with 4,900.
Montana Chamber of Commerce President and CEO Todd O'Hair said the data points to a strong economy.
"You can feel the optimism growing for Montana's future in every business sector," O'Hair said in the release.
The data also shows that 28,681 businesses were inactivated, also the highest in the last decade. More than 25,000 business were inactivated in 2020.
Flathead County led the way in inactivations last year, with 303 filed in ZIP code 59901.
Statewide, there were also 178,601 renewal filings in 2021 and 267,900 businesses in good standing, both increases over the prior year. 
The Montana Business Economic Report can be found on the Secretary of State website at sosmt.gov/economic-report/
Recent Headlines
---