Youso, one of 3 co-captains, having excellent senior season for Brawlers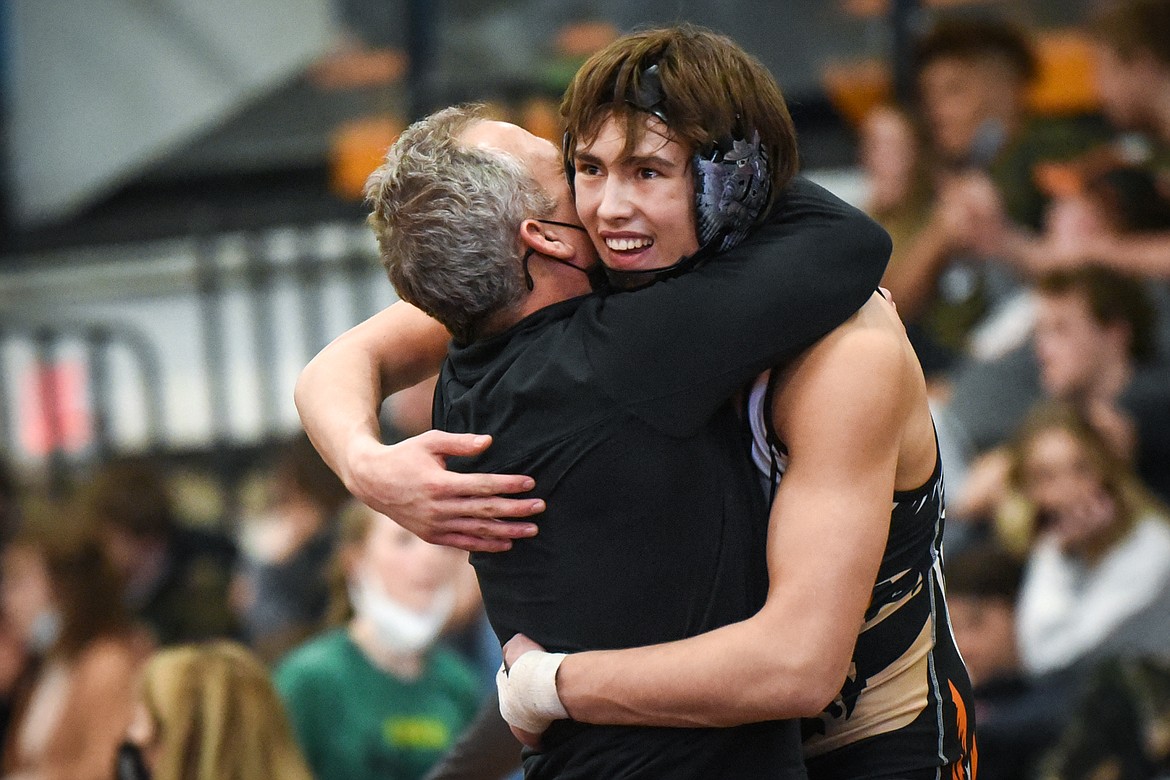 Flathead's Chase Youso gets a hug from a Braves assistant coach after placing third at 170 lbs. at the State AA wrestling tournament at Flathead High School on Saturday. (Casey Kreider/Daily Inter Lake)
by
FRITZ NEIGHBOR
Daily Inter Lake
|
January 12, 2022 8:33 PM
To hear him and his coach tell it, wrestling was not a duck-to-water sport for Flathead 205-pounder Chase Youso.
It's going swimmingly now.
He's 16-1 going into tonight's Crosstown Duals at Glacier High School. A non-placer as a freshman, Youso took fifth at state at 160 pounds as a sophomore, then third at 170 last season, when the Brave Brawlers won the State AA championship on their home mats.
Now he's ranked No. 2 at his weight class and coming off an impressive weekend: He went 4-0 and took the 182-pound title at the Rollie Lane Invitational tournament in Boise.
"This is arguably one of the toughest tournaments in the United States," Flathead coach Jeff Thompson said. "And Chase was on the mat about four minutes."
"I didn't get a point scored on me all weekend," Youso said, a bit of surprise in his voice.
"Success in wrestling didn't come natural to Chase," Thompson noted. "He's one of those kids that had to put the time in. He maybe wasn't a natural, and maybe didn't win a lot of matches early. But he always had the passion for it, always loved the sport.
"You can come a long way with that."
Youso describes getting hooked on wrestling about age 5, when his brother Shade started in the sport in Bigfork. By 2015 Bigfork was restarting its high school program, but Chase opted to head for Kalispell Middle School and more year-round opportunities.
The natural next step was Flathead.
"Coming from Bigfork into KMS was a pretty big jump," Youso said. "Coming into the Flathead wrestling room, it was way more intense. I didn't know what I was getting into.
"But everything worked out. Made me jump the steps I needed to, to become a better wrestler."
Thompson struggles to describe Youso's style.
"He's one of those artistic wrestlers," Thompson said. "He really studies the art, the form. It's like a game of chess to him. He has long limbs and kind of does this funk and always ends up on top, putting people on their back and getting a pin.
"I don't know how you put it all into words, but it is really cool."
Youso gives credit to his brother grappling with him as a youngster, and to current wrestling partners Sawyer Troupe (ranked No. 6 at 205), Gabe Lake (No. 2 at 160) and Noah Poe-Hatten (No. 1 at 182).
"I would say my success came later,' he said. "All through my life, I wasn't a very good wrestler. But then I started wrestling all year-around and getting on the mat as much as I could. It started coming to me. I started seeing improvement."
It's worth noting that both Youso and Poe-Hatten moved down a weight in Boise and won (as did Fin Nadeau, who stayed at 145). They'll be back at 205 and 182 the rest of the year, most likely.
"We are light for our weight," Youso noted. "I'm like usually, 186, 188. I have to wrestle 205 for state, because it's about the amount of wins."
There's al;so a lot to be said about not having to cut weight.
"First off, you can eat," Youso said. "You can stay hydrated. Not having to watch your weight is nice."
Youso has signed a letter of intent to wrestle at the NAIA University of Providence in Great Falls, probably at 197 pounds. He figures to study business administration, but also wants to go to lineman school after that, following in the footsteps of his electrician dad.
Right now, though, there's about a month of high school season left. State is Feb. 11-12 back at the MetraPark in Billings, where West and Senior High will be formidable obstacles to a repeat.
Individually, Great Falls' Brendan Lockart is ranked No. 1 at 205. Lockhart pinned Youso in the 170 semifinals at state last year ("He caught me," Youso said), but Youso beat him later at the State Greco-Freestyle meet in Butte.
"So we've been going back and forth," he said. The two could well meet this weekend at the Rocky Mountain Classic in Missoula.
"I'm excited to wrestle him again. I feel I've improved," he said, then adds: "This year is looking good for us. We're so stacked, in all the weights. And we've all improved from last year. Hopefully we'll win the boys and girls again."
Recent Headlines
---