Braves, Bravettes win crosstown duals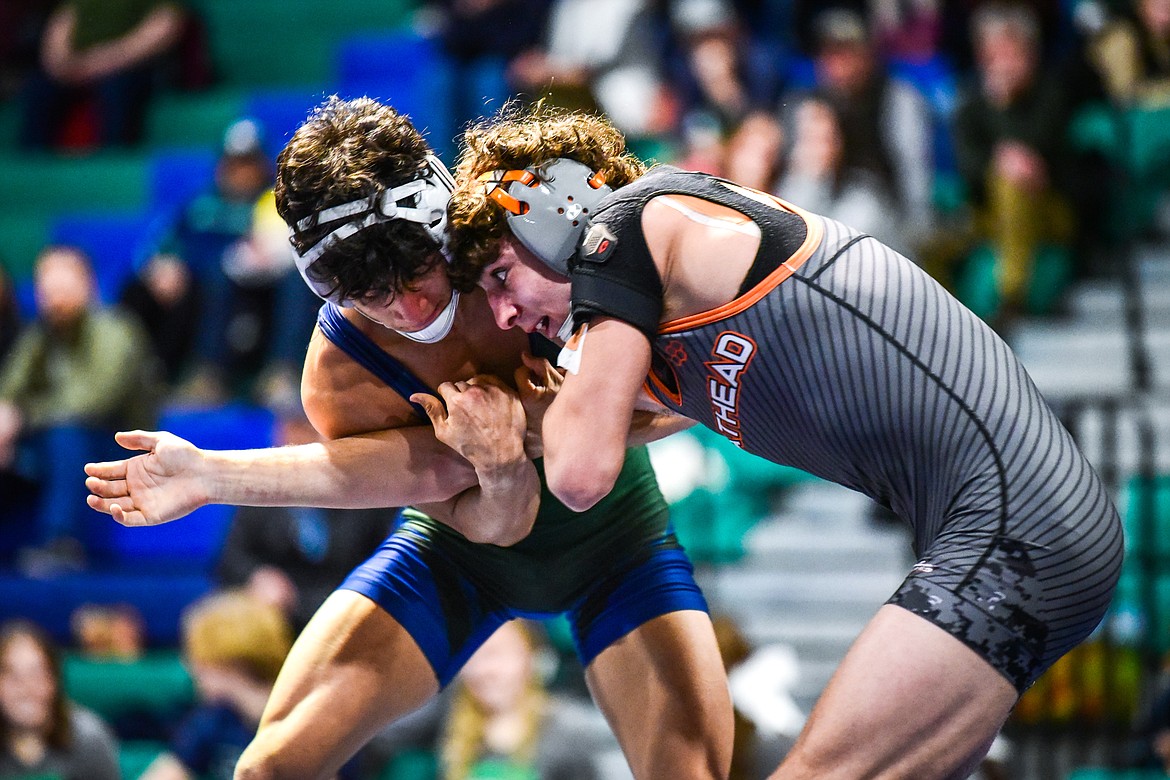 Glacier's Teegan Vazquez wrestles Flathead's Asher Kemppainen at 132 pounds at Glacier High School on Thursday, Jan. 13. (Casey Kreider/Daily Inter Lake)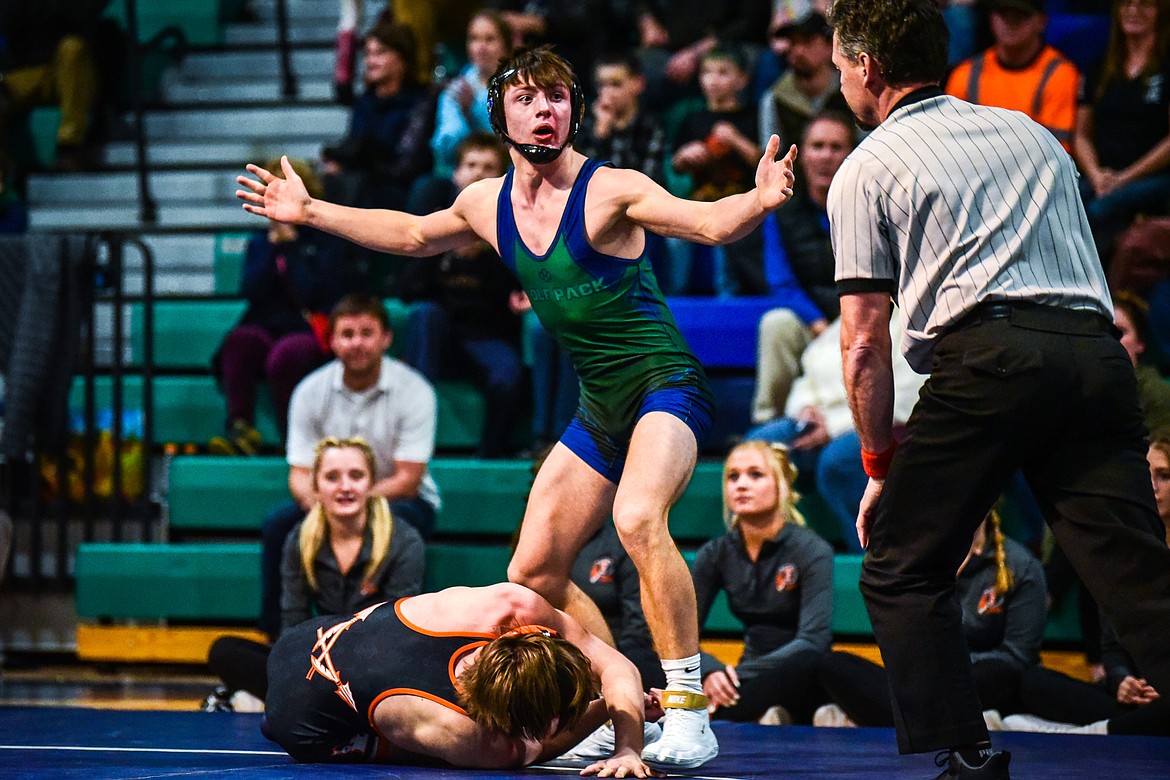 Glacier's Kaleb Shine celebrates after a pin of Flathead's Cade Gardner at 138 pounds at Glacier High School on Thursday, Jan. 13. (Casey Kreider/Daily Inter Lake)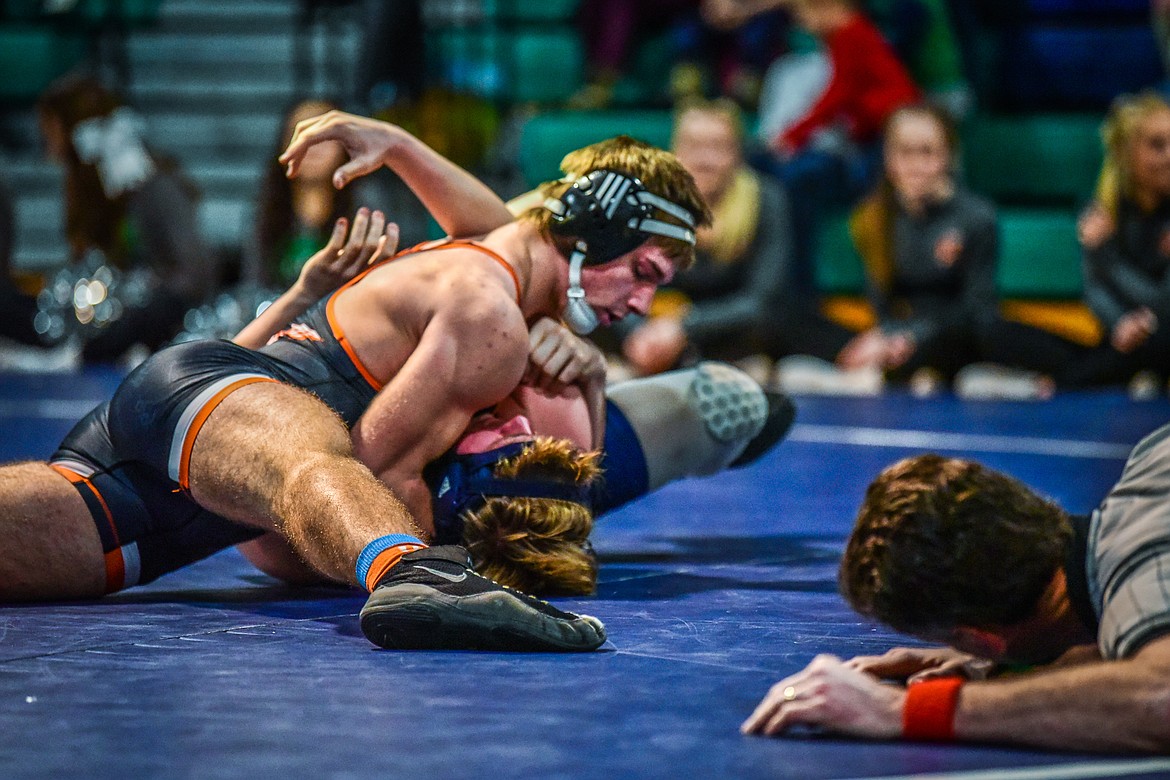 Flathead's Noah Poe-Hatten works toward a pin of Glacier's Colton Vergeront at 205 pounds at Glacier High School on Thursday, Jan. 13. (Casey Kreider/Daily Inter Lake)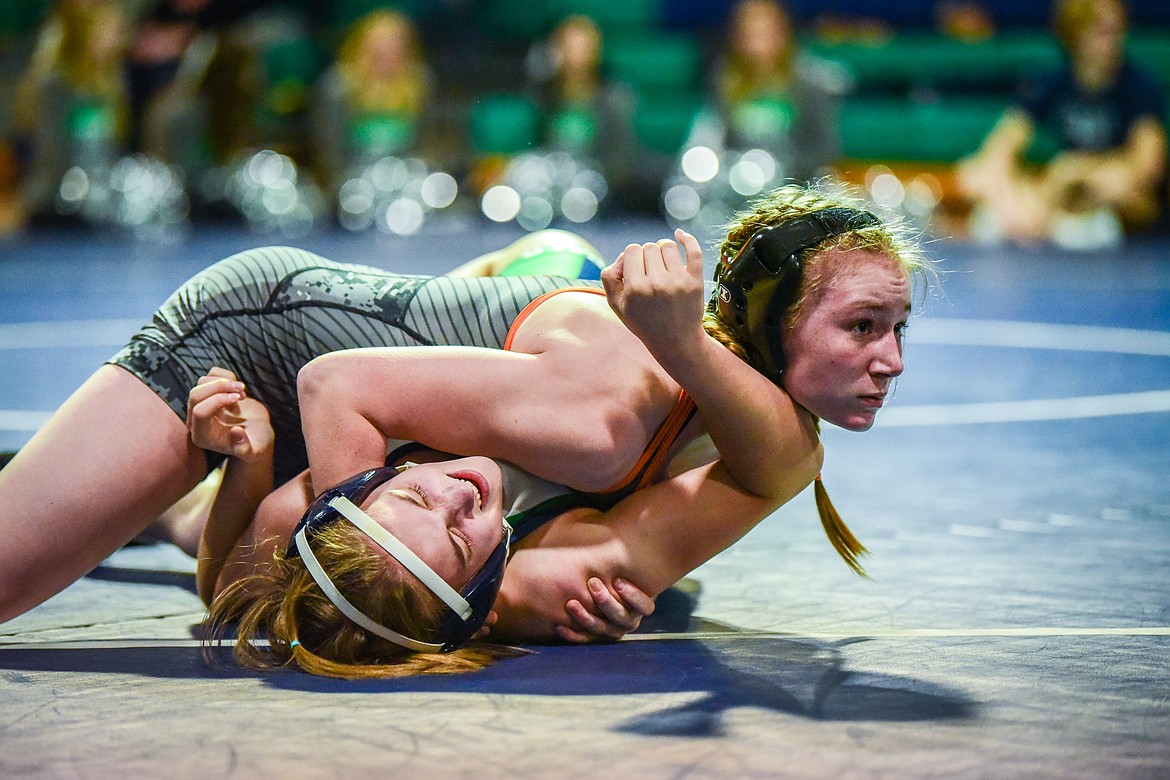 Flathead's Lily McMahon works toward a pin of Glacier's Jessalyn Hewitt at 132 pounds at Glacier High School on Thursday, Jan. 13. (Casey Kreider/Daily Inter Lake)
Previous
Next
by
FRITZ NEIGHBOR
Daily Inter Lake
|
January 13, 2022 10:32 PM
The top-ranked Flathead Braves and highly touted Bravettes lived up to their roles as favorites Thursday at the crosstown wrestling dual held at Glacier High, yet the Pack had its moments.
The marquee match under the spotlight went Glacier's way, in fact: Teegan Vasquez, the two-time State AA champion, met Flathead's Asher Kemppainen and scored a 7-0 decision at 132 pounds.
On a night when Flathead won the boys dual 63-9 and the girls dual 54-12, this was highly satisfactory for the Wolfpack fans present. It was also the first time this season that Vasquez, a junior, had to go the distance.
"We used to wrestle when we were younger, a lot," Vasquez said of Kemppainen, who came in with a 13-4 record, mostly at 138 pounds. "Like when we were 6 or 7.
"This is the first time in high school. He's always been bigger. But I definitely grew a little bit over the last year. I was 120, now I'm weighing 132. So I get some of those tougher guys, bigger guys now."
Three takedowns, one in each period, and an escape paved the way. Vasquez had trouble turning the Flathead senior, who was second at state last year. But it's a win.
"Overall, it was a pretty dominant performance," Wolfpack coach Ross Dankers said.
Just eight matches were contested in the boys dual, which started at 205 with Noah Poe-Hatten wrestling up a weight class and scoring a pin. Then Chase Youso did the same, scoring a fall at 285. A week ago the duo had cut down for the Rollie Lane tournament in Boise.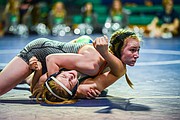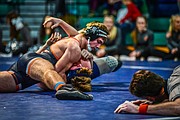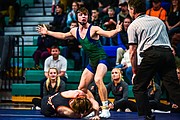 "This week we just want matches," said Flathead coach Jeff Thompson, who takes his wrestlers to the Rocky Mountain Classic today. "It maybe didn't work out exactly as planned, but it was fun. We had a heavyweight get hurt this morning, Logan Lang. Hopefully it's not too bad. But we just decided to move those two guys up."
Gabe Lake (160), Anders Thompson (170) and Aiden Downing (113) also scored pins for Flathead.
"Aiden Downing wrestled really well," Coach Thompson said. "He's really coming on as a freshman. And Diesel Thompson (a 9-2 winner at 120), he's just so much fun to watch. So much finesse, so much style in his wrestling, it's pretty good. That's a pretty tough kid (CJ Johnson) that he had."
Glacier's Caleb Shine followed Vasquez by scoring a fall over Cade Gardner, who was fourth at state a year ago, at 138.
"Caleb Shine wrestled a great match," Dankers said. "We've been working with him a lot on top, and he did a great job there getting his bar, and getting him turned there."
The girls dual had its share of forfeits as well, though Hania Halverson (120), Trinity Bolvin (126), Lily McMahon (132), Lily Conover (138) and Emma Gambino (152) scored pins for Flathead.
Jasmine Cartwright held the spotlight for Glacier, getting a fall at 145.
"I felt like we had good intensity," said Amber Downing, coach of the Flathead girls. "They had a little bit of nerves about them today, but they were able to work through that and really deliver a nice performance for the crowd.
"We're obviously finding things that still need to be worked on, but that's all part of the process."
Sully Sullivan, co-coach of the girls, singled out Gambino for her work Thursday.
"None of them shocked me," he said of the Bravettes, while also noting the improvement of Glacier's program over the past year. "Some were maybe questionable as far as outcome, but were there shockers? No. Emma Bambino did some nice transition stuff. We felt solid with her."
Vasquez was in Ronan last weekend when he heard that Kemppainen had moved down a weight.
"And we thought, 'OK, we'll probably see him Thursday,'" he said.
"Teegan is arguably one of the best wrestlers in the state of Montana," Jeff Thompson said. "And Asher, he's cutting down for the team. It's a team-first philosophy in our wrestling room, and I think it was a tough cut for him, but he'll get used to that lower body weight and won't have to cut so hard later in the season.
It'll be some great battles, at divisional, at State, and maybe at Rocky Mountain. Asher is looking forward to it. He loves the competition, and there's no better than Teegan Vasquez."
Flathead boys 63, Glacier 9
103 — Davin Naldret, Flathead, won by forfeit. 113 — Aiden Downing, Flathead, p. Garrett Bosch 1:08; 120 — Diesel Thompson, Flathead, dec. CJ Johnson, 9-2; 126 — Dane Lake, Flathead, won by forfeit; 132 — Teegan Vasquez, Glacier, dec. Asher Kemppainen, 7-0; 138 — Caleb Shine, Glacier, p. Cade Gardner, 3:50; 145 — Fin Nadeau, Flathead, won by forfeit; 152 — Gunnar Thompson, Flathead, won by forfeit; 160 — Gabe Lake, Flathead, p. Grayson Barkus, 1:46; 170 — Mason Doran, Flathead, won by forfeit; 182 — Anders Thompson, Flathead, p. Aiden Krause, 2:30; 205 — Noah Poe-Hatten, Flathead, p. Cody Vergeront, :39; 285 — Chase Youso, Flathead, p. Ethan Dimaio, 1:00.
Flathead girls 54, Glacier 12
103 — Reina Koelher, Flathead, won by forfeit; 113 — Skye Shelmerdine, Flathead, won by forfeit; 120 — Hania Halverson, Flathead, p. Emily Pedron, 1:40; 126 — Trinity Bolvin, Flathead, p. Temree Payne-Taylor, 4:10; 132 — Lily McMahon, Flathead, p. Jesslyn Hewitt, :46; 138 — Lily Conover, Flathead, p. Kadence Rose, 2:42; 145 — Jasmine Cartwright, Glacier, p. Bella Shinn, 1:39; 152 — Emma Gambino, Flathead, p. Madisyn Frazier, 3:15; 170 — Audrey Goodsell, Glacier, won by forfeit; 205 — Lucille Libby, Flathead, won by forfeit; 285 — Boston Howell, Flathead, won by forfeit.
Recent Headlines
---